When you're looking for a healthy low-carb meal with flavor this cast iron chicken can take you there. Combining the texture and moisture from the chicken quarters along with the great flavors from the spinach will have you feeling a lot less guilty for eating something that taste this great.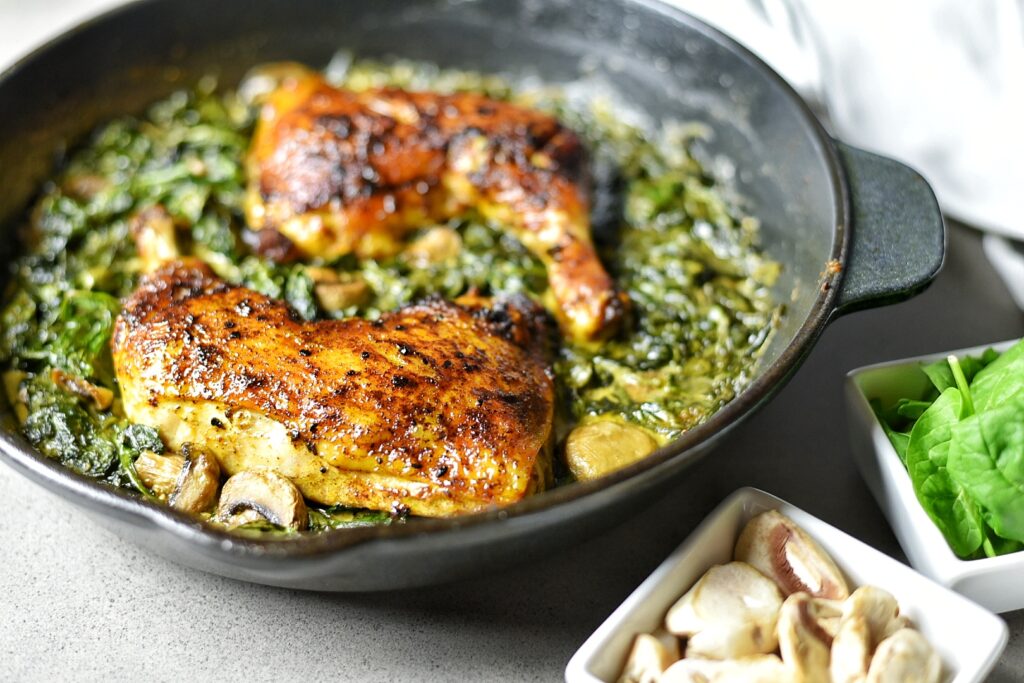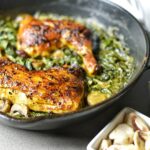 Ingredients
2 Whole Chicken Quarters

10 oz. Fresh Leaf Spinach

1/4 cup Sherry Cooking Wine

1/3 cup Chicken Stock

1/4 cup Heavy Whipping Cream

3 tbsp. Parmesan Cheese

1/4 tsp. Lemon Juice

1 tbsp. and 1/2 tsp. Minced Garlic, Separated

1/2 tsp. Organic Ground Turmeric

1/2 tsp. Paprika

3/4 tsp. Ground Thyme

Dash Garlic Powder

Dash Himalayan Sea Salt

Dash Organic Ground White Pepper

4 oz. Fresh White Mushrooms

5 tbsp. Butter
Instructions
1. Pre-heat cooking pan to medium heat and add 3 tbsp of butter.
2. Add 1/2 tsp of the minced garlic into heated pan. Add chicken quarters and brown the skin side for 7 minutes then the back side for 5 minutes.
3. Once done, remove chicken from stove top and set aside.
4. Remove most of the excess liquid from pan and add the other 2 tbsp of butter.
5. Add 1 tbsp of minced garlic, sherry cooking wine and chicken stock to pan and allow to cook for 1 to 2 minutes.
6. Add heavy whipping cream, Parmesan cheese, lemon juice, ground thyme and mushrooms (optional) then allow to cook for 2 minutes.
7. Add fresh spinach and dash of garlic powder and allow the spinach to cook down for 2 minutes or until wilted.
8. Place the chicken quarters back into the pan with ingredients with the skin side up and remove from heat.
9. Place pan into a pre-heated oven at 400 degrees for 20 minutes.
10. Remove from oven, allow to cool then serve.