The mention of garlic, Parmesan cheese, chicken and rice will get my attention at any dinner table.
This dish packs a powerful punch of flavors and when you combine creamy mushroom risotto and seared curry chicken you will have a knockout meal. If you have any issues with the kiddos eating their food try this dish and you may be surprised with the response you'll get.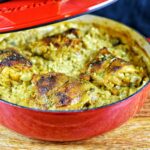 Ingredients
5 Organic Chicken Thighs

1 tbsp Organic Ground Tumeric

1 tbsp Curry Powder

1 tbsp Paprika

6 tbsp Butter

7 oz Chopped Onion

3 tbsp Minced Garlic

8 oz Fresh White Mushrooms

1/3 cup Sherry Cooking Wine

3 cups Chicken Stock

1 1/3 cup Coconut Milk

1 cup Grated Parmesan Cheese

1 1/3 cup Arborio Rice

1/4 tsp Himalayan Sea Salt

1/4 tsp Black Pepper

1/4 tsp Oregano
Instructions
Begin by cutting a slit into the skin of the chicken thighs.
Season the chicken thighs with ground tumeric, curry powder and paprkia and rub the seasoning into the meat.
Pre-heat cooking pan to medium-high heat. Add 2 tbsp of butter and cook chicken thighs on both sides for 4 minutes until brown. Once cooked set chicken to the side and partially remove access grease from cooking pan.
Lower the heat to medium and add 2 tbsp butter, minced garlic, onions and white mushrooms. Cook for a few minutes. Add arborio rice to cooking pan and cook for another 3 minutes. Add cooking wine, oregano, himalayan sea salt and black pepper then stir and cook for a few minutes.
Add chicken stock and 1 cup coconut milk to pot, stir and bring heat to high until ingredients begin to boil.
Pre-heat oven to 400 degrees.
Once ingredients begin to boil, remove from heat, add chicken back into the pot, place cover over the pot and bake in the oven for 20 minutes at 400 degrees.
Remove pot from oven after 20 minutes and remove the chicken thighs from the pot. Add the 1/3 cup coconut milk, 2 tbsp butter and Parmesan cheese to the pot of cooked rice and stir.
Add chicken thighs back to the pot, allow to cool, then serve.