I grew up in the country and embraced the fact that breakfast foods were on the menu for not only breakfast, but sometimes lunch and dinner too. One thing that I had a lot of were eggs and the other thing I loved was French toast. So I thought why not combine the two and now we have the French Toast Egg & Cheese Breakfast Sandwich.
The sweetness from the French Toast, combined with cheesy eggs and a little heat from the red peppers make this manwich the perfect option to get your morning off on the right foot.
Tip: You can dip one side of each slice of bread into the egg mixture and build your sandwich a few ways. You can dip the bread only, and after adding it to your pan, stack the Swiss cheese and scrambled eggs. You can dip the bread and Swiss cheese before adding to the pan and topping with scrambled eggs, or you can dip the bread into the egg mixture with the Swiss cheese and scrambled eggs already stacked on before adding it to the pan. The picture above shows the second option.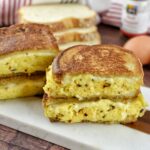 Ingredients
3 Organic Large Brown Eggs

1/4 cup Evaporated Milk

2 Bread Slices

2 Swiss Cheese Slices

1/4 cup Grated Parmesan Cheese

1/4 cup Shredded Mozzarella Cheese

1 tsp. Crushed Red Peppers

1 tbsp. Sugar

1 tsp. Vanilla Extract

1 tsp. Ground Cinnamon

1 tsp. Nutmeg

Dash Sea Salt

Dash Black Pepper
Instructions
1. Begin by adding 1 egg, evaporated milk, ground cinnamon, nutmeg, sugar and vanilla extract to a bowl and whisk together.
2. In separate bowl, add 2 eggs, Parmesan cheese, crusted red pepper, shredded mozzarella cheese, sea salt and black pepper and whisk together.
3. Pre-heat cooking pan to medium heat, add butter and scramble egg and cheese mixture until done.
4. Add more butter to cooking pan, add 1 slice of Swiss cheese and top with scrambled eggs then dip the outside of bread into the egg and evaporated milk mixture.
5. Cook one side for 3 minutes. Add another slice of Swiss cheese to the other slice of bread and dip into the egg and evaporated milk mixture. Flip sandwich together.
6. Once each side cooks for 3 minutes, serve hot.