This big beef breakfast burrito is strictly for the big appetites. The blended flavors of the beef and creamy scrambled eggs on top of the extra cheese will have you on a mission to finish this big boy. This is not necessarily a man versus food challenge but you may have to clear your calendar after taking this breakfast head on.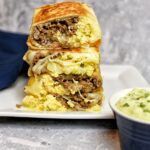 Ingredients
3 Large Flour Tortillas

1 lb. Lean Ground Beef

3 Large Brown Organic Eggs

1/3 cup Creme Fraiche

1/4 cup Grated Parmesan Cheese

1/4 cup Fresh Pico De Gallo

1/4 tsp. Garlic Powder

1 tsp. Goya Adobo

1/4 tsp. Red Cayenne Pepper

1/2 tsp. Chili Powder

1/4 tsp. Ground Cumin

1/2 tsp. Paprika

1/4 tsp. Himalayan Pink Rock Salt (Fine Grain)

1/4 tsp. Black Pepper

1 1/2 cup Shredded Mozzarella Cheese

For the Cilantro Sauce:

1 Avocado

1/3 cup Sour Cream

1 tbsp. Cilantro Flakes

1/2 tsp. Ground White Pepper

1/4 tsp. Sea Salt

1 tsp. Lemon Juice
Instructions
In a bowl, add eggs, creme fraiche, parmesan cheese and garlic powder then scramble together.
Pre-heat cooking pan to medium heat.
Add ground beef, Goya Adobo, Red Cayenne Pepper, Chili Powder, Ground Cumin, Himalayan Pink Rock Salt and Black Pepper. Cook until browned and drain any excess liquids.
In a separate cooking pan, pre-heat to medium heat, add 1 tbsp of butter, and cook scrambled egg mixture. Set to the side.
Place a large tortilla shell on a flat surface and layer the middle with 1/4 cup mozzarella cheese, cooked eggs, beef, pico de gallo and top off with 1/4 cup mozzarella cheese. Fold the tortilla shell in from the sides then roll until tucked. Cook the burrito in heated pan on both wide sides until brown.
For the Cilantro Sauce:
Cut your avocado down the middle, open, remove the seed, scoop out the insides and add to bowl.
Add sea salt, pepper, sour cream, lemon juice and cilantro and mix until smooth and blended well.
Once everything is complete serve.