Anything that combines the words chocolate and coconut has to be a dessert you're willing to break your normal diet for! The triple chocolate fudge cookies teamed with coconut almond chocolate getato equal a very good but sinful Chocolate Coconut Ice Cream Sandwich. You will be on a chocolate high after enjoying this dessert. Welcome to your sweet tooth fantasy land!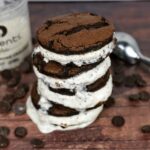 Ingredients
15.25 oz. Triple Chocolate Fudge Cake Mix

1 pint Talenti Coconut Almond Chocolate Gelato

1/2 cup Melted Butter

1 tbsp Olive Oil

1/3 cup Brown Sugar

1 tsp Vanilla Extract

1 tsp Pure Honey

2 Large Brown Eggs
Instructions
1. In a large bowl, combine triple chocolate fudge cake mix, eggs, honey, vanilla extract, brown sugar and melted butter. Blend until it begins to bind.
2. Add spoon-sized portions of cookie dough onto a baking sheet leaving space in between each cookie.
3. Bake the cookies at 350 degrees for 11 minutes.
4. Once complete allow cool for 10 to 15 minutes.
5. Add 1 scoop of coconut almond chocolate getato in between 2 cookies and serve.
Notes
You can use a cookie cutter or the edge of a glass to shape your baked cookie into perfect round sandwiches.