If you love crescent rolls and hot dogs why not combine the two! Say hello to my Grand Crescent Dogs. The buttery crescent roll with an all beef hot dog can be a change in the right direction. And the Kung Fu mustard sauce will enhance this hot dog experience and give it a kick.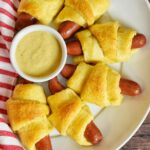 Ingredients
6 Organic Uncured Beef Hot Dogs

1 Pack Grand Crescent Rolls

3 tsp Pure Honey

1/4 cup Miracle Whip

1/4 cup French Dijon Mustard

1/4 tsp Horseradish

1/4 tsp Creole Seasoning

1 tsp Lemon Juice
Instructions
1. Begin by separating the crescent rolls from the package into triangles.
2. Place each hot dog at the wide end of the triangle crescent roll and roll around hot dog.
3. Pre-heat oven to 350 degrees.
4. Bake crescent dogs for 15 minutes and set to side when done.
5. In a bowl, combine miracle whip, french Dijon mustard, pure honey, horseradish, lemon juice and creole seasoning and mix until blended.