If you are ever craving a taste of Louisiana Cajun-style food, this Cajun Smoked Chicken Sausage Po Boy will do the job. The robust favors from the mixture of the sauteed peppers, smoked chicken sausage, and let's not forget the cheese, will have this on your menu quite often. Make sure you bring your appetite to take down this manwich. Enjoy!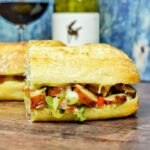 Ingredients
12 oz. Smoked Chicken Sausage

1 Rustic Pugliese Loaf

1/4 cup Chopped Green Pepper

1/4 cup Chopped Red Pepper

1/4 cup Chopped Onion

1/4 cup Chopped Celery

1 tbsp. Fresh Parsley

3 Swiss Cheese Slices

3 Provolone Cheese Slices

1/4 tsp Sea Salt

1/4 tsp Black Pepper

Dash Red Pepper

Dash Garlic Powder
Instructions
1. Begin by slicing your chicken sausage into small pieces.
2. Chop the green pepper, red pepper, onion, celery and parsley into small pieces (if they didn't come pre-chopped).
3. Pre-heat cooking pan to medium heat and add 1 tbsp of olive oil.
4. Add all of your chopped peppers, onion, celery and parsley into the pan. Season with sea salt, black pepper, garlic powder and red pepper, stirring occasionally.
5. Cook pepper mixture for 5 minutes then add chopped chicken sausage into the pan. Cook for 10 minutes, covered.
6. Cut your bread loaf down the middle longways and add 3 slices of provolone cheese to one half and 3 slices of Swiss cheese to the other half.
7. Pre-heat oven to 350 degrees.
8. Once your chicken and peppers are complete, spread the combined ingredients over the bottom half of the bread and place on a baking sheet.
9. Leave the top half of the bread with the cheese side up and bake for 5 minutes, after 5 minutes place the top half onto the chicken mixture and cook for another 5 minutes or until cheese is melted to preference.
10. Allow to cool then serve.