I love making Italian dishes for my family. Generally, they are easy to prepare and since they are some of my personal favorites, I find myself adding those dishes to the family dinner spread quite often. And making Chicken Parmesan is one of those recipes.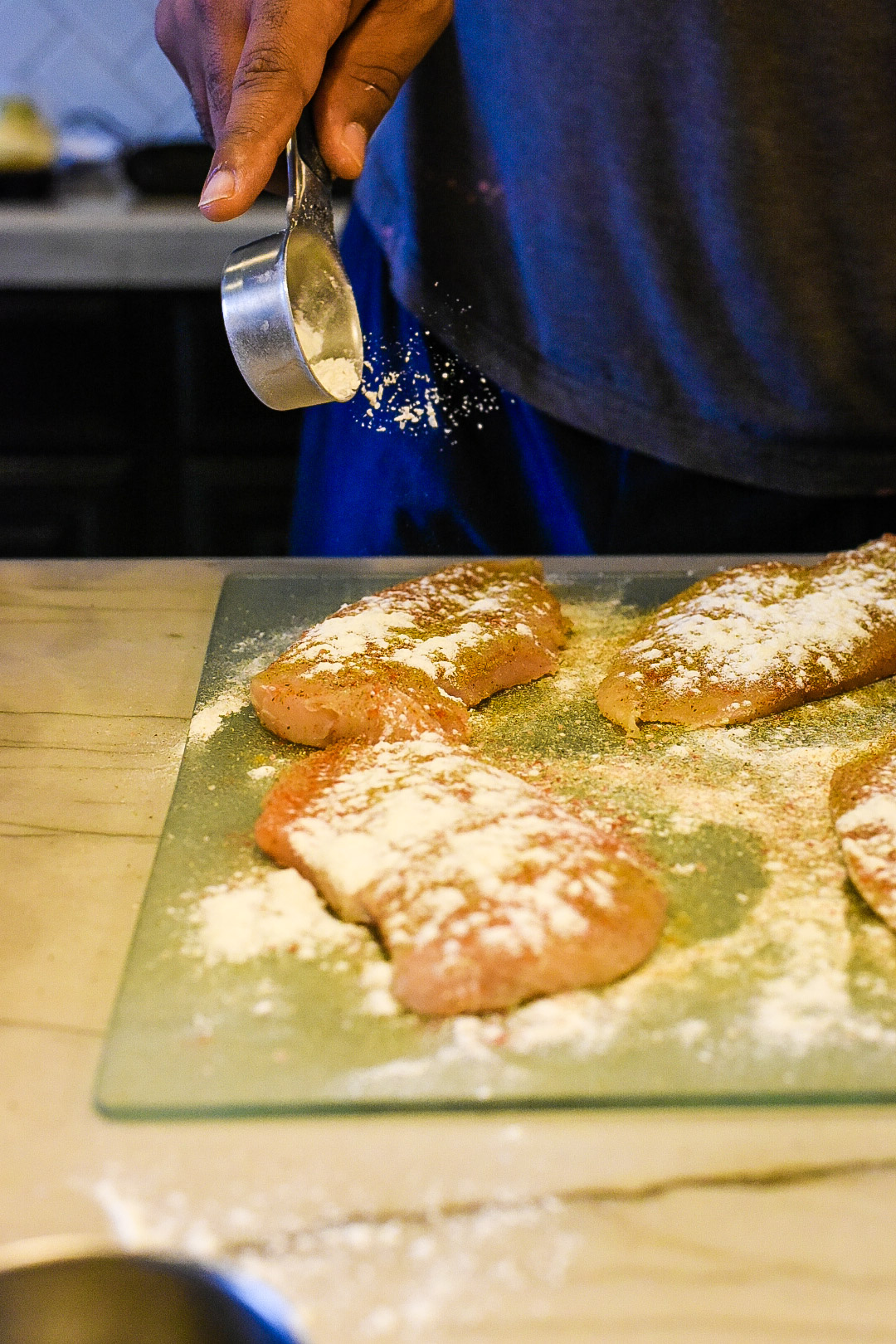 There is just something about the combination of white cheese and tomato sauce that can make any dish taste great and when you place that idea in between two Brioche buns, you have a winner winner chicken dinner sandwich. 🙂
My Chicken Parmesan Sandwich is definitely something I can eat on a regular basis. Well-seasoned chicken breast paired with a double serving of cheese (Provolone and a shaved Tuscan blend) plus a flavorful helping of Italian breadcrumb — for the perfect crust — makes this recipe good all the time and any time.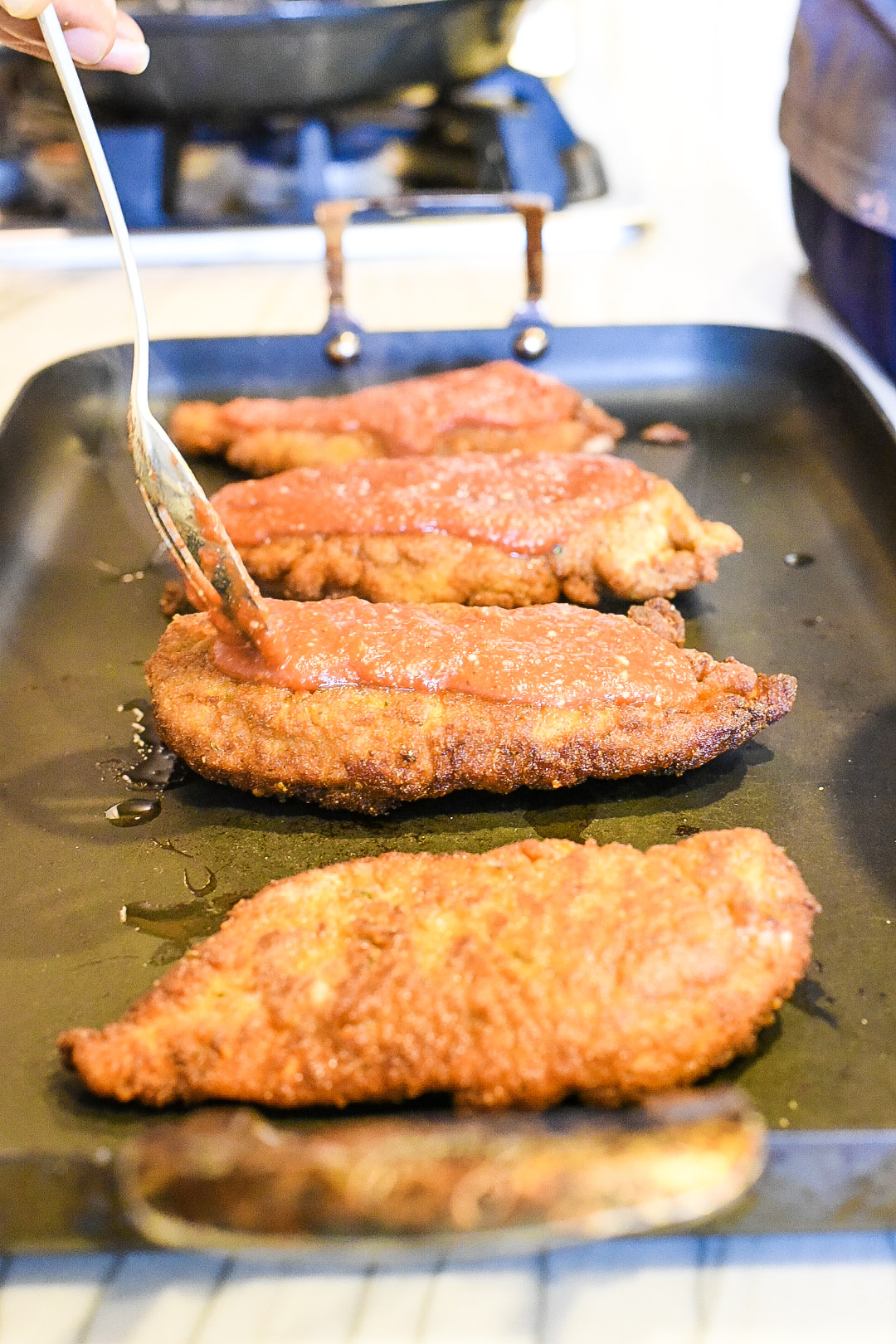 A quick tip: Make sure you cut the chicken breast evenly using the butterfly technique. This ensures even cooking and the tenderness you crave. You also want to make sure the chicken breast is coated well so you can enjoy every bite of crispness once cooked.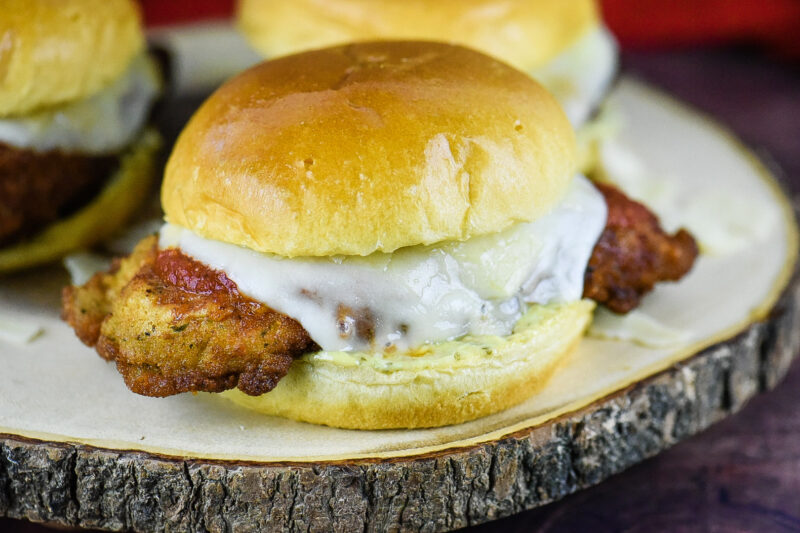 I add a little grated Parmesan cheese to the tomato sauce that tops the chicken breast just so that Parmesan flavor shines through. The Tuscan blend I prefer is a mixture of shaved Parmesan and Fontina cheeses — this cheese alone will make you want to kiss the cook. The cherry on top for this recipe is a generous layer of basil pesto mayo that brings it all together.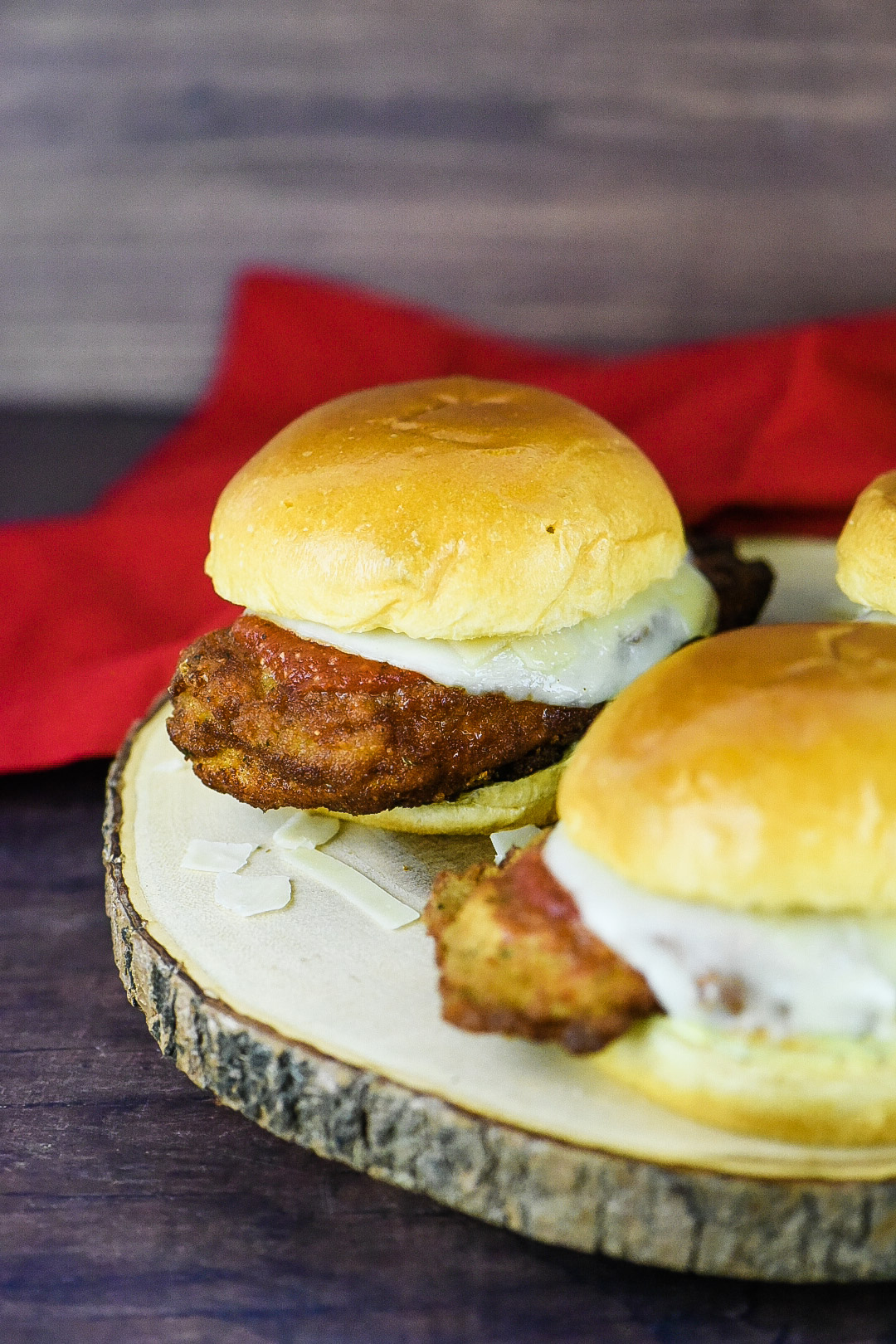 If you love Italian dishes and sandwiches are your jam, then this Chicken Parmesan Sandwich will satisfy your need to feed. Enjoy!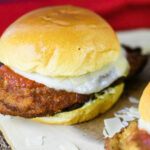 Ingredients
For the Chicken:

1 lb Boneless Chicken Breast

1 cup Italian Breadcrumbs

1/2 cup Grated Parmesan Cheese

2 Large Organic Eggs

1/4 cup Buttermilk

4 Slices Provolone Cheese

1/2 cup Shaved Tuscan/Fontina Cheese

1 tsp Garlic Powder

1 tsp Paprika

2 tsp Ground Cumin

1/2 tsp Himalayan Salt

2 tsp Black Pepper

1/4 cup All Purpose Flour

4 Brioche Burger Buns

For the Sauce:

15 oz. Tomato Sauce

1/4 cup Grated Parmesan Cheese

1/2 tsp Black Pepper

1 tsp Oregano

For the Basil Pesto Mayo:

1/4 cup Mayo

1 tsp Basil Pesto Sauce

1/4 tsp Lemon Juice

1/4 tsp Garlic Powder

1/2 tsp Black Pepper

1/4 tsp Himalayan Salt
Instructions
Begin by butterflying the chicken breast. Season with all chicken seasonings (except garlic powder) on both sides and coat with evenly with flour.
Add eggs and buttermilk to a large bowl. Whisk then add chicken to bowl.
Add breadcrumbs, Parmesan cheese, and garlic powder to large zip lock bag. Add chicken from the bowl into bag. Shake until coated.
Add cooking oil to cooking pan on medium heat and cook chicken breast for 4 minutes each side. Set to the side.
For the sauce, add tomato sauce, Parmesan cheese, oregano, and black pepper to a cooking pan and cook on low until it begins to slightly bubble. Lower heat to simmer.
Pre-heat oven to 400 degrees. Place cooked chicken breast on a baking sheet. Top off with tomato sauce and provolone cheese slices. Bake for 7 minutes or until cheese is melted.
For the basil pesto mayo, add all ingredients into a small bowl and whisk until smooth.
Add basil pesto mayo to bun and layer with chicken and shaved Tuscan/Fontina cheese. Add top bun. Serve hot.