This sandwich recipe was sparked from wanting a fried fish sandwich but with a crispier crust – so I added Ritz crackers with Panko breadcrumbs and came up with this Crispy "Ritz" Fried Fish Sandwich masterpiece. I love the buttery and rich flavors from the Ritz cracker and adding that crust to a white fish gives this fish sandwich an upgrade.
If you're looking for a not-so-fast food fish sandwich this Crispy Fried Fish Sandwich will be there waiting for your taste buds.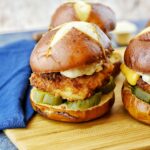 Ingredients
1 lb Fresh Cod Fish

10 Ritz Crackers

1/4 cup Panko Breadcrumbs

1 Large Organic Egg

1/4 cup Heavy Whipping Cream

4 Pack Pretzel Buns

1/4 tsp. Black Pepper

1/4 tsp. Sea Salt

1/2 tsp. Creole Seasoning

For the Tartar Sauce:

1/4 cup Miracle Whip Mayo

2 tsp. Dill Relish

1/4 tsp. Creole Seasoning

2 tsp. Lemon Juice

Dash Garlic Powder

Dash Paprika

Dash Black Pepper
Instructions
1. Begin by cutting the cod into 4 pieces and season fish with sea salt, black pepper and Creole seasoning.
2. Add Ritz crackers into a small zip lock bag and crush into crumbs.
3. Place crushed Ritz crackers and panko breadcrumbs into a bowl.
4. Add egg and heavy whipping cream into a separate bowl and whisk together.
5. Pre-heat cooking pan to medium heat and add oil to cover the bottom of the pan.
6. Dip the fish into the egg mixture then place in the breadcrumb bowl and coat the fish completely.
7. Cook the fish for 3 to 4 minutes on each side depending on the thickness of the fish.
8. Once done, allow to cool then serve between pretzel buns and add sliced cheese and pickles (optional).
9. For the Tartar Sauce:
10. In a bowl, add miracle whip mayo, dill relish, lemon juice, black pepper, paprika, Creole seasoning and garlic powder then mix until blended well.