Indian Butter Chicken is a dish made with a creamy spiced tomato sauce. The authentic Indian flavors you get from the coriander spices, cardamom, and other blended seasonings will definitely make this a family favorite. Preparation takes a little patience, but I can guarantee it will be worth it.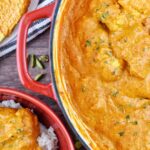 Ingredients
For the Chicken:

1 lb. Boneless Chicken Breast

3 tsp. Minced Garlic

1 tsp. Ginger Paste

1 tsp. Chili Powder

2 tsp. Lemon Juice

1/3 cup Vanilla Greek Yogurt

1 tsp. Ground Cumin

1 tsp. Ground Tumeric

1 tsp. Ground Garam Masala

For the Sauce:

3 tbsp. Butter

12 oz. Tomato Paste

1 and 1/2 cup Heavy Whipping Cream

1/2 tsp. Lemon Juice

1 Cardamom Pod = 12 seeds

1 tsp. Ginger Paste

1 tsp. Ground Coriander

1 tsp. Chili Powder

1 tsp. Ground Turmeric

1 tsp. Ground Garam Masala
Instructions
1. Begin by cutting the chicken breast into cubes and place in a large bowl.
2. Add minced garlic, ginger paste, chili powder, lemon juice, vanilla greek yogurt, ground cumin, turmeric, and garam masala to the chicken and mix well with large spoon. Cover and refrigerate for an hour.
3. Pre-heat oven to 350 degrees and bake chicken for 12 minutes then set to the side when complete.
4. Pre-heat cooking pan to medium to low heat and add butter.
5. Peel the shells from the cardamom seeds. Chop the cardamom into small fine pieces.
6. Add minced garlic and chopped cardamom to the cooking pan and cook while stirring for 2 minutes.
7. Add ground tumeric, ginger paste, coriander, chili powder, garam masala and lemon juice to pan and stir for 1 minute.
8. Add tomato paste to cooking pan and stir allowing to cook for a few minutes.
9. Add cooked chicken to the pot and cover chicken with ingredients until it begins to blend.
10. Add heavy whipping cream and stir until it begins to blend (it will have a orange-like coloration). Cook for 10 minutes, stirring occasionally.
11. Cook rice of choice according to the instructions.
12. Serve hot.