I feel like anything cooked in a cast iron skillet is automatically a great tasting dish and this Cast Iron Sicilian Chicken and Spinach will not disappoint. Pan seared chicken thighs and spiced-up flavors along with fresh spinach is an awesome dinner time go to. If you're looking for a dish with minimal carbs, this dinner idea will satisfy.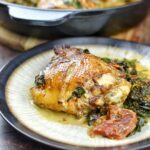 Ingredients
5 Bone-In, Skin-On Chicken Thighs

1 cup Chicken Stock

1/2 cup Heavy Whipping Cream

1/2 cup Sun-Dried Tomatoes

8 oz. Fresh Leaf Spinach

1/3 cup Parmesan Grated Cheese

3 tbsp. Minced Garlic

1 tsp. Crushed Red Pepper

1 tsp. Ground Thyme

1/4 tsp. Himalayan Sea Salt

1/4 tsp. Black Pepper

Dash Red Cayenne Pepper

4 tbsp. Butter
Instructions
1. Season the chicken thighs with sea salt and pepper then rub the seasoning into the meat.
2. Pre-heat cooking pan to medium heat and add 3 tbsp of butter.
3. Cook chicken thighs on both sides for 4 minutes until brown.
4. Once cooked, set chicken to the side and partially remove most of the excess liquid from pan and add the other 1 tbsp of butter.
5. Add minced garlic and crushed red pepper to pan and stir for 2 minutes.
6. Add chicken stock, heavy whipping cream, parmesan cheese and ground thyme then cook until it begins to blend and simmer.
7. Add sun-dried tomatoes and red cayenne pepper and cook for a few minutes.
8. Add fresh spinach and allow the spinach to cook down for 2 minutes or until wilted.
9. Place the chicken thighs back into the pan with ingredients (skin side up) and remove from heat.
10. Place pan into a pre-heated oven at 400 degrees for 20 minutes.
11. Remove from oven, allow to cool, then serve.