When one beef patty just won't do, try out my Double Burger With Fried Cheese – it will fill you up for sure! Now this isn't your typical cheese burger…the fried provolone cheese slice on this manwich will have you daydreaming for the next few days. This is a pretty unique burger idea when you want something different but tasty. Enjoy!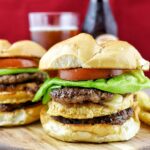 Ingredients
1/2 lb. Lean Ground Beef

1 Kaiser Roll

1 Slice Thick Provolone Cheese

1/2 cup Corn Starch

1/2 cup All Purpose Flour

3/4 cup Club Soda

1/2 tsp. Sea Salt

1/2 tsp. Black Pepper

1/2 tsp. Chili Powder

1/2 tsp. Ground Cumin

1/2 tsp. Paprika
Instructions
1. Break down ground beef into smaller pieces and add to large bowl.
2. Add sea salt, black pepper, ground cumin and chili powder into bowl with meat and mix together well with hands.
3. Form meat into two patties and set to the side.
4. In a separate bowl, add corn starch, paprika, flour and club soda and whisk together until smooth.
5. Pre-heat one pan for ground beef and pre-heat a separate pan for the fried cheese (on medium heat for both pans).
6. Add 1 tbsp of olive oil into the pan for the burger and 1 cup of olive oil for the pan for the fried cheese.
7. Cook beef patties for 3 minutes on each side then set to the side.
8. Sprinkle some all purpose flour onto a plate and slightly coat provolone cheese.
9. Add coated provolone cheese into corn starch mixture, making sure it's completely covered, then add the cheese to the hot pan.
10. Cook cheese for 3 minutes on each side then set to the side.
11. Optionally, add lettuce and tomato to the kaiser bun then stack patty, cheese and second patty. Server hot.