If I were a betting man I would be willing to state for the record that this Black Truffle Mushroom White Pizza would be a top seller in any pizza parlor. If you are a mushroom lover such as myself, the additional flavor from the white sauce along with the truffle add-ins will have you thinking about this just as much as I do. Enjoy!
In addition to all of the awesome flavors, the urban myth is that truffles are a natural aphrodisiac ;).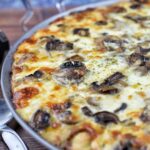 Ingredients
1 lb. Fresh Pizza Dough

8 oz. Fresh White Mushrooms

8 oz. Fresh Mushroom Medley Mixture

1/2 lb. Fontina Cheese Block

1 cup Shredded Mozzarella Cheese

1 cup Grated Parmesan Cheese

1 cup Heavy Whipping Cream

1 tsp. Black Truffle Oil

1 tsp. Black Truffle Sauce

1/2 tsp. Black Truffle Sea Salt

1 tsp. Paprika

1 tsp. Minced Garlic

3 tbsp. Butter

2 tbsp. All Purpose Flour

1/3 cup Pastry Flour
Instructions
1. Spread pastry flour over kitchen counter top.
2. Place the fresh dough onto flour and begin to shape dough into a circle using hands. Finish shaping and flattening with roller then place on pizza pan.
3. Pre-heat cooking pan to medium heat and add olive oil.
4. Add minced garlic and allow to cook for 1 minute then add the mushrooms.
5. Spread black truffle sea salt over the mushrooms and cook for 4 to 5 minutes then set to the side.
6. In that same cooking pan add 3 tbsp butter, 2 tbsp flour and let them cook together until it begins to bind.
7. Add heavy whipping cream, parmesan cheese, paprkia, black pepper and black truffle sauce, then stir and cook for a few minutes.
8. Spread the sauce evenly over the pizza dough leaving the edges uncovered.
9. Cut the Fontina Cheese block into slices and spread over the top of the sauce.
10. Spread the cooked mushrooms evenly over to the top of the cheese and sauce leaving a handful to top off with.
11. Spread the shredded mozzarella cheese over the mushrooms then top off with the rest of the mushrooms.
12. Sprinkle the parsley flakes and black truffle oil over the top of the pizza.
13. Pre-heat oven to 400 degrees and cook pizza for 18 minutes.
14. Once done allow to cool then serve.