When you are looking for a great dinner idea but want to keep an eye out for the carbs, this pan seared salmon and succotash combo is excellent. I used to have a hard time as a child eating my veggies but once my grandmother introduced this tasty dish into my life that changed. This creole two man team of flavor will leave you satisfied without the guilt.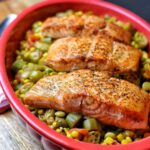 Ingredients
1 1/2 lb. Organic Atlantic Salmon Filet

8 oz. Sweet Corn

16 oz. Okra Cut

14 oz. Diced Tomatoes

15 oz. Lima Beans

1 tbsp. Minced Garlic

1 tsp. Creole Seasoning

1/2 tsp. Sea Salt

1/2 tsp. Black Pepper

3 1/2 tsp. Olive Oil

4 tbsp. Butter

1 tsp. Garlic Powder

1 tsp. Ground All Spice

1 tsp. Paprika

1 tsp. Ground Thyme

1/4 tsp. Red Cayenne Pepper
Instructions
1. For the Succotash:
2. Pre-heat cooking pan to medium heat.
3. Add 2 tbsp of butter and minced garlic to heated pan and cook for 1 minute.
4. Add cut okra and corn into pan and cook uncovered for 5 minutes stirring occasionally.
5. Add lima beans, drained diced tomatoes, garlic powder, paprika, ground all spice, ground thyme, and red pepper. Stir then cook covered for 15 minutes.
6. Once the beans are soft, set temperature to low simmer.
7. For the Salmon:
8. Pre-heat cooking pan to medium heat and add 3 tbsp of olive oil and 2 tbsp of butter.
9. Season your salmon with 1/2 tsp of creole seasoning, sea salt and black pepper by rubbing ingredients into fish.
10. Pour 1/2 tsp of olive oil over the fish and rub oil evenly.
11. Cut your salmon filet into desired serving sizes.
12. Place the salmon skin up into the hot cooking oil for 4 minutes and 2 minutes on the skin side.
13. Serve hot with succotash.