While in the search for tasty but healthy dinner ideas, this Sheet Pan Honey Balsamic Steelhead Trout recipe was the perfect choice. By blending the slightly tart yet sweet flavors from the sauce with garlic, you can turn a good piece of Steelhead Trout into something great.
You can also mix the broccoli in the sauce to give it a boost as well. There are a lot of benefits to eating this type of fish but the most important one for this dinner recipe will be the taste.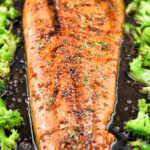 Ingredients
2 lb. Steelhead Trout Filet

1/4 cup Honey

1/4 cup Brown Sugar

1/2 cup Balsamic Vinegar

1 tbsp. White Cooking Wine

1 tbsp. Minced Garlic

1 tsp. Lemon Juice

Dash Sea Salt

1/4 tsp. Black Pepper

1/4 tsp. Creole Seasoning

1 lb. Broccoli Florets

5 tbsp. Butter

1/4 tsp. Oregano
Instructions
1. Begin by adding 2 tbsp of butter to a cooking pan and cook broccoli florets for 10 minutes on medium heat, covered.
2. Add non-stick spray or butter to large baking tray. 3. Place the entire Steelhead Trout filet on the baking tray and season with sea salt, black pepper and creole seasoning.
4. Pre-heat cooking pan to medium/low heat then add 3 tbsp of butter and allow it to melt.
5. Add honey, balsamic vinegar, lemon juice, white cooking wine, brown sugar and minced garlic to pan. Cook for 5 minutes on lower heat, then slightly increase heat and cook until it begins to bind.
6. Once complete, pour balsamic mixture over the entire Steelhead Trout filet.
7. Add oregano over the fish and place the cooked broccoli on the sides of the baking tray.
8. Pre-heat oven to 375 degrees and cook ingredients for 10 minutes.
9. Sprinkle parsley if desired, then serve.