This particular recipe brings back great memories and takes me back to the times when I was able to spend quality time with my grandmother. She would always make this dish on Sundays after church and I loved every minute of it.
The funny thing is growing up I used to think I didn't like vegetables, but these type of dishes showed me different. The awesome Cajun flavors you get from this combination of goodness can make anybody forget how light this recipe actually is.
Once I started to cook on my own I had to figure out how to make this my way. So here is my personal spin on Stewed Okra with Roasted Chicken Sausage. I really have a love for okra so all of the flavorful additions to this dish are like what JJ on Goodtimes would call "dynooomite".
The fire roasted crushed tomatoes along with the roasted chicken sausage make the perfect team. And it's tasty enough to eat alone if you want to go the low carb route, but you can also enjoy it on a bed of rice.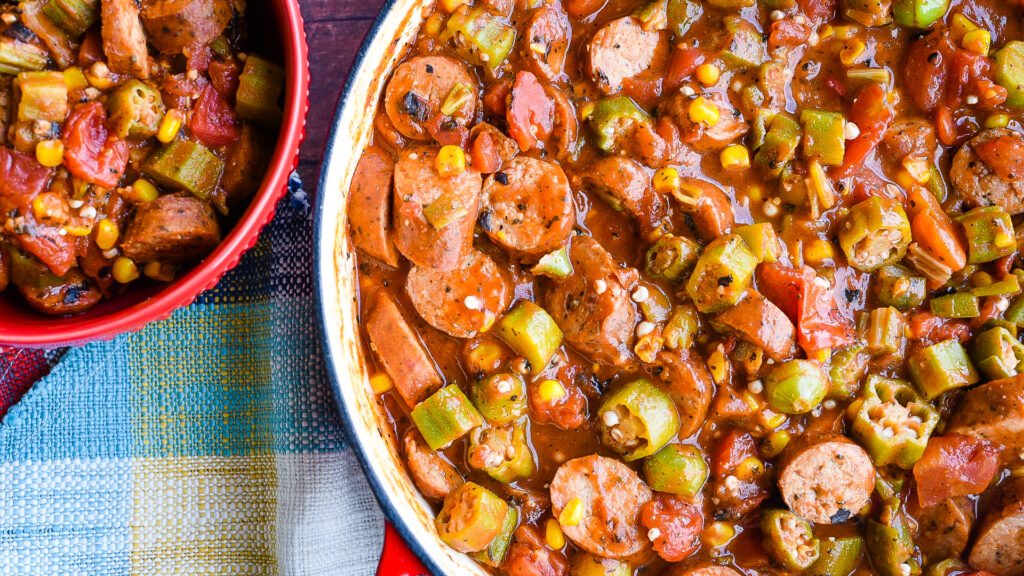 If you are looking for a great Sunday dinner idea this Stewed Okra with Roasted Chicken Sausage will certainly do the job!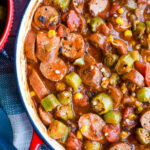 Ingredients
24 oz. Cut Okra

4 Mini Corn Ears (or 2 Large)

26 oz. Roasted Chicken Sausage

28 oz. Fire Roasted Diced Tomatoes

2 tsp Minced Garlic

8 oz. Tomato Sauce

1 tsp. Blackened Seasoning

1 tsp. Black Pepper

1 tsp. Paprika

1 tsp. Garlic Powder

1 tbsp. Basil Leaf Flakes

1/2 tsp. Red Cayenne Pepper

1/2 tsp. Sea Salt
Instructions
1. Begin by slicing the chicken sausage into small pieces. Cook on medium heat for 5 minutes then remove from heat and set to the side.
2. Shuck the corn from the cob and set to the side (if using fresh ears of corn).
3. Pre-heat cooking pot to medium heat then add butter and minced garlic stirring frequently for 1 minute.
4. Add okra to cooking pot and season with sea salt. Cook for 7 minutes.
5. Add corn and tomato sauce to pot and season with blackened seasoning, paprika and black pepper then cook for 5 more minutes.
6. Add all remaining ingredients to the pot and cook for 10 minutes covered.
7. Once complete, remove from heat and serve hot with rice (optional).
Notes
Cooking the okra alone before adding any other ingredients helps to rid the dish of the "slime" that comes from the okra.