Stewed Okra & Tomatoes with Chicken Sausage
Stewed Okra & Tomatoes with Chicken Sausage is an easy recipe that combines everyday ingredients (like okra, corn, lima beans, sausage, and tomatoes) into a dish that has been served in the South for decades. It's flavorful enough to eat alone or enjoyed on a bed of rice.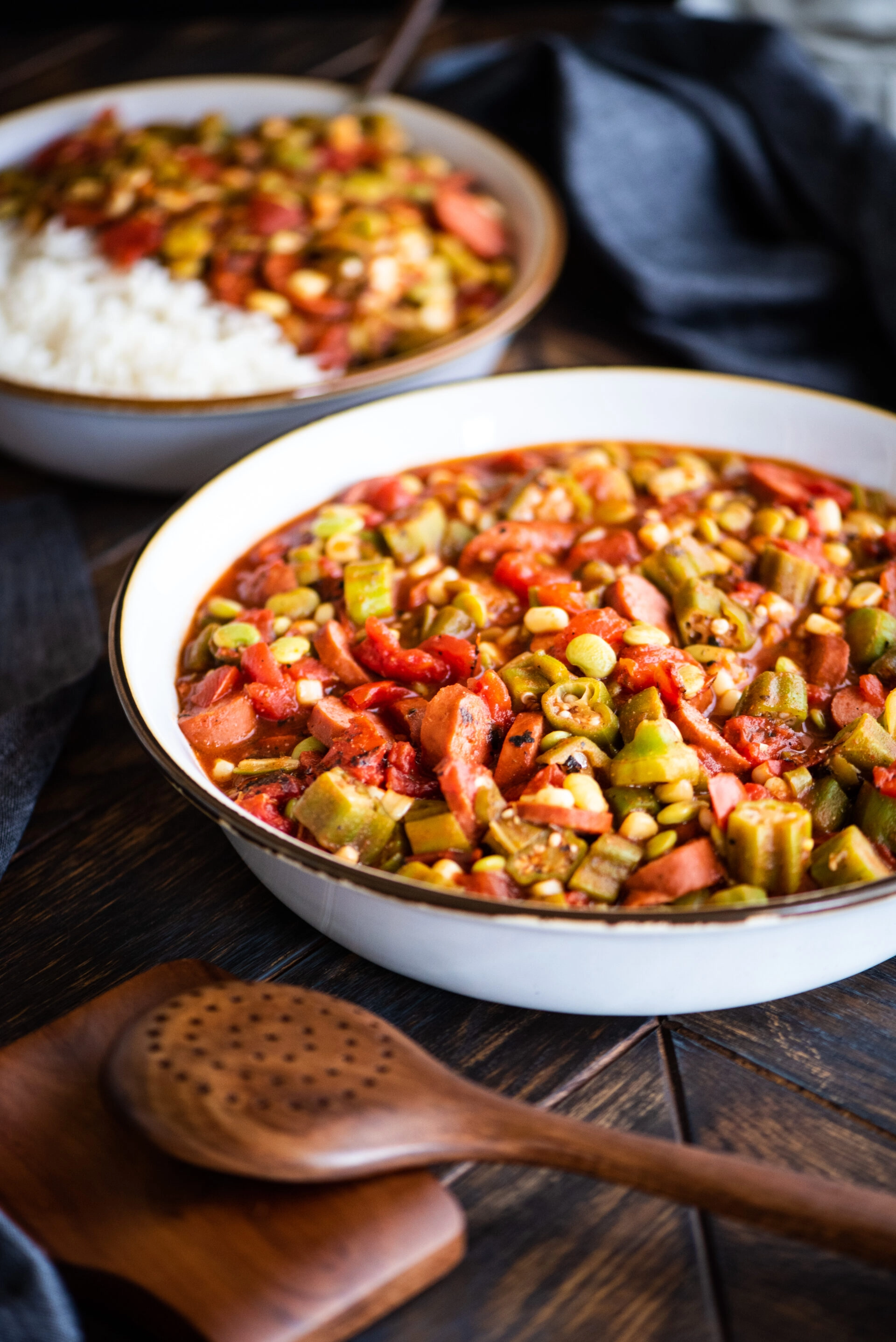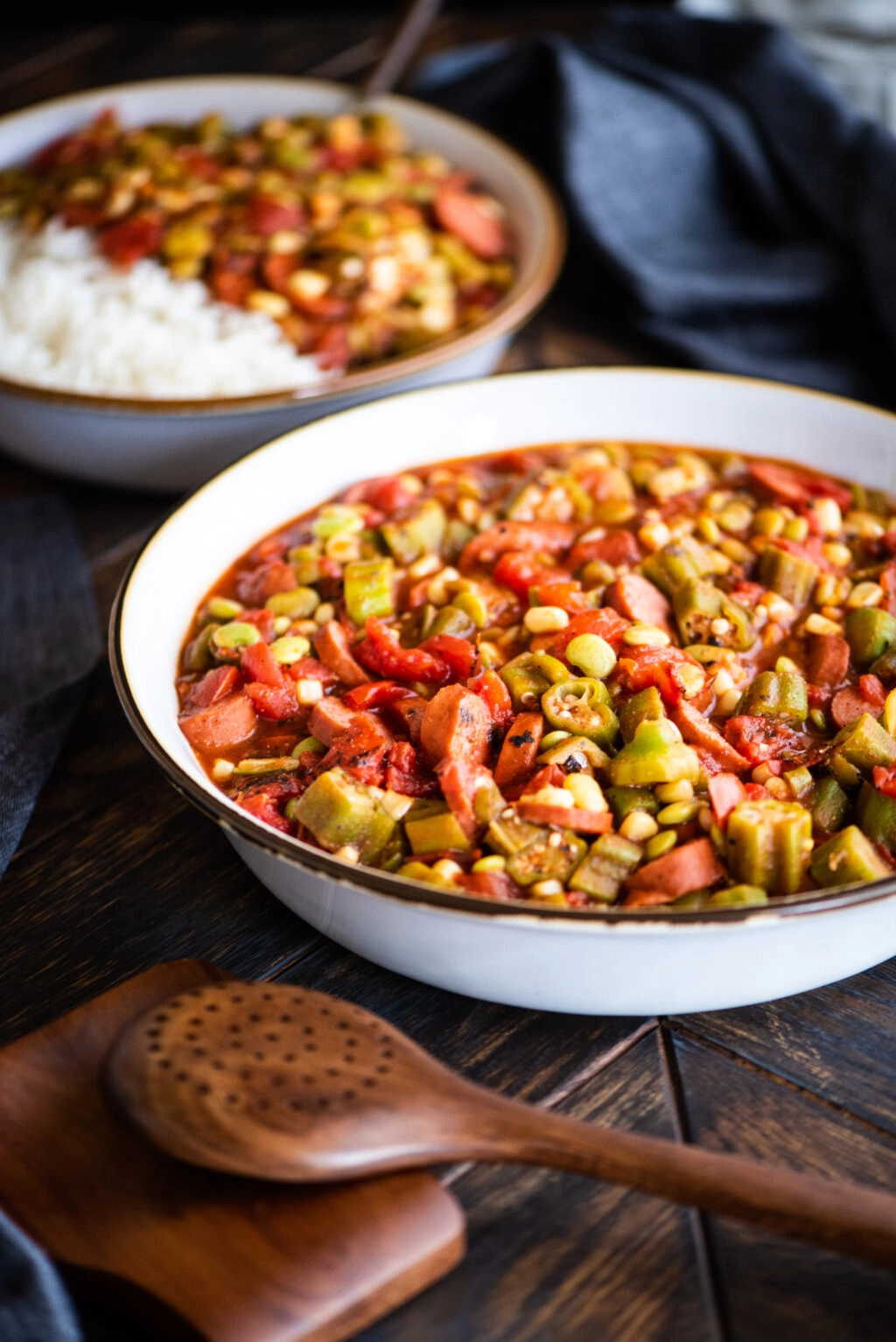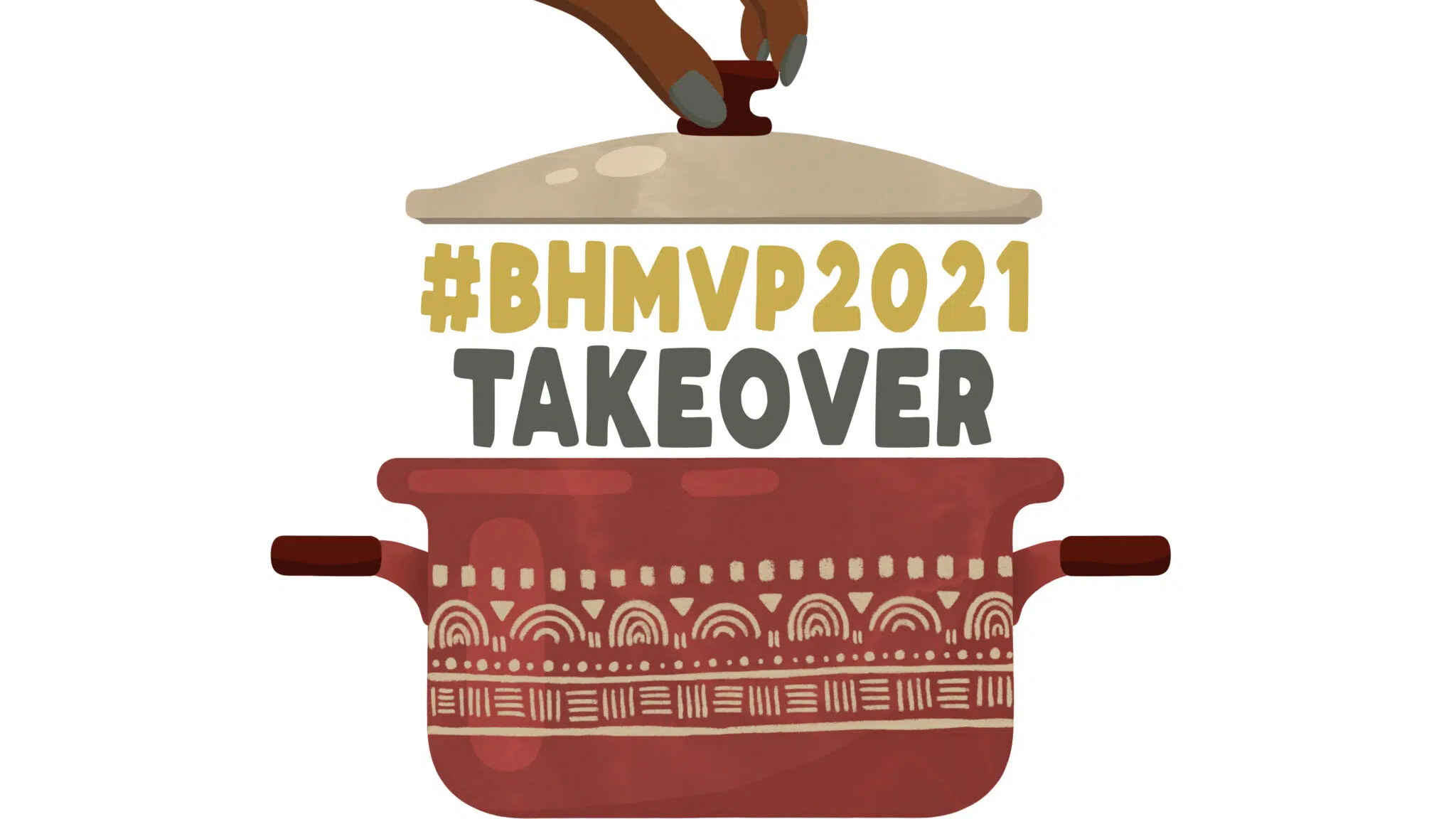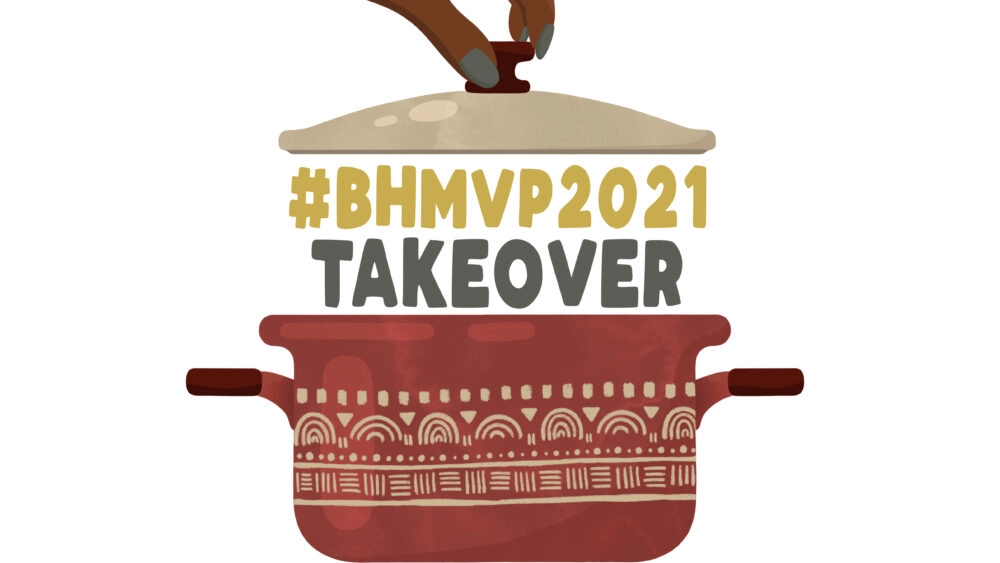 I'm participating in the 2021 Black History Virtual Potluck. A collaborative menu of recipes contributed by 40+black bloggers from around the globe in honor of Black History Month. See a sampling of some of the amazing participant recipes down below.
This particular recipe brings back great memories and takes me to those special moments I spent with my grandmother. She would always make this dish on Sundays after church, and I loved every minute of it!
The funny thing is growing up, I was not too fond of vegetables, but dishes like this changed my mind. The awesome Cajun and Creole flavors you get from this combination of goodness can make anybody forget how light this recipe actually is.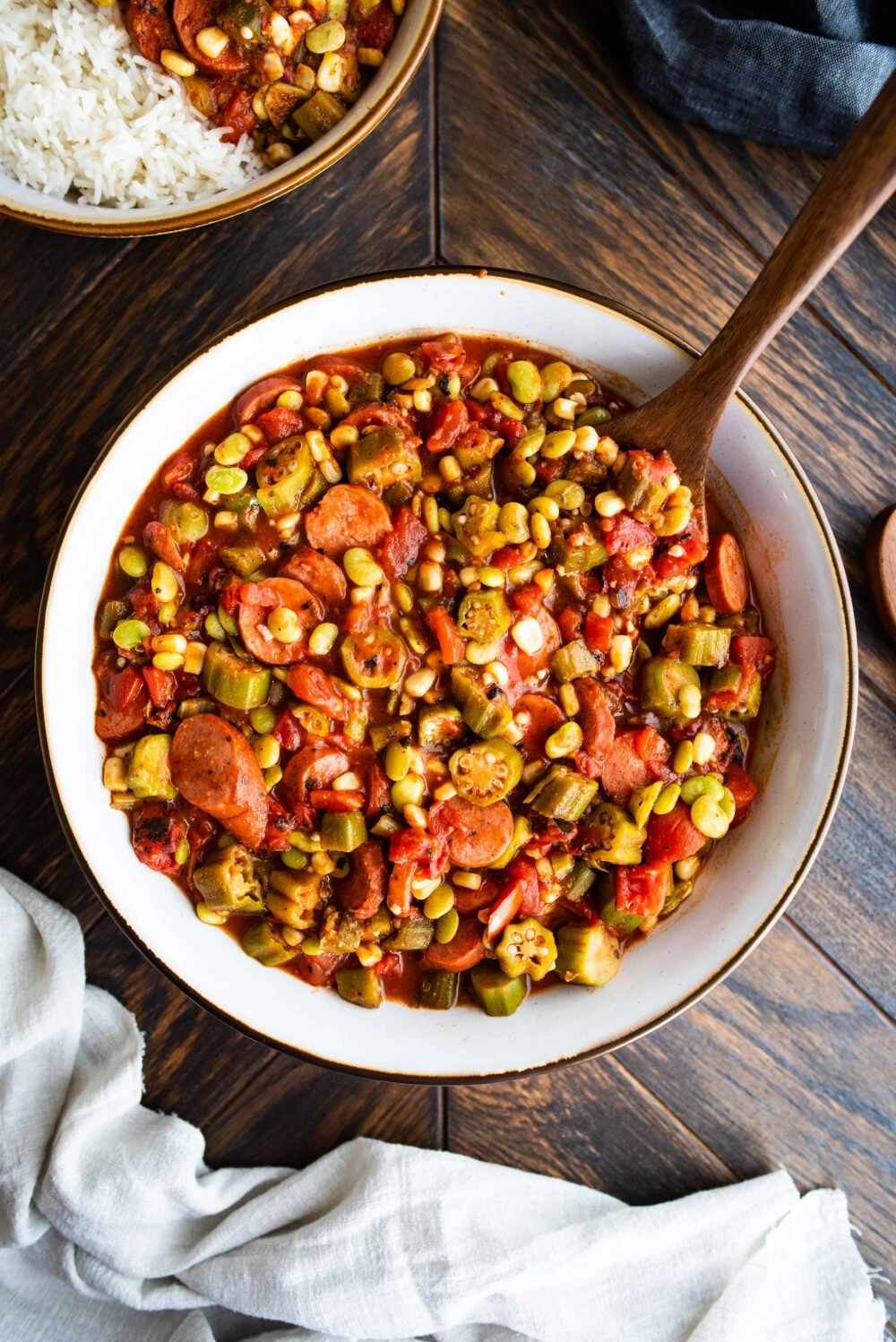 This Stewed Okra & Tomatoes with Chicken Sausage is both a combination and a twist of two recipes I grew up on — stewed okra & tomatoes and succotash. Succotash is made using okra, sweet corn, lima beans, turnips (sometimes), and tomatoes. Stewed okra & tomatoes are just that — okra and tomatoes — it's so simple but oh so good. My twist comes in with the addition of juicy chicken sausage.
Succotash is a staple in the South and has a long history. A dish filled with inexpensive ingredients was food that fed a lot of people through some really tough times.
Okra, originating in Ethiopia, is perfect for stews (it acts as its own thickening agent), and its mild yet earthy flavor is enhanced when cooked with tomatoes. I especially like to use stewed tomatoes as the juices become the tasty base of the dish. Okra and tomatoes are the perfect match; they come into season at the same time, and when prepared together, it is one of the simplest dishes you can make.
Now on to the recipe…
Ingredients you'll need to make stewed okra: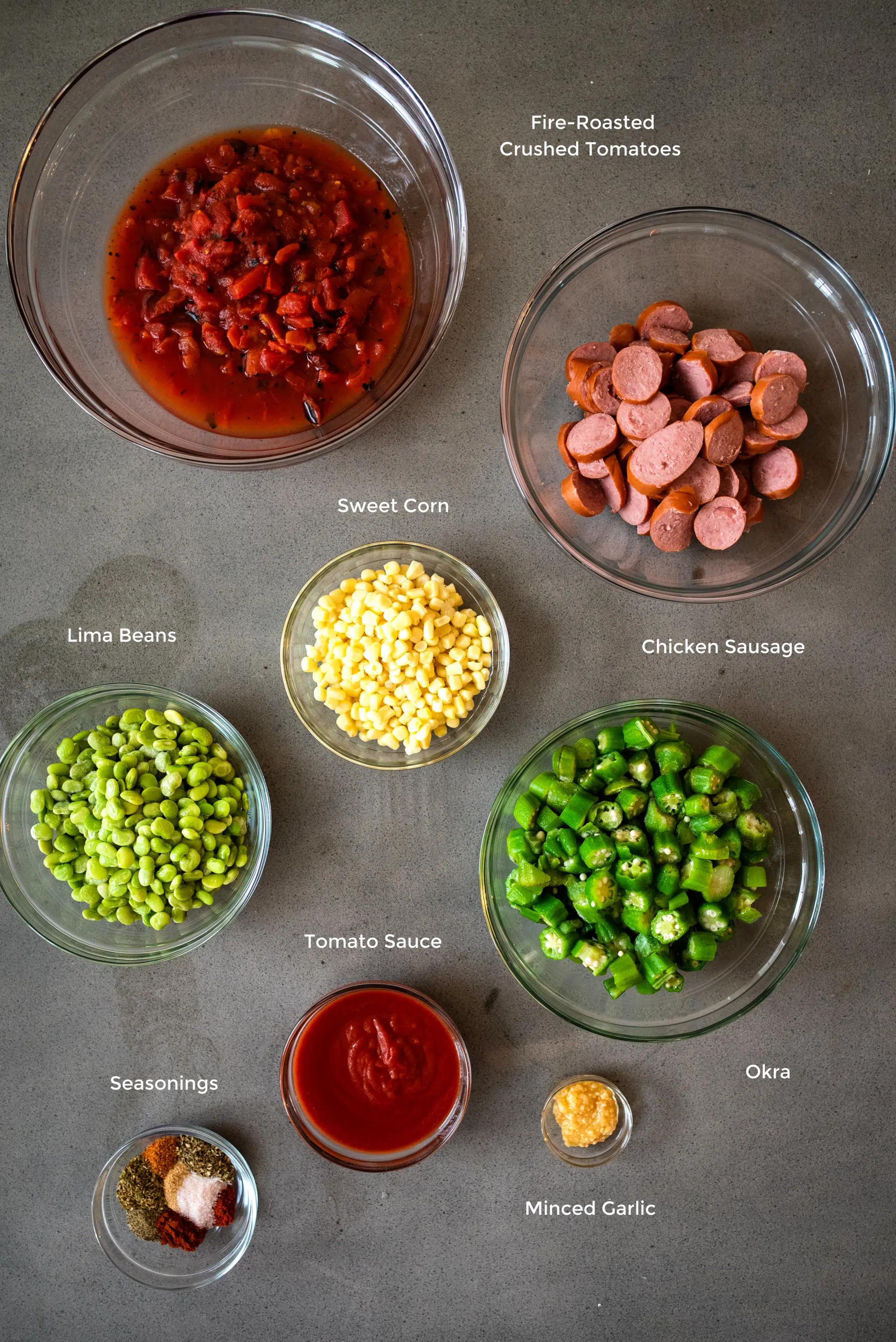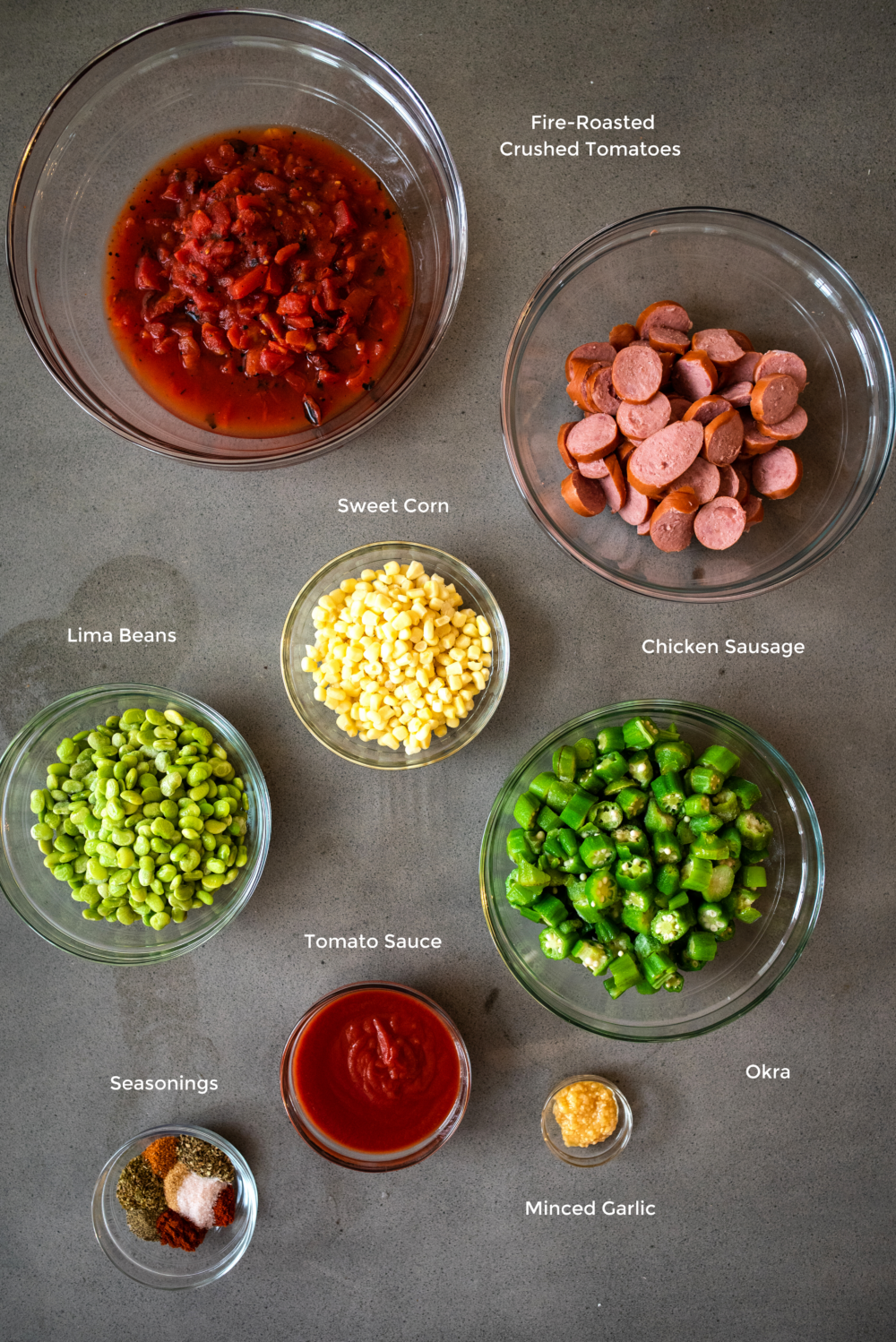 You can use fresh okra and cut them into 1- to 2-inch pieces, or you can purchase them frozen and pre-cut. Of course, pre-cut okra would be the easiest to use.
The same goes for the corn; you can use fresh corn, remove the kernels from the cob, or go with frozen corn. When I can, I prefer to use fresh corn on the cob as it seems to add a bit of texture to the recipe.
Lima beans are my bean of choice (mostly because it's how I make succotash, as I mentioned earlier). You can opt to leave these out if you like.
Adding roasted chicken sausage makes this dish even heartier.
Fire-Roasted crushed tomatoes

(paid link)

combined with tomato sauce serve as the base and helps create that wonderful stew consistency.
Can you really make any stew without minced garlic? That's probably a "no".
I blend Creole seasoning, black pepper, oregano, paprika, garlic powder, basil leaf flakes, red cayenne pepper, and sea salt for my seasonings.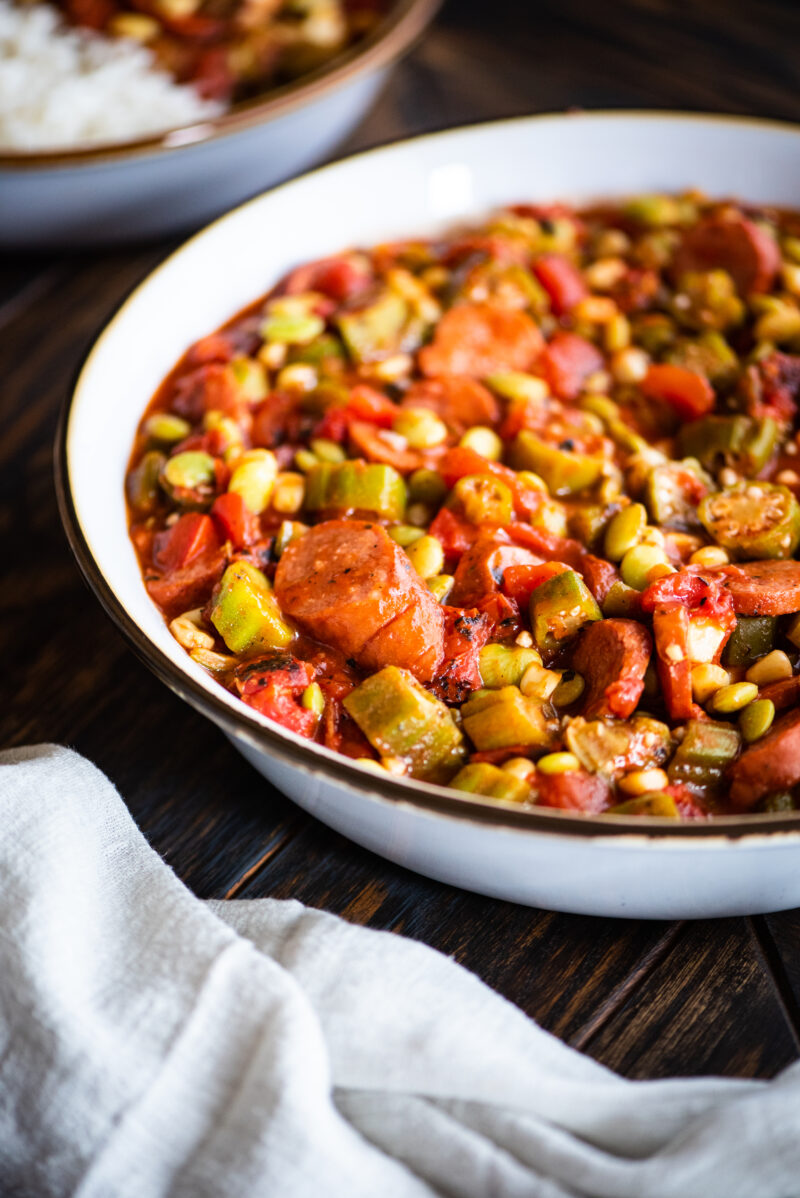 How to Make Stewed Okra with Chicken Sausage:
You will begin this recipe by slicing the chicken sausage into small pieces. Cook your sausage for around 5 minutes, then remove from heat.
Ensure your cooking pan is set to medium heat, then add butter and stir in the minced garlic. Add the okra to the pan and cook them down for 7 minutes. Note: I cook the okra by itself before adding any other ingredients to remove some of the "slime" that comes from the okra. Sauteing at very high heat, roasting, or searing in a hot cast-iron pan are all ways to ensure when you add cooked okra to your recipe, there will be hardly any slime at all.
Remove the kernels from the corn cob (if you are using fresh corn) from the cob into a large bowl.
Add the corn, tomato sauce, and lima beans to the pan and cook for an additional 5 minutes.
Add all remaining ingredients to the pan and cook covered for another 10 minutes.
Once complete, you can serve this dish with or without rice. I enjoy it both ways.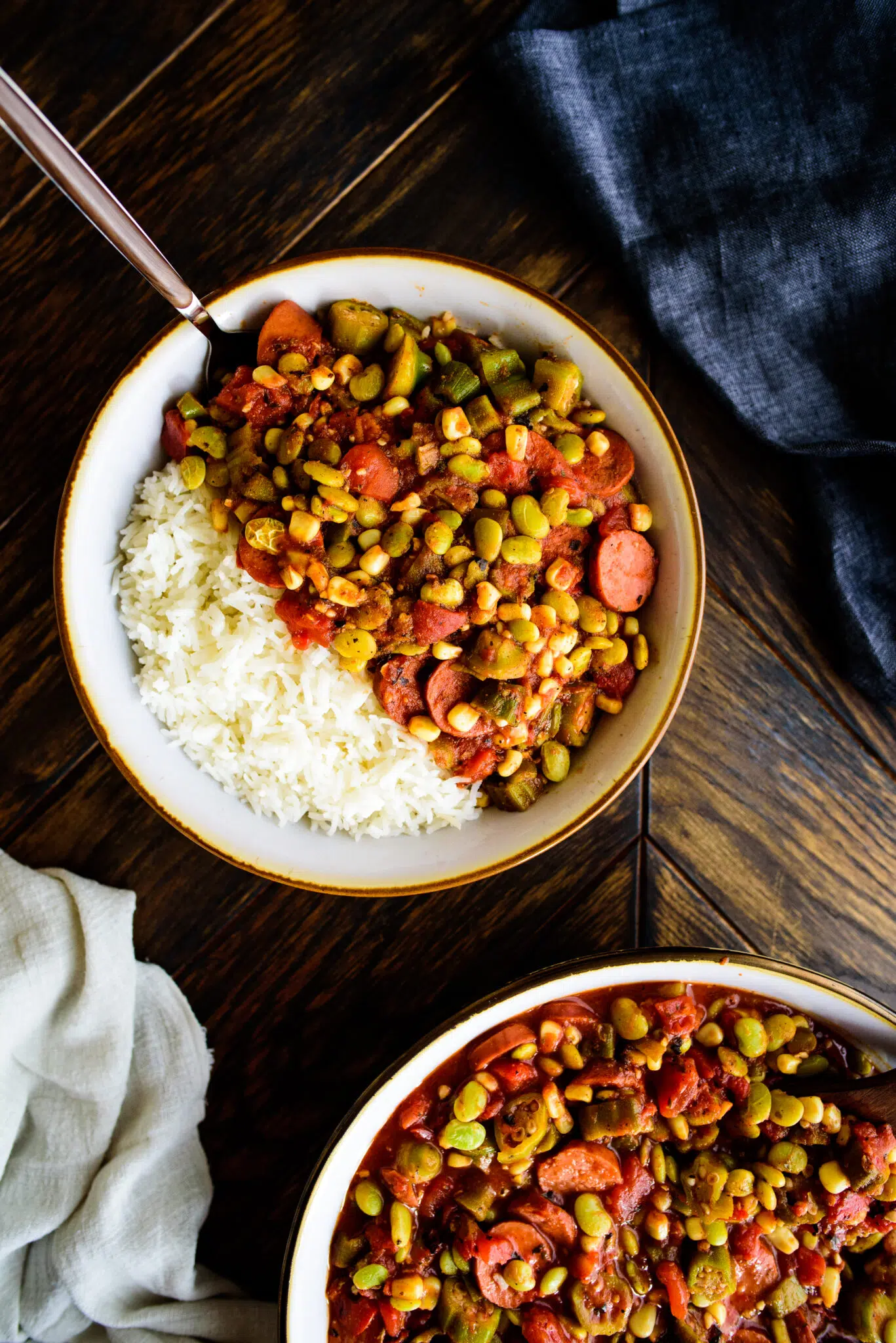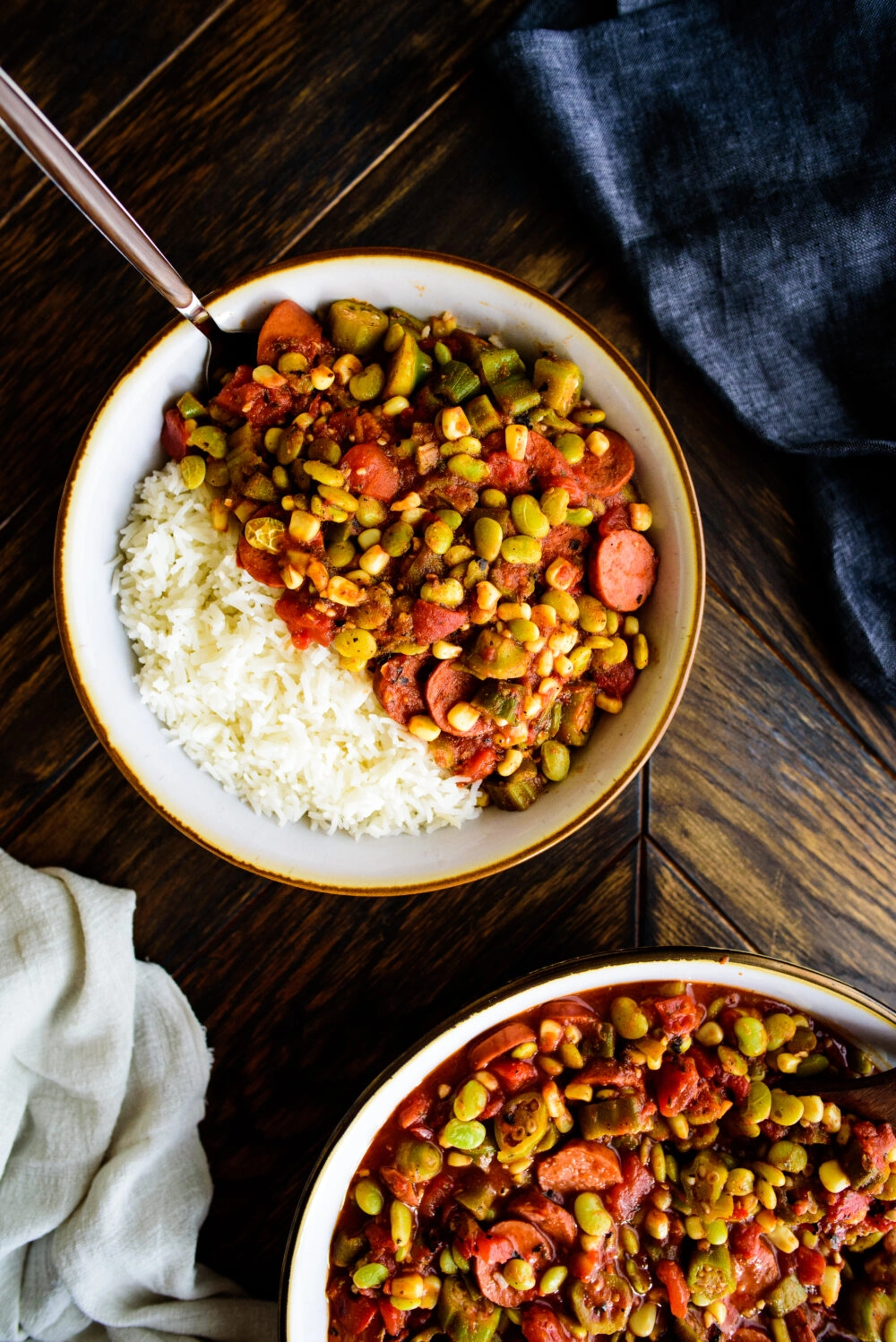 I really have a love for okra so all of the flavorful additions to this dish are like what JJ on Goodtimes would call "dynooomite". The fire-roasted crushed tomatoes (paid link) along with the roasted chicken sausage make the perfect team.
I hope you give my twist on stewed okra and tomatoes a try. And if you are looking for a great Sunday dinner idea this recipe will certainly do the job!
Here are a few more low-carb dinner ideas:
I collaborated with my fellow black food bloggers for this 2021 Black History Virtual Potluck and they are highlighting some of their favorite recipes as well. Here are a few of my favorites. Check them out!
Print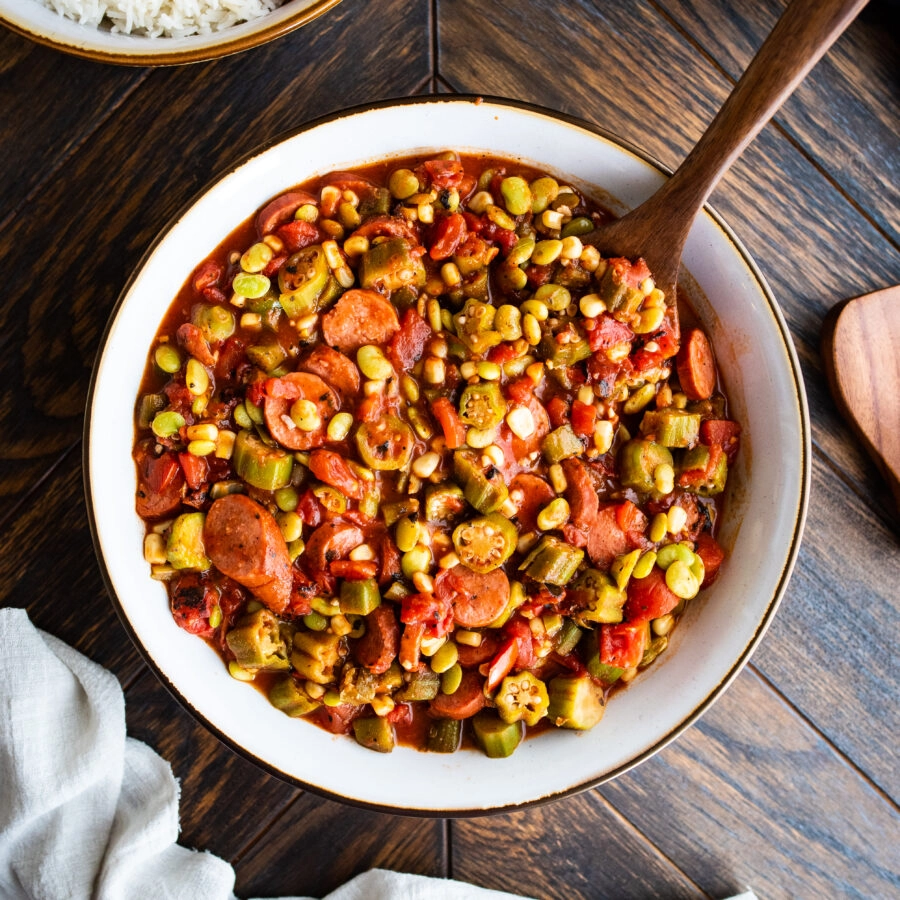 Stewed Okra & Tomatoes with Chicken Sausage
---
Author:

Eric Jones

Total Time:

35 minutes

Yield:

8

1

x
Description
Stewed Okra & Tomatoes with Chicken Sausage is a flavorful combination of okra, corn, lima beans, chicken sausage, and crushed tomatoes.
---
26 oz

. Roasted Chicken Sausage

1 cup

Sweet Corn

24 oz

. Cut Okra

1 tbsp

. Butter

3 tsp

. Minced Garlic

1/2 tsp

. Sea Salt

28 oz

. Fire-Roasted Crushed Tomatoes

(paid link)

8 oz

. Tomato Sauce

8 oz

. Lima Beans

1 tbsp

. Creole Seasoning

2 tsp

. Black Pepper

2 tsp

. Oregano

1 tsp

. Paprika

1 tsp

. Garlic Powder

1 tbsp

. Basil Leaf Flakes

1 tsp

. Red Cayenne Pepper
---
Instructions
Slice the chicken sausage. Cook on medium heat for 5 minutes. Remove from heat and set to the side.
Remove the kernels from the corn and set to the side (if using fresh ears of corn).
Ensure the pan is set to medium heat. Add butter and minced garlic, frequently stirring for 1 minute.
Add okra to the pan and season with sea salt. Cook uncovered for 10 to 15 minutes to help eliminate some excess slime.
Add chicken sausage, corn, fire-roasted tomatoes, tomato sauce, lima beans, and all seasonings to the pan. Cook covered for 15 minutes.
Serve alone or with rice.
Notes
You can use frozen corn and lima beans for this recipe.
You can use whole un-cut okra as well. You can add it to the recipe whole or cut it into smaller pieces. 
Prep Time:

10 minutes

Cook Time:

25 minutes

Category:

Stew

Method:

Stovetop

Cuisine:

Creole
Keywords: Stewed Okra, Stewed Okra with Sausage, Stewed Okra with Chicken, Stewed Okra and Tomatoes