Upon hearing the name "Filet Mignon" you may automatically begin to think high end restaurant, but today you can bring that same luxury home to your dinner table.
If you are a steak loving person this dish will bring home the goodness. My homemade hollandaise sauce served drizzled upon garlic flavored asparagus is a very good option to pair with your juicy Filet Mignon steak. They are a match match in heaven.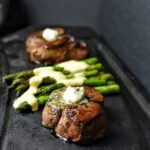 Ingredients
(2) 6 oz. Beef Boneless Filet Steaks

1 lb. Asparagus Spears

1 tsp. Garlic and Herb Butter

1/4 tsp. Garlic Powder

1 tsp. Minced Garlic

1/4 tsp. Black Pepper

1/4 tsp. Himalayan Sea Salt

For the Hollandaise Sauce:

2 Large Brown Eggs

1/4 cup Melted Butter

1 tbsp. Lemon Juice

1/4 tsp. Red Cayenne Pepper

Dash Black Pepper

Dash Sea Salt

3 tbsp. Butter
Instructions
For the Hollandaise Sauce:
In a medium bowl, add egg yoke only, lemon juice, red pepper, sea salt, black pepper and whisk until it begins to rise.
 Add a small amount of water to a small cooking pot and turn on low heat.
Continue whisking the egg yoke and lemon combination and begin to slowly add the melted butter into the bowl while holding bowl over low heated pot. Whisk until the ingredients are blended very well. Remove from heat and set aside.
Allow steak to come to room temperature before cooking. Season steaks with Himalayan sea salt and black pepper evenly on both sides.
Pre-heat cast iron skillet to medium to high heat and oven to 400 degrees. 9. Add 2 tbsp of butter and 1 tbsp of olive oil to heated skillet and place your steaks in skillet. Allow the steaks to cook for 5 minutes on one side and then 4 minutes on the other.
Top each steak with 1/2 tsp garlic and herb butter, and place them (still in the cast iron) in the oven for another 5 minutes. Once steaks are complete, remove from skillet and set to the side allowing to cool.
In a separate cooking pan on medium heat, add your butter and minced garlic.
Cut the root ends (about an inch off) of the asparagus spears, season with garlic powder, and saute for 10 minutes. Once asparagus is cooked, pour Hollandaise Sauce over the asparagus and serve with steaks.
Notes
I enjoy my steak medium-rare, but you can modify the filet mignon to your desired temperature by adding or removing oven cook time. For a medium temperature, add an additional 1 minute of cook time.