As we learn more about our bodies and become more aware of eating on the "healthier side" of the menu, gluten-free dishes quickly appear on the radar. Although my household isn't completely gluten-free, it is most certainly a preference — and not because we are jumping on a diet or trend bandwagon. Eating gluten-free has a few health benefits that may be worth looking into regardless if a person wants to lose weight or not.
So what is gluten?
Gluten is a type of protein found in wheat, rye, and barley. You see it most often in cereals, bread, and grains. It is known to improve cholesterol levels, promote digestive health, increase energy, and reduce your risk of heart disease, certain cancers, and diabetes. However, the main benefit for most is the healthy weight loss over time.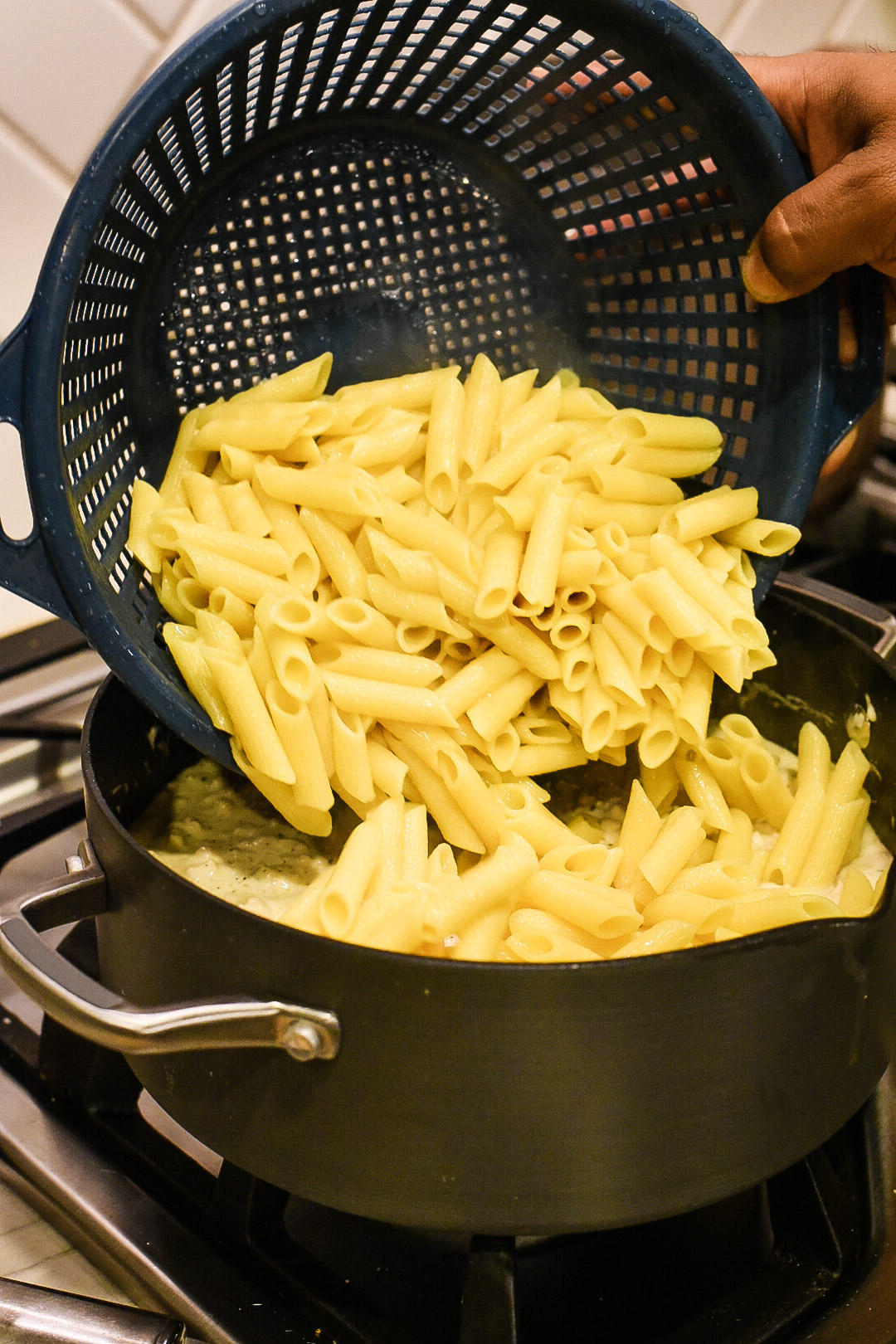 After discovering several gluten-free ingredients, I've slowly begun to incorporate more gluten-free dishes at home. And to my family's surprise, it doesn't taste any different. And for those who pay close attention to texture, you won't recognize any changes there either — well if you purchase the right brands.
So today I wanted to share a go-to dish in my home. This tasty pasta, which I call my Gluten-Free Chicken Gouda Penne Pasta, was an instant hit. The pasta I use is the H-E-B Central Market Gluten-Free Corn Penne. The texture of the corn pasta in this brand isn't much different from the typical flour-based pasta. As a matter of fact, I switched out the pasta at dinner without my family knowing just to see if anyone would notice. 🙂
A quick tip: It's better to cook the pasta last so it can be fresh once you mix it into the cheese mixture.
The Gouda cheese sauce for this recipe is something special too. It takes the flavor from memorable to over the top and that is just how I like it. And of course, I always season my protein really well as it just enhances the end result of the overall dish.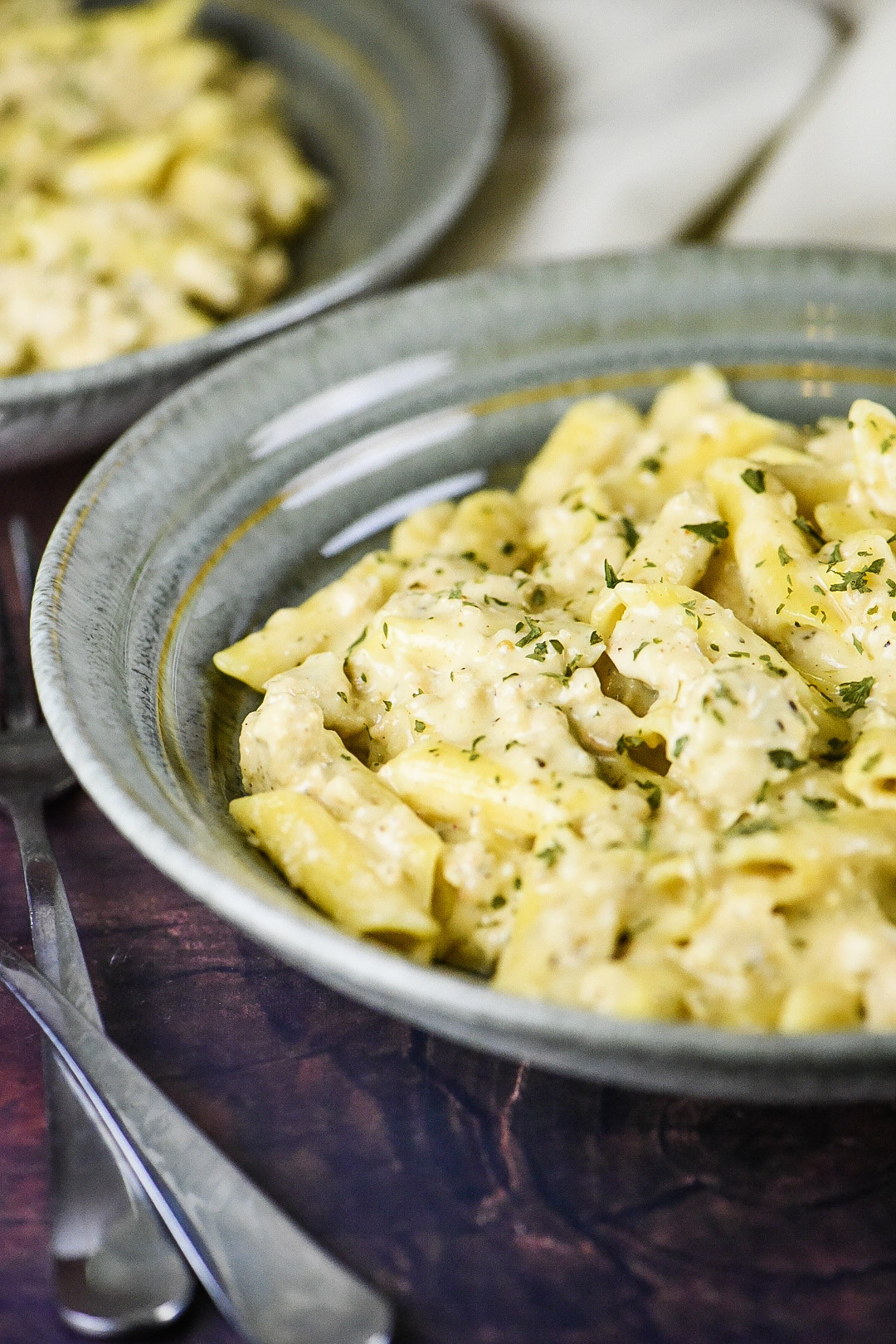 If you want a great tasting gluten-free pasta dish, give my Gluten-Free Chicken Gouda Penne Pasta a spot on your dinner table and you will not regret it!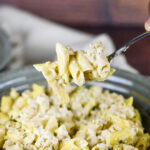 Ingredients
16 oz H-E-B Central Market Gluten-Free Corn Penne (or your choice of pasta)

2 lb Ground Chicken

1 Large Organic Egg

1/2 cup Grated Parmesan Cheese

2 tsp Paprika

1 tsp Garlic Powder

1 tbsp Oregano

1 tsp Himalayan Salt

2 tsp Black Pepper

For the Gouda Cheese Sauce:

2 cups Shredded Gouda Cheese

1 cup Shredded White Cheddar Cheese

2 tbsp Butter

2 tbsp Coconut Flour

1/2 cup Chicken Stock

3 tsp Minced Garlic

1/2 cup Grated Parmesan Cheese

2 cup Heavy Whipping Cream

1 tbsp Artisanal Seasoning

1/2 tsp Garlic Powder

1 tsp Black Pepper

1/4 tsp Himalayan Salt
Instructions
Begin by adding ground chicken, 1/2 cup Parmesan cheese, oregano, egg, 1 tsp black pepper, salt, garlic powder, and paprika into a large bowl. Mix well with hands.
Cook chicken in cooking pan on medium heat until well done for 5 minutes or more then remove from heat and set aside.
For the sauce, add butter, flour and minced garlic to a cooking pan on medium/low heat. Stir until it binds then add all remaining ingredients; except the pasta.
Cook pasta according to the instructions. After draining excess water from pasta, add cooked pasta to cheese mixture. Add cooked chicken to the same pot. Fold together.
Serve hot.