This creamy and savory meatball and mushroom pasta will go great on any dinner table on any day of the week! Think of this as a spin on a traditional beef stroganoff.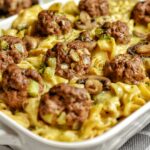 Ingredients
16 oz. Wide Egg Noodle Pasta

2 lbs. Lean Ground Beef

1 cup Chopped Onion

1/2 cup Chopped Celery

1/2 cup Italian Breadcrumbs

1/2 cup Condensed Cream of Mushroom Soup

8 oz. Organic White Sliced Mushrooms, cooked

8 oz. Greek Yogurt Cream Cheese

2 tbsp. Organic 2% Milk

2 tbsp. Worcestershire Sauce

2 cups Buttermilk

3 tbsp. Butter

2 tbsp. All Purpose Flour

1 tbsp. Paprika

1 cup Chicken Stock

1 tsp. Himalayan Pink Rock Salt

1 tsp. Organic Ground White Pepper

1 tbsp. Ground Cumin

1 tbsp. Black Truffle Oil

4 tbsp. Minced Garlic

1 tbsp. Slap Ya Mama Cajun Seasoning

4 cups White Cheddar Shredded Cheese

1 Egg

1 tbsp Parsley

1 tbsp Olive Oil
Instructions
1. For the meatballs:
2. Pre-heat oven to 375 degrees.
3. In a large bowl, break down the ground beef into smaller pieces.
4. In same bowl, add breadcrumbs, egg, condensed cream of mushroom soup, minced garlic, ground cumin, himalayan pink rock salt, organic ground white pepper, milk, worcestershire sauce, onions, celery and mix together with hands until everything is well blended. Sprinkle on Slap Ya Mama Cajun seasoning and mix with hands again.
5. Using meat mixture, form small meatballs. Place all meatballs on large baking sheet.
6. Bake meatballs at 375 degrees for 15 minutes or until brown. Set to side when done.
7. For the cheese sauce:
8. In a large pan, melt butter on medium to low heat. Add all purpose flour and 2 tbsp of the minced garlic and cook for 1 to 2 minutes.
9. Add chicken stock, paprika, and buttermilk to pan and stir until smooth.
10. Add 3 cups of the white cheddar cheese and stir until smooth then turn to low heat.
11. For the mushrooms:
12. Add olive oil to pan on medium heat and cook mushrooms for 5 minutes then place in separate bowl.
13. Pour black truffle oil over mushrooms and mix. Take a handful of mushrooms and set aside to be used to top off dish before baking.
14. Preparing to bake:
15. In a large pot, boil wide egg noodles for 8 to 10 minutes. Pour into strainer to drain and place in a large bowl.
16. Cut Greek yogurt cream cheese into small chunks and add to bowl with noodles.
17. Add cheese sauce and fold ingredients together.
18. Add 3/4 of the cooked meatballs into bowl and most of cooked mushrooms to bowl and mix together.
19. Pour all ingredients from bowl to baking dish.
20. Top ingredients with remaining white cheddar shredded cheese, meatballs and remaining cooked mushrooms.