This double layered turkey pepperoni pizza is a great go to on pizza nights and perfect for those who may enjoy a pork-alternative.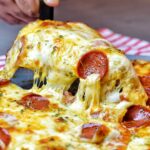 Ingredients
4 o.z Uncured Turkey Pepperoni Slices

1 lb. Fresh Pizza Dough

15 oz. Organicville Organic Pizza Sauce

1 lb. Mozzarella Shredded Cheese

4 oz. Colby Cheese Block

1/3 cup Pastry Flour

1 tbsp. Butter

1 tsp. Italian Seasoning

1 tbsp. Dried Parsley
Instructions
1. Sprinkle pastry flour over kitchen counter top (this keep dough from sticking).
2. Using your hands, place fresh dough onto flour and begin to form it into a large circle.
3. Using a pizza dough roller, roll the pizza dough into a circle approx. 16-inch in diameter.
4. Place rolled pizza dough on pizza pan.
5. With a large spoon spread the pizza sauce evenly over the dough leaving the outside edges free of sauce (for the crust).
6. Add a layer of pepperoni slices.
7. Cut colby cheese into small thin pieces and spread over pizza.
8. Add more pepperoni over the colby cheese.
9. Add shredded mozzarella over the entire pizza.
10. Add the rest of the pepperoni over the top of the cheese.
11. Sprinkle the dried parsley over the top and place in the oven. Bake at 400 degrees for 15 to 18 minutes.
12. Melt butter into a small sauce bowl and add Italian seasoning, then stir.
13. Once the pizza has finished baking, spread the mixed butter over the crust of the pizza.
14. Allow to cool and serve.