The weekend calls for cocktails and this martini will kick things off nicely.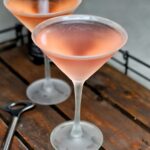 Ingredients
2 oz. Watermelon-Berry Minute Maid Juice

2 oz. Effen Cherry Vodka

1/2 tsp. agave

1 oz. Guava Nectar Juice

1/2 cup ice
Instructions
1. Add ice and all ingredients to cocktail shaker.
2. Shake until ingredients are well blended.
3. Serve in Martini glass.