The weekend calls for cocktails and this martini will kick things off nicely. The wife and I were relaxing on our typical Friday night when this drink idea was born. She loves a good martini and I enjoy anything with alcohol (:)) so this was a perfect match for the both of us.
I drink the Light Watermelon-Berry Minute Maid Juice quite often because of the minimal amount of calories so mixing this into a good alcoholic beverage has its benefits.
The Effen Cherry Vodka taste great alone and teaming it up with Guava Nectar Juice has made this a favorite in my home. If you are looking for a great (and refreshing) drink on the weekend give this Guava Watermelon Martini a shot and you will enjoy it.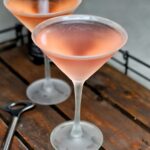 Ingredients
2 oz. Light Watermelon-Berry Minute Maid Juice

2 oz. Effen Cherry Vodka

1/2 tsp. agave

1 oz. Guava Nectar Juice

1/2 cup ice
Instructions
1. Add ice and all ingredients to cocktail shaker.
2. Shake until ingredients are well blended.
3. Serve in Martini glass.