The Coquito Cocktail is a popular holiday drink but is good enough to keep in rotation throughout the year. I would like to give thanks the Puerto Rican culture for this contribution to the world of cocktails because this is an awesome drink. WEPA!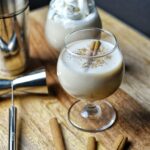 Ingredients
1 1/2 cup Cream of Coconut

1 cup Coconut Milk Reduced Fat

1 cup Evaporated Milk 2% Low Fat

1 1/2 cup Ice Cubes

1 tsp. Vanilla Extract

1/2 tsp. Ground Nutmeg

1 tsp. Ground Cinnamon

8 oz. Malibu Black Rum
Instructions
1. In a large blender, add cream of coconut, coconut milk, evaporated milk, vanilla extract, ground nutmeg, ground cinnamon, rum and ice.
2. Blend ingredients for 5 minutes.
3. Top with whipped cream and dash of nutmeg in serving glass and serve.
4. This recipe makes 4 – 6 servings.