Creamy Baked Four-Cheese Mac and Cheese
Creamy Baked Mac and Cheese is a staple recipe that is enjoyed in many households at pretty much any time of the year. It's the one recipe that every cook should have, is perfect for serving at any gathering, and is the quintessential southern comfort food.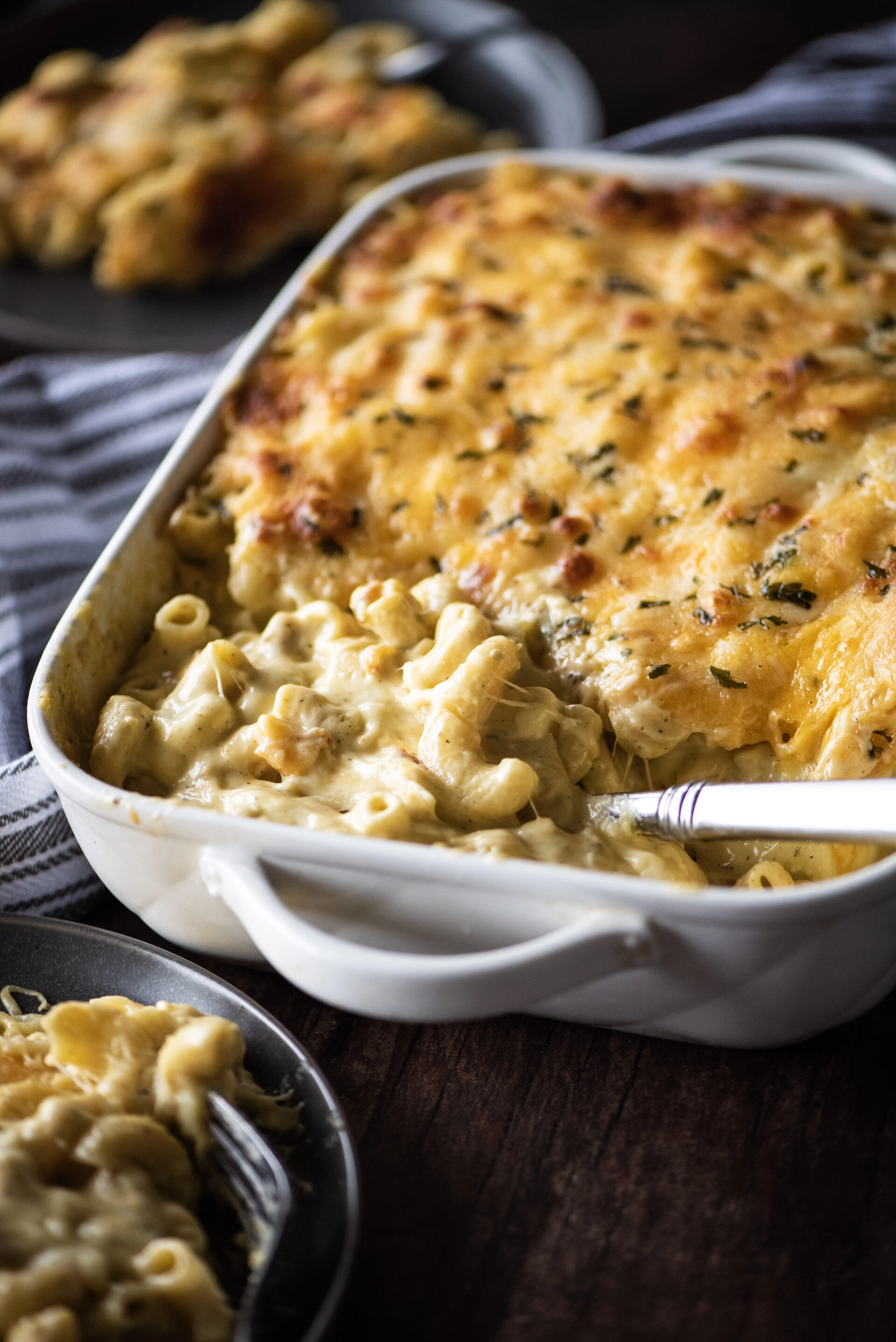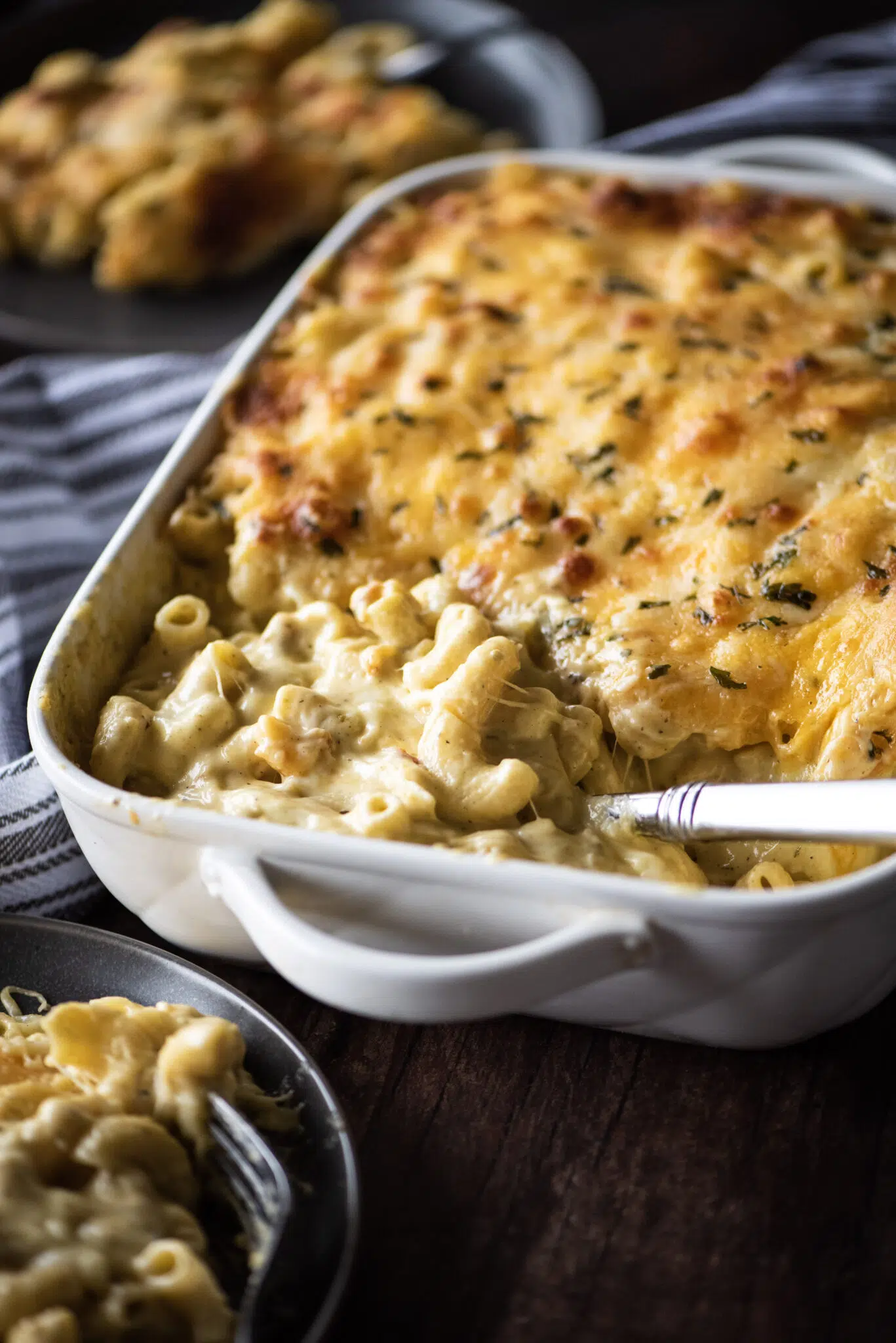 Macaroni and cheese recipes can become the topic of "healthy" discussion when speaking on its preparation. It seems there are a lot of versions out there that we've all grown to know and love; hence there are multiple ways to make it.
Some prefer to make it on the stovetop while others bake it; some use egg and some don't. The cheese you'll use will also vary as well as the technique — and the technique is where the real difference lies.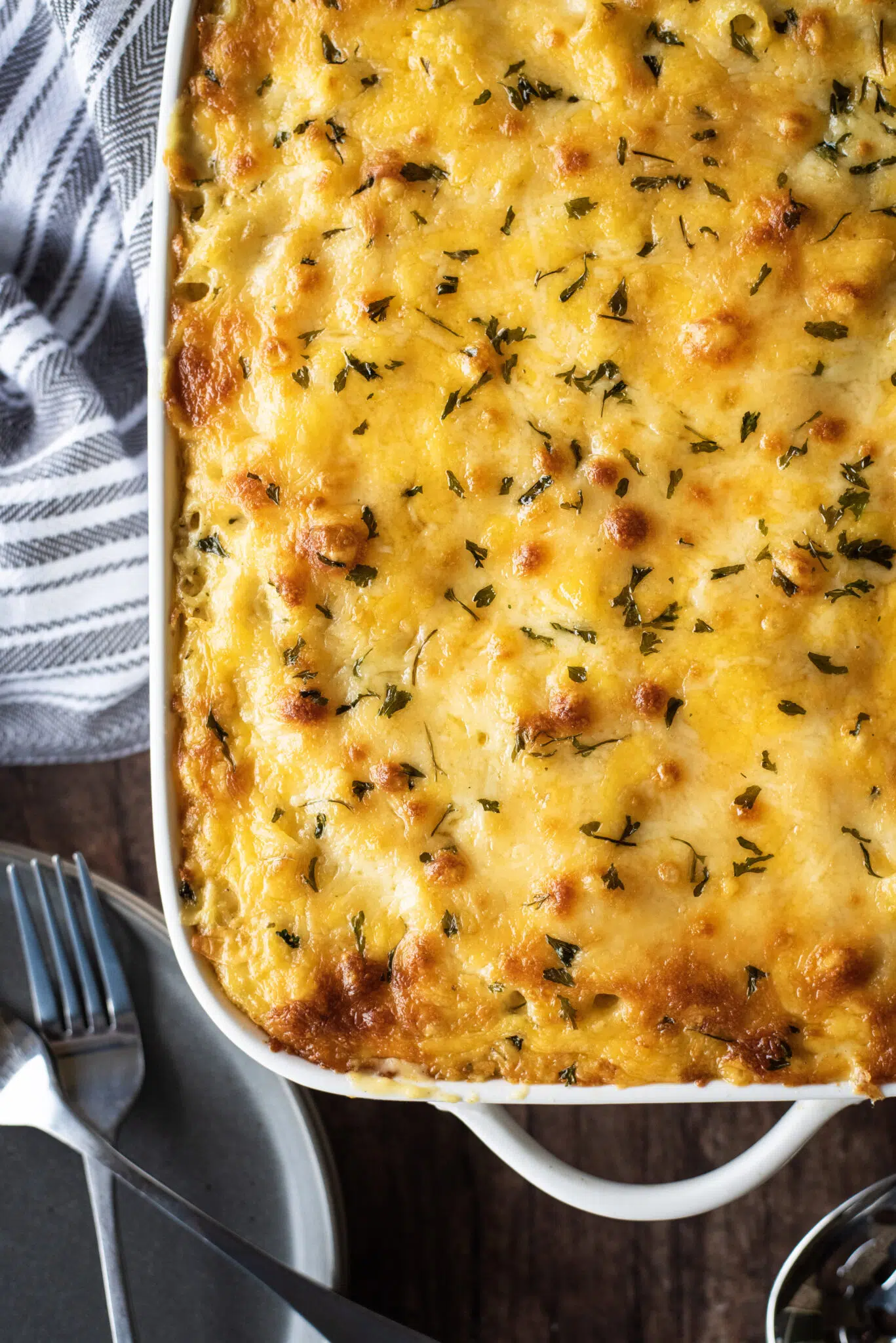 The mac and cheese I grew up on is very different than the mac and cheese I now make for my family. Growing up, a baked mixture of cooked macaroni, milk (whole, evaporated, heavy cream, or half-and-half), cheddar cheese, and sometimes eggs was always the foundation. This is what I call traditional southern baked macaroni and cheese AKA Soul Food mac and cheese.
My version uses a Béchamel sauce (technically a Mornay sauce), which gives my recipe a distinct creaminess and results in very rich mac and cheese. However, I still bake it, so it still has some traditional components. It uses a combination of cheeses for both the creamy cheese sauce and the topping, which results in the ultimate baked mac and cheese.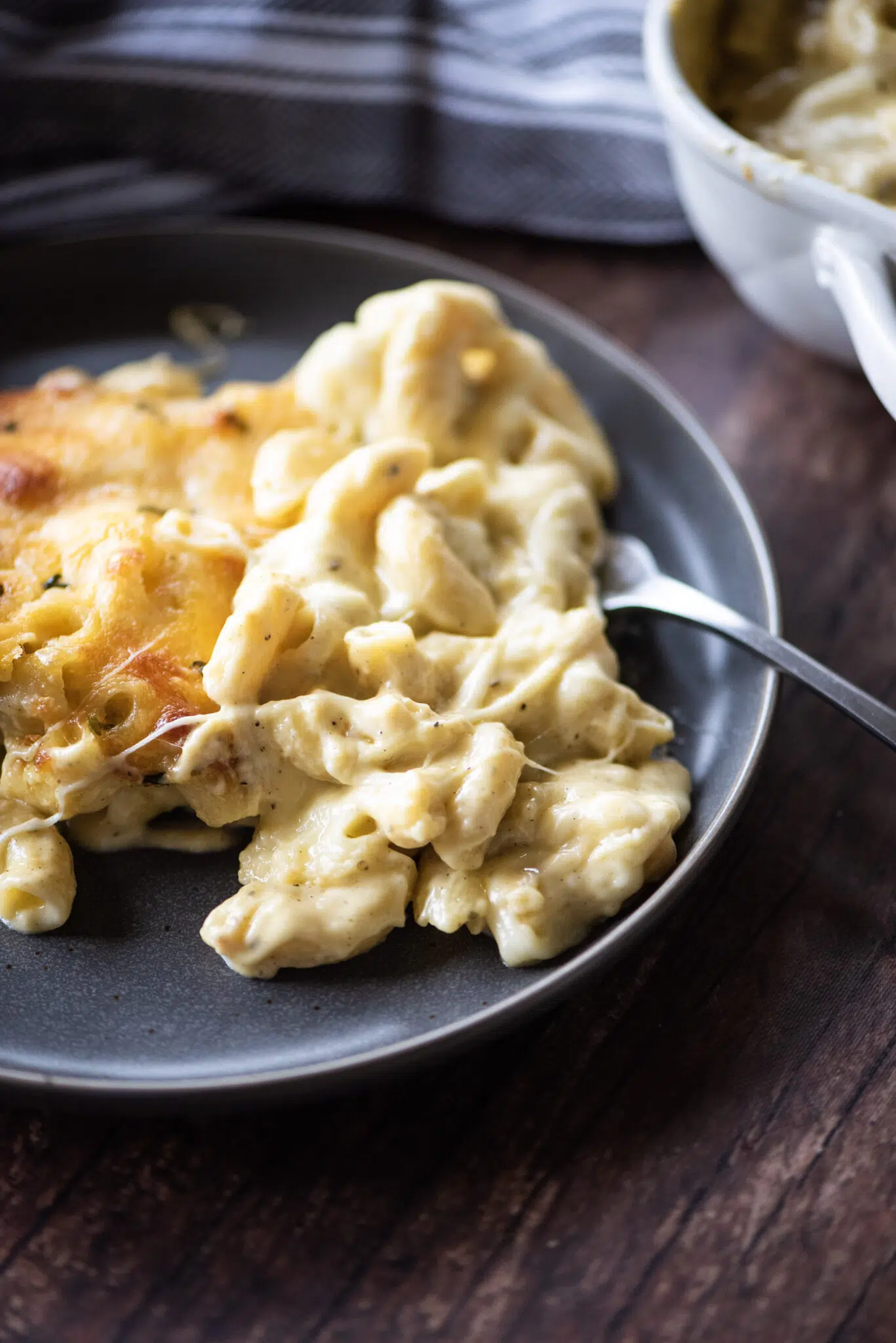 This recipe is a family favorite recipe and is requested multiple times throughout the year — and it goes without saying that it takes the primary spot amongst all side dishes during the holidays.
You know I wasn't going to toot my own horn here, but this is some of the best baked mac and cheese I have ever made.
Which cheeses should I use to make four cheese mac and cheese?
I chose to go with four different kinds of cheeses. I think this is a great combination for this easy baked mac and cheese recipe:
Sharp or medium cheddar is a tangy cheese with more complex and deeper flavors. Because this cheese is aged longer, it has a more sharp and pronounced cheddar flavor.
White cheddar is a New York-style Cheddar that has a sharp and buttery flavor as well but tends to be milder than the sharp cheddar above.
Gouda is characterized by its rich, nutty, and caramel-like flavor paired with its smooth and creamy texture. It's a household favorite that I use in many recipes.
Mozzarella has a distinct but mild, somewhat salty flavor and does a great job picking up flavors from other ingredients. I can eat mozzarella on anything you can put cheese over.
Ingredients you'll need for this four cheese mac and cheese recipe: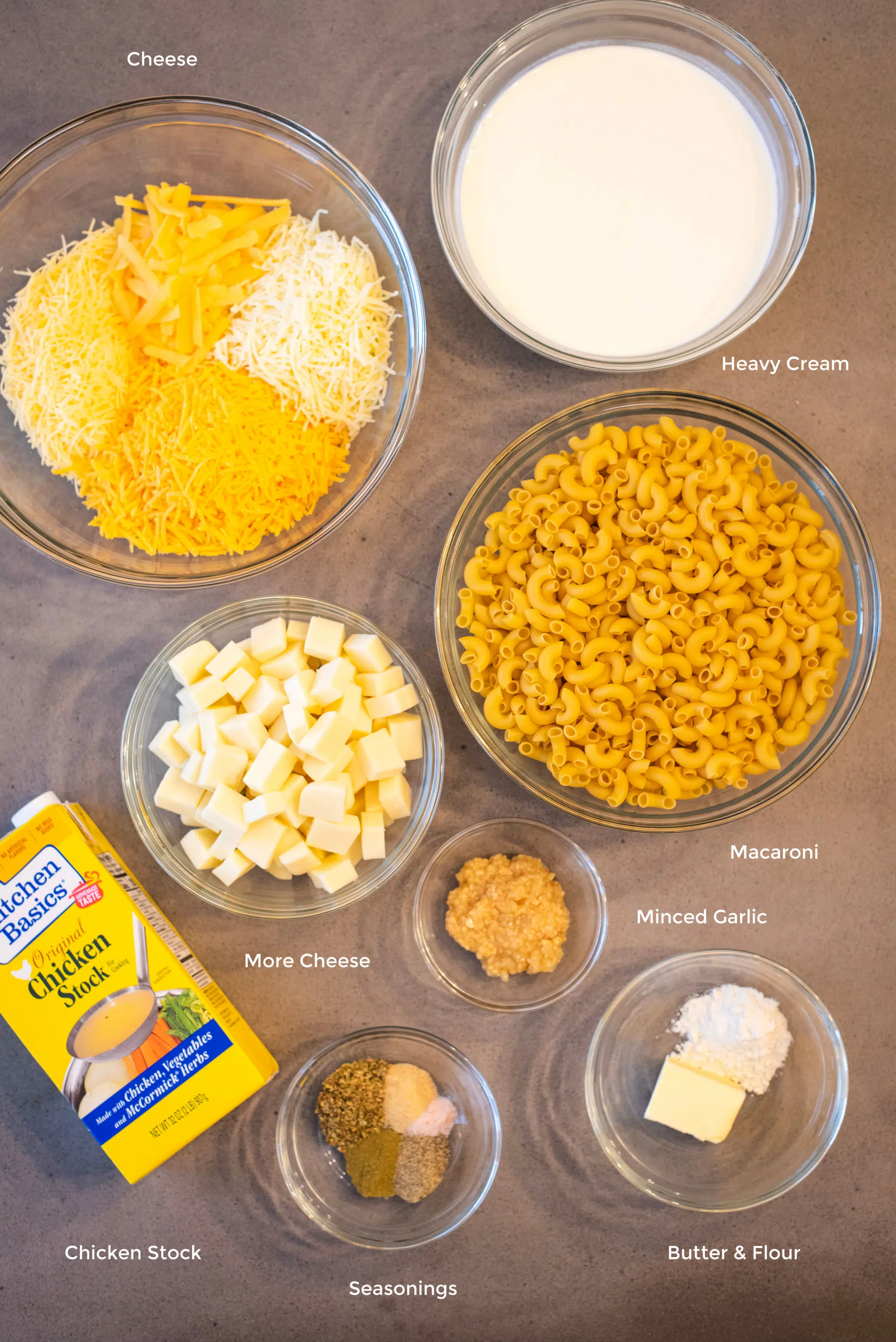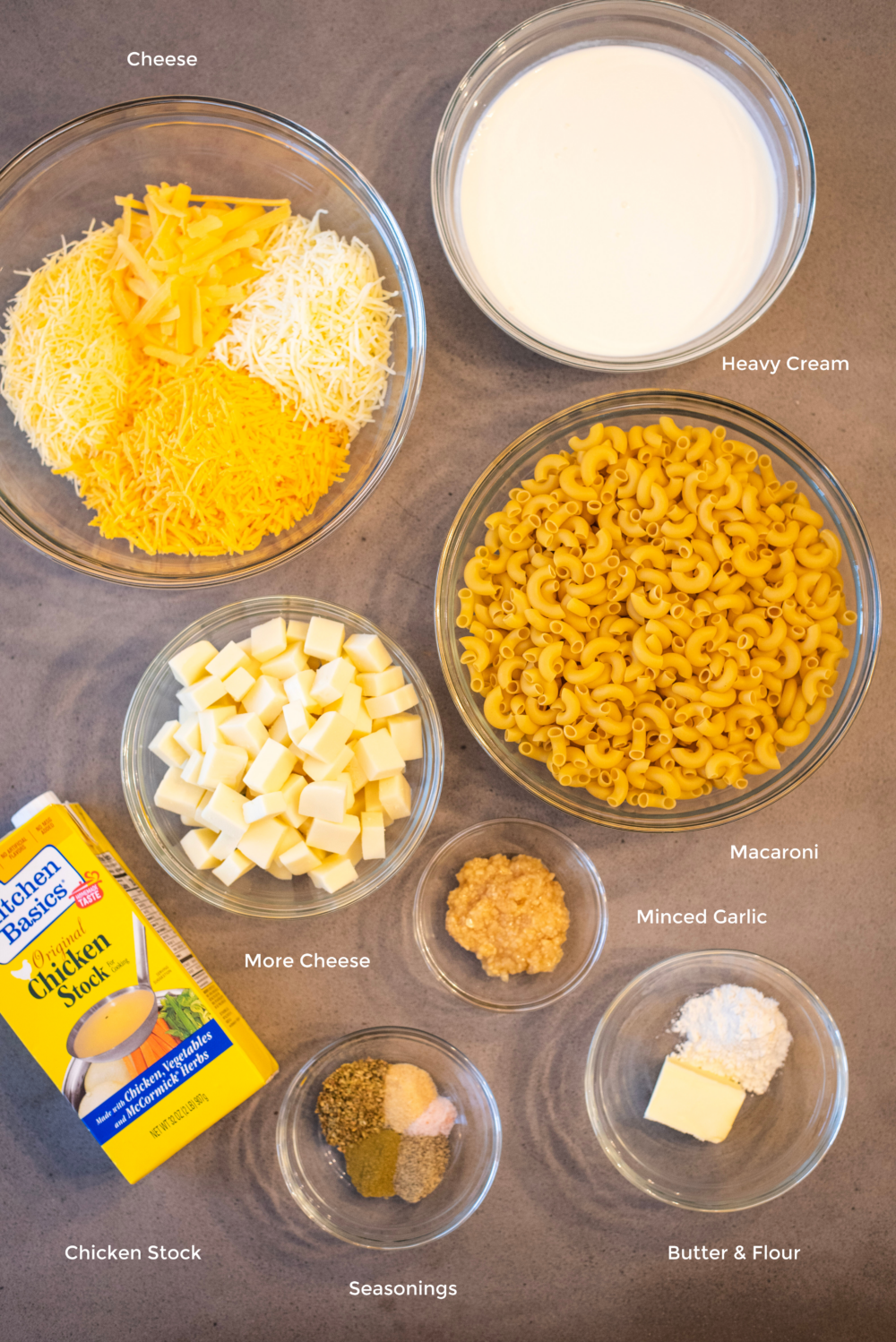 The most popular pasta to use is elbow or macaroni pasta if you make mac and cheese. I prefer large elbow pasta as the narrow tubes are larger and can carry a little more of that creamy cheese sauce.
I discussed in detail a little earlier about the cheese. I chose cheddar cheese, gouda, white cheddar cheese, and mozzarella.
I use low-sodium chicken stock to make my cheese sauce. It adds the flavor needed without over salting the dish by adding a lot of salt directly.
The two ingredients to make my roux are butter and all-purpose flour, and to create the béchamel, I add heavy whipping cream.
For my seasonings and herbs, I added garlic, oregano, thyme, and sea salt.
How to make baked four cheese mac and cheese:
Boil pasta. Begin by boiling your macaroni pasta as instructed, draining, and adding the pasta to a large bowl. (Make sure your pasta is cooked "al dente" and is not overcooked or mushy. Since the pasta will continue to cook in the oven, you want to start with "al dente" pasta to compensate for the extra baking time.)
Prepare the béchamel sauce. Next, let's work on the sauce while the pasta is cooking. You will begin by adding the butter, garlic, and flour into your cooking pan, stirring until the butter has melted. Add the chicken stock and heavy whipping cream to the pan and stir until it begins to bind. Follow this up by adding all the seasonings to the sauce.
Add the cheese to the sauce. Add the shredded sharp cheddar cheese, shredded Gouda cheese, and shredded white cheddar cheese to the pan. Stir ingredients until it is well blended, creamy, and smooth.

Combine the cheese sauce with the pasta. Chop your mozzarella cheese block into chunks and set to the side. Over the cooked pasta, pour the sauce, and add the cheese blocks. Now fold everything together.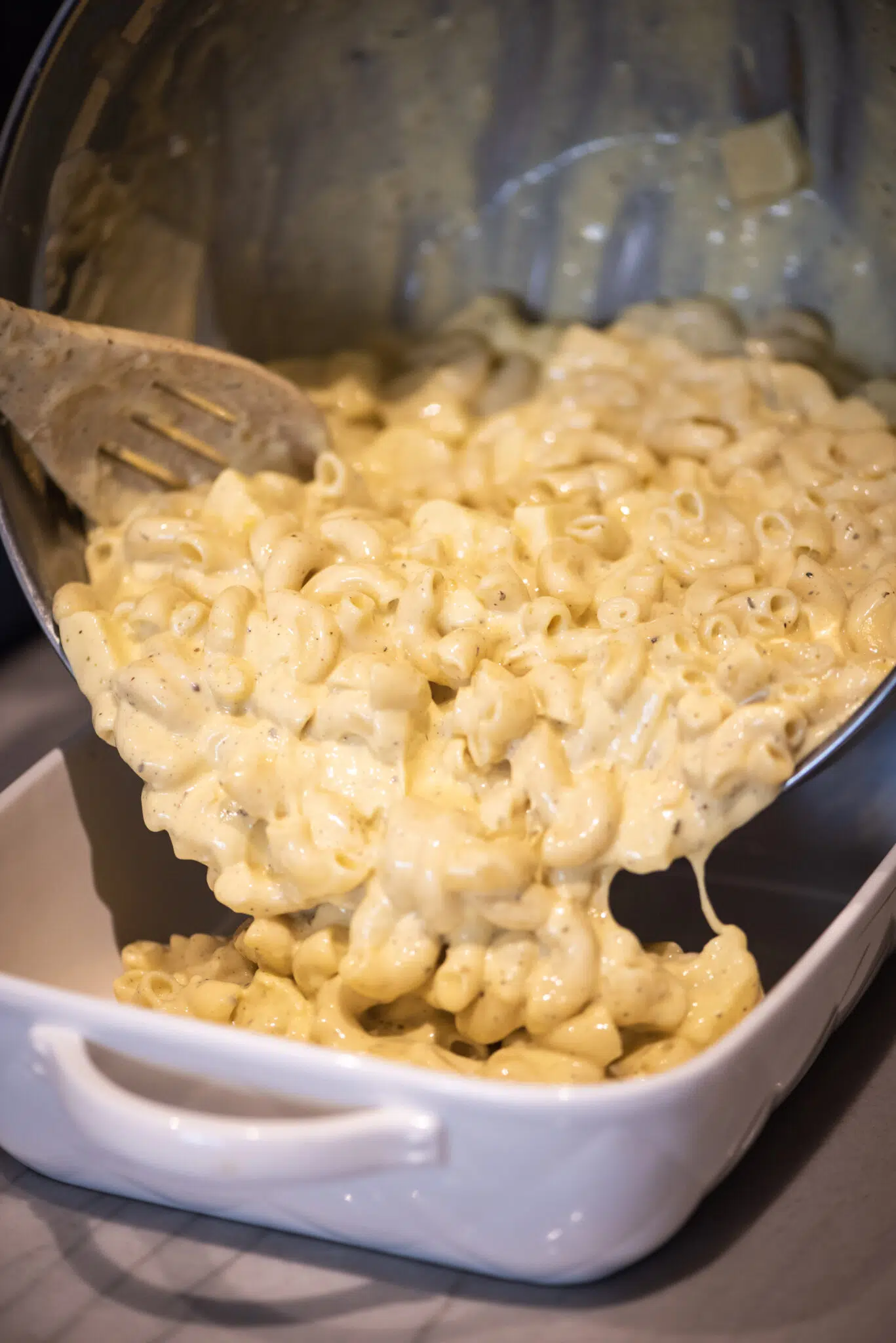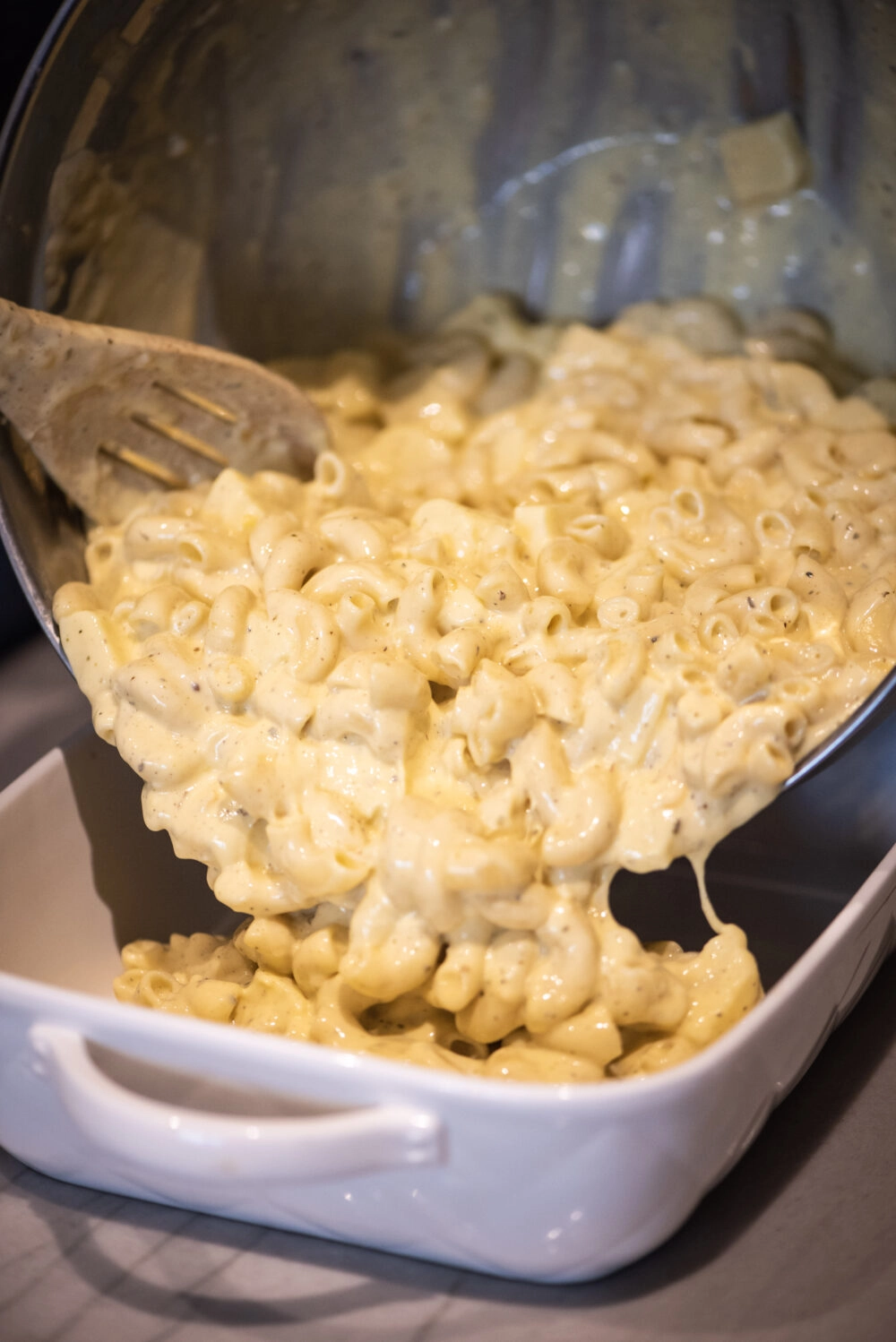 Add to a casserole dish (paid link) and bake. Pour all ingredients into a casserole dish (paid link), then top off with the shredded medium cheddar cheese. Bake at 350 degrees for 25 minutes, remove from the oven, and it's ready to go!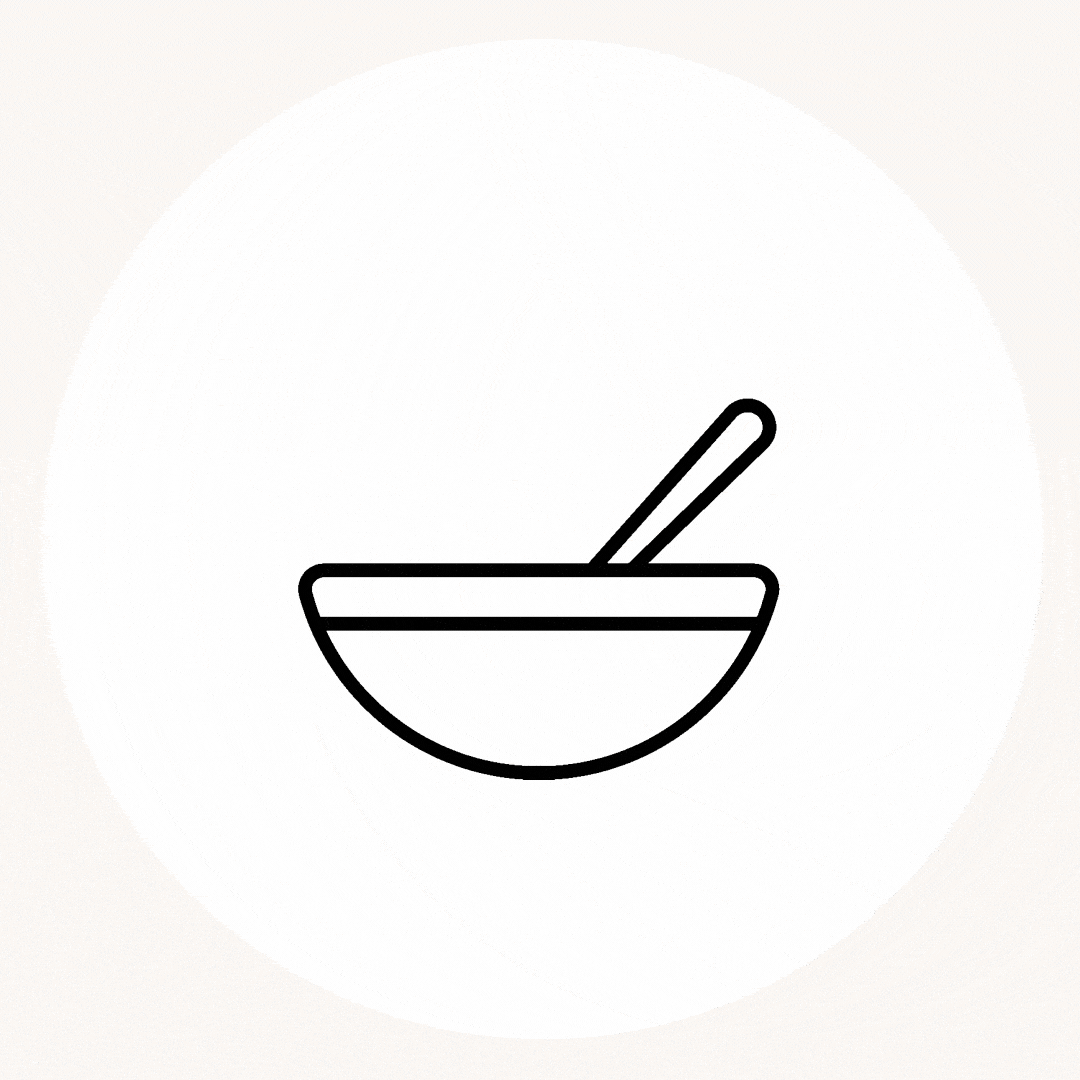 Baked Mac & Cheese FAQs
What is a béchamel or mornay sauce? Five core sauces are used in most French cuisine (AKA the five mother French sauces): hollandaise, velouté, tomato, espagnole, andbéchamel. Béchamel is a white sauce made from a roux (flour and butter) plus milk. It can add an amazingly creamy and rich texture to almost any dish and becomes the base for many other sauces, like Mornay. Mornay is created when you take béchamel sauce and add cheese like Gruyère, Parmesan, or cheddar.
How much mac and cheese does this recipe make? Perfect for the holidays, this recipe prepares a large casserole for a small gathering of 8-10. Feel free to cut the recipe in half if only needed for a smaller gathering of 4.
Can I make this recipe ahead of time? Follow all instructions except the final baking step. Once assembled, cover your casserole dish

(paid link)

with foil and place it in the refrigerator for up to 2 days. When you are ready to bake your mac and cheese, allow it to sit at room temperature for 30 minutes, then bake according to the instructions.
Can I store this mac and cheese? What I love about this recipe is it is great days after making it. It's almost as if the cheese melts all over again. And that's because of the base béchamel/mornay sauce. You can place any leftovers in an airtight container for up to 3 days.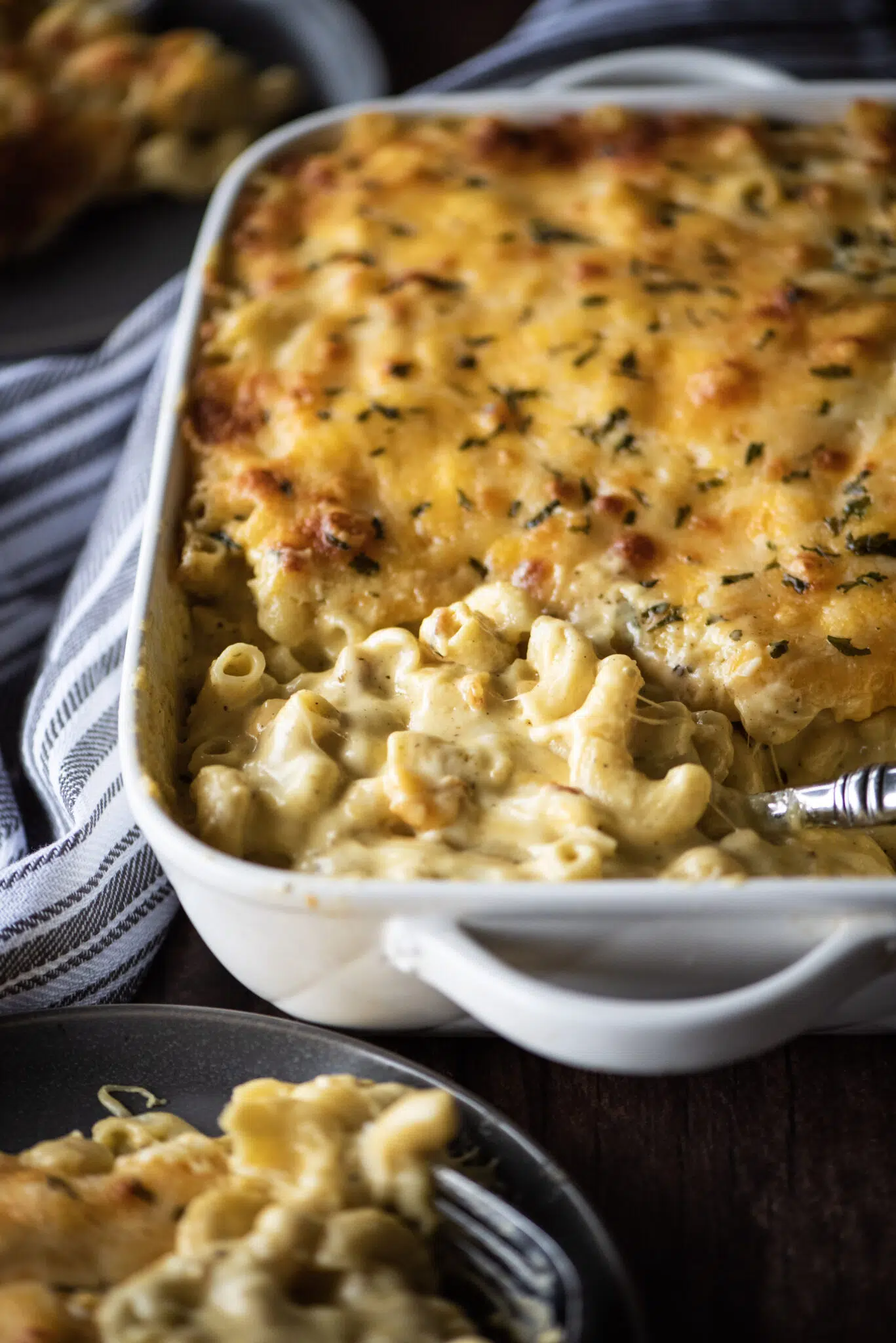 If this is your first time making homemade mac and cheese, this easy recipe will have you cooking like a pro in no time!
This crowd-pleasing creamy mac and cheese recipe is one that your family will love any day of the week and any time of the year. If you want to make a great impression, give this recipe a try, and you will not regret it. It's a good one!
Love mac and cheese? Then you must try my…
Print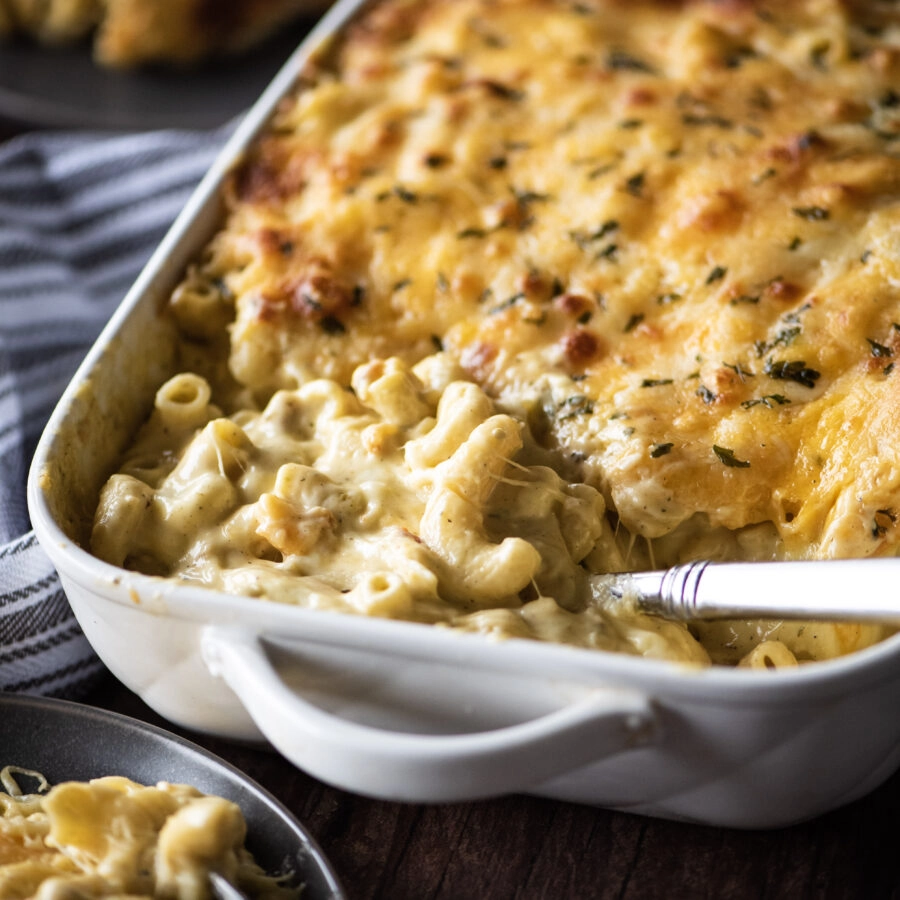 Creamy Baked Four-Cheese Mac and Cheese
---
Author:

Eric Jones

Total Time:

45 minutes

Yield:

1

0

1

x
Description
Made with four cheeses this baked mac and cheese recipe gets its creaminess and cheesiness from homemade mornay sauce (made from béchamel).
---
5

cups

large macaroni pasta, dry/uncooked

3 tbsp

butter

3 tbsp

minced garlic

2 tbsp

all-purpose flour

1/2

cup

chicken stock

3

cups

heavy whipping cream

2 tsp

oregano

1 tsp

ground thyme

1 tsp

garlic powder

1/2 tsp

sea salt

16

oz

sharp cheddar cheese, shredded

8

oz

gouda cheese, shredded

8

oz

white cheddar cheese, shredded

16

oz

mozzarella cheese block, cubed
---
Instructions
Cook macaroni pasta as instructed. Drain (do not rinse) and add to a large bowl. Set to the side.
While your pasta is cooking, add the butter and minced garlic to a large cooking pan on medium-low heat. Once the butter melts, add the flour. Stir consistently until combined.
Pour the chicken stock and heavy whipping into the cooking pan and stir until well blended.
Add oregano, ground thyme, garlic powder, sea salt, 8 oz. sharp cheddar cheese, gouda, and white cheddar cheese into the cooking pan. Stir until smooth and creamy. (Using a whisk

(paid link)

may help with this step). 
Pour the cheese sauce over the cooked macaroni. Add the mozzarella cubes to the same bowl. Fold ingredients together.
Pour ingredients into a casserole dish

(paid link)

and top off with remaining sharp cheddar cheese. Bake for 25 minutes at 350 degrees. Allow to cool, then serve.
Notes
Perfect for the holidays, this recipe prepares a large casserole for a small gathering of 8-10. Feel free to cut the recipe in half if only needed for a smaller gathering of 4. 
Prep Time:

5 minutes

Cook Time:

40 minutes

Category:

Comfort Food

Method:

Baked

Cuisine:

American
Nutrition
Calories:

660

Sugar:

3.6g

Sodium:

780mg

Fat:

38.8g

Carbohydrates:

40.4g

Fiber:

1.9g

Protein:

36.4g

Cholesterol:

118mg
Keywords: Creamy Baked Four-Cheese Mac and Cheese, Four-Cheese Mac and Cheese, Baked Mac and Cheese, Creamy Mac and Cheese, macaroni and cheese