If you are true pizza lover such as myself, you will definitely appreciate the personal touch that this Personal Deep Dish Jalapeno Turkey Pepperoni Pizza brings to the dinner table.
The turkey pepperoni along with the kick you get from the jalapeños will have you biting into multiple layers of cheese and immediately looking forward to the next bite. Make things a little more "personal" for your next pizza night and indulge in an entire pie all by yourself.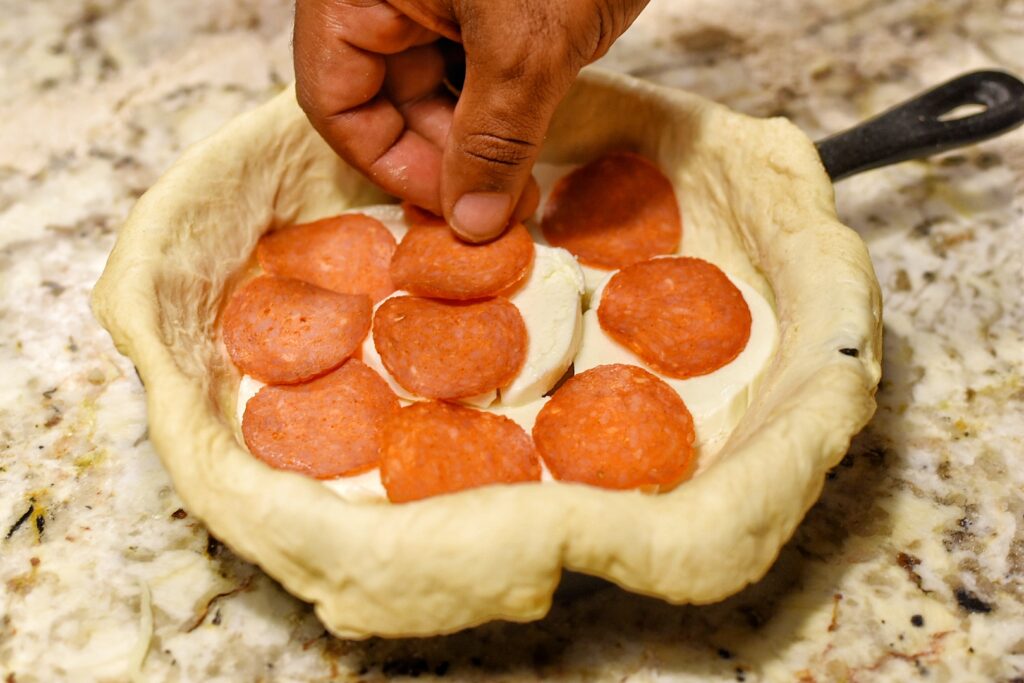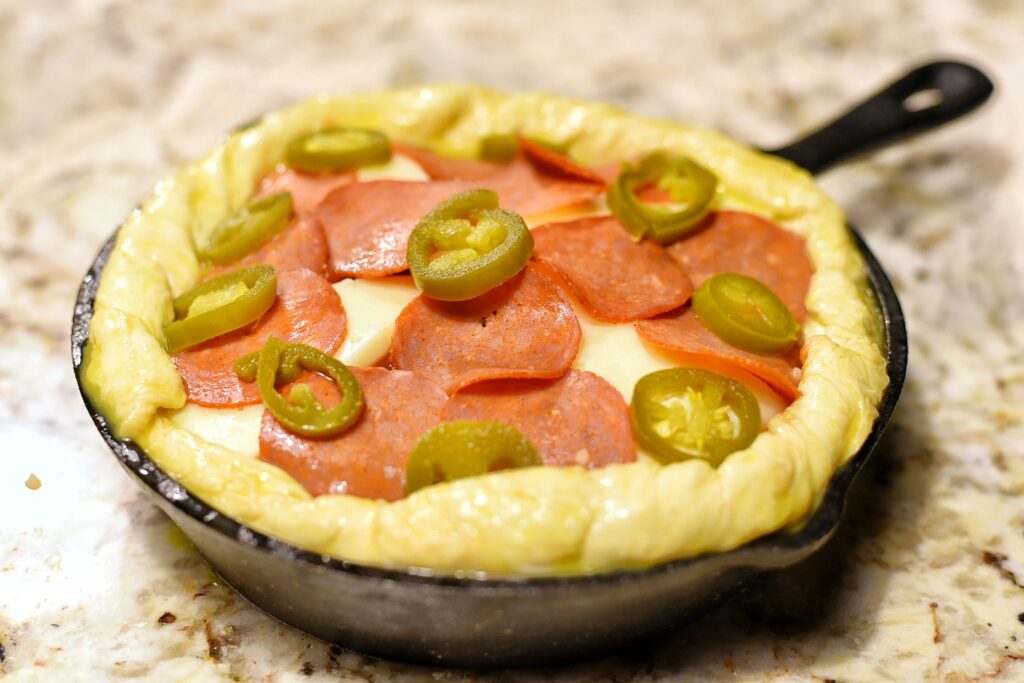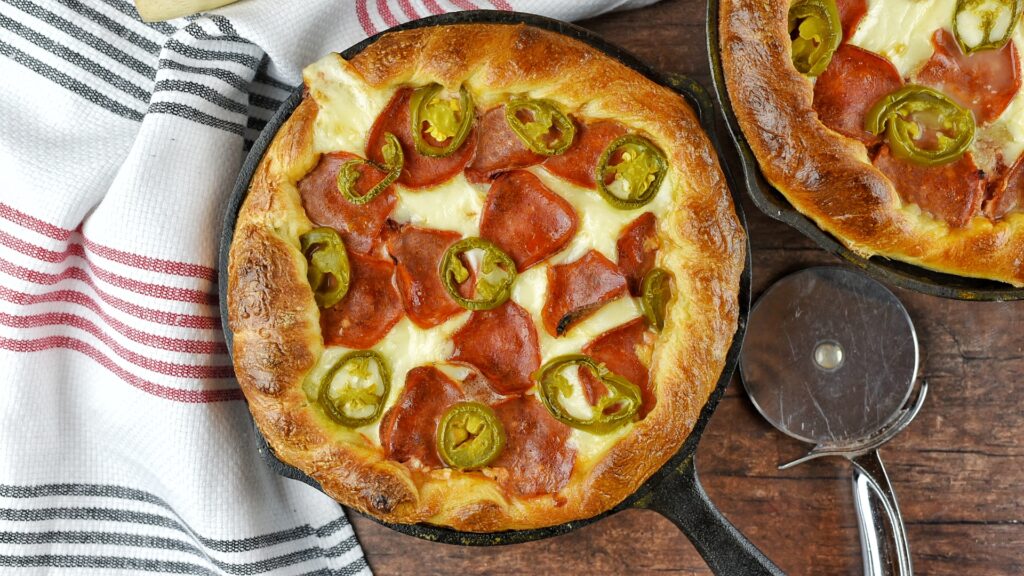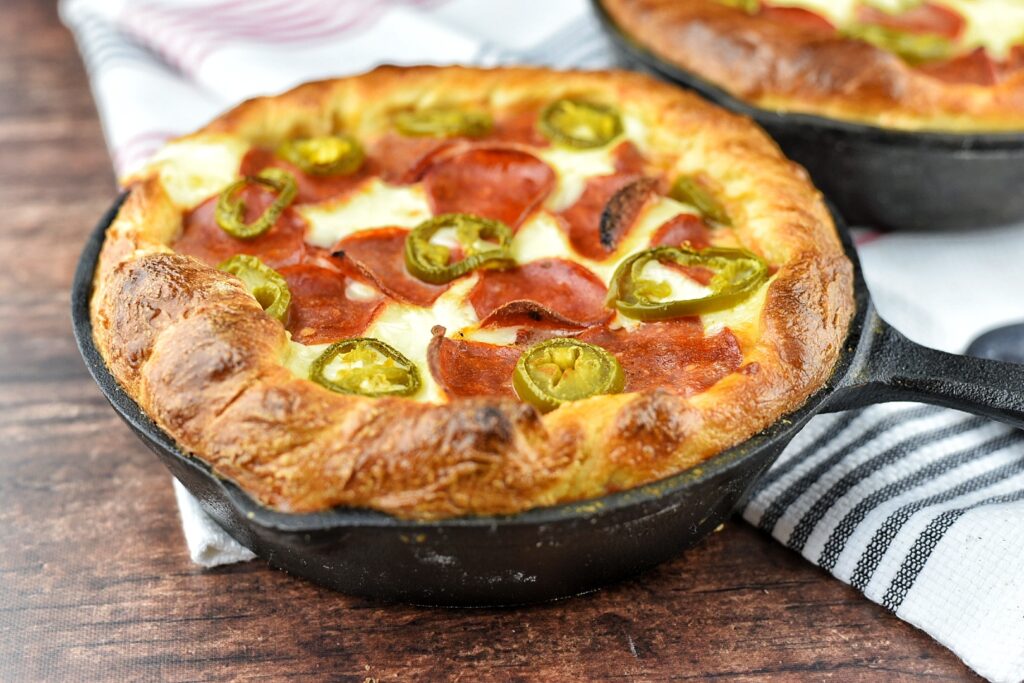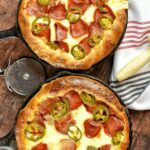 Ingredients
1/2 lb. Fresh Pizza Dough

4 oz. Uncured Turkey Pepperoni Slices

4 oz. Fontina Cheese Sliced

8 oz. Fresh Moist Mozzarella Cheese Ball

10 Jalapeño slices

2 cups Shredded Mozzarella Cheese

10 oz. Crushed Tomatoes

1 tsp. Oregano

1 tbsp. Grated Parmesan Cheese
Instructions
1. Spread pastry flour over kitchen counter top.
2. Place the fresh dough onto flour and begin to shape dough into a circle using hands. Finish shaping and flattening with roller to a diameter of 10 inches.
3. In an 8-inch cast iron skillet, lightly coat the bottom with olive oil and add your rolled dough into the skillet.
4. Form the dough around the sides of the skillet creating a wall-like shape around the skillet. Don't fold the dough over the edge.
5. Chop your 8 oz fresh mozzarella ball into small pieces.
6. Layer the dough with turkey pepperoni and the chopped fresh mozzarella.
7. Cover the ingredients with the shredded mozzarella cheese.
8. Top the cheese off with the oregano then cover with crusted tomatoes.
9. Top the crusted tomatoes with grated parmesan cheese.
10. Place the sliced Fontina cheese on top of the pizza with equal amount of space in between.
11. Top off with turkey pepperoni and jalapeños.
12. Fold the edges of the crust into the pan.
13. Lightly scramble an egg in a small bowl and brush the edges of the crust with the egg wash.
14. Repeat all steps for second pizza (optional).
15. Pre-heat oven to 400 degrees and cook for 15 to 18 minutes until brown.
16. Allow to cool then serve.