Easy Southwestern Frito Pie
Popular in the Midwest and South, this Easy Southwestern Frito Pie is a childhood favorite. The basics I grew up enjoying are still there (like beef chili and cheese), but I've enhanced the flavor and added a few additional toppings making it a perfect anytime meal.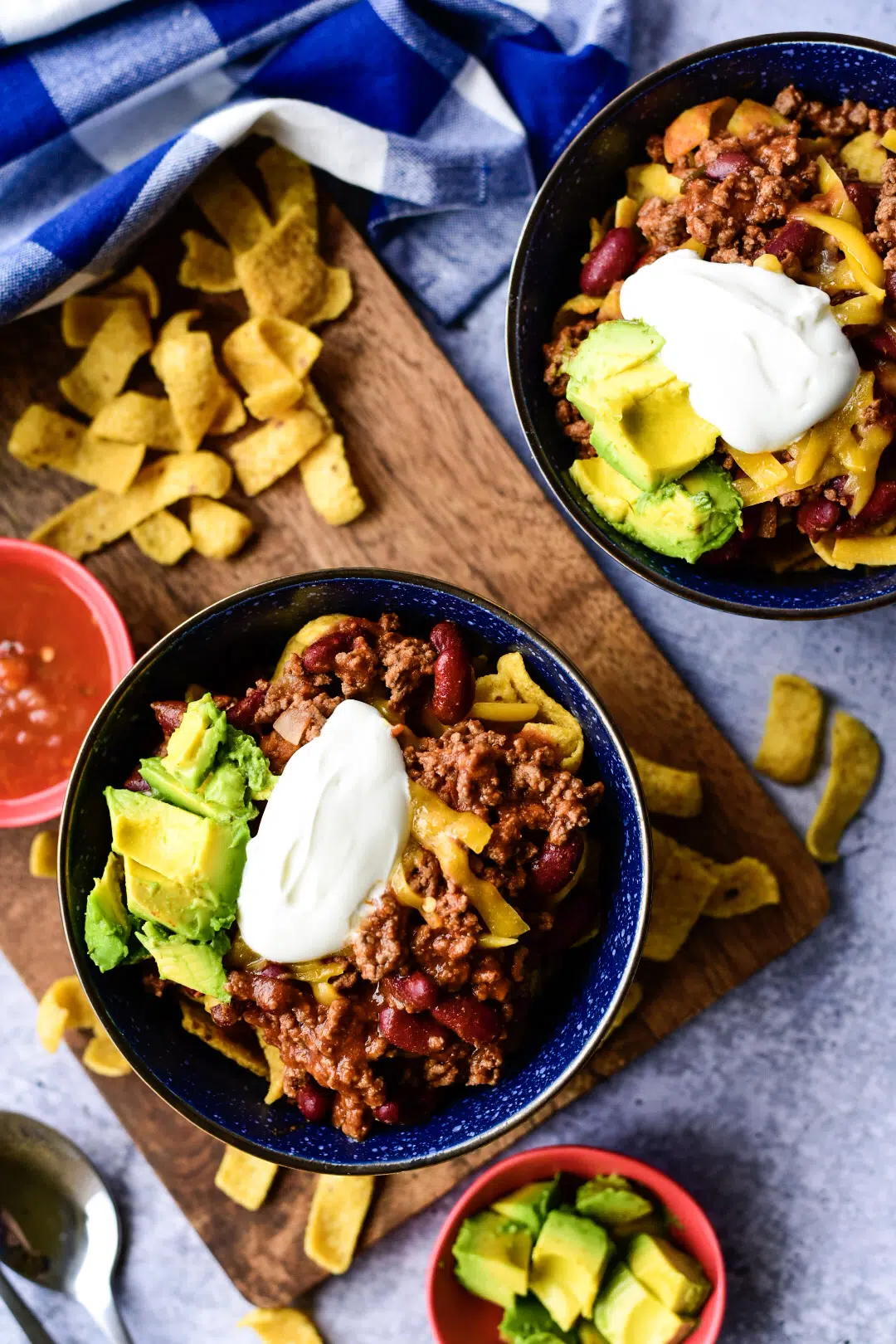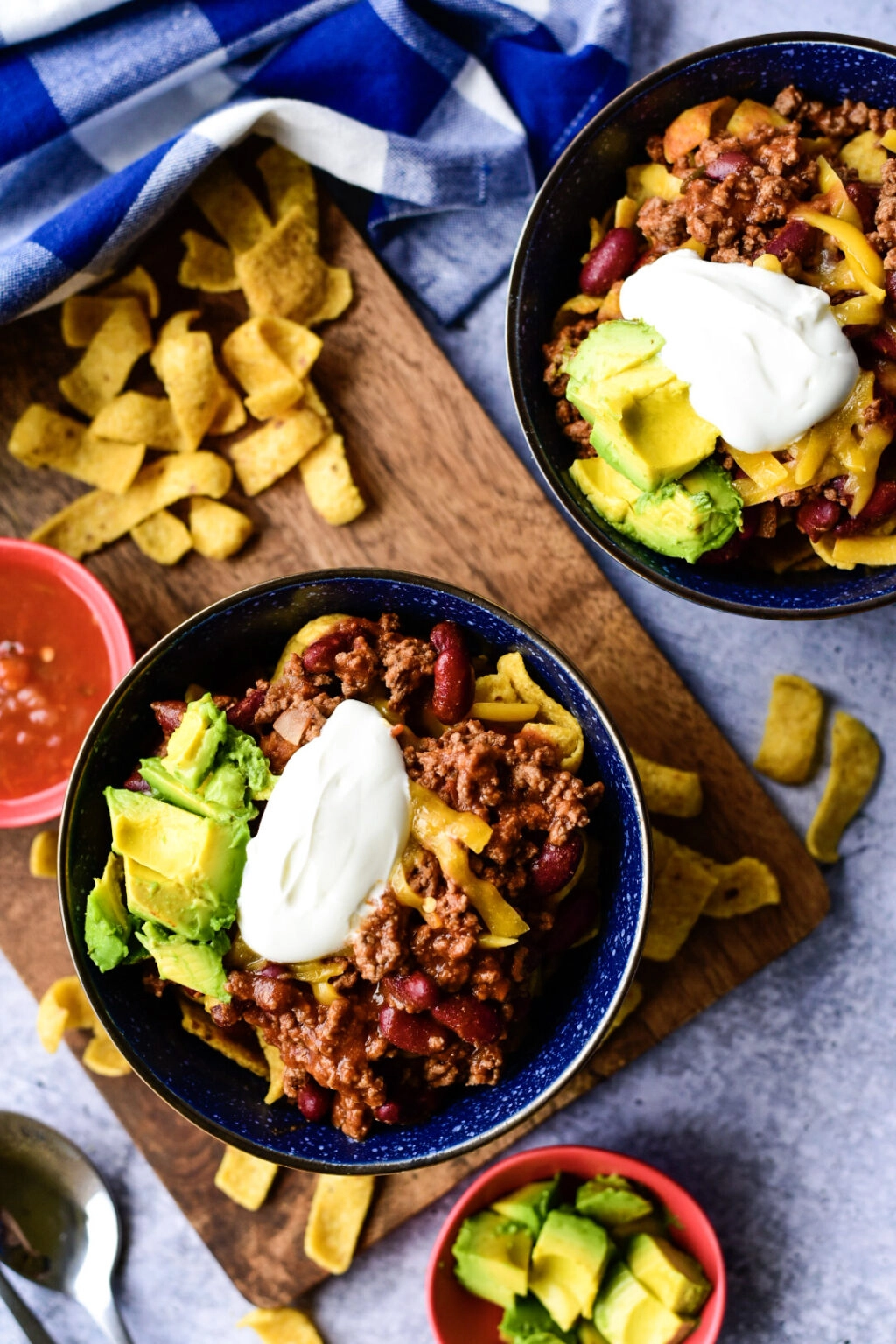 I grew up in Louisiana and as a kid, we would grab a dollar from our parents to buy some of the best snacks you could imagine. One of those was a Frito Pie that cost 75 cents and the other was a "Dixie Cup" that cost 25 cents (typically filled with frozen Kool-aid).
That dollar would buy some of my favorite things to eat to this day — including this Southwestern Frito Pie.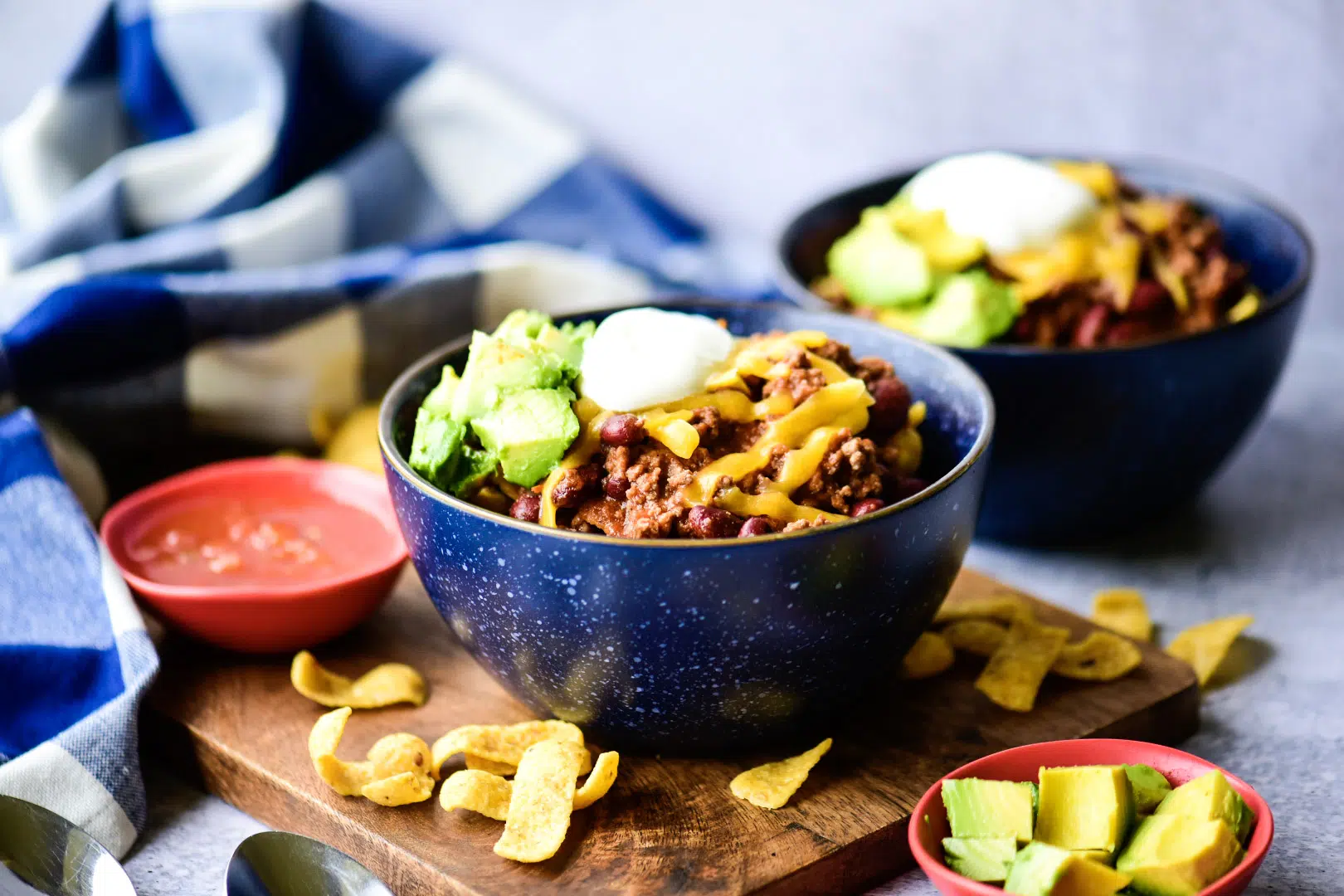 So what is Frito Pie?
Well, traditionally it's made with well-seasoned chili and cheese over corn chips. And the funny part is that it's not actually a pie. But there are several ways to make and enjoy it.
You can serve it as you would a bowl/plate of nachos — stacked with your chili and other toppings.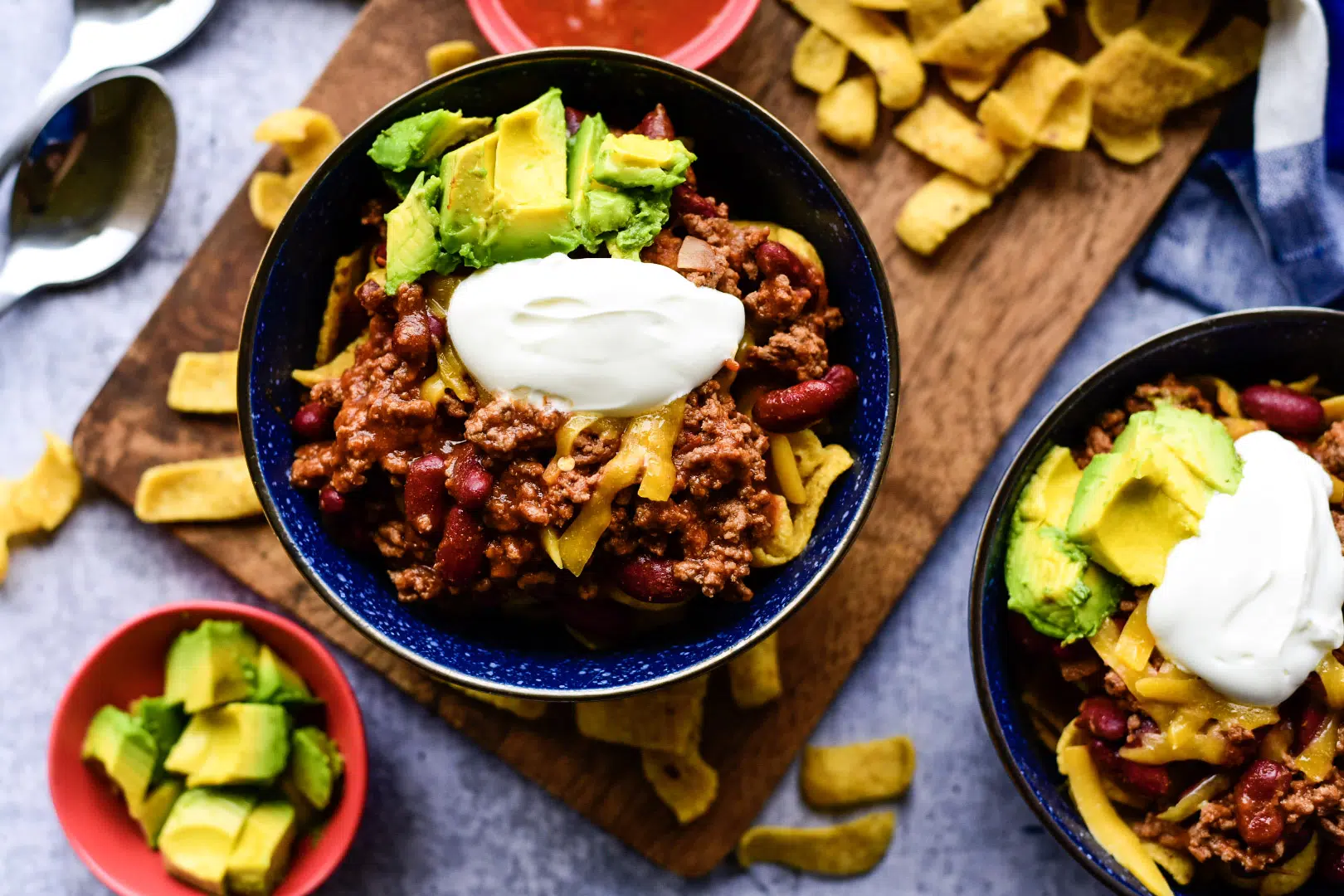 Growing up, we would eat it directly from the Fritos bag. You would basically open a small bag of Fritos, and place a nice serving of chili (made on the stovetop) and cheese right on top of the chips. For this Frito pie in a bag, all you need is a spoon!
Another variation is creating a casserole. Layers of Fritos, chili, cheese, and diced tomatoes are placed in a cast-iron skillet and baked in the oven.
Whatever way you enjoy it, it is comfort food perfection.
How to make Frito pie
For my recipe, the only cooking required is to get your chili prepared.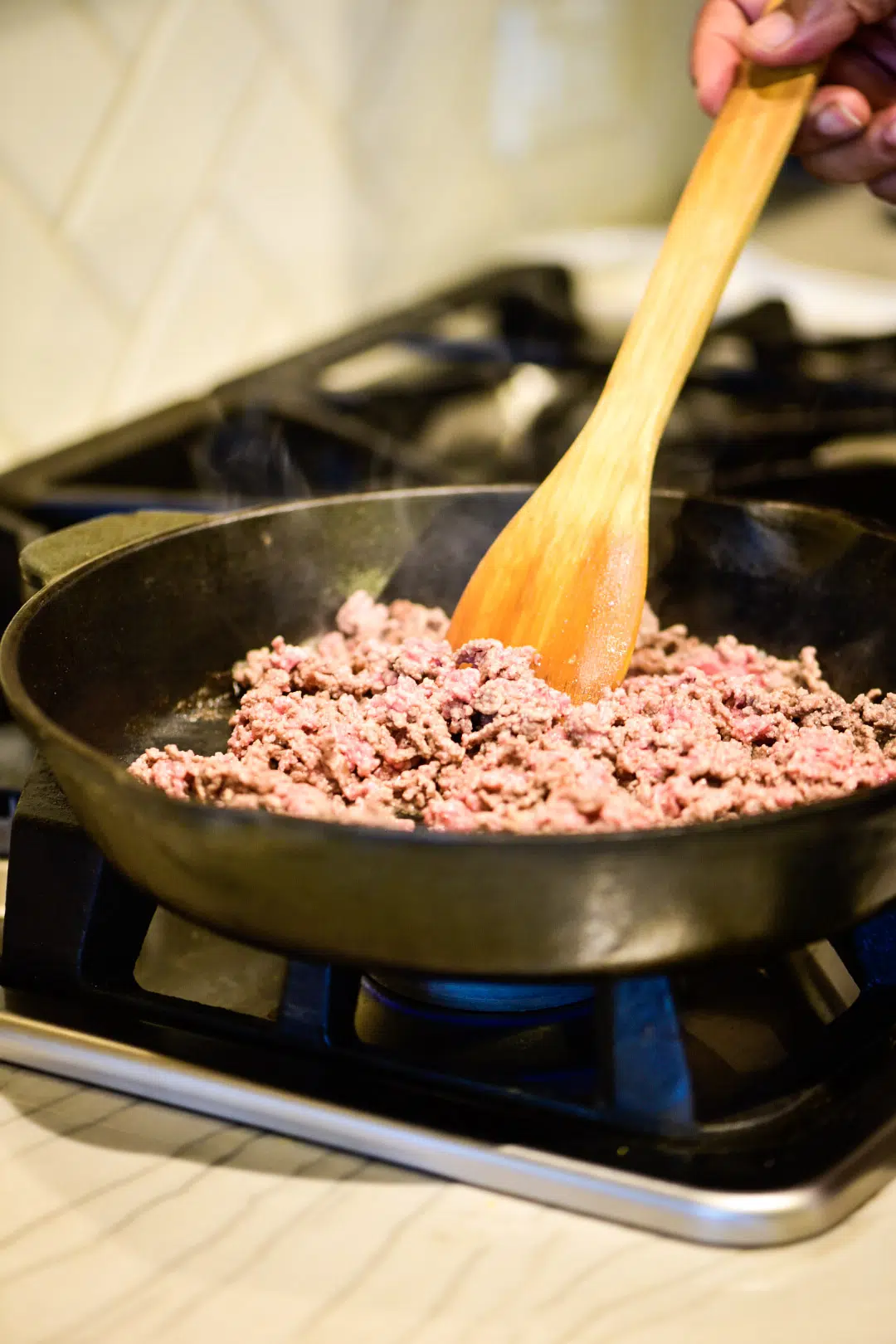 Brown your ground beef and add in your beans, sauce, and Rotel. Allow this to simmer for 5-7 minutes so your beans are tender.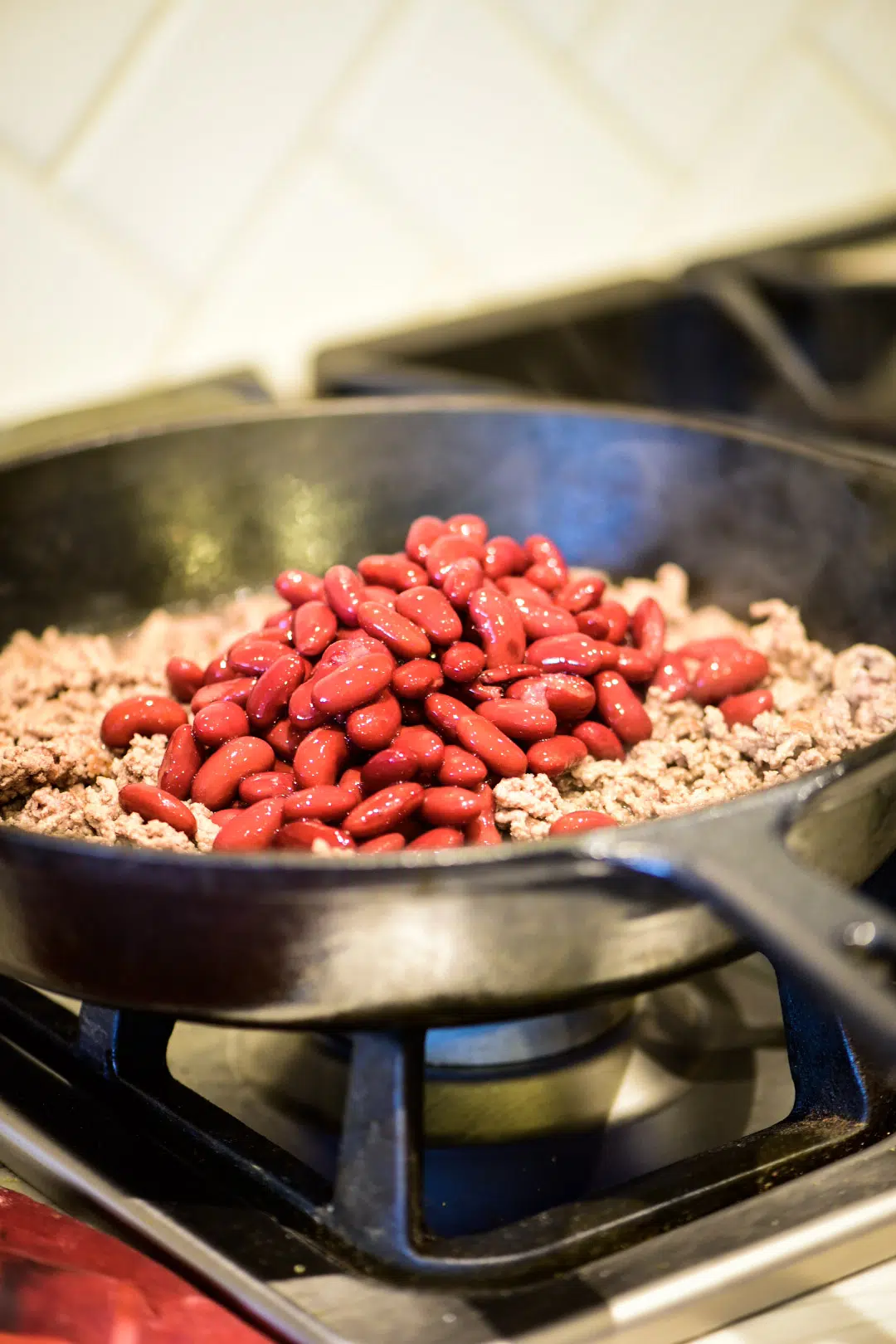 Note: This is a thicker chili, so don't expect it to be "soupy". You don't want any excess juices that may make your corn chips soggy.
You can also make your Frito pie with canned chili, but this chili recipe is so easy to you will certainly prefer the homemade route.
To serve, add your corn chips to a bowl and top with your chili, cheese, and additional toppings. For a grab and go snack, open an individual Frito corn chip bag, and use this as your "bowl". No mess and cleanup!
The perfect toppings for Frito pie
Since the recipe is very basic, the fun comes in the toppings!
Cheese is a must for any Frito pie. I enjoy the sharp taste of cheddar cheese, but a Mexican blend or Monterrey Jack would work as well.
If you like sour cream then pile it on. Or you could opt for a thinner version by using Mexican crema or crème fraîche.
Chunks of fresh avocado and even guacamole can easily turn this into (Tex-Mex) Texas Frito pie.
Fresh additions like homemade salsa, pico de gallo, fresh diced tomatoes, onions, jalapeños, and shredded lettuce are also great choices.
I use beans in this recipe, but you could also omit them in your chili and place a dollop of refried beans on top instead.
Can I make this ahead of time?
Yep! After your chili is cooled to room temperature, add it to an airtight container. It will remain fresh in the refrigerator for up to 3 days. If you freeze it, it can last up to 3 months. When you are ready to enjoy, simply thaw it out (if it was frozen) and reheat on the stovetop in a skillet.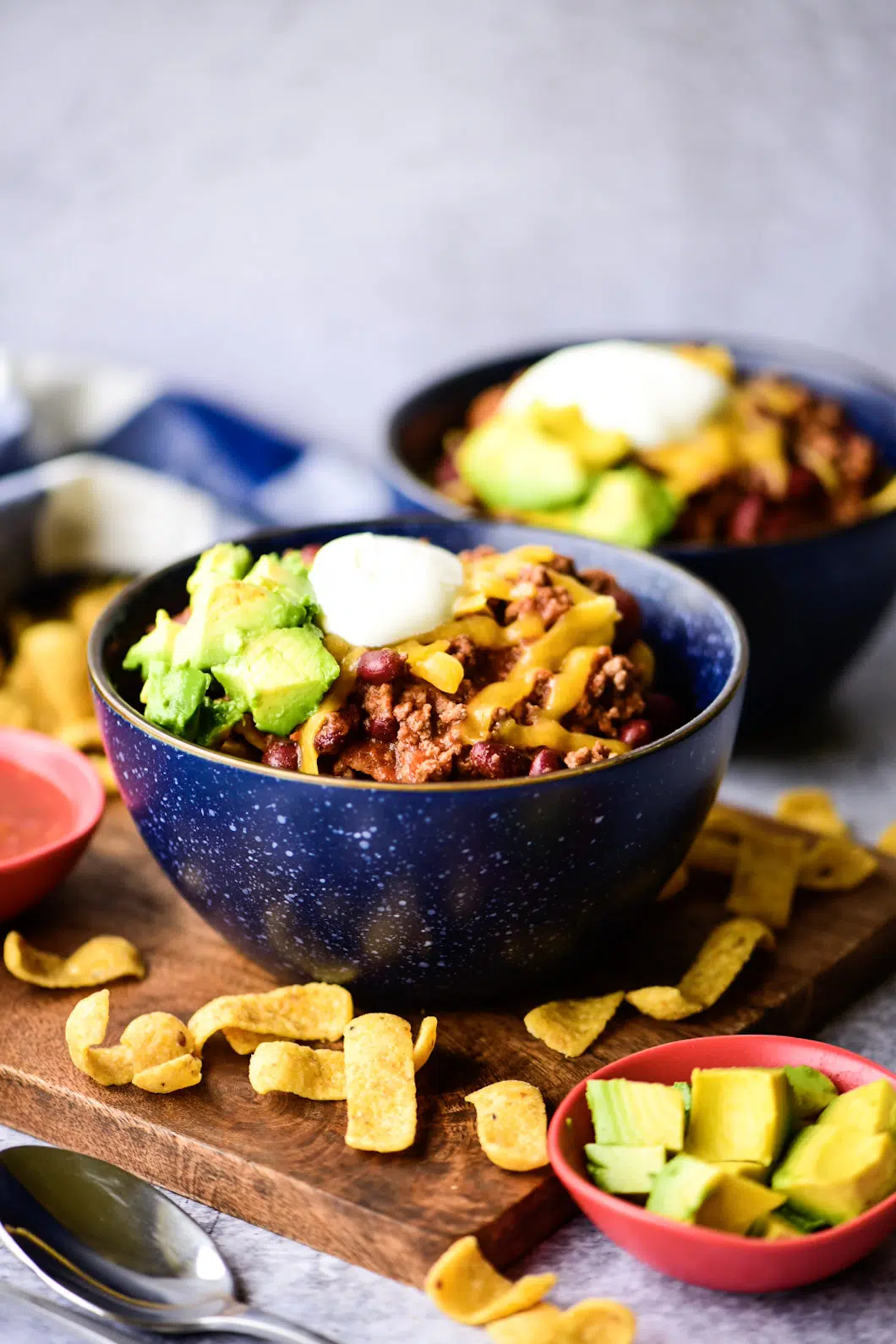 Who doesn't love Frito Pie?! It's the perfect dish that lets everyone in the family add as few or as many toppings as they like. If you want to please the entire family on any day of the week give this Southwestern Frito Pie a try and you will thoroughly enjoy it.
This classic recipe brings back so many childhood memories.
Check out a few more ground beef recipes:
Print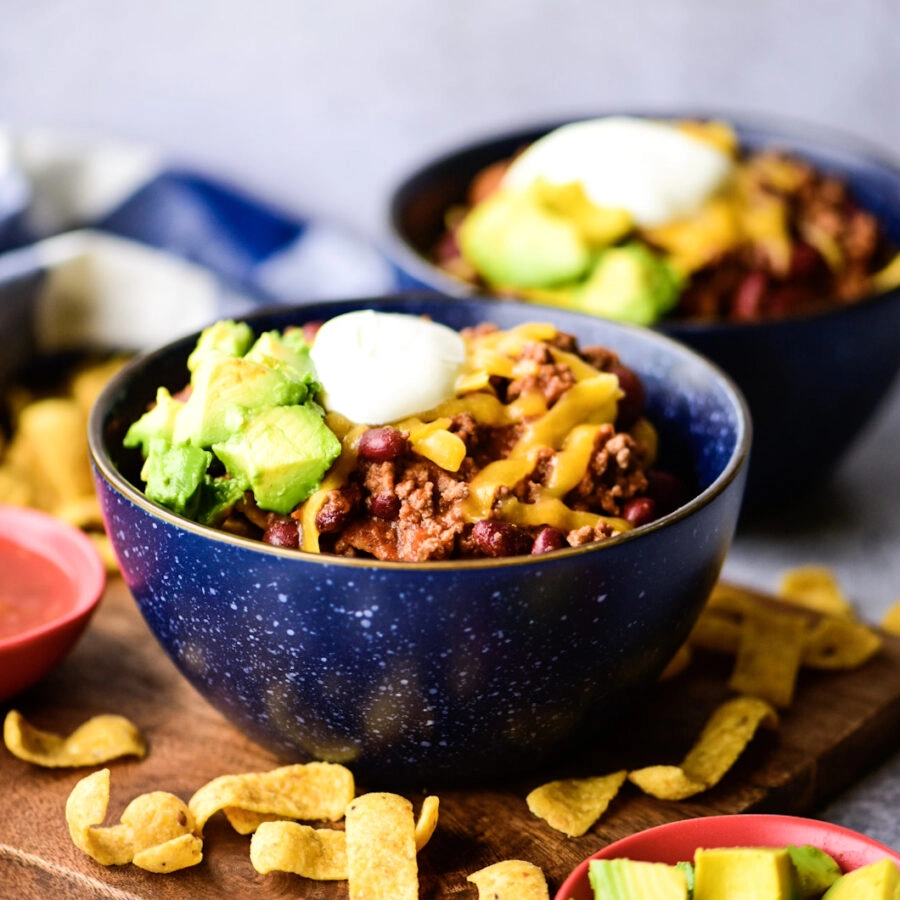 Southwestern Frito Pie
---
Author:

Eric Jones

Total Time:

25 minutes

Yield:

6

1

x
Description
Southwestern Frito Pie is a classic recipe made with Frito corn chips, ground beef chili, and cheese. Can be served in a bowl or straight from the bag!
---
1

bag Fritos Original Cornchips (

9 oz

or more)

1

lb. ground beef

15 oz

. can organic kidney beans

8 oz

. can tomato sauce

10 oz

. can Rotel

8 oz

. shredded cheddar cheese

1/2 tsp

. sea salt

1/2 tsp

. pepper
---
Instructions
Add your ground beef to a medium-high cast-iron skillet. Add salt and pepper. Cook for 5-7 minutes until brown. Add kidney beans, tomato sauce, Rotel, and allow to cook until beans are softened (about 5-7 minutes).
Add corn chips to a bowl, and spread chili evenly over the chips. Top off with a hand full of cheddar cheese. 
Add additional toppings as required.
Notes
You can also use Ranch Style beans or black beans in place of kidney beans.
You can use any brand of corn chips as an alternative to the Fritos brand.
Prep Time:

5 minutes

Cook Time:

15 minutes

Category:

Dinner

Method:

Stove Top

Cuisine:

American
Keywords: Southwestern Frito Pie, Frito Pie, Texas Frito Pie