When you don't want to give up great tasting Tex-Mex but you want to keep an eye on your carb count, this dish is a good option. The egg and Greek yogurt cream cheese layer is very fulfilling and you can chow down on this Low-Carb Tex-Mex Casserole without the guilt. This is a go to in my home quite often.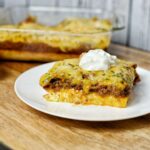 Ingredients
1 lb. Lean Ground Beef

8 oz. Greek Yogurt Cream Cheese

4 Large Brown Eggs

1/4 tsp. Garlic Powder

1/2 cup Pico De Gallo

8 oz. Tomato Sauce

1 tsp. Goya Adobo

1/4 tsp. Red Cayenne Pepper

1/2 tsp. Chili Powder

1/4 tsp. Ground Cumin

1/2 tsp. Paprika

1/4 tsp. Himalayan Pink Rock Salt (Fine Grain)

1/4 tsp. Black Pepper

2 1/2 cup Shredded Colby Cheese
Instructions
1. Cut the greek yogurt cream cheese into small chunks.
2. In a large bowl, add greek yogurt cream cheese, eggs and garlic powder.
3. Using a hand blender, mix the ingredients for 5 minutes or until smooth and it begins to rise.
4. Coat baking dish with butter or non-stick spray and pour ingredients into baking pan.
5. Top the ingredients off with 1 cup of cheese and bake in the oven for 20 minutes at 350 degrees.
6. While the bottom layer is baking, pre-heat pan on stove top at medium heat.
7. Add ground beef to hot pan and brown. Make sure your ground beef is broken down into small pieces for cooking.
8. Once your beef is brown, drain the extra fat and add tomato sauce, pico de gallo, chili powder, goya adobo, salt, pepper, cumin, paprika and red pepper into pan. Mix well and allow to cook on low heat for 5 minutes.
9. When the baking dish is complete, remove from oven and allow to cool for 5 minutes.
10. Once cooled, add your beef ingredients into the baking pan and spread evenly.
11. Add the other 1 & 1/2 cup of shredded cheese to top of dish and sprinkle on some parsley.
12. Bake at 350 degrees for 10 minutes.
13. Allow to cool, then serve.
Notes
You can top your casserole servings with your Tex-Mex favorites like guacamole, sour cream, and/or pico de gallo.