Who doesn't love Chilean Sea Bass? It's rich, buttery, moist, and flaky and literally melts in your mouth. But what's really strange is it's not actually sea bass. It's original name, Patagonian toothfish, doesn't sound that appetizing so I don't blame them for changing the name (way back in 1977). 🙂
Chilean Sea Bass can be found in the southern ocean areas of Chile, Argentina, South Africa, and New Zealand which is probably why this variety cost more than the average fish per pound. If you've ever enjoyed it, you know it's worth every single dime.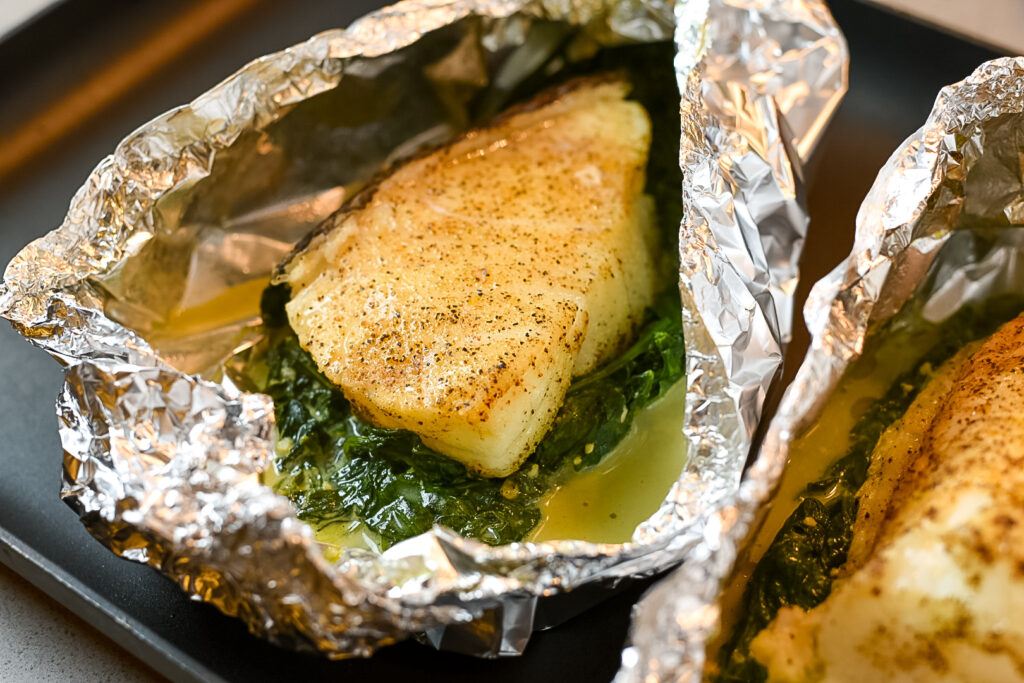 Back home in Louisiana the variety of fish options seemed to be limited to catfish, redfish, Sac-a-Lait and perch. Once I began to travel, I was able to gain an appreciation for different types of fish that were more prevalent in other regions. And that brings me to this delicious foil-baked Chilean Sea Bass with Lemon Parmesan Cream Sauce!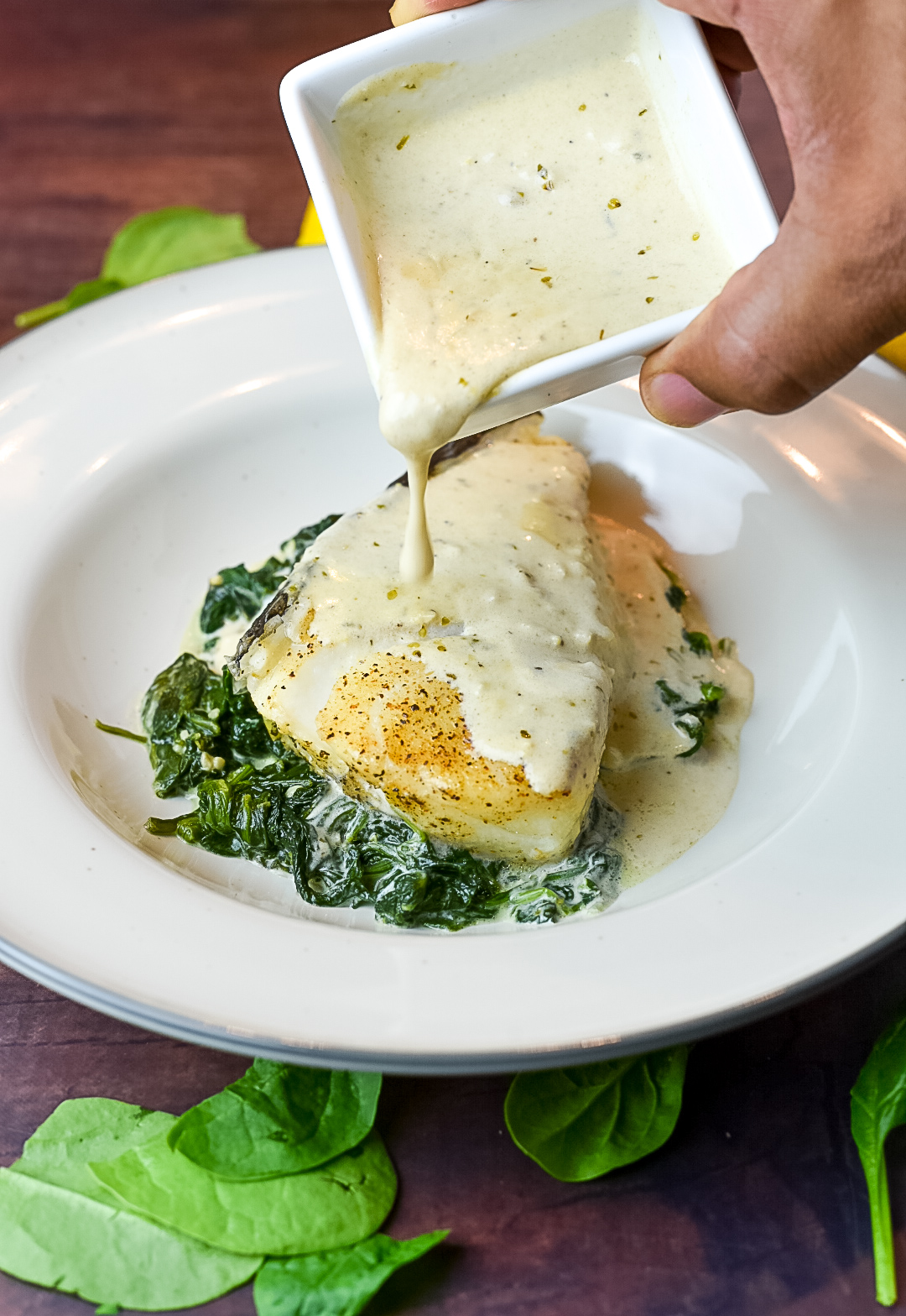 Baking this delicious dish sealed in foil along along with garlic cream spinach adds additional flavor while it steams the fish to perfection. The lemon sauce blended with the Parmesan cheese and whipping cream was a sauce experiment that ended up being a home-run.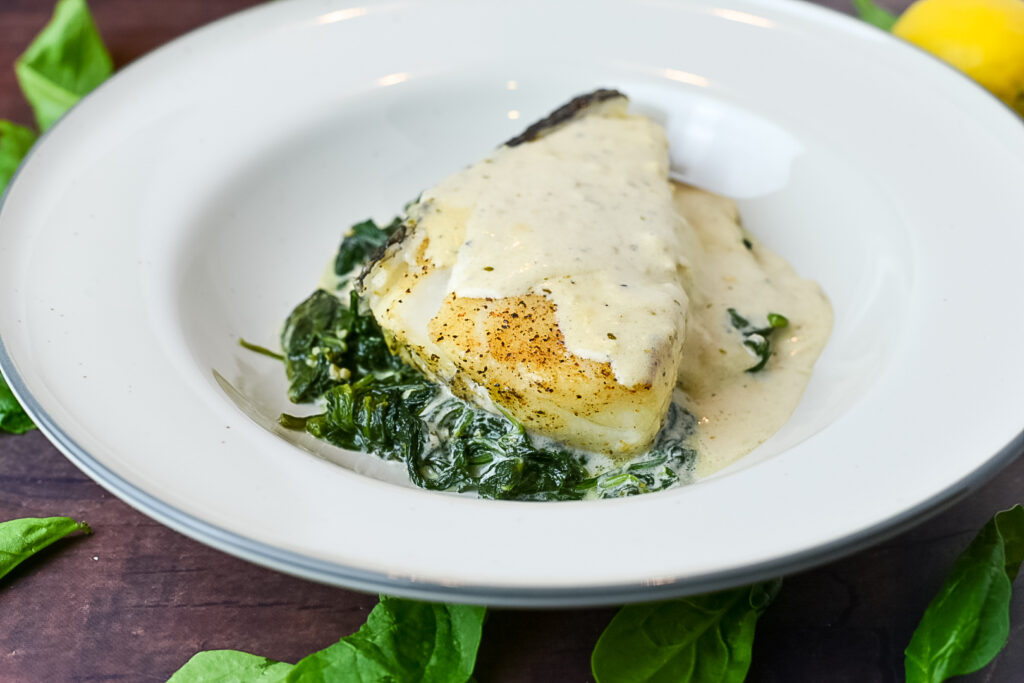 When you want to turn your kitchen into an upscale dining experience give this Foil Baked Chilean Sea Bass with Lemon Parmesan Cream Sauce a try – paired with your favorite red or white wine, of course.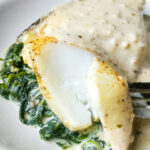 Ingredients
1 lb Chilean Sea Bass

12 oz. Fresh Leaf Spinach

1/4 cup Heavy Whipping Cream

2 tsp. Minced Garlic

1 tsp. Black Pepper

1 tsp. Creole Seasoning

1 tsp. Sea Salt

2 tbsp. Butter

For the Lemon Parmesan Sauce:

1 Lemon

1/4 cup White Cooking Wine

1/2 cup Chicken Broth

1 cup Heavy Whipping Cream

3 tbsp. Grated Parmesan Cheese

1/2 tsp. Garlic Powder

1 tsp. Oregano

3 tbsp. Butter

1/4 tsp. Sea Salt

1/2 tsp. Black Pepper

3 tsp. Minced Garlic
Instructions
Begin by seasoning the sea bass on both sides with sea salt, black pepper and Creole seasoning and set to the side.
Pre-heat cooking pan to medium heat and add butter. Once the butter melts, add minced garlic and cook garlic for 1 minute. Add the spinach and pour 1/4 cup of heavy cream over the spinach. Cook spinach just until it begins to wilt but do not over cook. Remove from heat.
Tear 2 large pieces of foil and add half of the slightly cooked spinach in the center of each sheet. Place the sea bass over the spinach and seal the foil together so the fish can steam.
Pre-heat oven to 400 degrees and cook the fish for 12 minutes within the foil on a baking sheet to prevent leakage. Set to the side when done.
While the fish is cooking, pre-heat separate cooking pan to medium heat and add butter. Once the butter melts, add minced garlic and allow to cook for 1 to 2 minutes. Add wine and chicken broth and cook for 3 minutes. Add the heavy whipping cream, parmesan cheese, garlic powder, oregano, black pepper and sea salt.
Zest the skin of the lemon into the sauce and slice the lemon in half and squeeze both halves of juice into the sauce. Cook on low/medium heat until it binds together.
Remove the cooked fish and spinach from the foil. Pour on the sauce. Serve hot.