When you are looking for new ideas for Taco Tuesday give this Mango Avocado Fish Taco a try. The pan seared buttery fresh cod fish with the cilantro avocado sauce and mango pico de gallo will definitely get your meal going in the right direction.
Whether you're celebrating Cinco De Mayo or enjoying a Taco Tuesday this taco recipe will not disappoint. Disfrutar!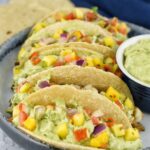 Ingredients
1 lb. Fresh Cod Fish

15 oz. Black Beans

6 White Corn Tortillas

1/4 cup Mango Pico De Gallo

2 tsp. Pico De Gallo

2 Small Avocados

1 tbsp. Cilantro Flakes

1/4 cup Sour Cream

1 tsp. Garlic Powder

1/2 tsp. Sea Salt

3/4 tsp. Creole Seasoning

1/2 tsp. Black Pepper
Instructions
1. Begin by seasoning the fresh cod with 1/4 tsp sea salt, 1/2 tsp black pepper and creole seasoning.
2. Pre-heat cooking pan to medium heat and add olive oil.
3. Cook fish on each side for 3 to 4 minutes then set to the side.
4. In a separate pan, pre-heat (lightly buttered) to high heat.
5. Cook each tortilla soft shell for a few minutes on each side until slightly golden brown then set to side.
6. In a bowl, cut avocado and remove the seed then scoop insides into the bowl.
7. Add cilantro flakes, sour cream, pico de gallo, 1/2 tsp black pepper and 1/4 tsp sea salt.
8. Mash and blend ingredients in bowl until smooth.
9. In a small cooking pot, pre-heat to low heat and add black beans and garlic powder and cook for a few minutes.
10. Add cooked black beans to tortilla shell.
11. Smash fish into chunks then place on beans then add avocado cream.
12. Top off taco with Mango Pico De Gallo and serve hot.