This particular recipe was inspired from a weekend vacation to Seattle. We went to a place that served great beer and great bar food, but the item that caught my attention was the fried fish. The cod was so tasty that I had to come home and give it a try — and as usual, with a little twist.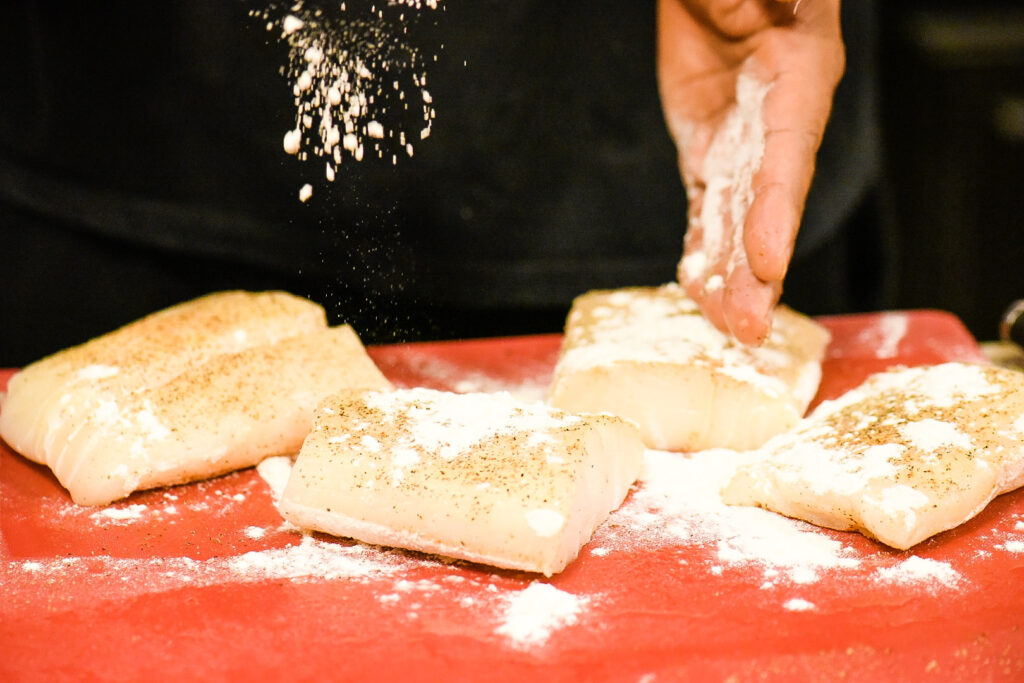 With a little trial and error I was able to come up with a recipe I think is worthy of sharing. Today I bring my version of Beer Battered Cod with my homemade Sriracha Tartar Sauce. It is important to try to get fresh cod from your local grocer or market because nothing beats the taste and flakiness of fresh fish.
Aside from the delicious cod, the batter I use is quite different from the norm. There is a slight sweetness to the batter due to my combination of pancake mix, nutmeg and beer (that has a distinctive hop taste like the Duvel Golden Ale beer I use in this recipe). I told you it was a little different. 🙂
The dipping sauce brings some life and kick to the party with Sriracha sauce mixed into my homemade tartar. This recipe can be an any day meal and will go well with your favorite brew. When you are having a taste for a good fried fish recipe give this Beer Battered Cod a spot on your dinner table!
Ingredients
1 lb. Fresh Cod Fish

1/2 cup Pancake Mix

1/2 cup All Purpose Flour

1 Large Organic Egg

2/3 cup Golden Ale Beer

1/2 tsp Nutmeg

2 tsp Creole Seasoning

1 tsp Black Pepper

For the Sriracha Tartar Sauce:

1/3 cup Miracle Whip Mayo

2 tsp Sriracha Sauce

2 tsp Dill Relish

1/4 tsp Creole Seasoning

2 tsp Lemon Juice

Dash Garlic Powder

Dash Paprika

Dash Black Pepper
Instructions
Begin by cutting the the cod filet into desired size. Season each side with Creole seasoning and black pepper and set to side.
Add pancake mix, flour, nutmeg and egg to a large bowl and slightly mix. Slowly add the beer into the mixture until the texture is a pancake mix consistency.
Pre-heat cooking pan to medium heat and add cooking oil.
Add 1 tbsp of flour on a plate and coat the cod pieces with the flour, shake the access. Add to the batter mixture coating each side until covered then add directly to cooking pan.
Cook each piece of cod for 4 minutes on each side. Plae on paper towel to soak up the excess oil.
For the tartar sauce, add all ingredients into a small bowl and whisk together until smooth.
Serve hot.