Growing up in Louisiana you learn that breakfast items are great to enjoy at any time of day. I am not sure who doesn't love a good biscuit and when cheddar cheese is added it becomes undeniable. There are a few fast food chains that offer a similar biscuit on their menu, but in typical Dude That Cookz fashion, I wanted to create one with my own spin!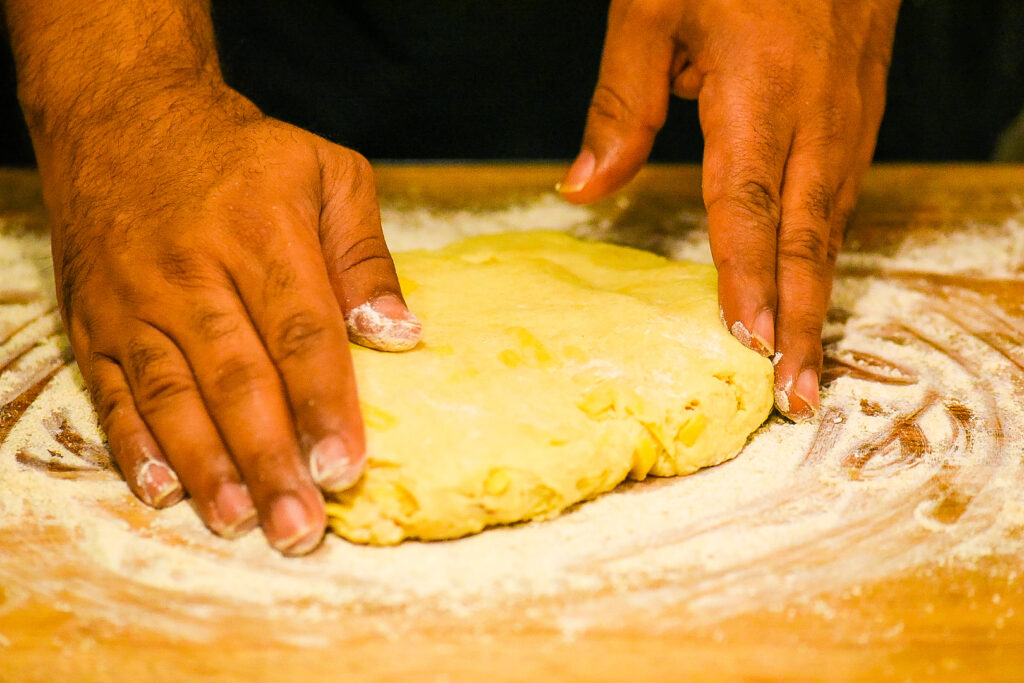 Today I bring to you my Crispy Chicken Cheddar Biscuit with homemade Honey Butter Sauce. I will start with the Honey Butter Sauce because it is truly the bridge that brings all of these flavors together. It's a really simple honey and butter combination that is the perfect compliment to each and every bite.
The crispy chicken follows through in the taste and texture (due to a little "double dipped" action using a panko and flour mixture) that gives you that crisp most of us look for. Last, but surely not least, the biscuits are infused with butter and cheddar cheese.
Say hello to the new way to breakfast! However, feel free to enjoy this morning, noon, and night. When you want upgrade your breakfast and try something new give this Crispy Fried Chicken Cheddar Biscuit with Honey Butter sauce a go and you will not be disappointed. It's also perfect for mornings on the run as it holds up fairly well and tastes equally great warm.
Ingredients
For the Biscuit:

2 cup All Purpose Flour

1 cup Shredded Cheddar Cheese

1 tbsp Sugar

1 tbsp Baking Powder

1 Large Organic Egg

1 Stick Butter (Softened)

1/2 tsp Garlic Powder

2/3 cup Organic Milk

For the Chicken:

2 Organic Boneless Chicken Breast

2 Large Organic Egg

1 cup All Purpose Flour

1 cup Panko Breadcrumbs

1/4 cup Organic Milk

1 tbsp Paprika

1/2 tsp Ground Cumin

1 tsp Oregano

1 tsp Black Pepper

1/2 tsp Sea Salt

For the Honey Butter Sauce:

1/2 cup Honey

4 tbsp Butter Melted

1/4 tsp Nutmeg

Dash Ground Cumin

Dash Black Pepper
Instructions
For the cheddar biscuits:
Pre-heat oven to 425 degrees.
In a large bowl, add flour, sugar, garlic powder and baking powder. Slightly stir.
In a small bowl add softened butter and one slightly scrambled egg. Mix together.
Add butter mixture to bowl with flour and stir until it begins to bind. Add milk and continue to stir until it forms a stiff dough.
Pour cheddar cheese into bowl with the other ingredients. Fold the cheese into the mixture. Do not over mix.
Add pastry flour to a flat surface. Place the dough on surface and begin to mold the dough into a thick rectangular shape with a roller pin. Cut your biscuit pieces with a biscuit cutter.
Once you've cut the first round of biscuits roll the dough into a ball again and repeat the steps above. Add to non-stick baking sheet. The dough will make 4-6 biscuits depending on size of cutter.
Bake the biscuits for 15 minutes or until brown. Remove from oven and brush with 1 tbsp melted butter. Set to the side.
For the fried chicken:
Add cooking oil to cooking pan on medium heat.
Cut your chicken breasts into three 3 even pieces.
Season both sides of the chicken pieces with paprika, ground cumin, black pepper and sea salt. Slightly coat each piece with flour.
Add 1/2 cup of flour into one bag and 1/2 cup of flour, panko breadcrumbs, oregano and garlic powder into a separate bag.
Add 2 eggs and milk into a bowl and mix together.
Submerge the chicken into the egg mixture, then add to the flour only bag and shake well until coated.
Add the chicken back to the egg mixture and place chicken into the panko breadcrumb bag and shake until well coated.
Cook each chicken piece for 4 minutes each side and set to the side when done.
For the Honey Butter Sauce:
Add honey, melted butter, nutmeg, black pepper and ground cumin and whisk together until it's smooth and thick.
Putting the biscuit together:
Cut the biscuit in half. Add fried chicken piece then top chicken off with honey butter sauce and place other half of biscuit at the top.
Serve hot.