Who doesn't love a buttermilk biscuit? I mean, we practically grew up on those buttery layers! This classic, Crispy Chicken Buttermilk Biscuit is drenched in a honey-butter sauce — the perfect compliment to every bite.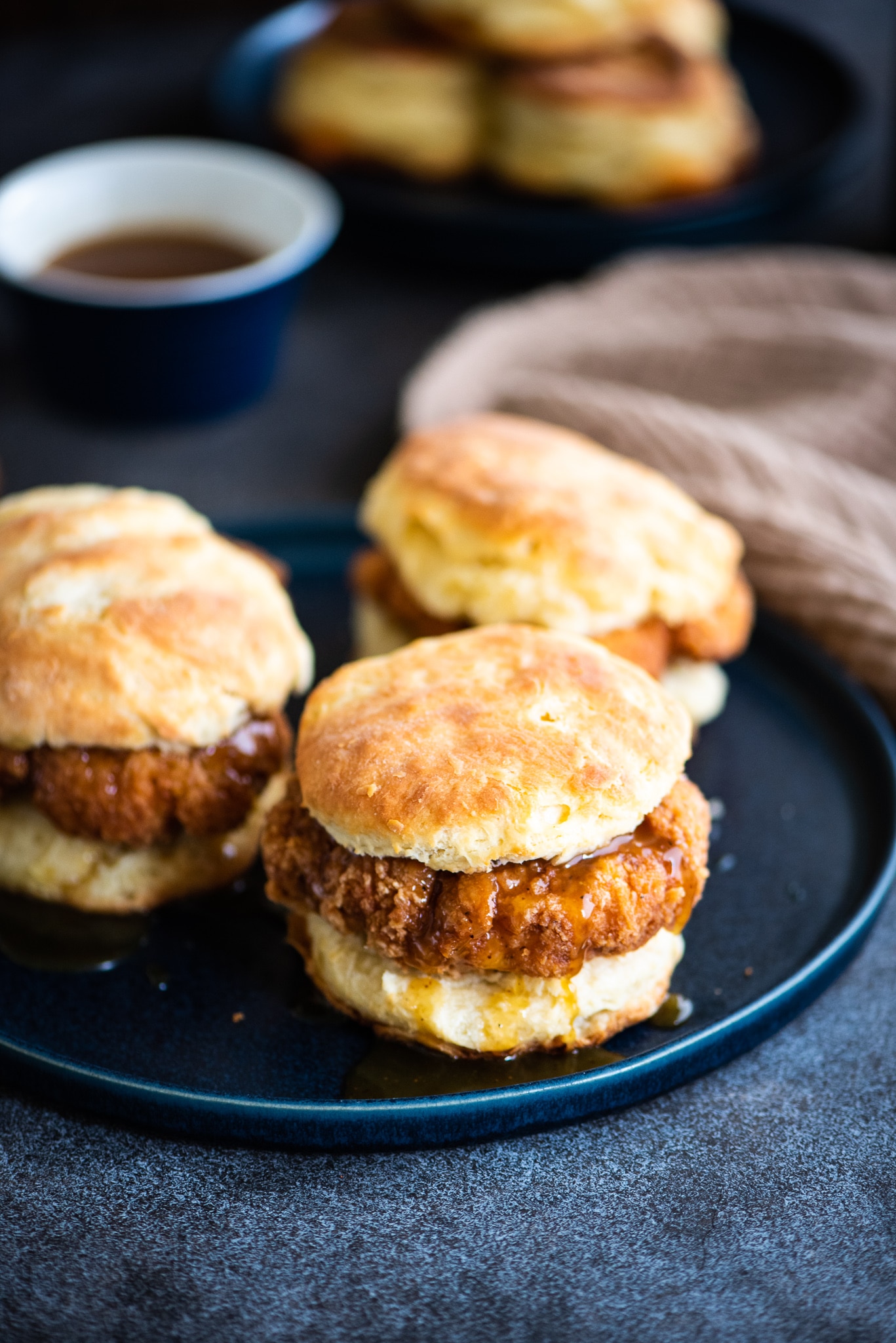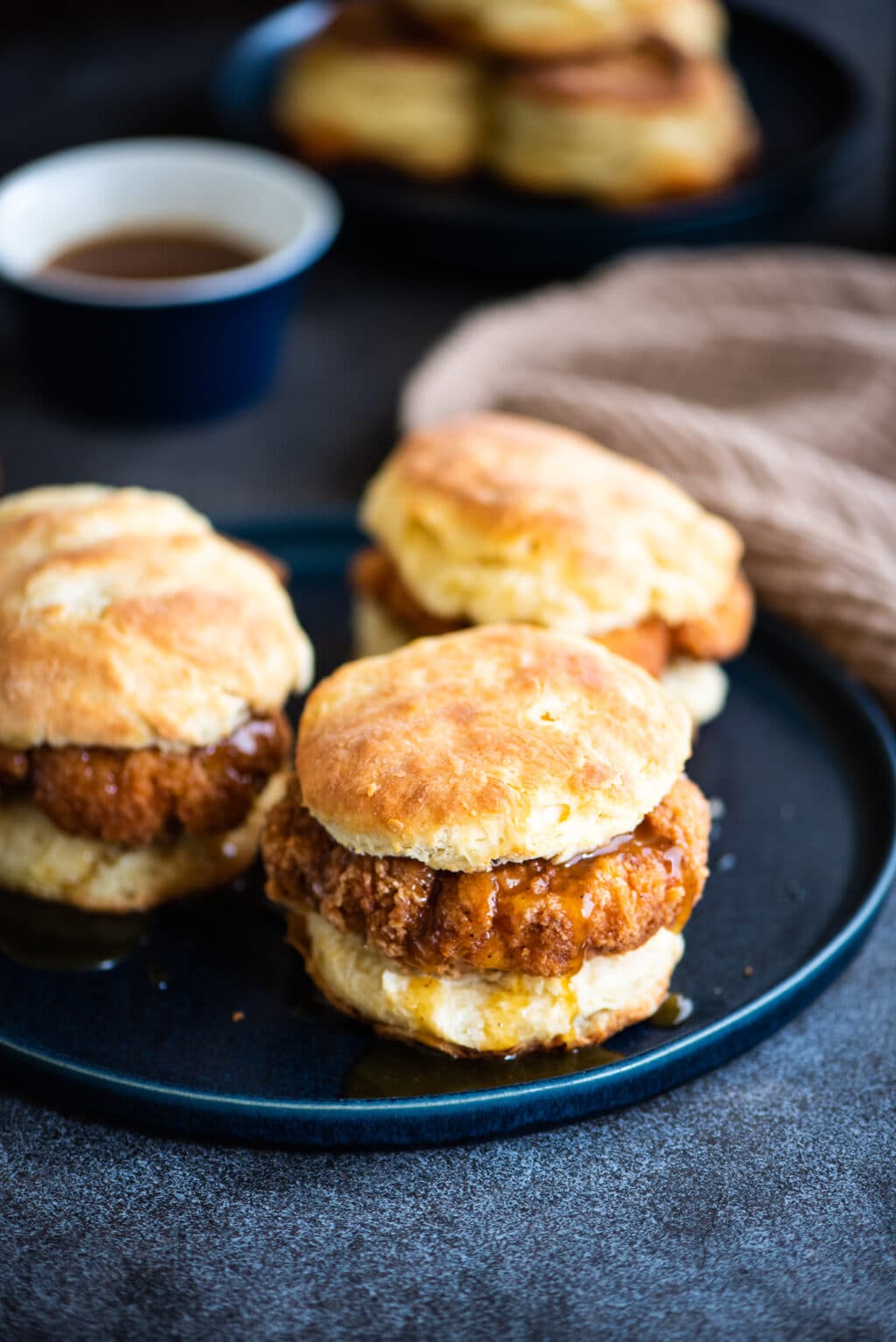 Growing up in Louisiana, you quickly learned you could enjoy breakfast any time of day. Where I'm from, we didn't limit a morning spread to the earlier hours. Nope. Anytime was a great time for scrambled eggs, pancakes, and of course, buttermilk biscuits. And that still holds true in my own home today.
No matter what we're making, biscuits are in the mix. Typically, we enjoy them simply with creamy butter and syrup, jelly, or jam — but when you want to take your biscuit game up a notch, you create a Crispy Fried Chicken Buttermilk Biscuit drenched in a homemade honey-butter sauce.
A chicken biscuit sandwich is not a new thing. As a matter of fact, there are quite a few fast-food chains that offer a similar biscuit on their menu. But in typical Dude That Cookz fashion, I wanted to create one with my own spin!
Ingredients you'll need to make your honey butter chicken biscuit:
You'll combine all-purpose flour, sugar, baking powder, baking soda, cold salted butter, and buttermilk for the buttermilk biscuit.
For the chicken, you'll need boneless chicken breasts, egg, all-purpose flour, panko breadcrumbs, milk, paprika, ground cumin, oregano, black pepper, and sea salt.
The honey butter sauce only requires four ingredients: raw honey, melted butter, nutmeg, and black pepper.
Here are a few tips and substitutions: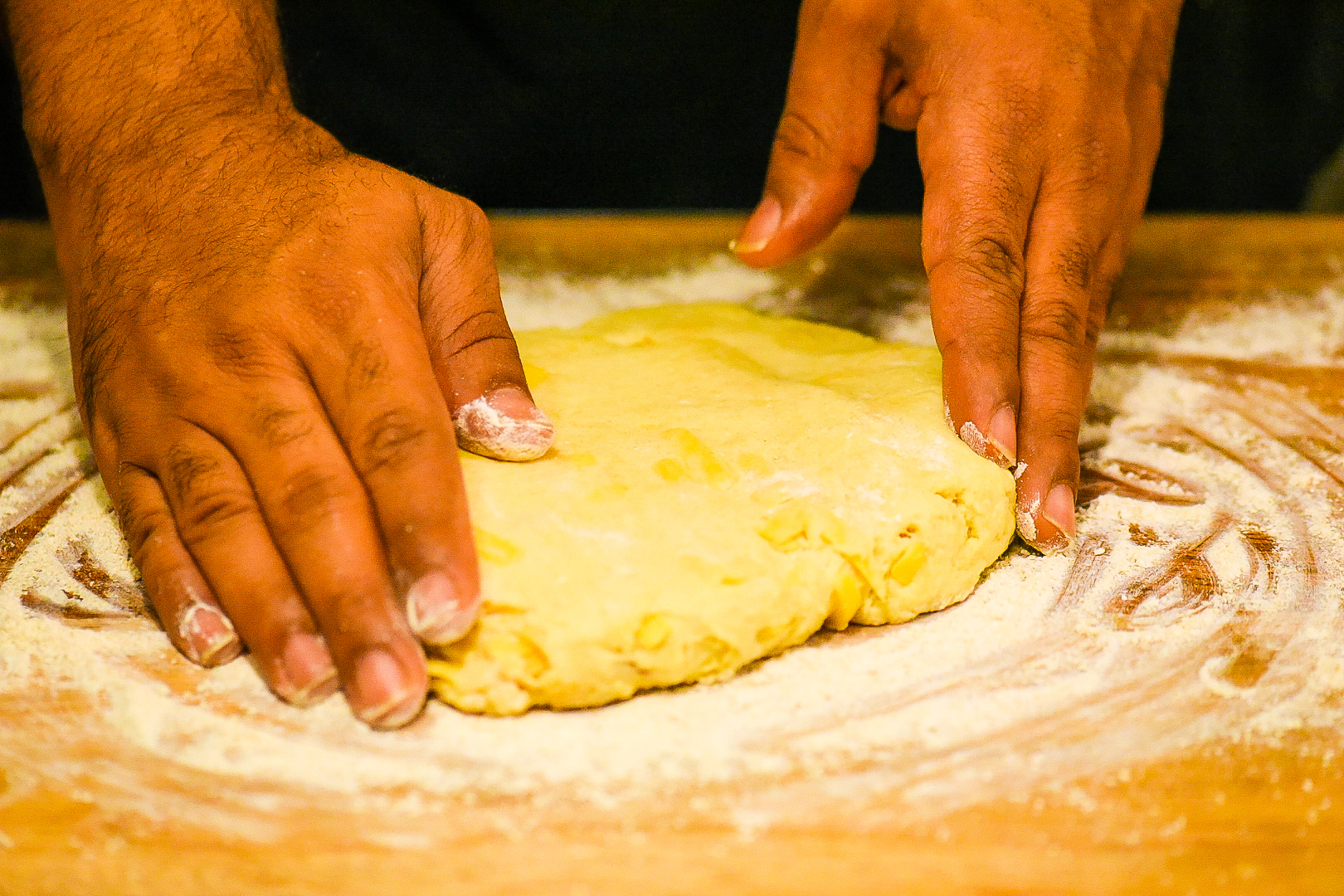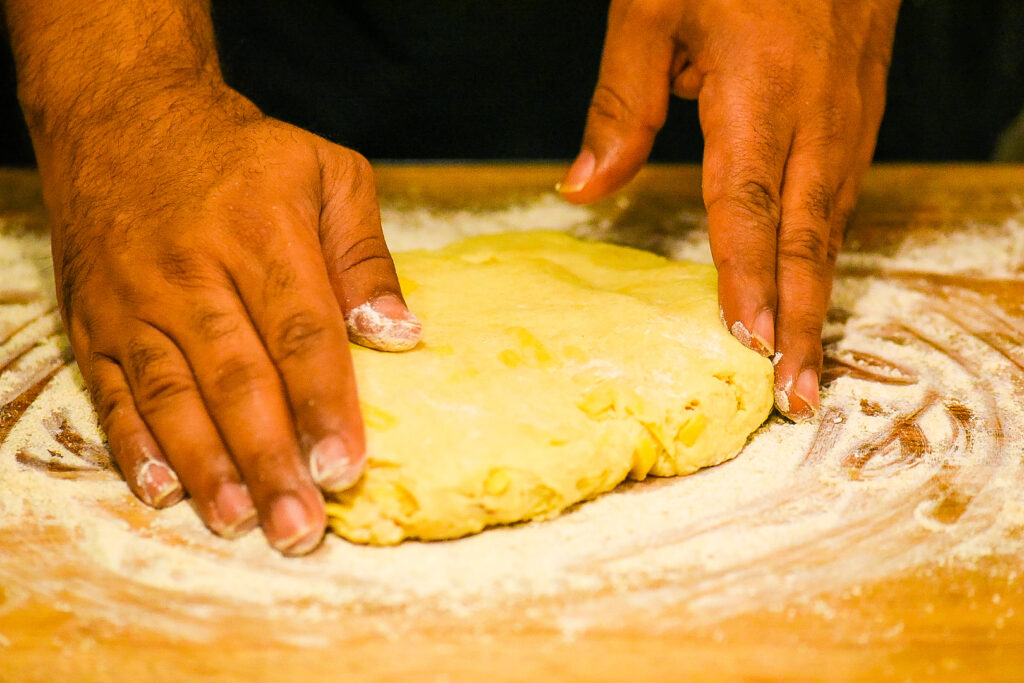 You can use self-rising flour instead of all-purpose flour. Just omit the additional baking powder and baking soda.
If you don't have buttermilk, you can replace it with regular milk plus 1 teaspoon of lemon juice or white vinegar.
Before making your buttermilk biscuits, place your butter in the freezer for 15 minutes. This will ensure it is good and chilled and will go a long way in creating those buttery layers I spoke about earlier.
If you're not a fan of honey butter, you can skip it altogether. This chicken biscuit recipe goes great with syrup, jelly, jam, and enjoy it as-is.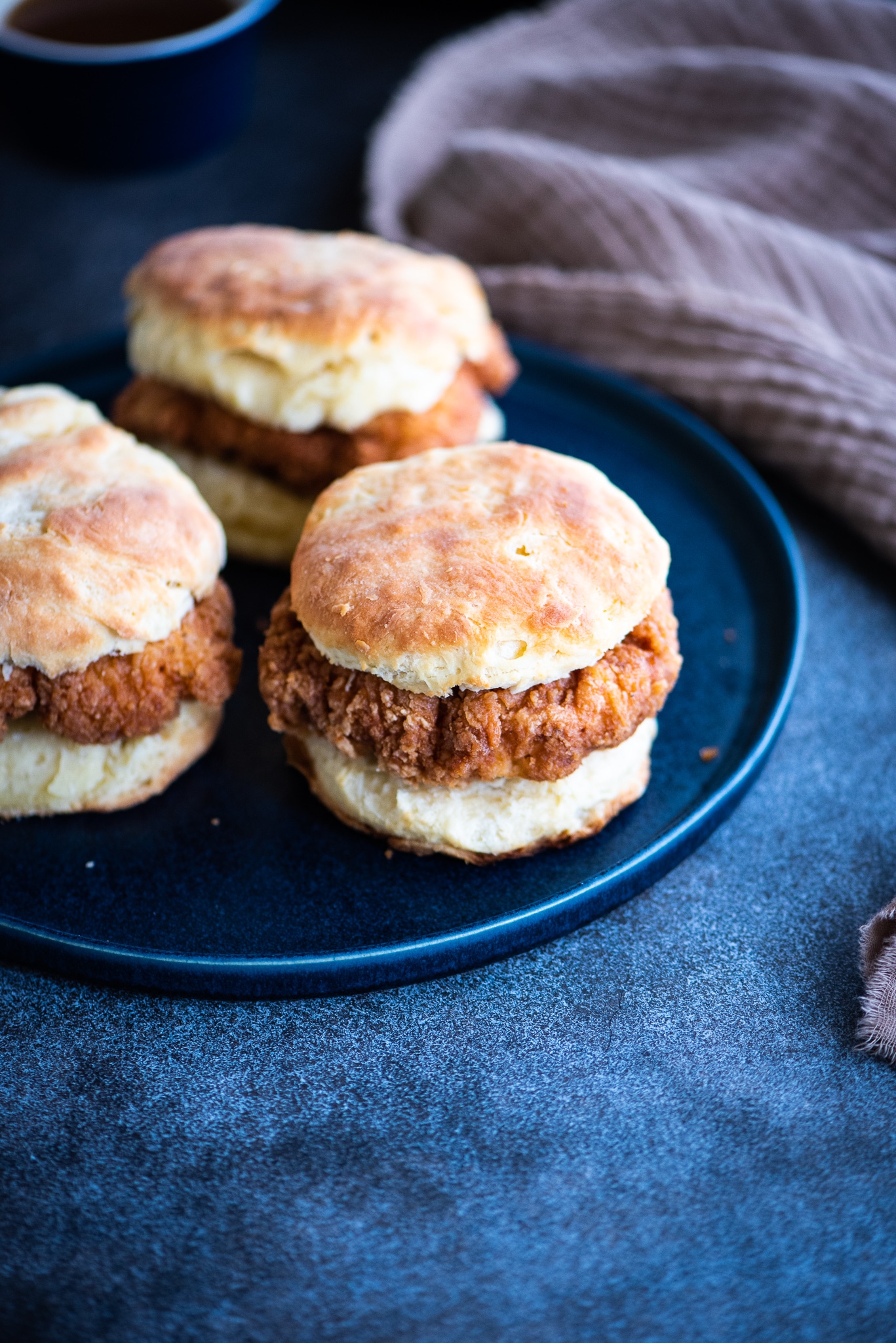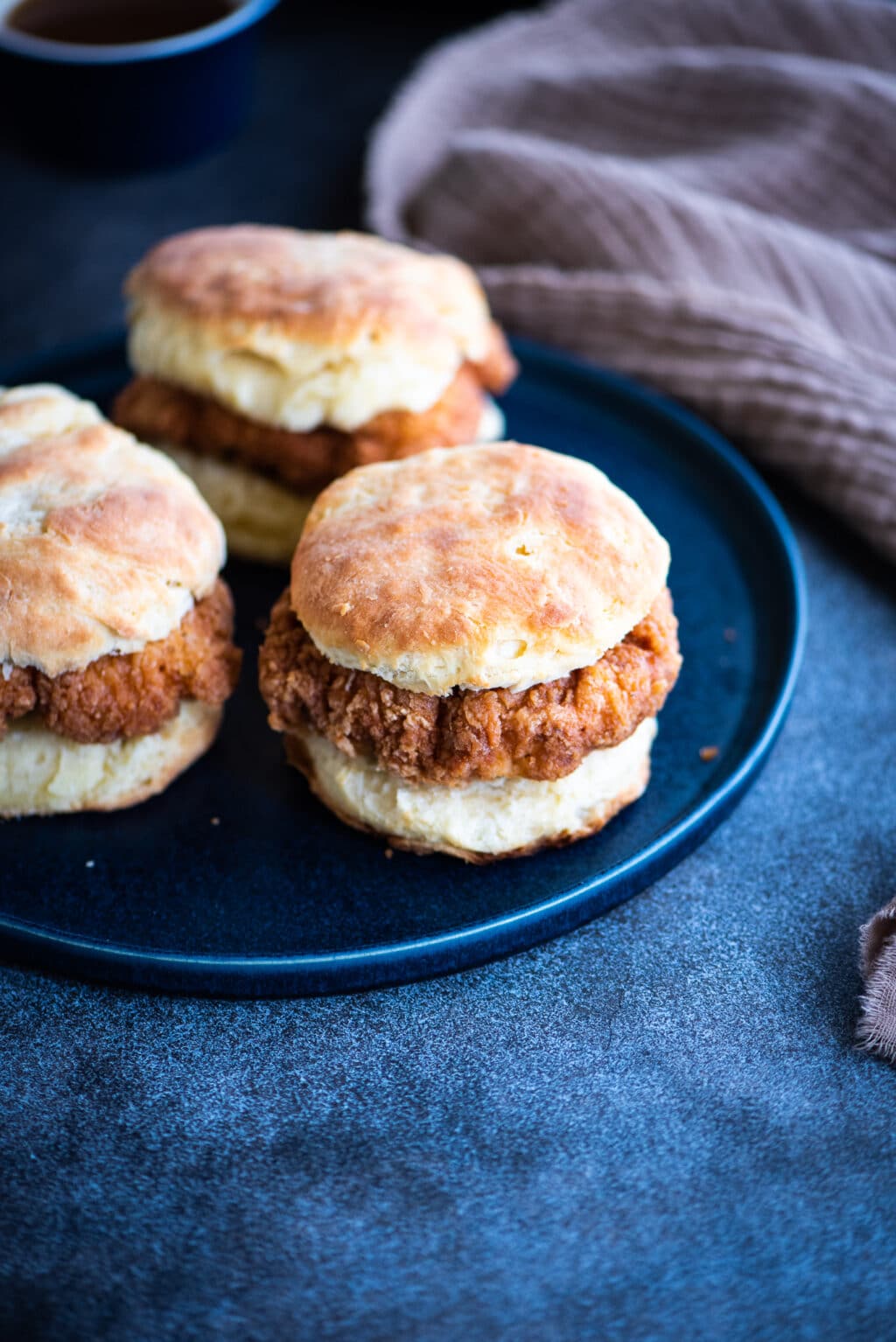 What texture should I be looking for in my biscuits and chicken?
Your biscuit should have some height, and you should be able to see those layers as soon as you take them out of the oven. You're looking for that slightly crispy on the outside and fluffy on the inside texture. If your biscuits are too hard, then you may have over-kneaded them, or they were not baked at a high temperature (make sure you pre-heat your oven).
The crispy chicken shows up on taste and texture because the chicken is seasoned and double-coated in panko and flour. That's what gives you that crisp most of us look for. I find that panko breadcrumbs are crisper than regular breadcrumbs or flour alone and double coating gives you an additional layer making the chicken even crispier.
Also, your chicken should be moist! They don't take long to fry, and if you easily overcook them. Make sure your oil is hot before adding your chicken into the plan, and be sure to flip the chicken breasts 4 minutes in.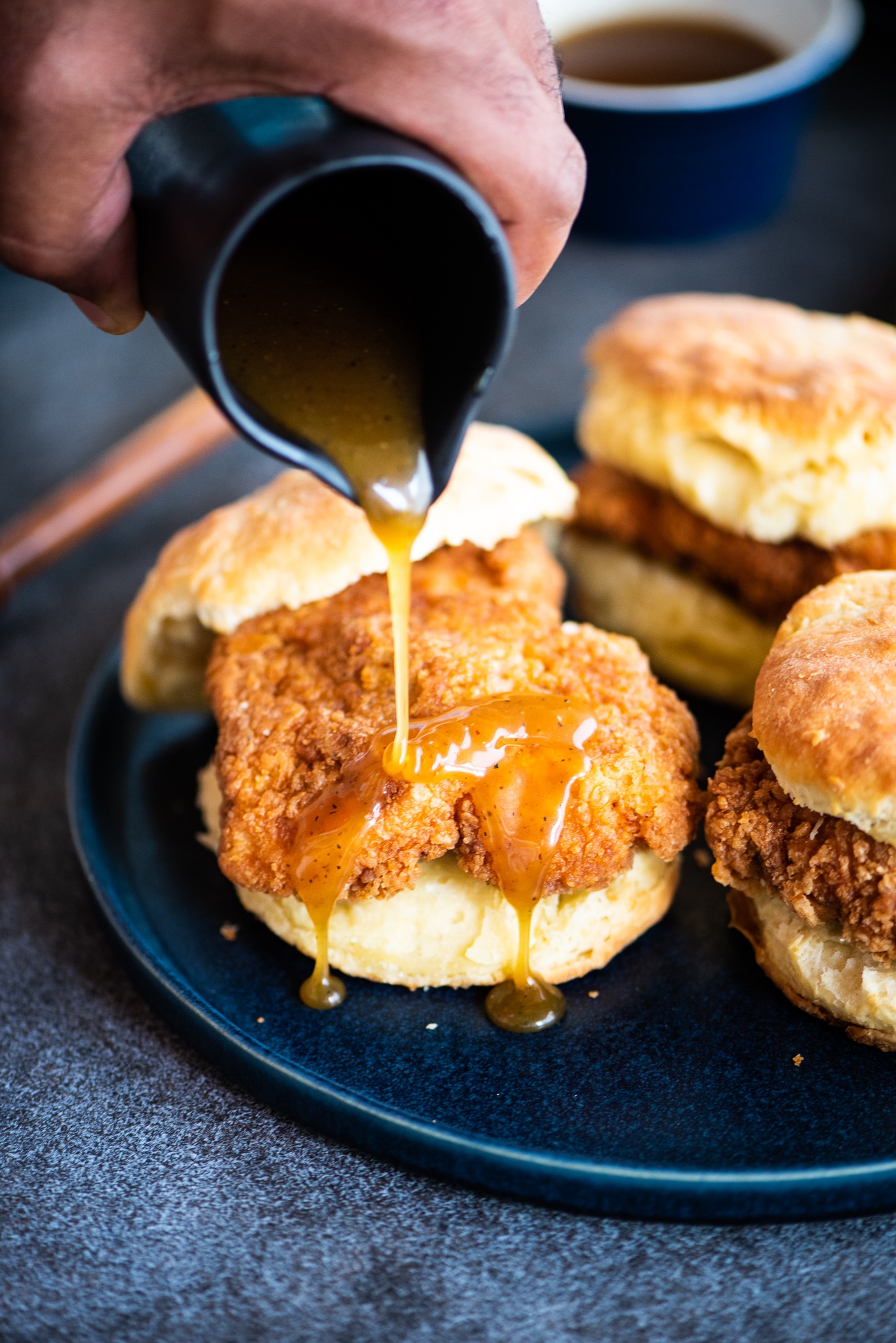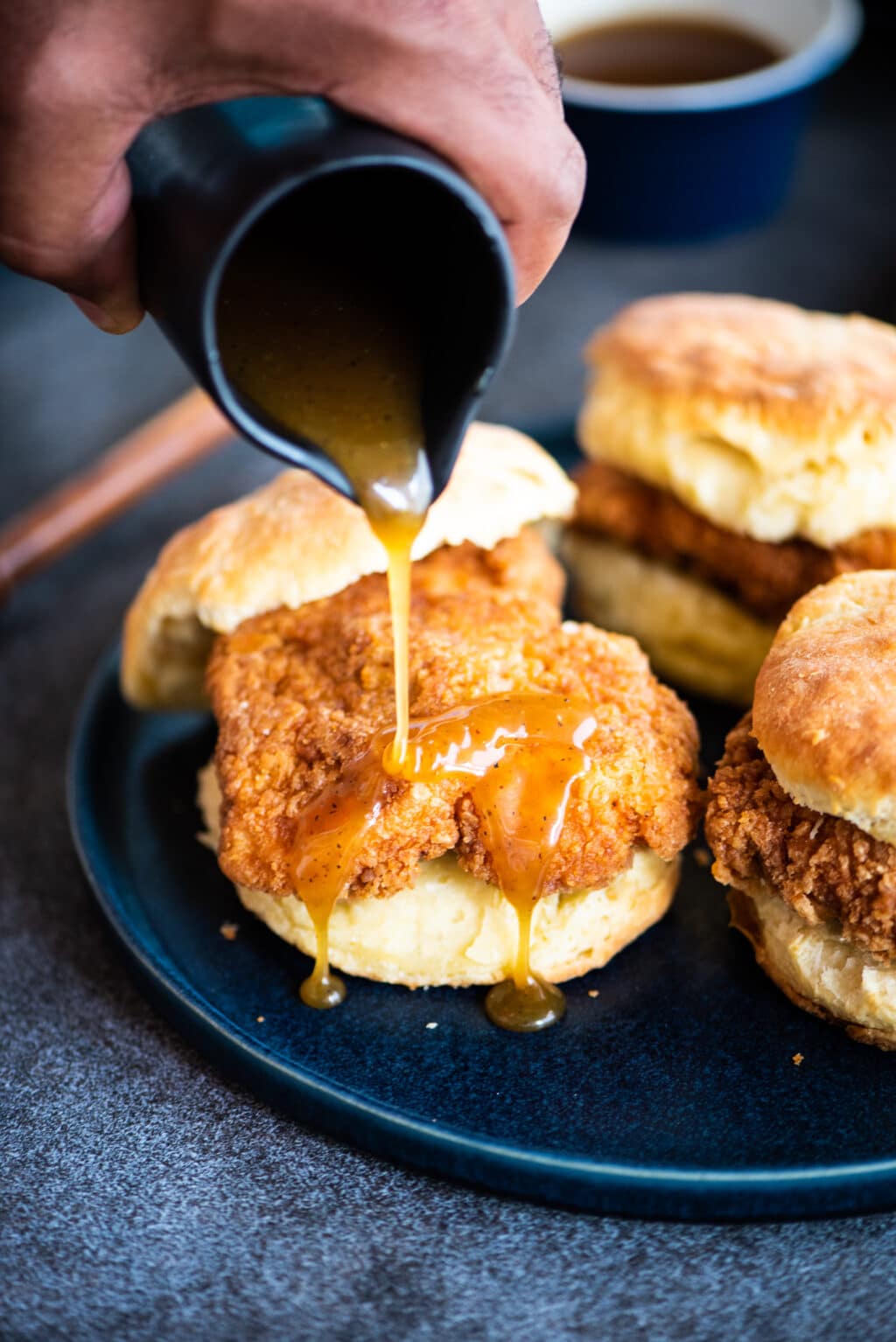 Say hello to the new way to breakfast! However, feel free to enjoy this morning, noon, and night.
When you want to upgrade your breakfast and try something new give this Crispy Chicken Biscuit AKA Honey Butter Chicken Biscuit a go and you will not be disappointed. It's also perfect for mornings on the run as it holds up fairly well if you need a grab-and-go option.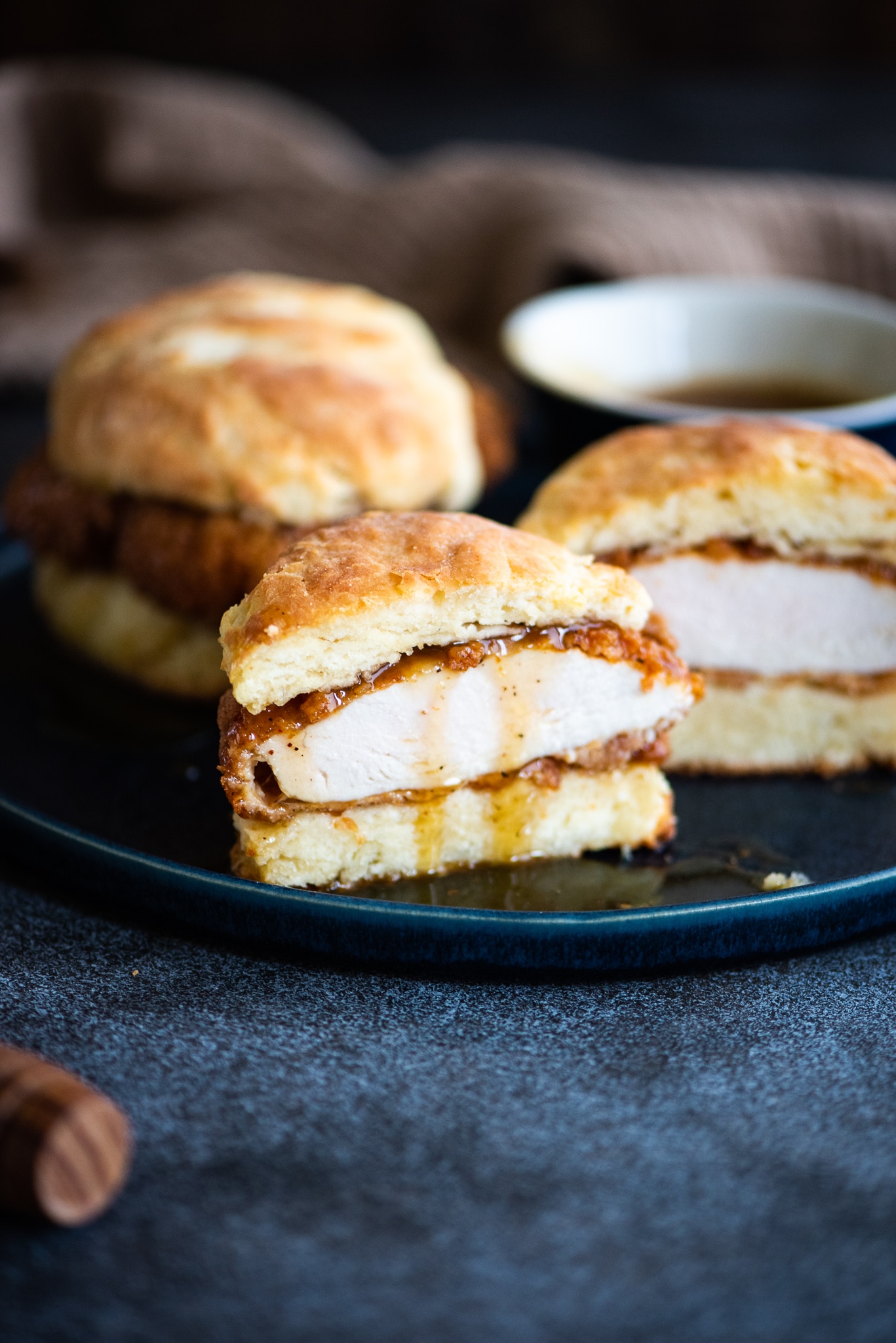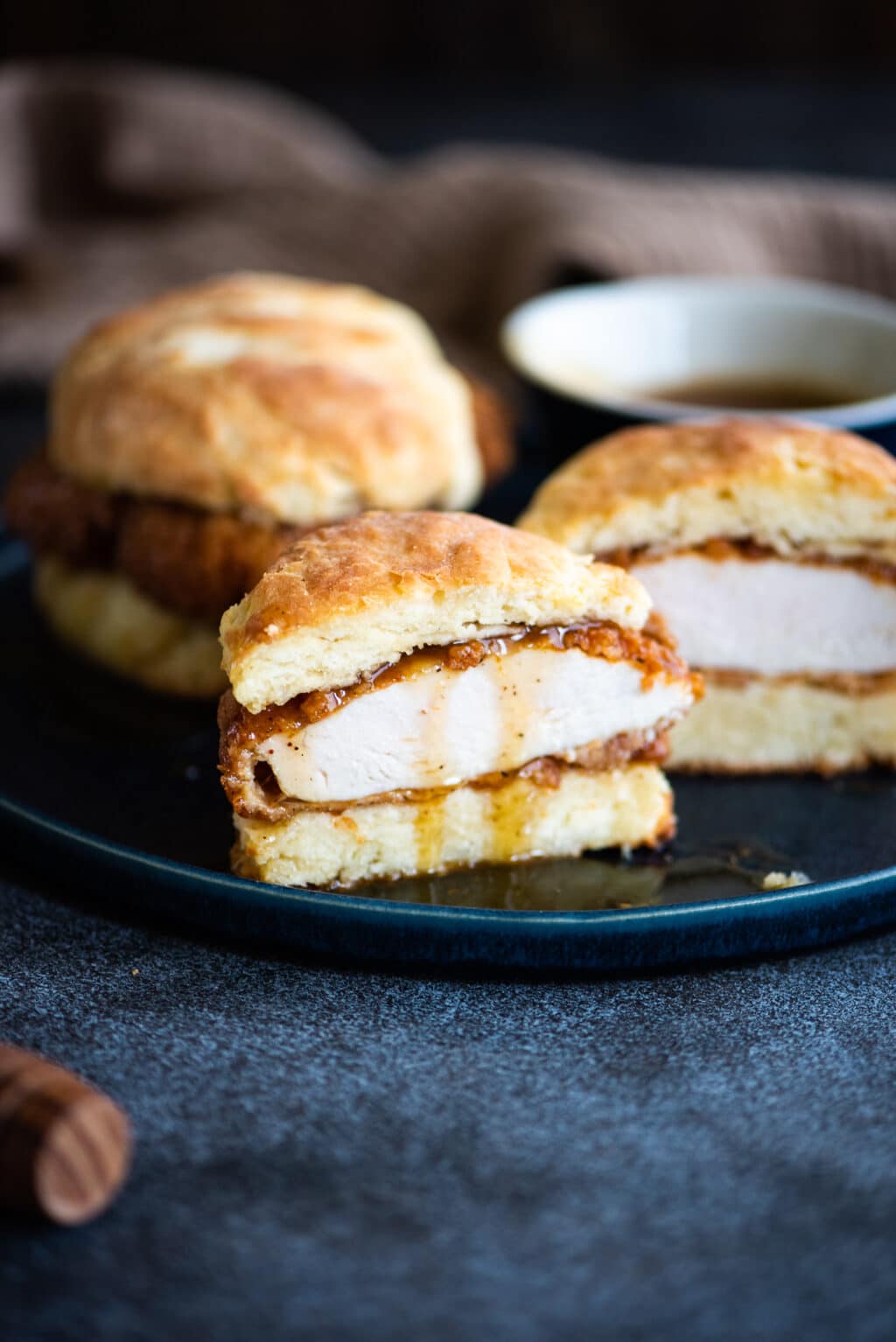 Looking for more brunch ideas? Then check out my:
Print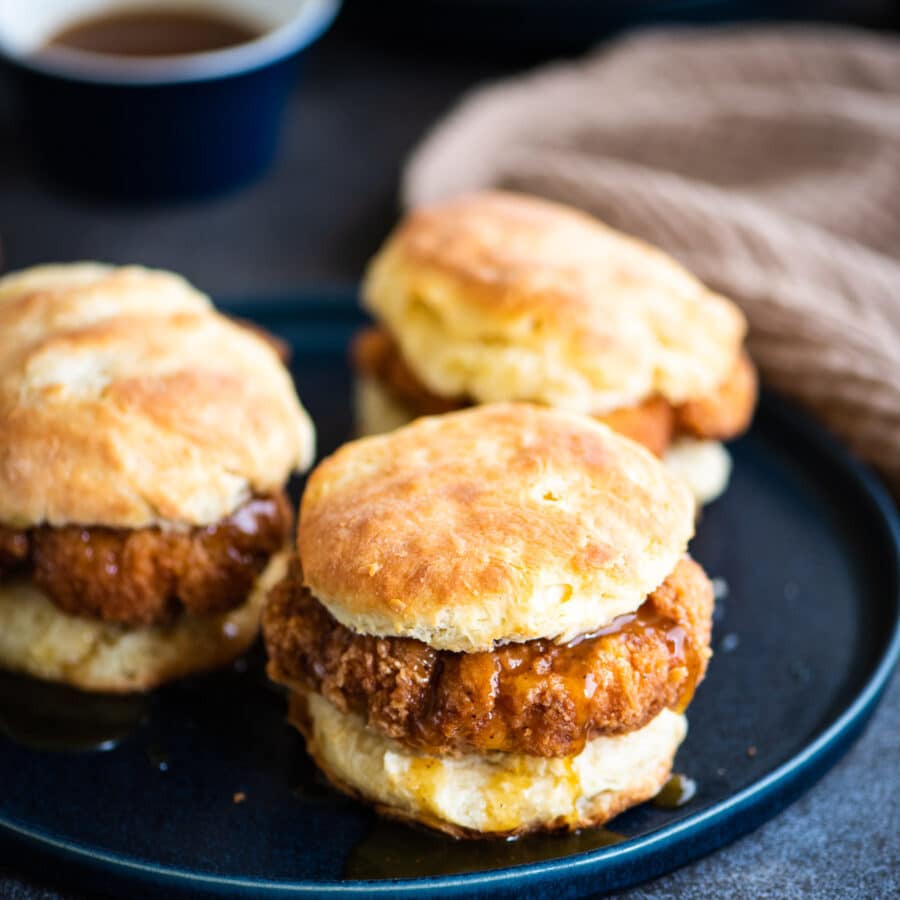 Fried Chicken Biscuit with Honey Butter Sauce
---
Author:

Eric Jones

Total Time:

45 minutes

Yield:

6

1

x
Description
This classic Crispy Fried Chicken Buttermilk Biscuit is drenched in a honey-butter sauce — the perfect compliment to every bite.
---
For the Biscuit:
2 cups

All-Purpose Flour

1 1/2 tsp

Baking Powder

1/4 tsp

Baking Soda

1 1/2 tsp

Sugar

6 tbsp

Salted Butter, cold

3/4 cup

Buttermilk
For the Chicken:
2

Organic Boneless Chicken Breast

2

Large Organic Eggs

1 cup

All-Purpose Flour

1 cup

Panko Breadcrumbs

1/4 cup

Organic Milk

1 tbsp

Paprika

1/2 tsp

Ground Cumin

1 tsp

Oregano

1 tsp

Black Pepper

1/2 tsp

Sea Salt
For the Honey Butter Sauce:
1/2 cup

Honey

4 tbsp

Butter, melted

1/4 tsp

Nutmeg
Dash Black Pepper
---
Instructions
For the buttermilk biscuits:
Pre-heat oven to 425 degrees.
In a large bowl, add flour, sugar, baking soda, and baking powder. Whisk

(paid link)

.
Cut your cold butter into small pieces and add to the flour mixture. Blend until the dough is crumbly. Slowly add in your buttermilk. Blend until combined. The dough will be sticky.
Add pastry flour to a flat surface. Knead the dough a dozen times and form it into a ball. Do not over knead. Cover with plastic wrap and place in the fridge for 30 minutes.
Using a rolling pin, flatten the dough until it is 1-inch thick. Cut your dough with a biscuit cutter.
Butter a baking sheet

(paid link)

and place biscuits close together so their edges touch. 
Bake the biscuits for 12 minutes or until brown. Remove from oven and set them to the side.
For the fried chicken:
Add cooking oil to a cooking pan on medium heat.
Cut your chicken breasts into three 3 even pieces. Season both sides of the chicken pieces with paprika, ground cumin, black pepper, and sea salt. Lightly coat each piece with flour.
Add 1/2 cup of flour into one bag and 1/2 cup of flour, panko breadcrumbs, oregano, and garlic powder into a separate bag.
Add 2 eggs and milk into a bowl and mix.
Submerge the chicken into the egg mixture first, add to the flour-only bag, and shake well until coated. Add the chicken back to the egg mixture, place chicken into the panko breadcrumb bag, and shake until well coated.
Cook each chicken piece for 4 minutes on each side and set to the side when done.
For the Honey Butter Sauce:
Add honey, melted butter, nutmeg, and black pepper to a small bowl. Whisk

(paid link)

together until smooth.
Putting the biscuit together:
Cut the biscuit in half. Add fried chicken piece, top chicken off with honey butter sauce, and place the other half of the biscuit at the top.
Serve hot.
Equipment
Notes
You can use a grater to "cut" your cold butter into small pieces.
Prep Time:

20 minutes

Cook Time:

25 minutes

Category:

Breakfast

Method:

Fried

Cuisine:

Southern
Keywords: Fried Chicken Cheddar Biscuit, Fried Chicken Biscuit, Chicken Biscuit, Cheddar Biscuits