Being a country boy from Louisiana I learned one thing for sure and that is you can never go wrong with a great breakfast! We would actually eat breakfast at any point throughout the day because we were always certain to have two things in the house – milk and eggs.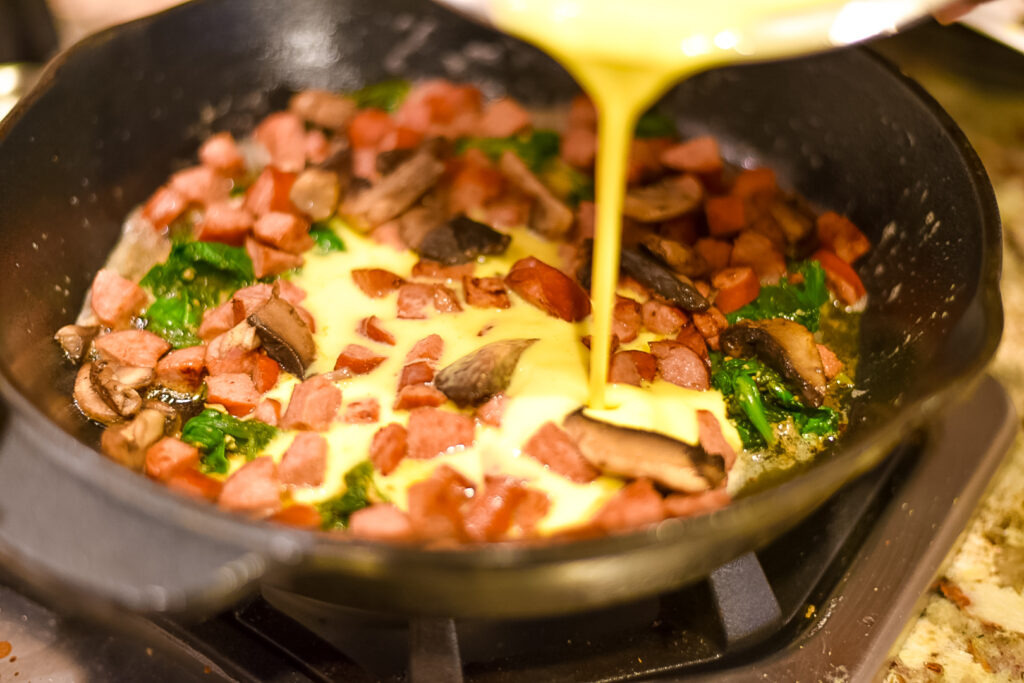 The all-day breakfast restaurants and having access to enjoy eggs and grits 24 hours a day was a norm for me and that's probably why I love this recipe idea so much. It honestly takes me back to a place where the worries of today didn't exist and the comforts of having everything you needed was as simple as a few ingredients.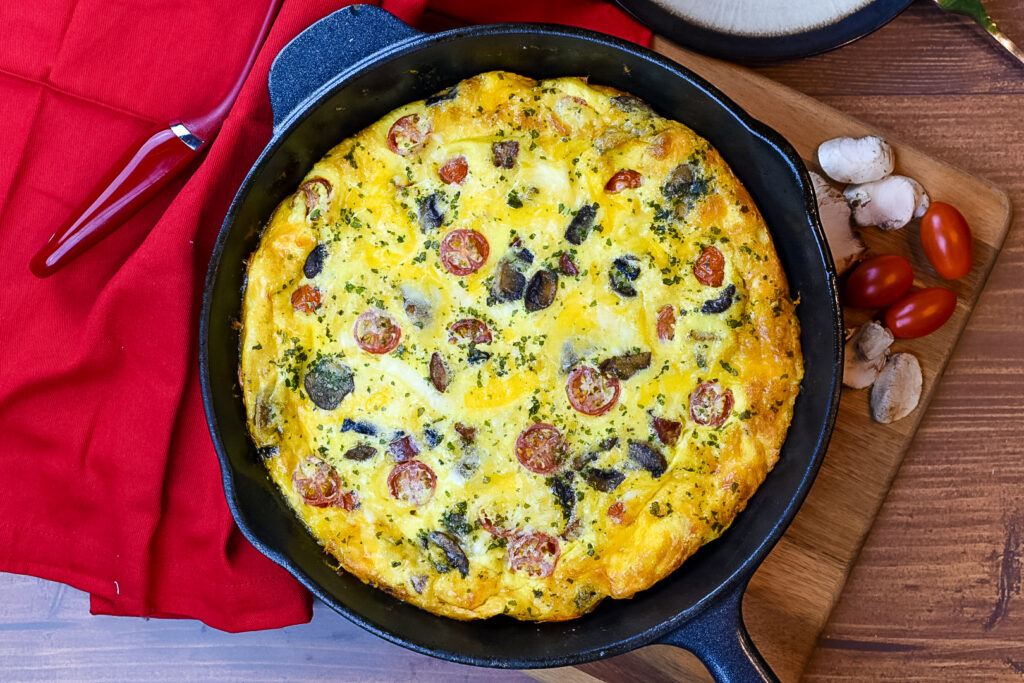 This is spin on your typical scrambled egg breakfast and it's called the Turkey Sausage & Spinach Frittata. The frittata has Italian origin because of the close relation with the omelette and quiche, but this is definitely an enjoyable dish worldwide.
The turkey sausage adds the required saltiness needed while the cream, cheese and eggs make it hard to stop eating. The garlic spinach and cherry tomatoes add a nice touch as well.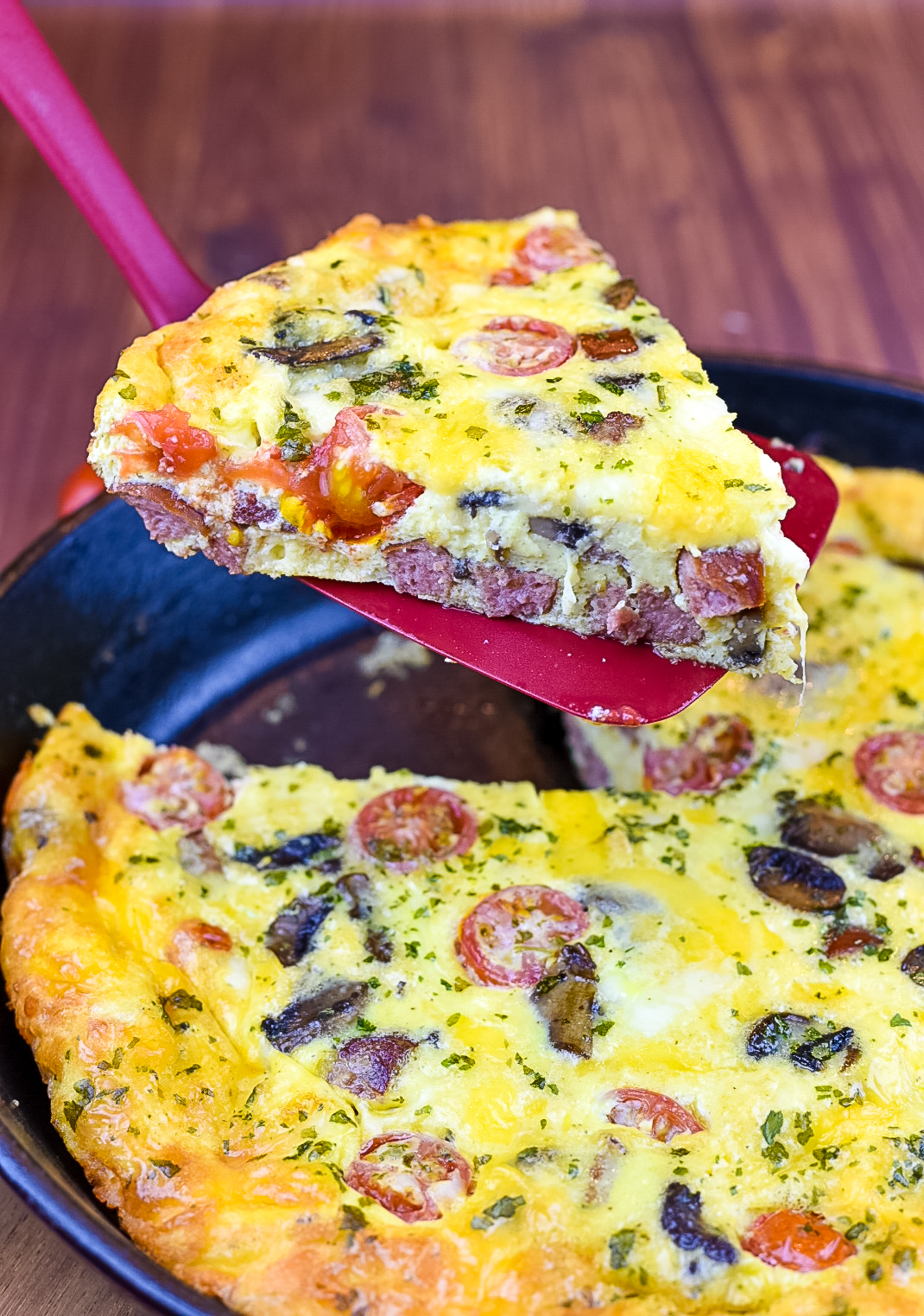 The great thing about this Turkey Sausage & Spinach Frittata is that you can enjoy it any time of day; morning, noon, and night. Your brain will instruct your mouth to yell at this dinner idea with the great words of Austin Powers character Fat Bastard, "Get In My Belly!". Enjoy!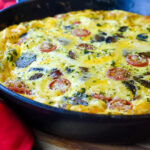 Ingredients
12 oz. Turkey Kielbasa Sausage

12 Large Organic Eggs

1/2 cup Heavy Whipping Cream

2 cups Cheddar Jack Shredded Cheese

6 oz. Fresh Leaf Spinach

5 oz. Cherry Salad Tomatoes

4 oz. Fresh White Mushrooms

1 tsp. Minced Garlic

1/2 tsp. Black Pepper

1/2 tsp. Garlic Powder

3 tbsp. Butter
Instructions
Begin by chopping the turkey sausage into smaller chunks and chopping the cherry tomatoes in halves.
Pre-heat cooking pan to medium heat and cook turkey sausage for 5 minutes or until cooked.
Once done, set turkey sausage to the side and add 1 tbsp of oil.
Add spinach, mushrooms and minced garlic to heated pan. Cook until done, drain then set to the side.
In a large bowl, add eggs, black pepper, garlic powder and heavy whipping cream then whisk until smooth.
Pre-heat cast iron skillet to low heat. Add butter making sure the sides and bottom of pan are covered.
Add all cooked ingredients back into the cast iron skillet. Spread evenly.
Pour egg mixture evenly on top on cooked ingredients. Top off with cheddar jack cheese.
Pre-heat oven to 350 degrees and cook the dish for 30 minutes.
Once done, allow to cool then serve.