Anything made in a cast iron skillet just seems to always taste great and the same goes for this Italian Chicken Cast Iron Pizza. This is a tasty change up for your normal pizza nights. The pizza results in a great texture and taste combination – straight out of our oven.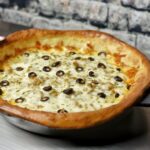 Ingredients
1 lb. Fresh Pizza Dough

1 lb. Ground Chicken

1/4 cup Italian Seasoning

1/2 cup Organicville Organic Pizza Sauce

1/2 tbsp. Parsley Flakes

1/4 cup Chopped Black Olives

8 oz. Monterey Cheese Block

12 oz. Mozzarella Cheese Shredded

1/3 cup Pastry Flour
Instructions
1. Spread pastry flour over kitchen counter top.
2. Place the fresh dough onto flour and begin to shape dough into a circle using hands. Finish shaping and flattening with roller to a diameter of 13 inches.
3. In a large bowl, add ground chicken and italian seasoning and mix well with hands.
4. Cook ground chicken in medium-heat pan until chicken is cooked; breaking the meat apart as it cooks.
5. In a cast iron skillet, coat the bottom with olive oil and add your rolled dough into the skillet. Fold any excess dough over skillet edge.
6. Spread your pizza sauce evenly over the bottom of the crust.
7. Chop your Monterey cheese block into small cubes and spread half over the pizza sauce.
8. Add half of your cooked chicken to the skillet and spread evenly.
9. Add the remaining Monterey cheese over the chicken.
10. Add more chicken to the pan saving a hand full to the side for topping.
11. Add all of the mozzarella shredded cheese.
12. Top the cheese off with remaining ground chicken, chopped black olives and parsley flakes.
13. Bake in oven at 400 degrees for 18 minutes.
14. Allow pizza to cool, then serve.