When chocolate is the answer who cares what the question is! This cast iron chocolate skillet brownie, served with ice cream of course, can make any cloudy day seem like sunshine. Since doctors say dark chocolate has health benefits we will just go with that. This dessert doesn't even require plates – spoons only!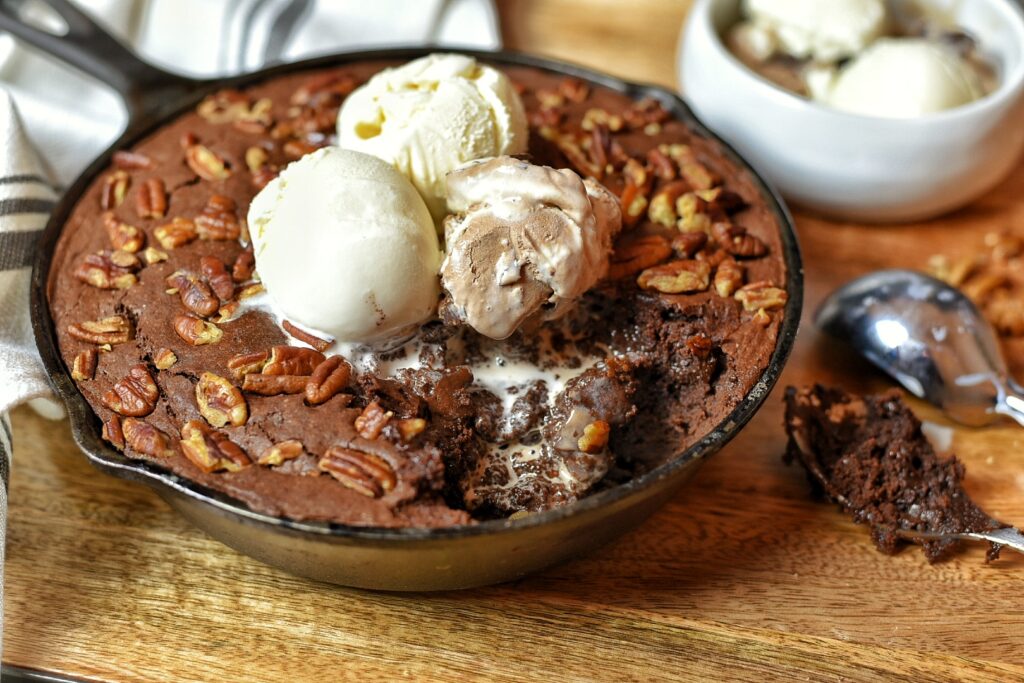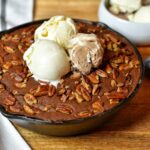 Ingredients
1 1/4 cup All Purpose Flour

1/2 tsp. Baking Powder

3/4 cup Hershey's Cocoa Powder (100% Cacao)

8 oz. Ghirardelli Bittersweet Chocolate Chips

1/2 cup Sugar

1/2 cup Light Brown Sugar

1/2 tsp. Nutmeg

8 tbsp. Melted Butter

1 tsp. Butter

3 Organic Large Brown Eggs

1 tsp. Vanilla Extract

2 oz. Chopped Pecans

2 scoops Vanilla Ice Cream

1 scoop Triple Chocolate Ice Cream
Instructions
1. Preheat oven to 350°F.
2. Heat pan on medium to low heat then add 1 tbsp of butter and 8 oz chocolate chips into small pan. Stir until melted and remove from heat.
3. In a large bowl, add eggs and whisk until smooth.
4. Add sugar, brown sugar, nutmeg, vanilla extract, and melted chocolate chips into bowl and whisk until it binds (about 5 mins).
5. Add melted butter and slowly fold the butter into the mix.
6. Add the flour, baking powder and Hershey's Cocoa Powder and fold the ingredients until well blended. The texture will be thick but smooth. Do not over blend.
7. Using butter, rub a 9-inch cast iron skillet with butter or non-stick coconut stray. Add all ingredients from the bowl into cast iron skillet.
8. Spread ingredients in skillet evenly and top off with chopped pecans.
9. Bake your brownie at 350°F for 30 minutes.
10. Once it's complete allow to set and cool for 5 minutes and serve with ice cream.