I got the idea for this soup after traveling to Cancun, Mexico for spring break with the family. The chef would only share the ingredients, no measurements, so I was left to strike the right balance between all the ingredients. After a few tweaks, it is ready to share! If you are a soup connoisseur and have never tried this soup recipe, you may just question why you waited so long!.
This Creamy Zucchini and Sweet Potato Soup is a very tasty soup that will definitely catch your taste buds off guard. The surprising combination of leek and onion along with zucchini squash and sweet potato is pretty unique. Adding chicken broth and the extra special Le Delice De Bourgogne Cheese, it's transformed into one of the best soups I've ever tasted. Enjoy!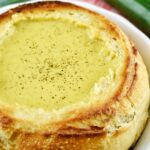 Ingredients
1 lb. Zucchini Squash

1 Sweet Potato

4 cups Chicken Broth

1/2 lb. Le Delice De Bourgogne Cheese

1 cup Heavy Whipping Cream

1/3 cup Chopped Celery

1/2 cup Chopped Onion

1 Leek

1 tbsp. Fresh Thyme

1 tbsp. Fresh Rosemary

3 tbsp. Minced Garlic

3 tbsp. Butter

1/4 tsp. Sea Salt

1/4 tsp. Black Pepper

1 Sourdough Round Bread Loaf
Instructions
1. Begin by cleaning and cutting the leek leaving only the bottom section for cooking.
2. Chop your onion, celery, fresh rosemary and fresh thyme.
3. In a large cooking pot, add 2 tbsp of butter and the chopped leek then cook for 5 minutes (cooking on medium heat.)
4. Add the onion, celery and 2 tbsp minced garlic then cook for 5 additional minutes.
5. Remove skin from sweet potato and chop it and the zucchini into chunks then add to pot and cook for 5 additional minutes.
6. Add sea salt, black pepper, rosemary and thyme and cook for an additional 2 to 3 minutes then add the chicken broth.
7. Turn heat to high and cook on high for an another 10 minutes. Lower heat and cook on medium for 5 minutes.
8. Once it's done, remove pot from heat and allow to cool for 5 to 10 minutes.
9. Add all cooked ingredients into blender and puree until smooth.
10. Once blended, pour soup through a strainer into a large bowl.
11. Add ingredients from bowl back to the cooking pot and turn it to low heat.
12. In a separate cooking pan, pre-heat to medium then add tbsp butter and minced garlic.
13. Once it begins to blend, add heavy cream and Le Delice De Bourgogne Cheese (without the casing) and stir until smooth.
14. Once done, add the cheese mixture to the pot of cooked vegetables and cook for 10 more minutes on low heat.
15. Cut the top of the bread loaf and remove the inside bread creating a bowl with the loaf.
16. Add soup to bread bowl and serve.