Warm Quinoa Roasted Veggie Salad with Vinaigrette
This Warm Quinoa & Roasted Veggie Salad combines the taste and texture of roasted veggies and fluffy and nutty quinoa with a delicious homemade vinaigrette dressing.
Love quinoa? You should check out my Baked Flounder with Pontchartrain Sauce. This would also go great with my Baked Flounder with Tomatoes and Basil.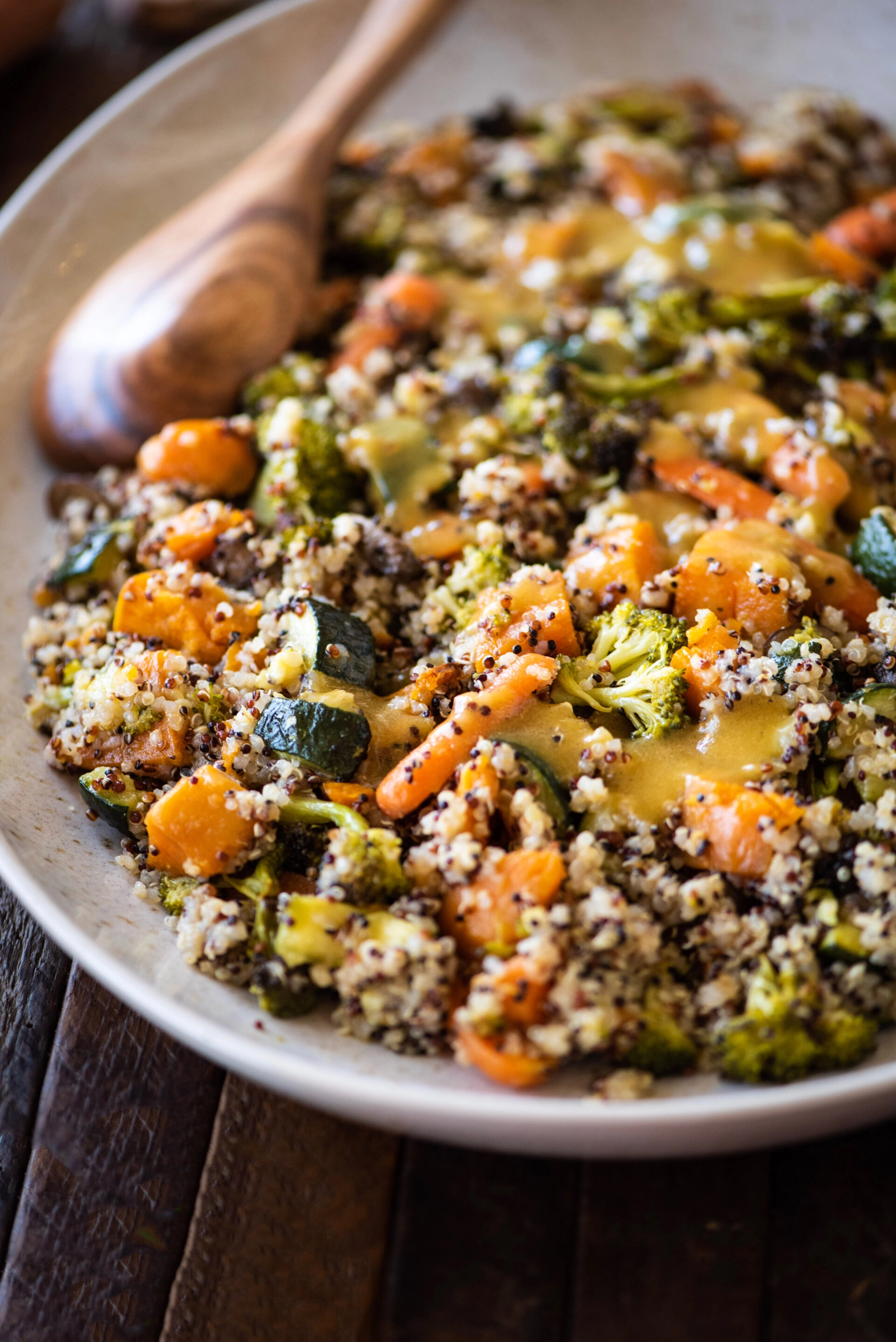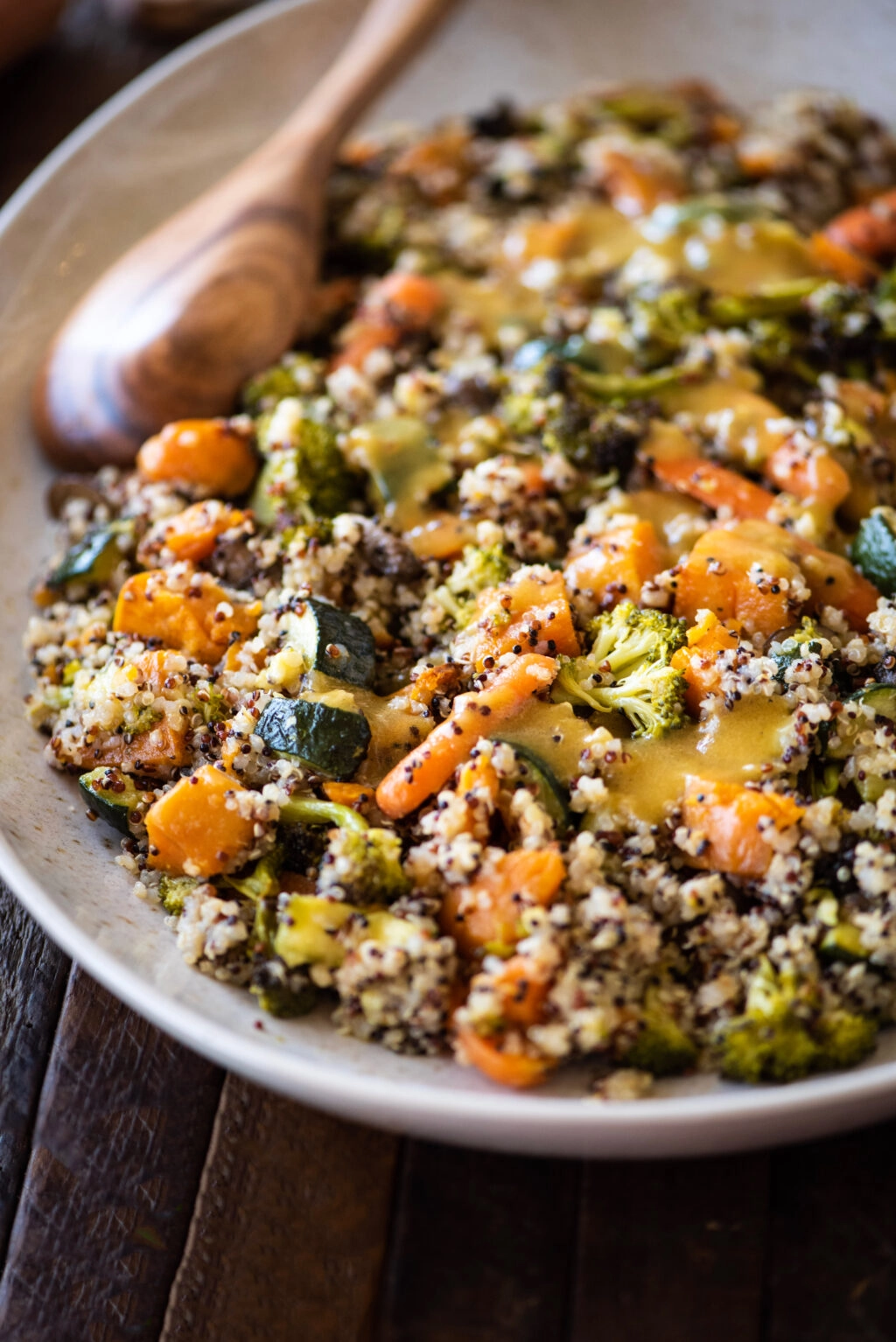 Simple and easy to make, you can roast your favorite vegetables (this recipe uses zucchini, sweet potatoes, baby carrots, mushrooms, and broccoli) and toss them in a lightly sweetened and slightly tart vinaigrette to lock in all those flavors. And as a bonus — you can even sprinkle crumbled feta on top for an added flavor boost.
Enjoying this dish now, I am taken back to my younger years when I "had" to eat my vegetables. I would sit at the dinner table, looking down at my veggies, trying to figure out how I was going to make it through. Now I can't get enough them, and they are a consistent part of my daily cuisine. There is an advantage in understanding the importance of a healthy diet and the nutritional value of the foods we eat.
This vegan recipe goes to show that enjoying healthy-for-you dishes doesn't mean they lack flavor. This recipe will surprisingly catch your taste buds off guard!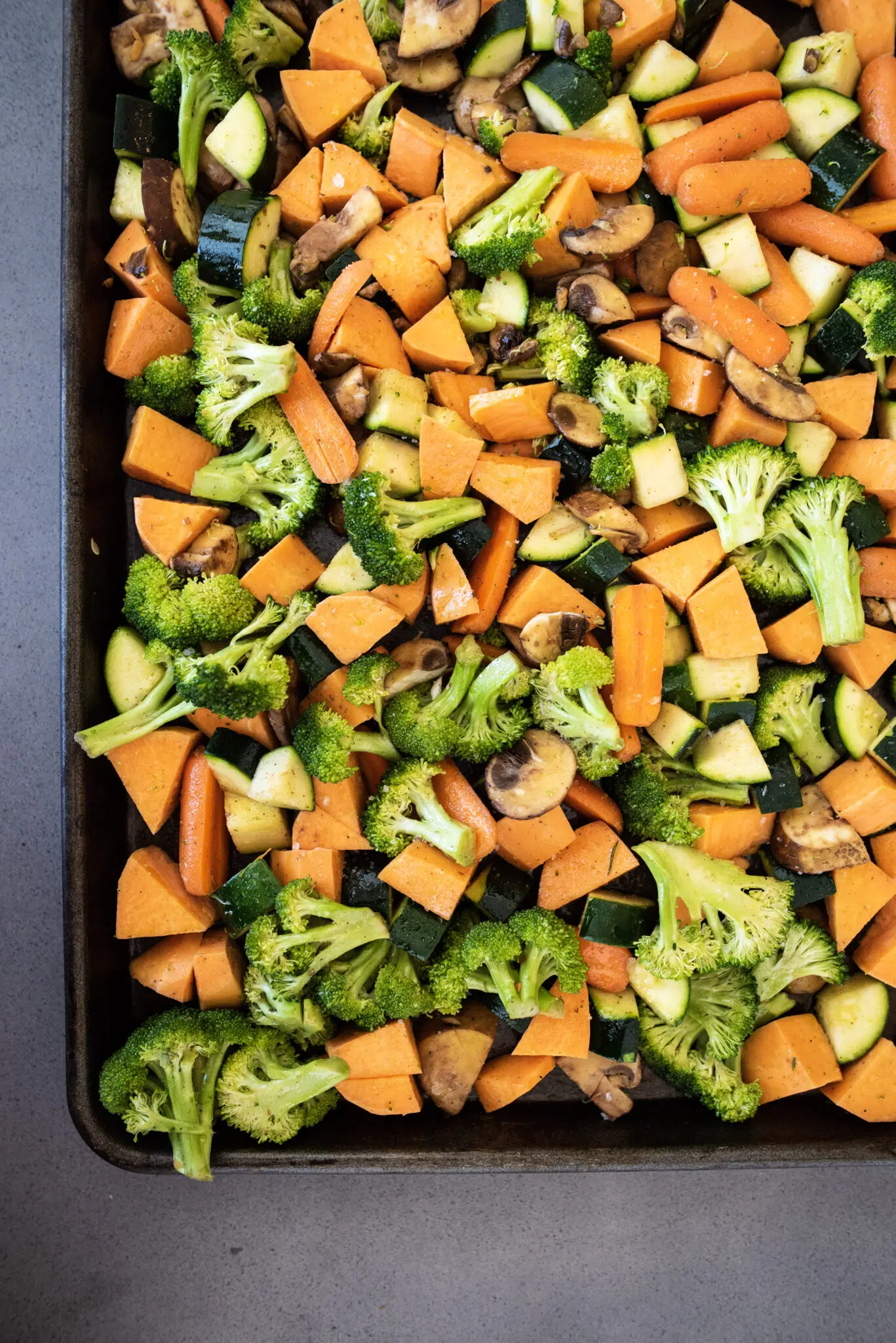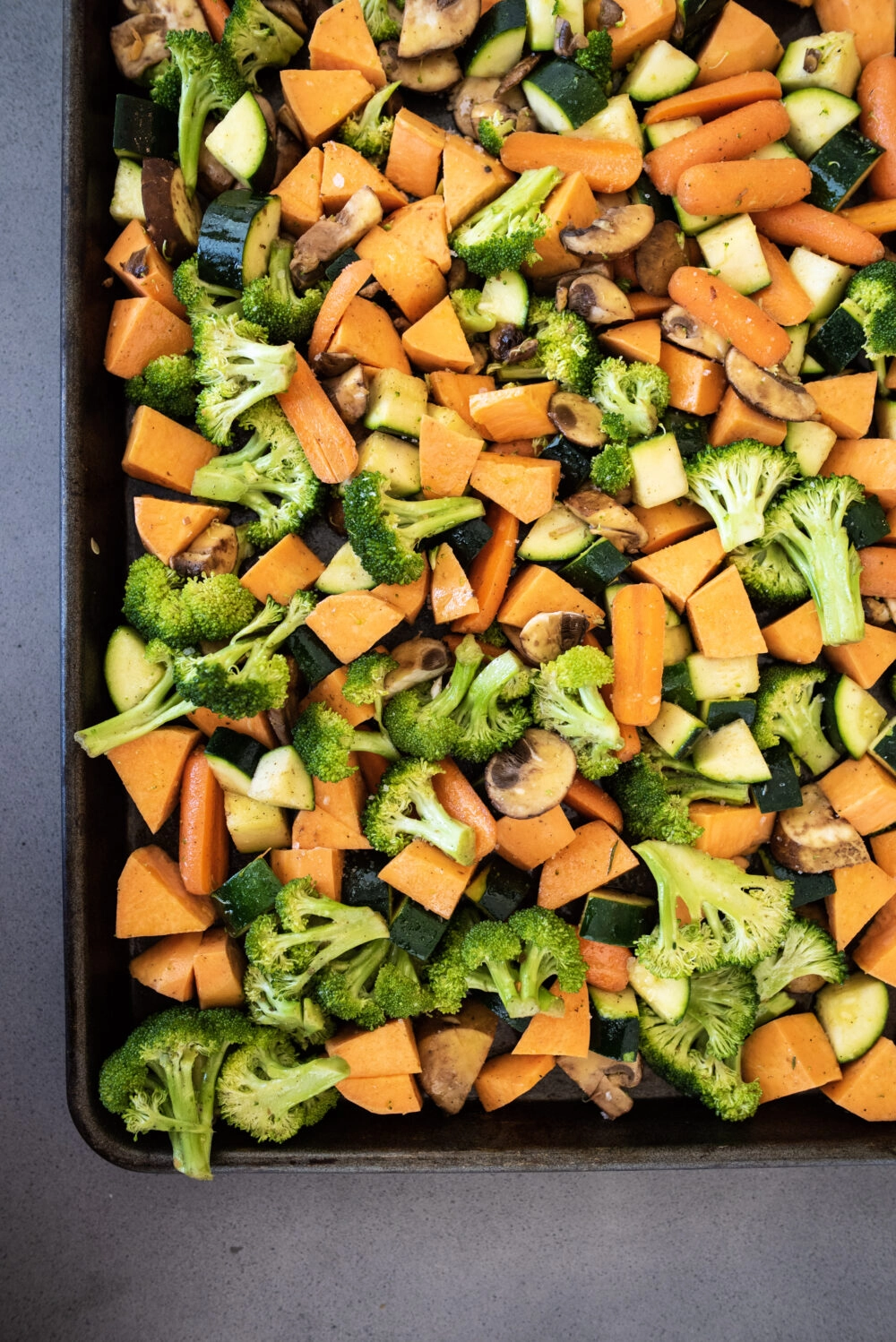 Why should I use roasted vegetables?
When roasting vegetables (especially root vegetables), you automatically enhance their flavor and natural sweetness via the caramelization that occurs during the roast process (dry cooking). So when I roast my vegetables, a simple seasoning of salt and pepper does just fine. You really want to allow the natural flavors from the veggies to shine.
Ingredients for warm quinoa salad: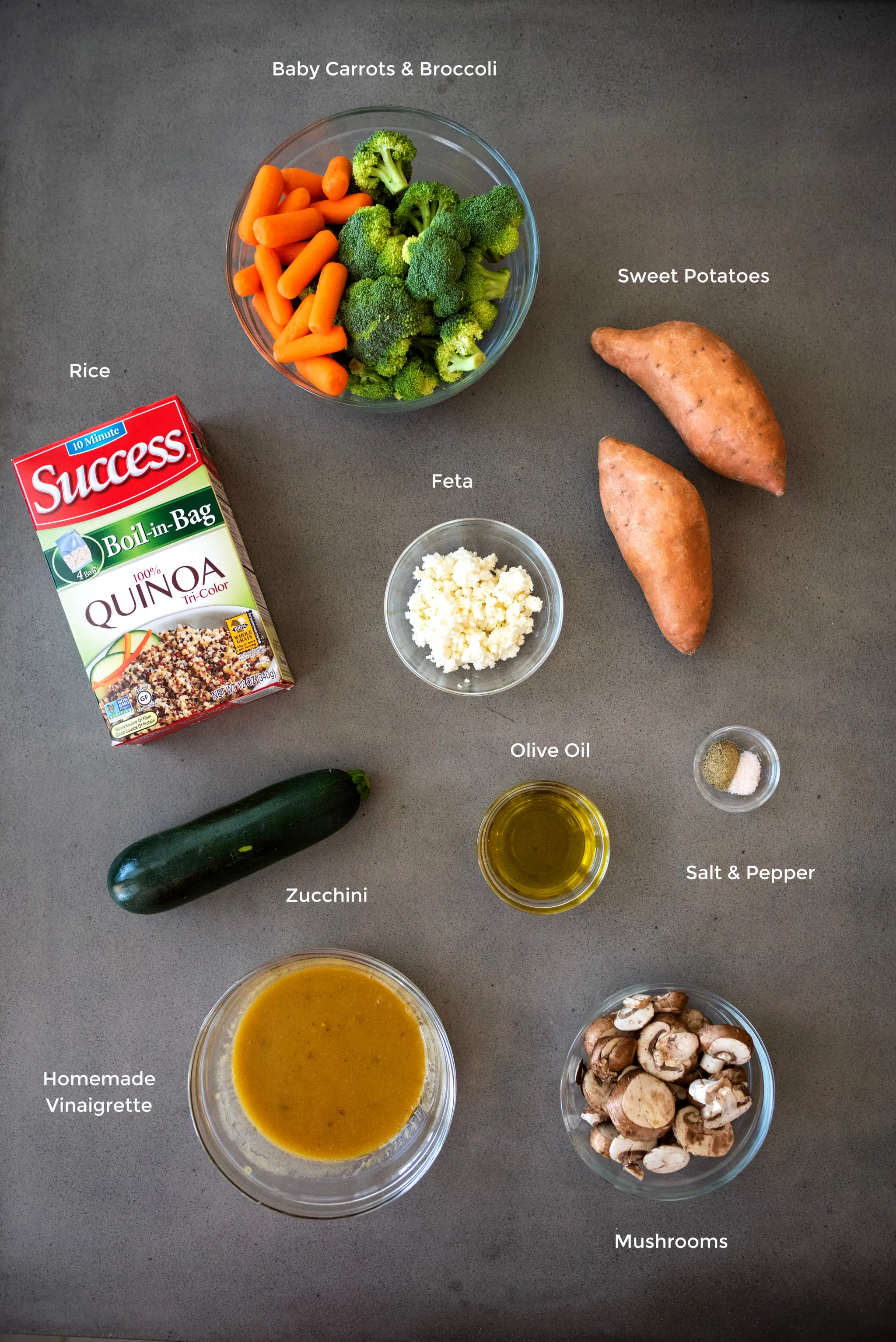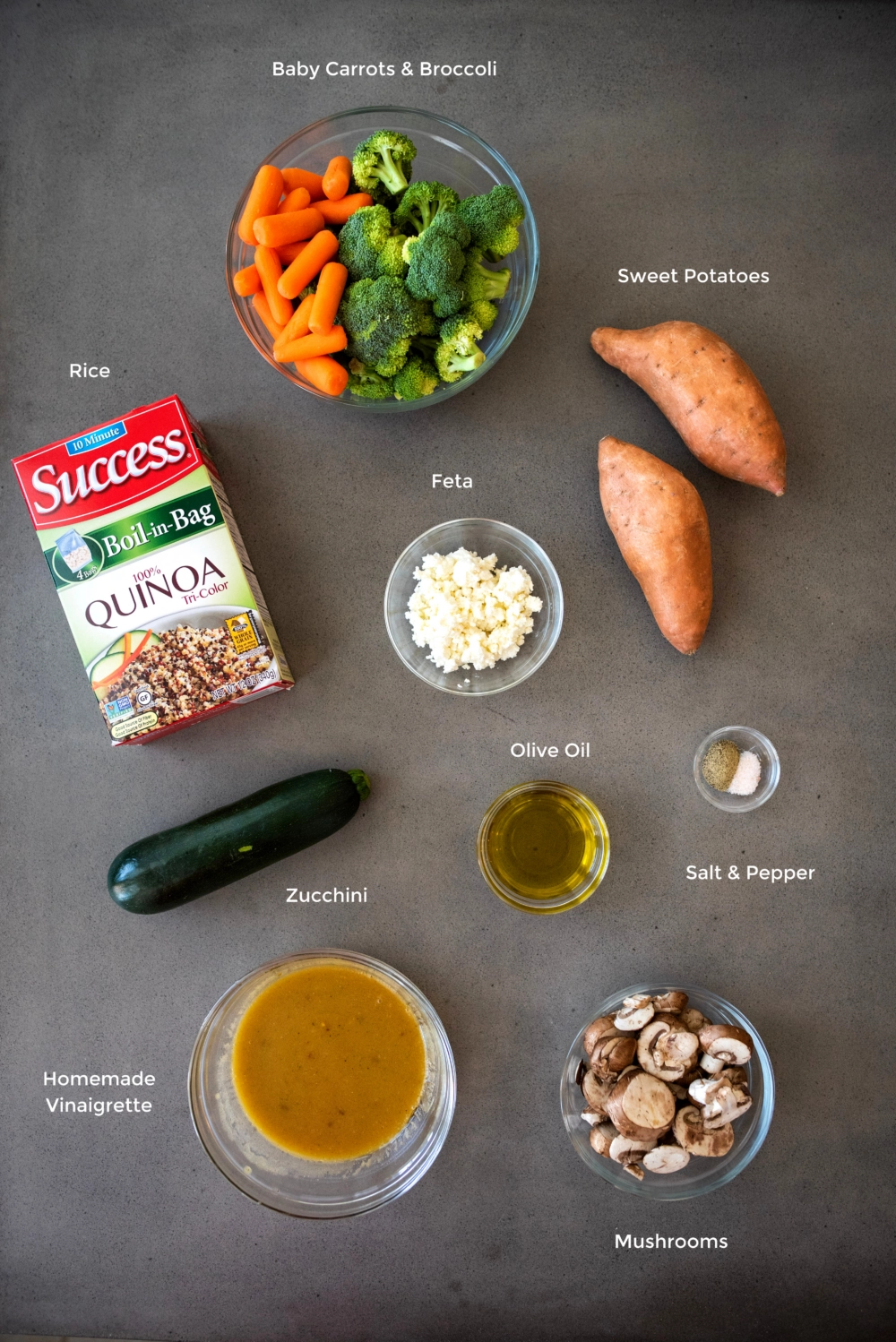 For the vegetables, you'll need fresh and raw sweet potatoes, zucchini, carrots, broccoli florets/broccolini, and mushrooms. But here is where you can get creative! You can substitute any vegetables of your choosing like turnips, Brussels sprouts, butternut squash, asparagus, and red potatoes. Your vegetables should be seasoned simply with Himalayan salt and black pepper and tossed in olive oil.
In the spirit of keeping things healthy, I teamed these roasted veggies with quinoa. Quinoa is a good replacement for rice when you want a grain loaded with fiber, antioxidants, and even more protein. The key to incorporating quinoa into your dishes is to make sure you cook them to the ideal texture, so the consistency of the dish is cohesive.
Once your vegetables have been folded into the quinoa, you can optionally top it with crumbled feta cheese to bring something extra to the taste bud party.
For the slightly sweet and tangy vinaigrette, you'll need to combine extra virgin olive oil, red wine vinegar, minced garlic, raw honey, dijon mustard, red pepper flakes, Himalayan salt, and black pepper. The vinaigrette is super simple, and the complex flavors add just the right amount of brightness to this dish.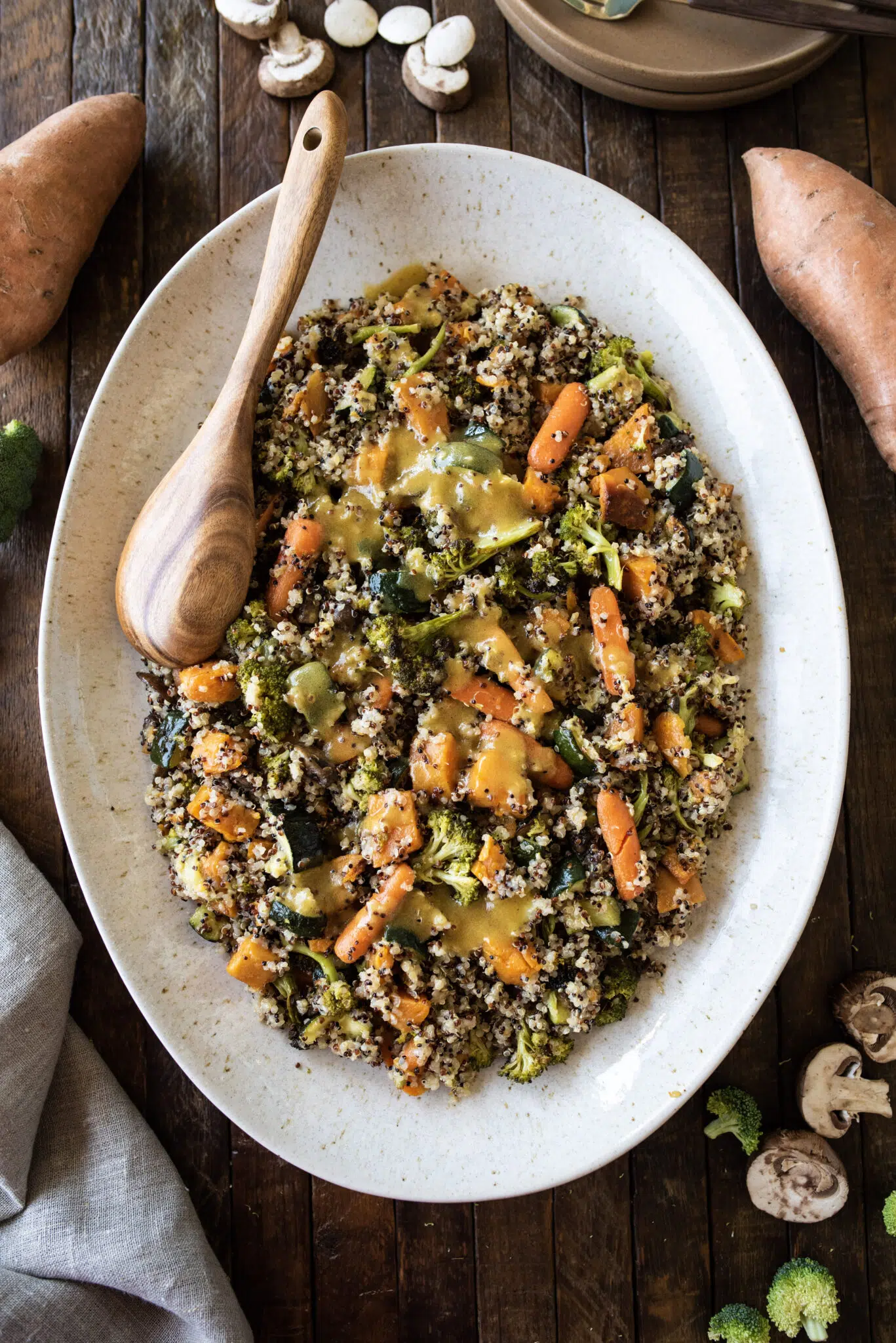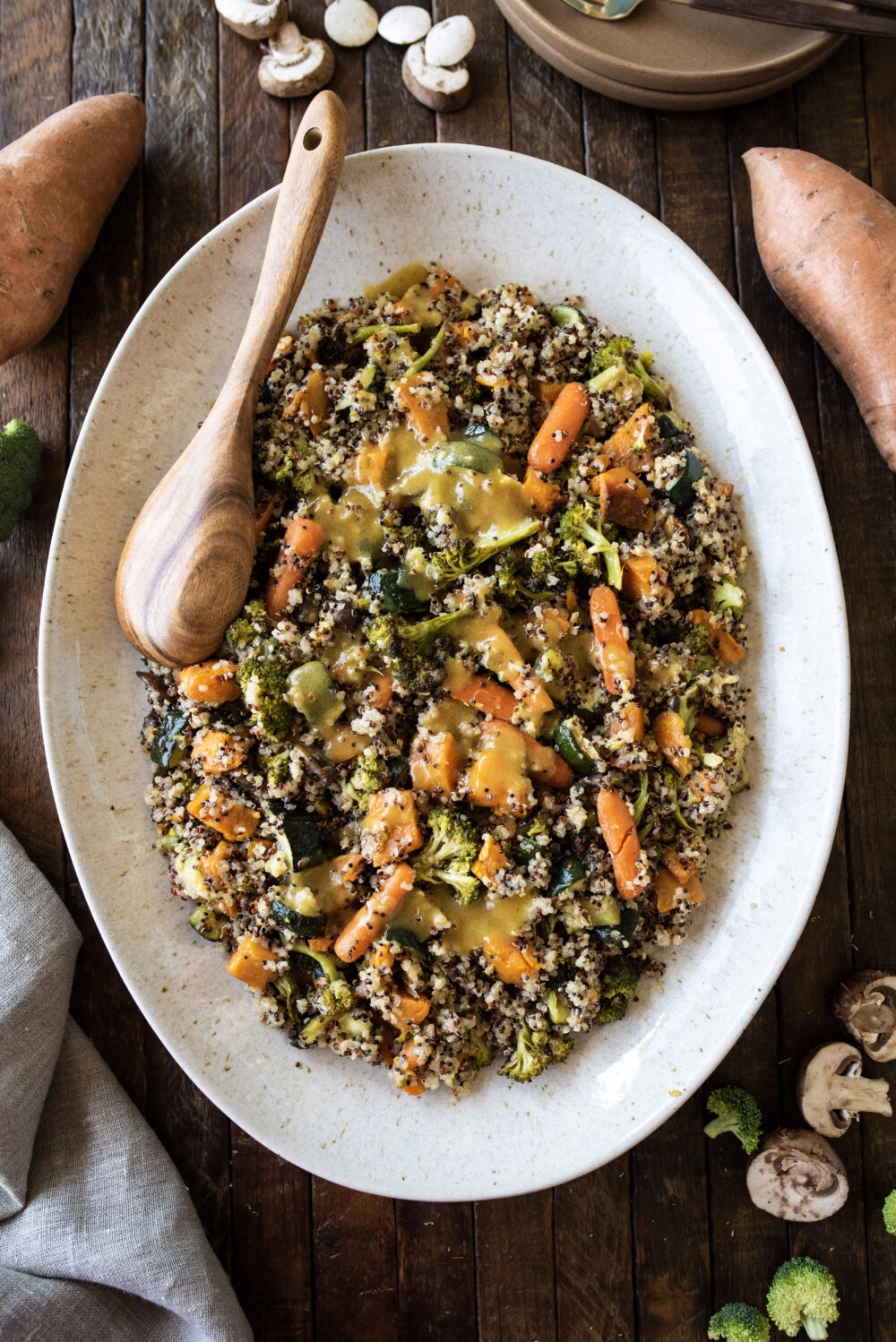 What is quinoa?
Pronounced KEEN-wah, quinoa is actually not a grain — although it is used in the same way rice, farro, or other similar grains would be used. It is a grain-like and naturally gluten-free pseudocereal hailing from South America.
Quinoa is good for you. A cup of quinoa provides twice the amount of protein (packing more than any other grain) and fiber as the same amount of white rice. It's rich in vitamins, minerals, and essential amino acids. Plus, it's packed full of antioxidants, which can also help with blood sugar, aid in weight loss, and improve your cholesterol. Clearly, quinoa is the way to go and is a worthy inclusion in your diet.
Quinoa comes in various colors– like red, black, or white, but they all cook the same way. While the lighter varieties carry a mild flavor, the darker varieties are more robust.
How to make quinoa roasted veggie salad:
Begin this dish by removing the skin from the sweet potato and cutting it into small cubes. For the zucchini, you will remove the ends and cut them into small cubes as well. Chop your fresh broccoli florets into halves to help them cook evenly, and do the same for the baby carrots.
Add all vegetables into a large bowl and season with salt and pepper, and coat evenly with olive oil. Place them on a baking sheet

(paid link)

and bake at 425 degrees for 30 minutes. Set to the side and allow to cool.
Cook your quinoa as instructed. I use the Success Rice boil-in-bag quinoa. It is easy to make and perfectly fluffy every time.
Once the quinoa is done, add to a large bowl along with the roasted vegetables.
To make the dressing, add all vinaigrette ingredients into a separate small bowl and whisk

(paid link)

until smooth. I toss half of the dressing with my quinoa and vegetables, and I serve the remaining dressing on the side.
Optional: You can top your warm salad with feta cheese crumbles or serve them on the side as well.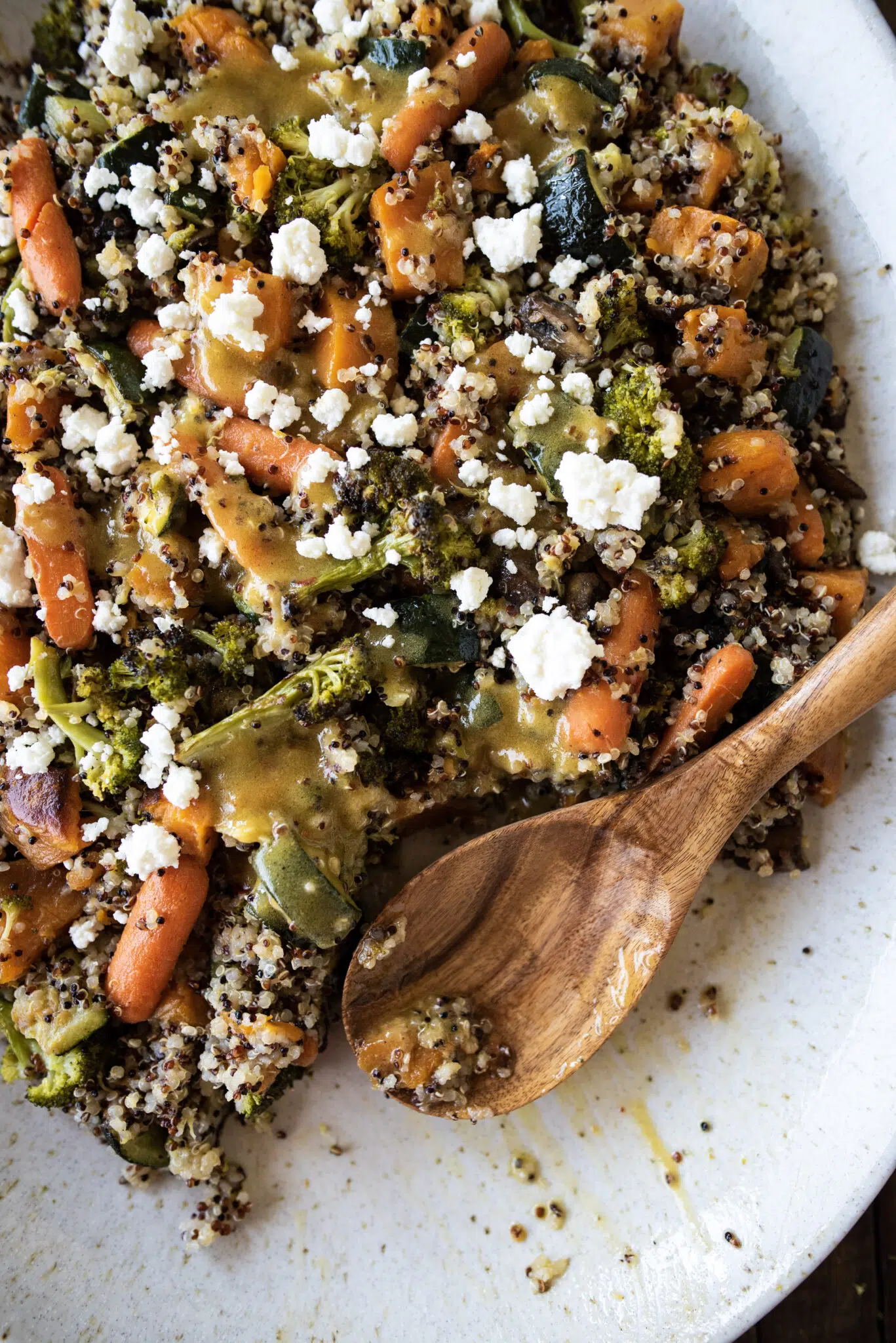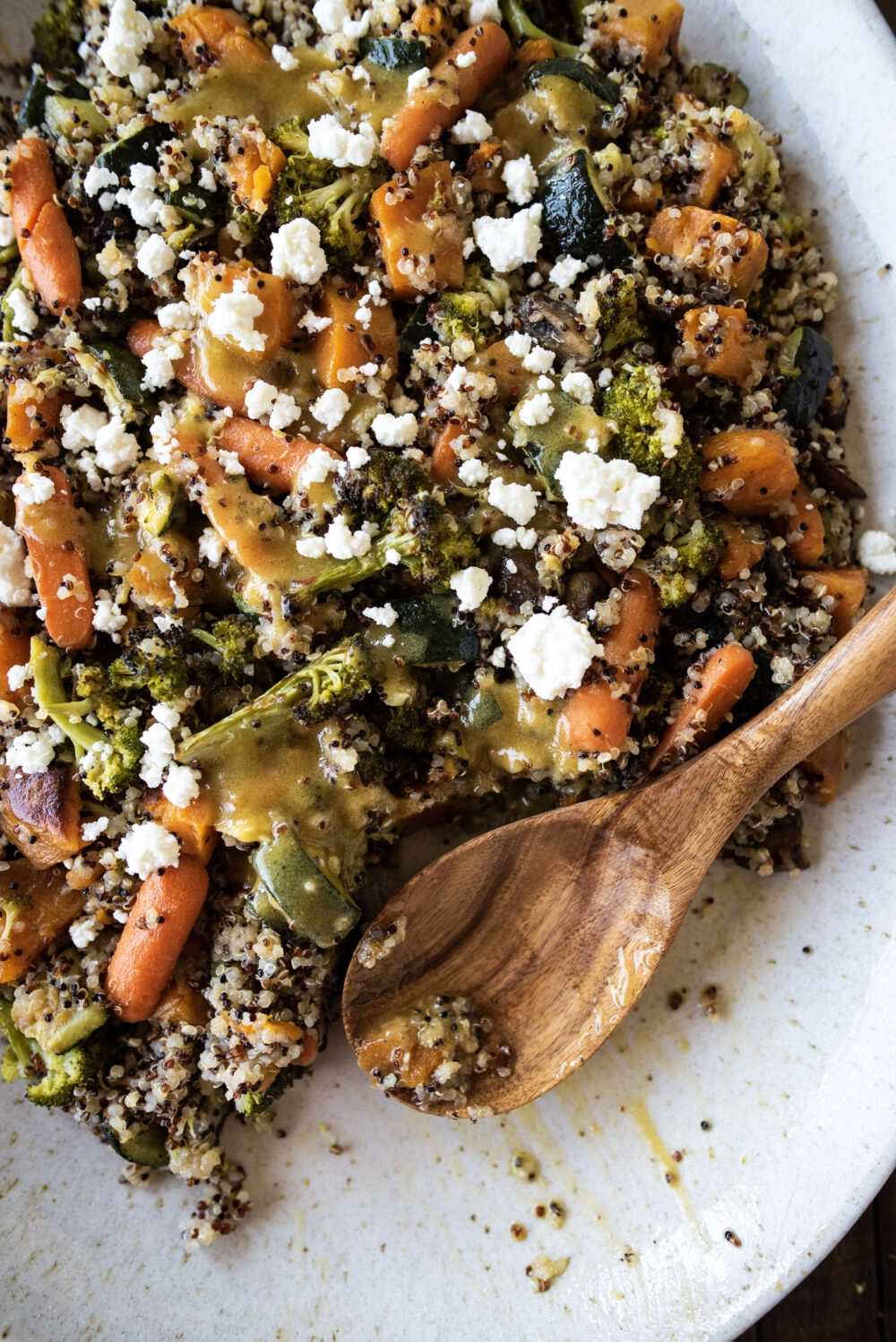 When you want a recipe packed with both flavor and nutrients, give this Warm Quinoa Roasted Vegetable Salad with Homemade Vinaigrette a spot on your dinner table!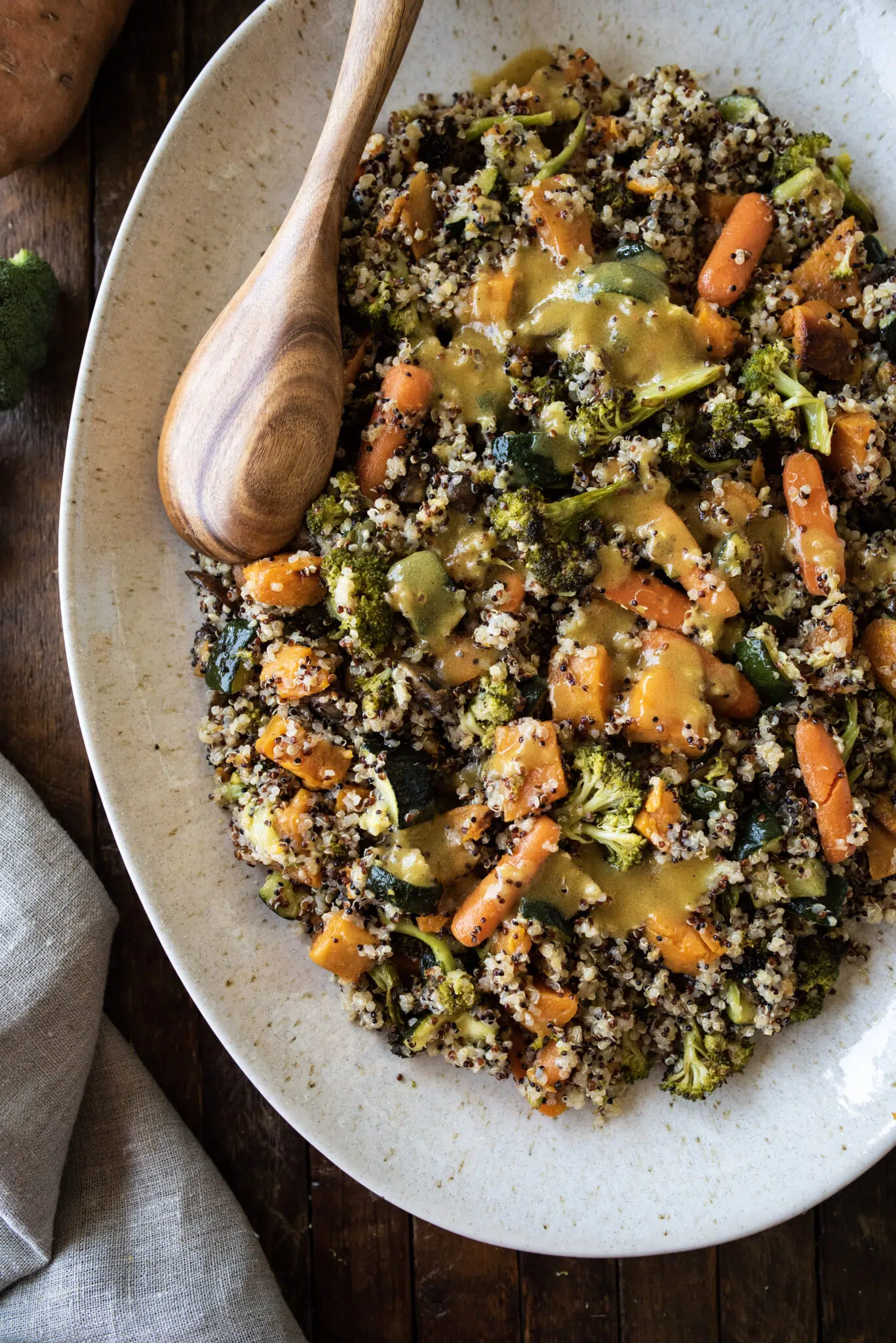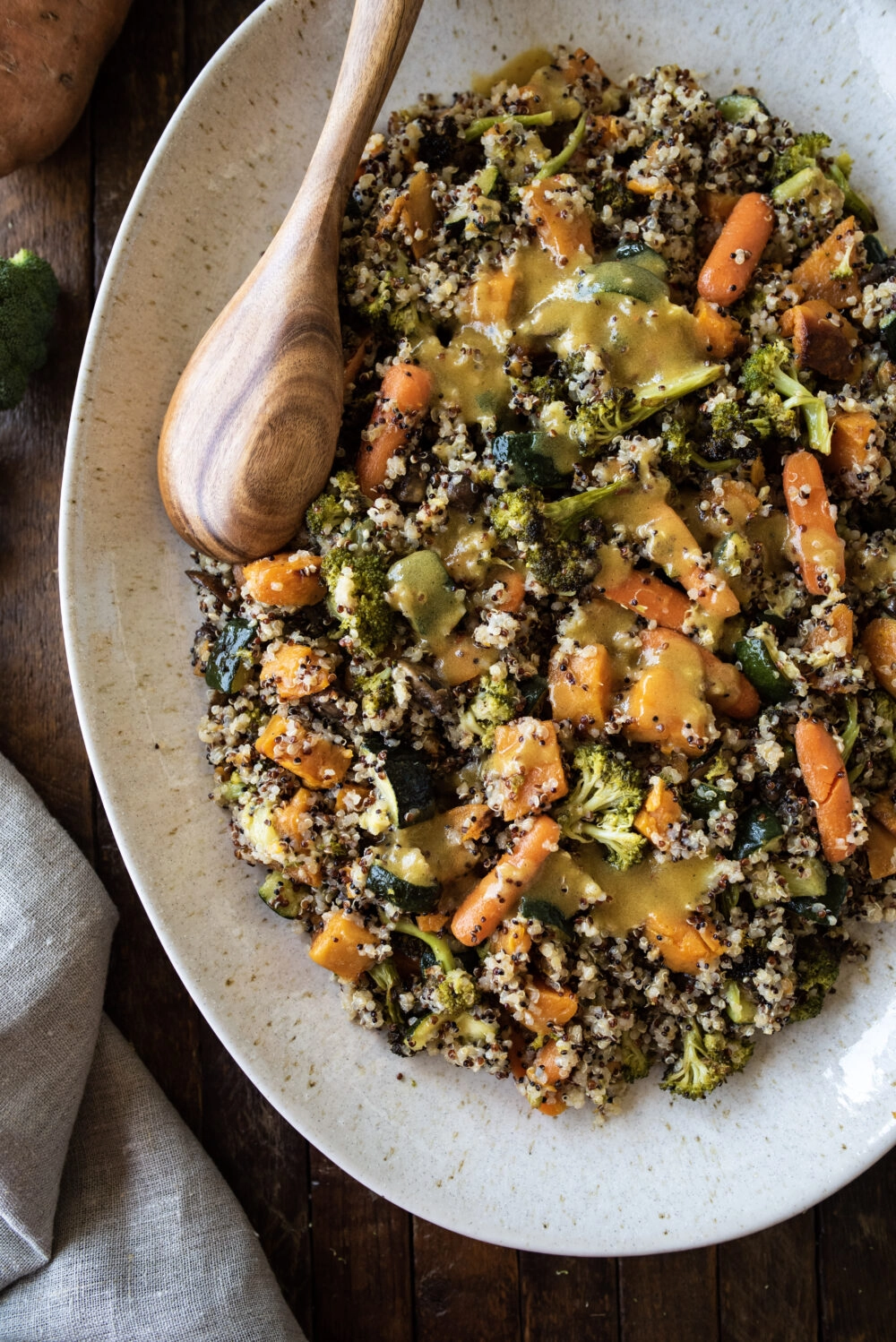 Print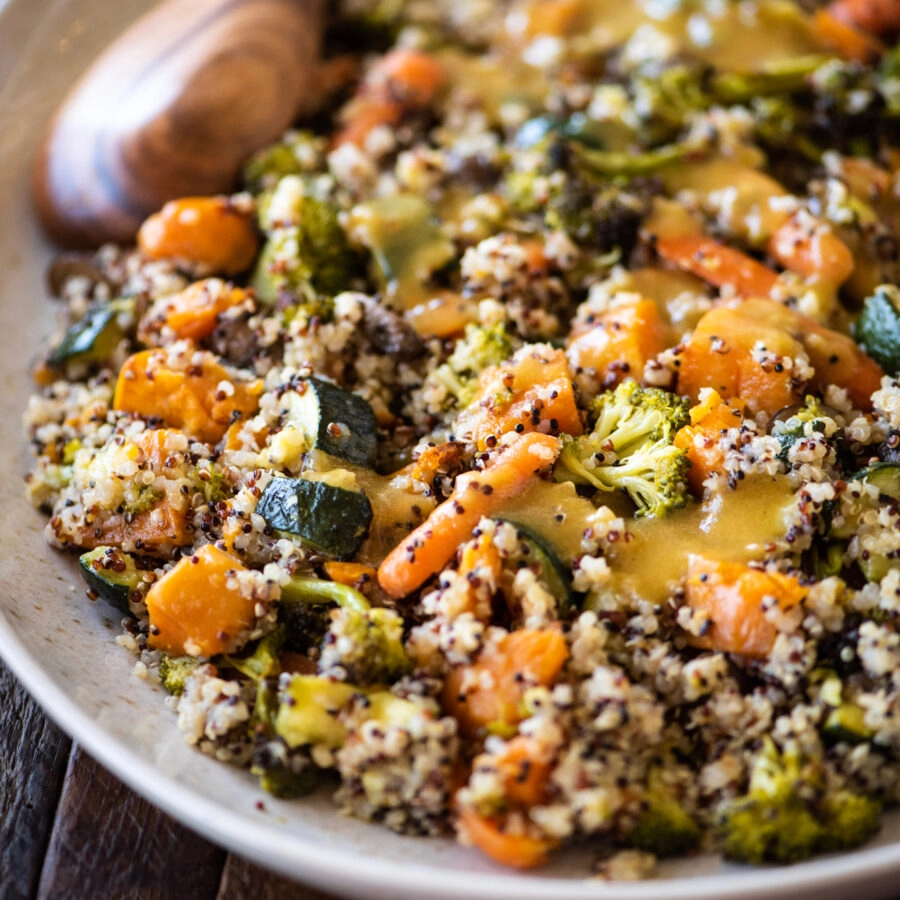 Warm Quinoa Roasted Veggie Salad with Homemade Vinaigrette
---
Author:

Eric Jones

Total Time:

50 minutes

Yield:

6

1

x
Description
This Warm Quinoa & Roasted Vegetable Salad combines the flavor of roasted veggies and nutty quinoa with a delicious homemade vinaigrette.
---
For the Warm Salas:
2

Whole Sweet Potatoes

2

Whole Zucchini

1/2 cup

Baby Carrots

6 oz

. Broccoli Florets

4 oz

. Mushrooms

1/2 tsp

. Himalayan Salt

1/2 tsp

. Black Pepper

1/2 cup

Olive Oil

2 cups

Quinoa

1/2 cup

Feta Cheese, optional
For the Homemade Vinaigrette Dressing:
3/4 cup

Extra Virgin Olive Oil

1/3 cup

Red Wine Vinegar

1/2 tsp

. Minced Garlic

1 tbsp

. Honey

2 tsp

. Dijon Mustard

1/4 tsp

. Red Pepper Flakes

1/2 tsp

. Himalayan Salt

1 tsp

. Black Pepper
---
Instructions
Remove skin from sweet potatoes and cut into cubes. Cut the ends from the zucchini and cut zucchini into cubes. Slice baby carrots and mushrooms in half (if not already cut). Add all veggies into a large bowl. Coat with salt, pepper, and olive oil shaking together until evenly coated.
Place all veggies on a baking sheet

(paid link)

and bake at 425 degrees for 30 minutes. Set to the side.
Cook quinoa as instructed then place into a large bowl. Add roasted veggies into the same bowl with quinoa and toss together. Set to the side.
Add all vinaigrette dressing ingredients into a bowl and whisk

(paid link)

until smooth.
Pour half of the vinaigrette in the bowl with quinoa and roasted vegetables. Gently fold until blended.
Serve warm salad on a large serving dish and top off with feta cheese (optional). The remaining vinaigrette can be served on the side.
Prep Time:

10 minutes

Cook Time:

40 minutes

Category:

Comfort Food

Method:

Oven Baked

Cuisine:

American
Nutrition
Calories:

452

Sugar:

7.2g

Sodium:

383mg

Fat:

23.3g

Carbohydrates:

51.6g

Fiber:

6.7g

Protein:

12.5g

Cholesterol:

11mg
Keywords: Warm Quinoa Roasted Veggie Salad, Homemade Vinaigrette, Quinoa Veggie Salad, Quinoa Salad, Warm Quinoa Salad, Veggie Salad, Vegetable Salad