Baked Flounder with Pontchartrain Sauce
Cajun recipes have a reputation for being full of flavor, and this Cajun Flounder with Pontchartrain Sauce served over a bed of quinoa is one of those recipes. It starts with the baked blackened flounder and ends with a rich white wine sauce.
If you love fish, you should also try my Honey Mustard Glazed Salmon, Baked Flounder with Tomatoes and Basil, Creamy Tuscan Steelhead Trout, or Foil Baked Chilean Sea Bass with Lemon Parmesan Cream Sauce.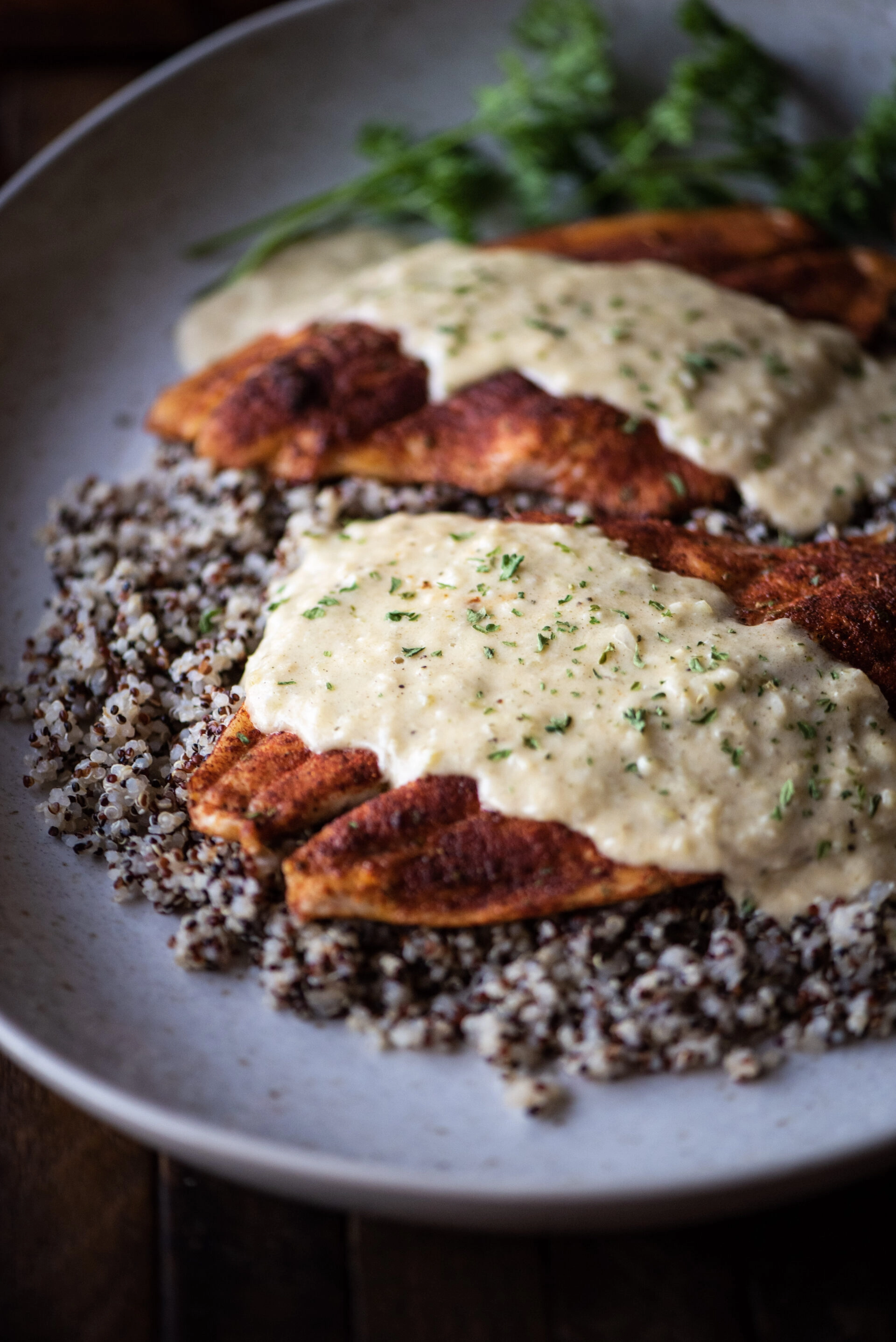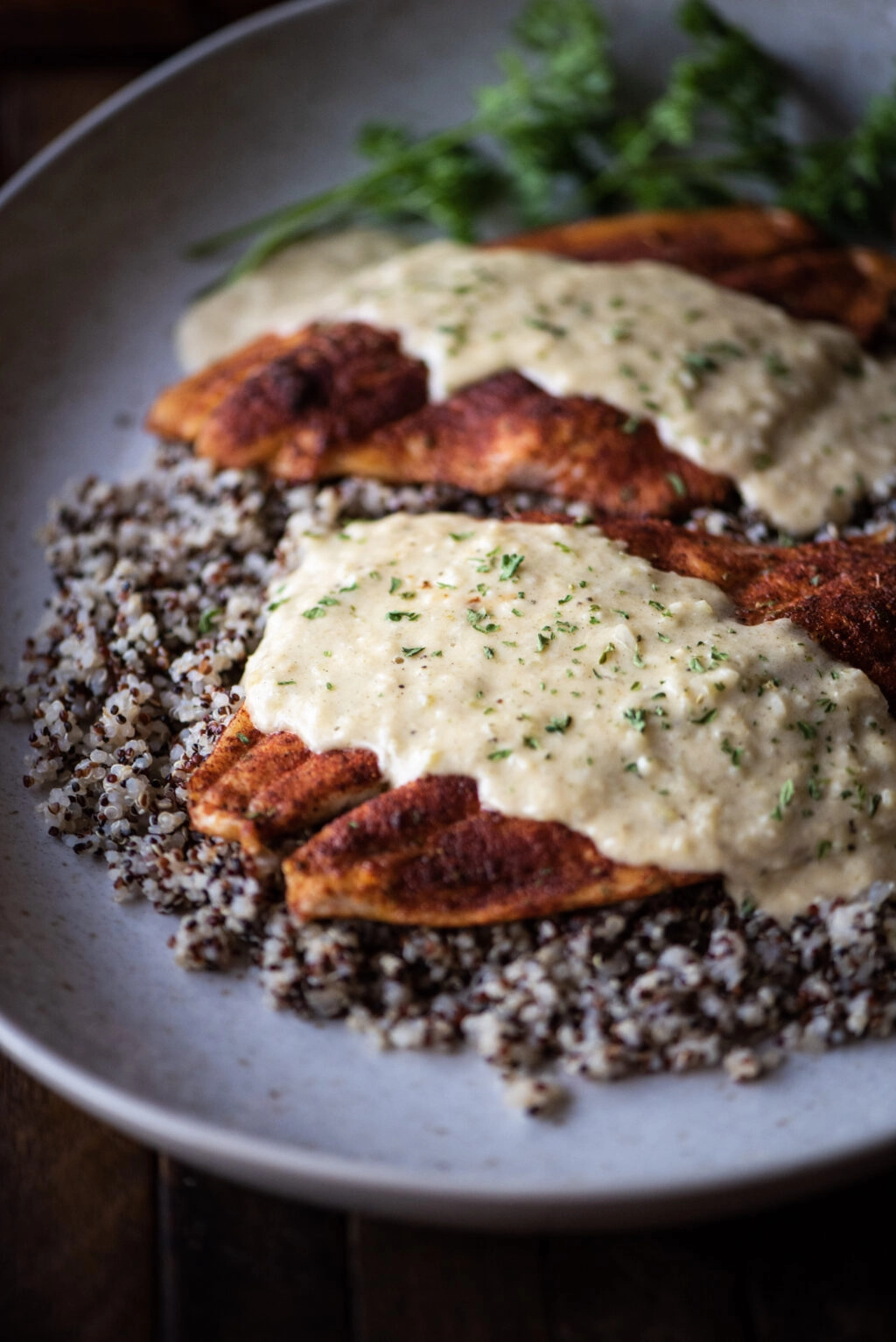 First, let's dig into this sauce — the Pontchartrain sauce. The creamy, rich, and buttery sauce is named for Lake Pontchartrain in Louisiana.
My wife love's the Pontchartrain sauce made popular by a local seafood restaurant chain, Pappadeaux. However, as we made lifestyle changes, we removed shellfish from our diet — which meant no more Redfish Pontchartrain! (It's traditionally made using shrimp stock, shrimp, and crabmeat).
Inspired by that sauce, I made a few modifications to make it my own. I can guarantee you will not miss the shrimp and crabmeat! My version is loaded with bold spices and flavor — minus the shellfish.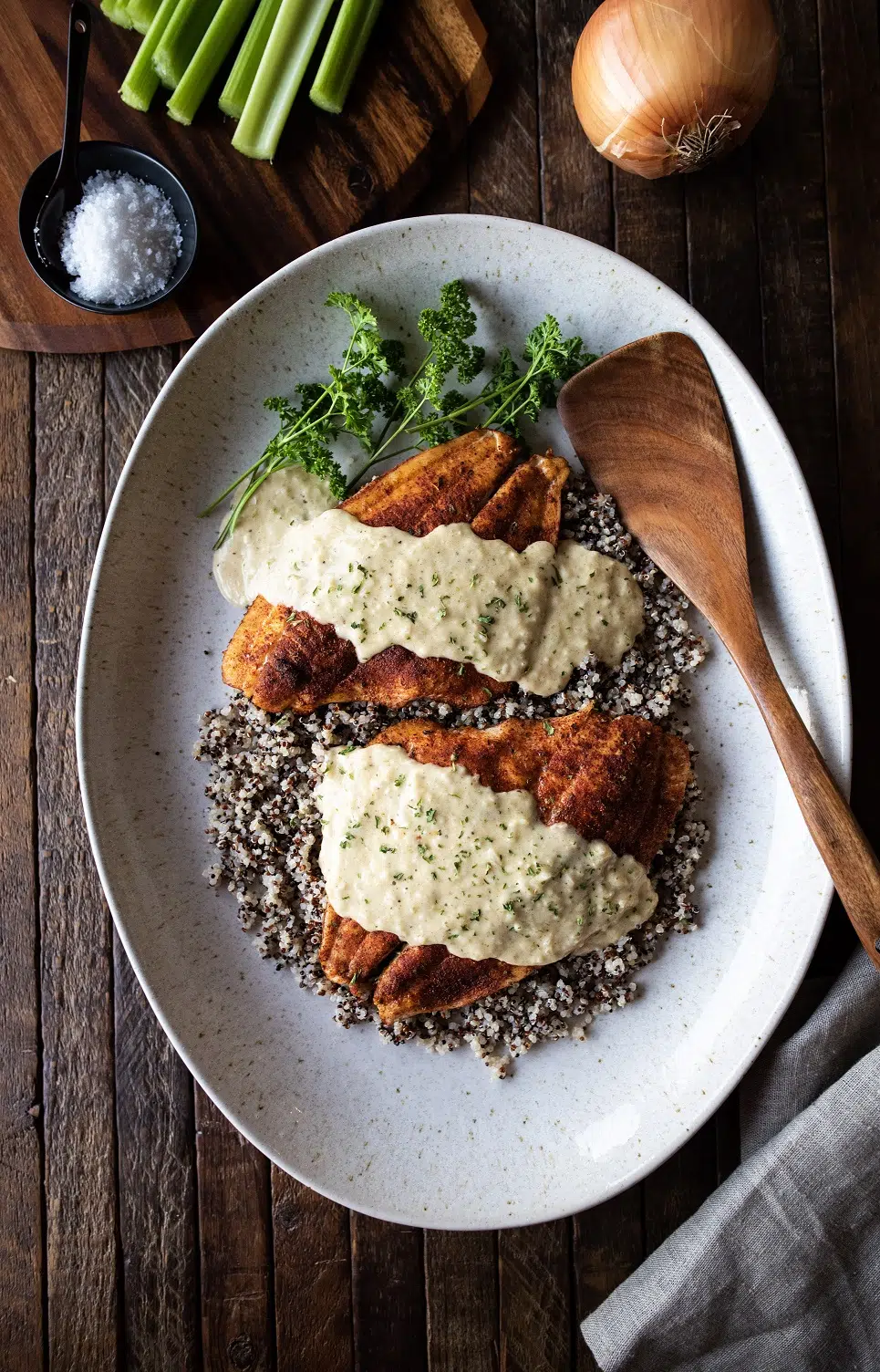 Pair that with blackened flounder and quinoa, you have yourself a lighter meal that is restaurant-worthy. Because the sauce is a heavier component of the dish, the light, and fluffy quinoa help balance it.
WHAT EXACTLY IS QUINOA?
Pronounced KEEN-wah, quinoa is actually not a grain — although it is used in the same way rice, farro, or other similar grains would be used. It is a grain-like and naturally gluten-free pseudocereal hailing from South America.
Quinoa is good for you. A cup of quinoa provides twice the amount of protein (packing more than any other grain) and fiber as the same amount of white rice. It's rich in vitamins, minerals, and essential amino acids. Plus, it's packed full of antioxidants, which can also help with blood sugar, aid in weight loss, and improve your cholesterol. Clearly, quinoa is the way to go and is a worthy inclusion in your diet.
Quinoa comes in various colors– like red, black, or white, but they all cook the same way. While the lighter varieties carry a mild flavor, the darker varieties are more robust.
Ingredients for baked flounder & pontchartrain sauce: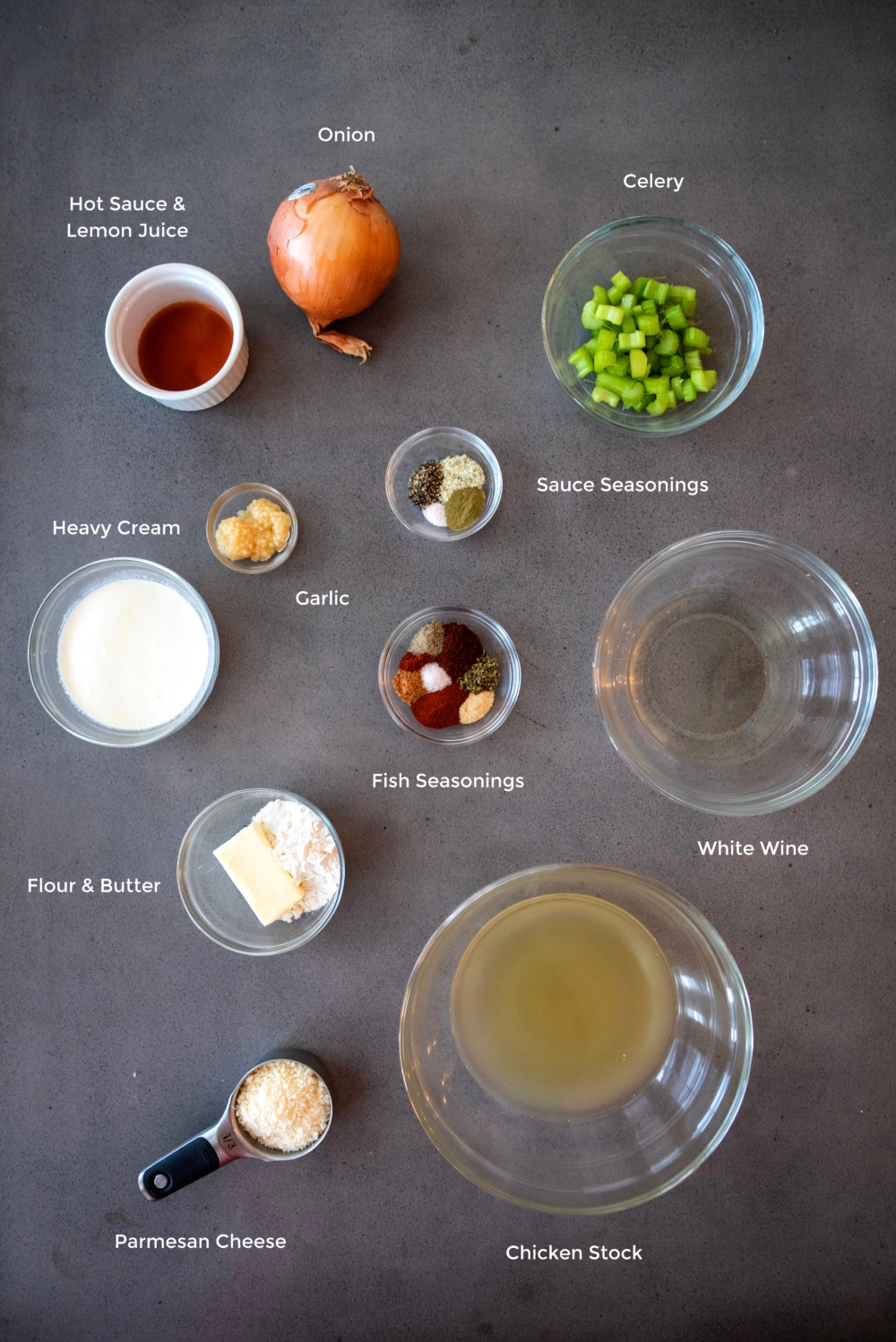 For the flounder:
For the fish, you'll need fresh flounder. Flounder is a leaner, mild-tasting fish. It is also very delicate, which is why I prefer to bake it. But it is also great sautéed with a light coating of flour to prevent it from falling apart.
It is also very versatile due to its mild flavor and goes well with almost anything. And is typically sold as skinned, thin fillets or a whole fish. I usually have my local grocer slice around a pound, and this gives me two large filets.
You'll use paprika, chili powder, Creole seasoning, garlic powder, black pepper, oregano, red cayenne pepper, and Himalayan salt to season your flounder.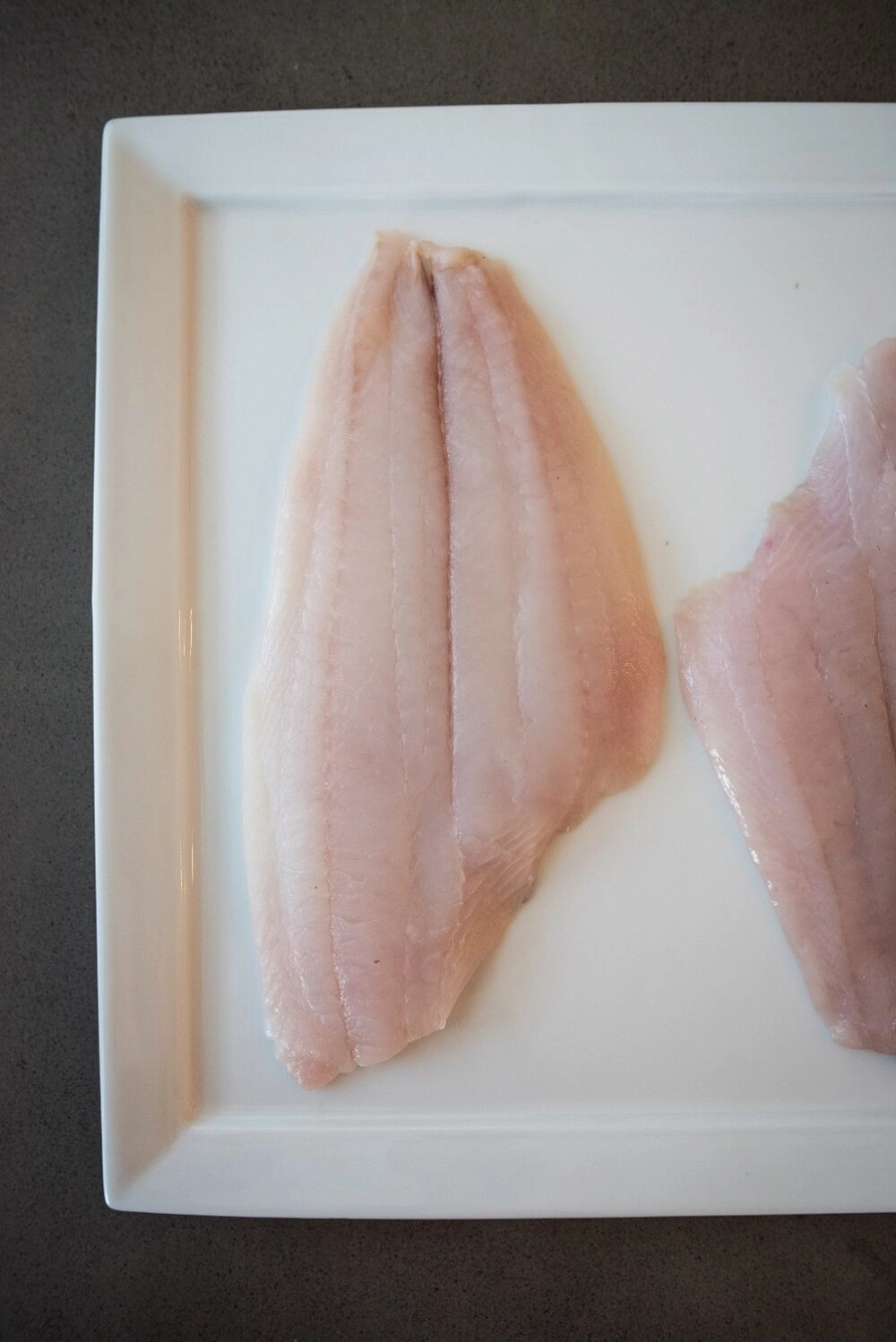 For the pontchartrain sauce:
To create this tasty sauce, you'll need minced garlic, butter (of course), all-purpose flour, onion, and celery. This "roux" will serve as the foundation for your sauce. And will help to thicken your sauce before adding in the remaining ingredients.
Once the roux has cooked for around 5 minutes, you can add in the Parmesan cheese, white wine, heavy whipping cream, freshly squeezed lemon juice, hot sauce, and chicken stock (I use this in place of the traditional seafood or shrimp stock).
You'll need White Wine And Garlic Butter Seasoning, black pepper, ground thyme, and Himalayan salt to season the sauce.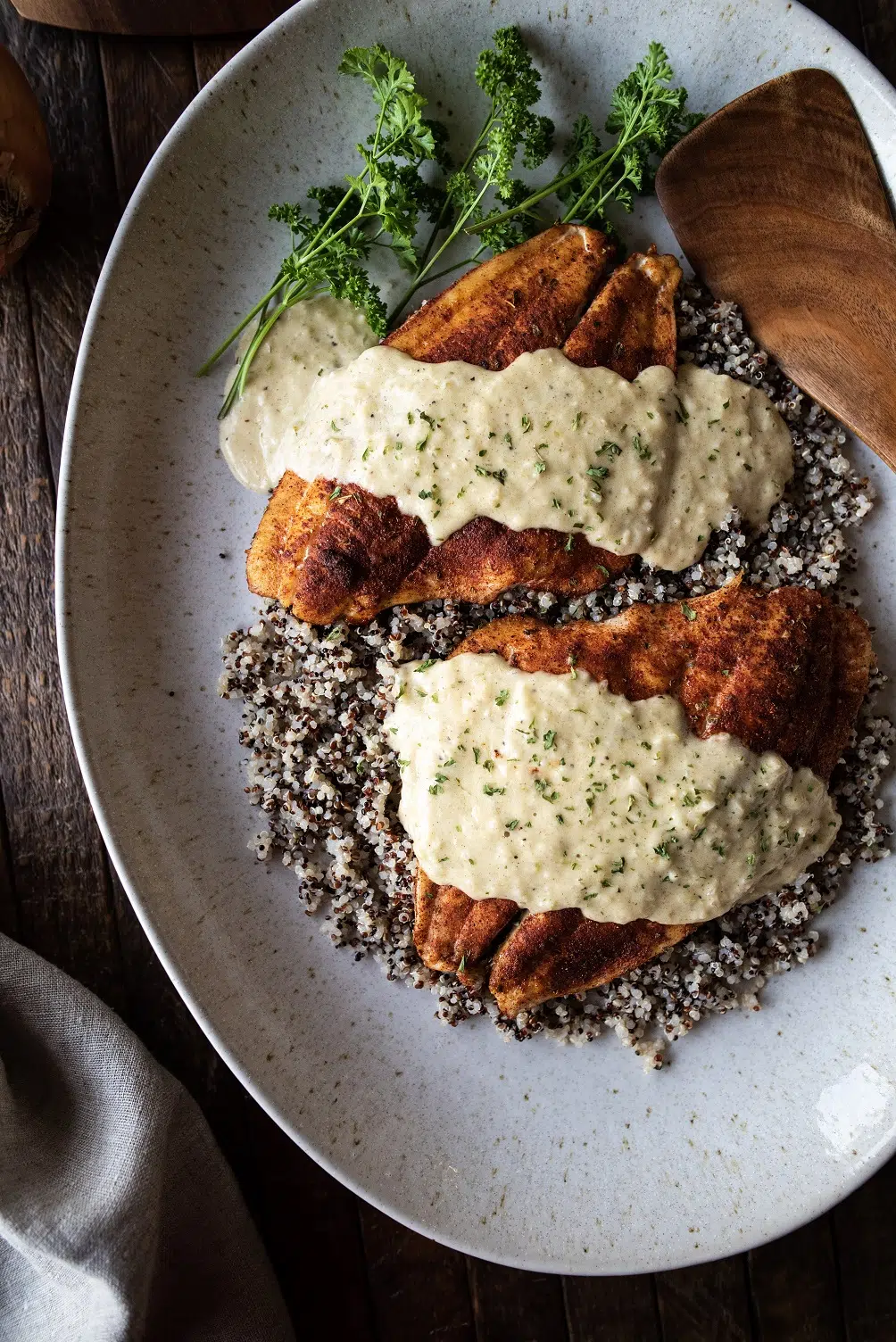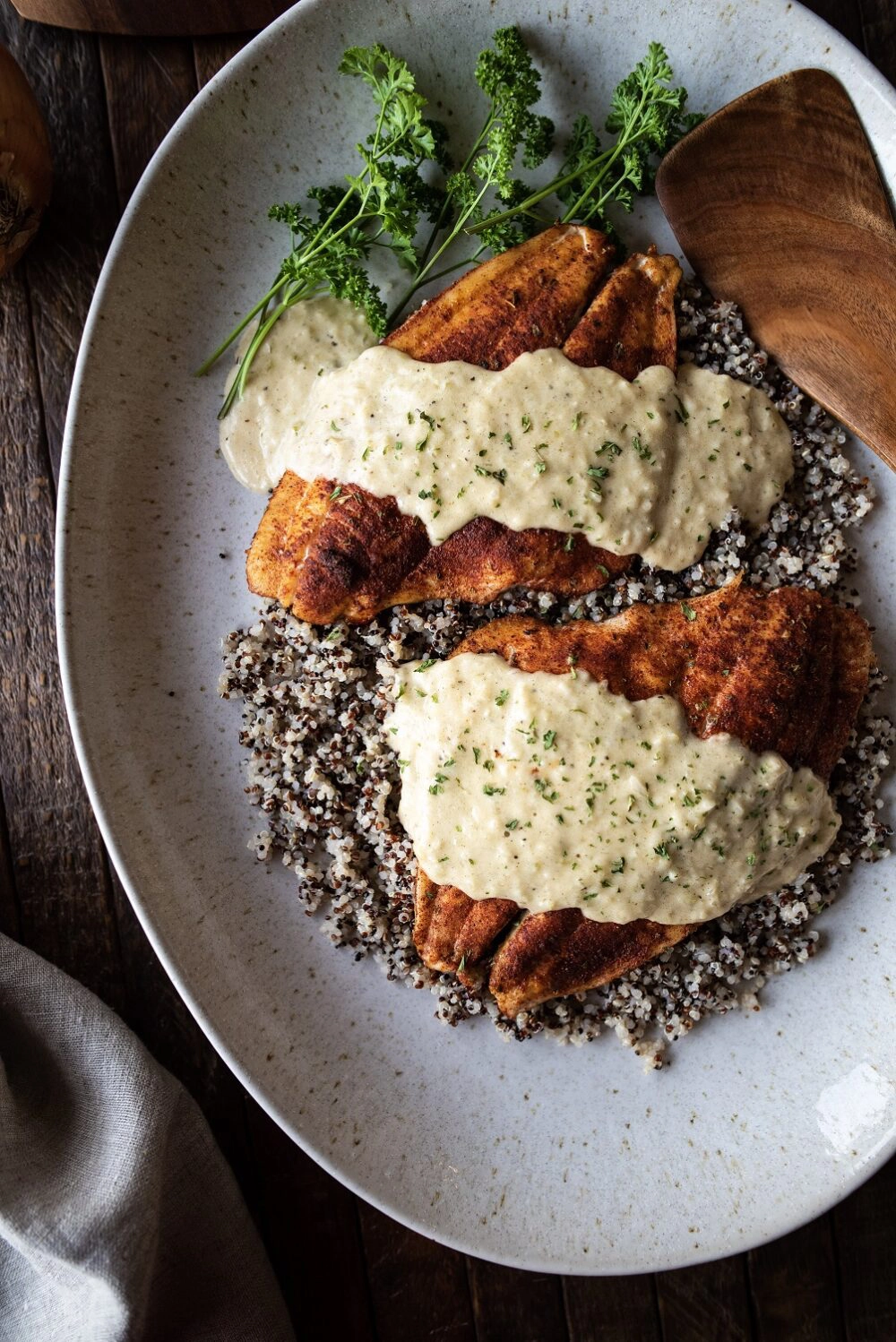 This is a great dinner idea and perfect for two! I love this sauce because you can do so much with it. Use it as a sauce for seafood pasta, it's equally fantastic with over fish like lemon sole and redfish, or enjoy it along with grits for breakfast or brunch (it's great on biscuits too!).
Print
Baked Flounder with Pontchartrain Sauce
---
Author:

Eric Jones

Total Time:

20 minutes

Yield:

2

1

x
Description
Baked Flounder with Pontchartrain Sauce pairs delicate blackened flounder with a rich, buttery Pontchartrain sauce. Served on a bed of quinoa.
---
For the Flounder: 
1

lb

. Flounder Filet

2 tsp

. Paprika

2 tsp

. Chili Powder

1 tsp

. Creole Seasoning

1/2 tsp

. Garlic Powder

1/2 tsp

. Black Pepper

1/2 tsp

. Oregano

1/4 tsp

. Red Cayenne Pepper

1/4 tsp

. Himalayan Salt
For the Pontchartrain Sauce:
1/2

cup

Chopped Onion

1/2

cup

Chopped Celery

4 tbsp

Butter

4 tbsp

All-Purpose Flour

3 tsp

. Minced Garlic

1/2

cup

White Wine

1/3

cup

Grated Parmesan Cheese

1/2

cup

Heavy Whipping Cream

1 tsp

. Lemon Juice

2 tsp

. Hot Sauce

1

cup

Chicken Stock

1/2 tsp

Black Pepper

1/2 tsp

Ground Thyme

1/4 tsp

Himalayan Salt
Optional ingredients:
1

cup

Quinoa, cooked

1/8

cup

Olive Oil
---
Instructions
Optional: Cook your quinoa as instructed. You can also use Success Tri-Color Boil-in-Bag Quinoa. Set to the side. 
At all fish seasonings (paprika, chili powder, creole seasoning, garlic powder, black pepper, oregano, red cayenne pepper, Himalayan salt) into a small bowl. Mix together. Coat both sides of fish with seasonings.
Coat both sides of fish with olive oil to seal in the seasonings. Place onto a baking sheet

(paid link)

and bake at 350° for 12 minutes.
While fish is baking, you can make your cream sauce. Add onions and celery into a food processor

(paid link)

. Blend. Add celery and onion mixture, butter, flour, and minced garlic to a medium cooking pan and stir. Cook for 5 minutes. Add remaining cream sauce ingredients and cook on low heat for an additional 10 minutes.
Plate quinoa (optional), place baked flounder on top, and layer on the cream sauce.
Notes
You can use Lemon Sole, Red Snapper, or Redfish/Drum as an alternative to Flounder.
Instead of quinoa, you can serve this recipe with white or brown rice.
Prep Time:

5 minutes

Cook Time:

15 minutes

Category:

Fish

Method:

Baked

Cuisine:

American
Nutrition
Calories:

595

Sugar:

1.6g

Sodium:

1322mg

Fat:

34.5g

Carbohydrates:

39.1g

Fiber:

4.9g

Protein:

27.3g

Cholesterol:

106mg
Keywords: Baked Flounder with Pontchatrain Sauce, Baked Flounder, Pontchatrain Sauce