Cooking With Quinoa: 3 Quick & Easy Recipes
Quinoa is a nutritional powerhouse. With its long list of health benefits, nutrients, and versatility, it is no surprise how often it's used to make some of my favorite dishes.
This post has been written in partnership with Success Rice. All opinions are mine alone.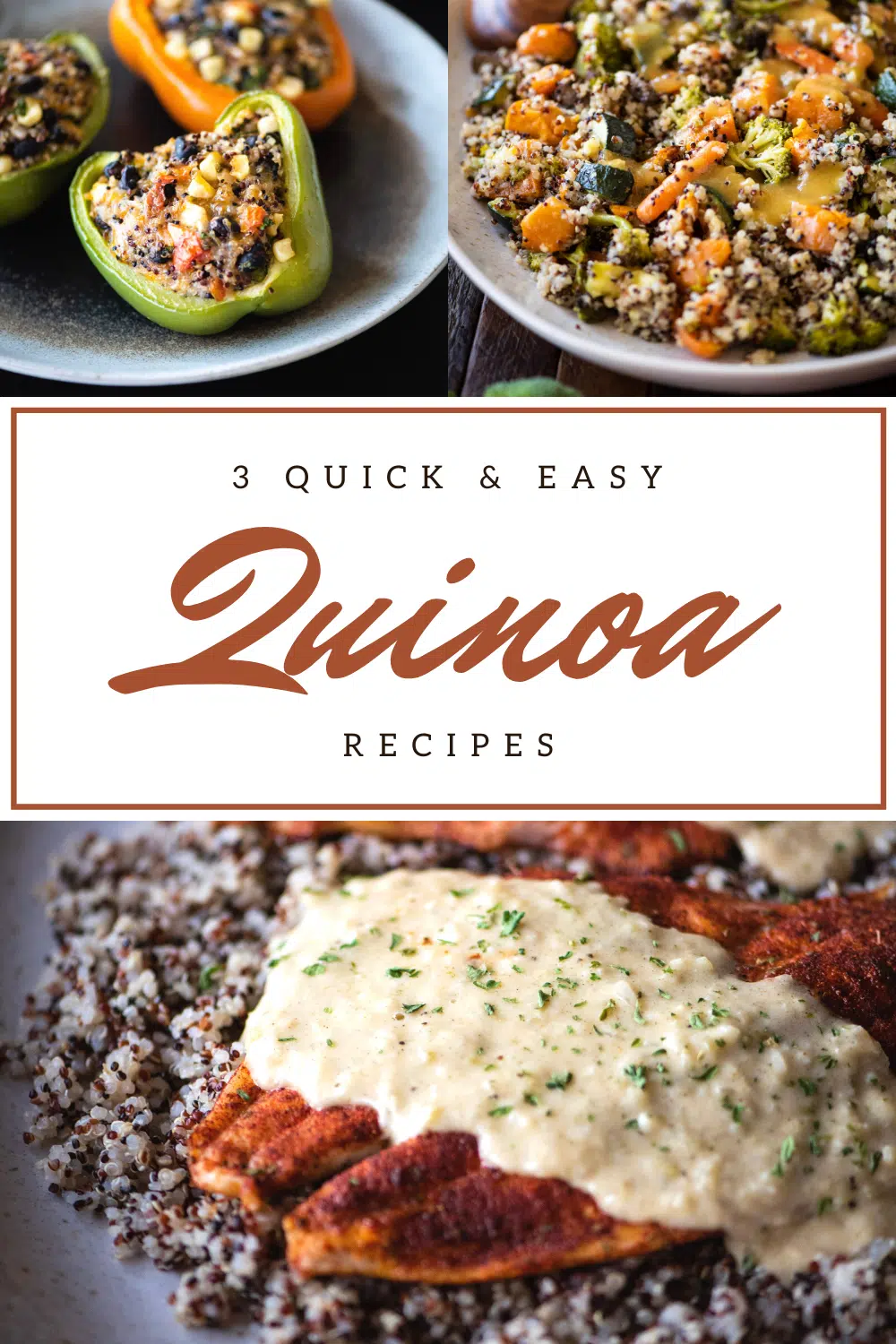 The possibilities with quinoa are endless, and it can be used in both sweet and savory dishes. Many choose to add quinoa in their salads, hearty grain bowls, casseroles, healthy wraps, and as an ingredient in tons of sweet breakfast recipes or desserts.
So I wanted to share the ways I enjoy quinoa and show how to use Success Boil-in-Bag 100% Tri-Color Quinoa to make the prep even easier!
From stuffed quinoa bell peppers, served as-is with fresh flounder and a rich sauce, to being tossed in a warm salad filled with roasted veggies and a homemade vinaigrette, I think you're gonna enjoy the nutty flavor of quinoa in these recipes.
Before we dig into the recipes, what exactly is quinoa?
Pronounced KEEN-wah, quinoa is actually not a grain — although it is used in the same way rice, farro, or other similar grains would be used. It is a grain-like and naturally gluten-free pseudocereal hailing from South America.
Curious about the difference between quinoa vs. rice? As I mentioned earlier, quinoa is really good for you. A cup of quinoa provides twice the amount of protein (packing more than any other grain) and fiber as the same amount of white rice. It's rich in vitamins, minerals, and essential amino acids. Plus, it's packed full of antioxidants, which can also help with blood sugar, aid in weight loss, and improve your cholesterol. Clearly, quinoa is the way to go and is a worthy inclusion in your diet.
Quinoa comes in various colors– like red, black, or white, but they all cook the same way. While the lighter varieties carry a mild flavor, the darker varieties are more robust.
Why using Success Tri-Color Boil-in-Bag Quinoa makes your prep easy breezy:
If not cooked correctly, quinoa can result in a mushy and overdone situation that no one wants. Using Success Tri-Color Boil-in-Bag Quinoa gives you moist, fluffy, and perfectly cooked quinoa in just 10 minutes — with zero bitter taste!
And here are a few recipes made with Success Tri-Color Boil-in-Bag Quinoa, perfect as a snack, lunch, or dinner:
Cajun and Creole recipes have a reputation for being full of flavor, and this Cajun Flounder with Ponchartrain Sauce served over a bed of quinoa is one of those recipes.
Because the blackened flounder and creamy sauce are heavier components of the dish, the light, and fluffy quinoa help balance it.
Health is wealth, and this Quinoa Roasted Veggie Salad with Homemade Vinaigrette provides a wealth of health in each bite. The taste and texture from the roasted veggies combined with nutty quinoa paired with this delicious homemade dressing is most definitely a championship tag team.
I love cooking with roasted vegetables like zucchini and sweet potatoes, and as the temperatures drop, a warm, fresh salad calls my name. The slightly tart vinaigrette locks in the flavors in both the veggies and quinoa.
If you love Southwestern dishes, these Quinoa Stuffed Bell Peppers are an awesome choice. Not only is this dish packed with flavor, but it is also packed with tons of tasty ingredients like sweet corn, black beans, and pico de galloYou can take these stuffed peppers a step further and pair them with guacamole, sour cream, salsa, or any other spicy topping.
Hopefully, you now have three more ways to love and enjoy quinoa — and the next time you prepare quinoa the process will be easy breezy with Success Rice.