Bridging two culinary concepts into one meal idea is what makes this Thai-inspired Chicken Pizza so perfect. It combines two of my favorite cuisines, Thai and Italian, into a pizza recipe that is far from typical or traditional. And the peanut "pizza sauce" is where the magic happens!
Looking for other unique pizza ideas? Then check out my Buffalo Chicken Meatball Deep Dish Pizza, Cheeseburger Pizza, BBQ Brisket Pizza, or Mexican Taco Pizza.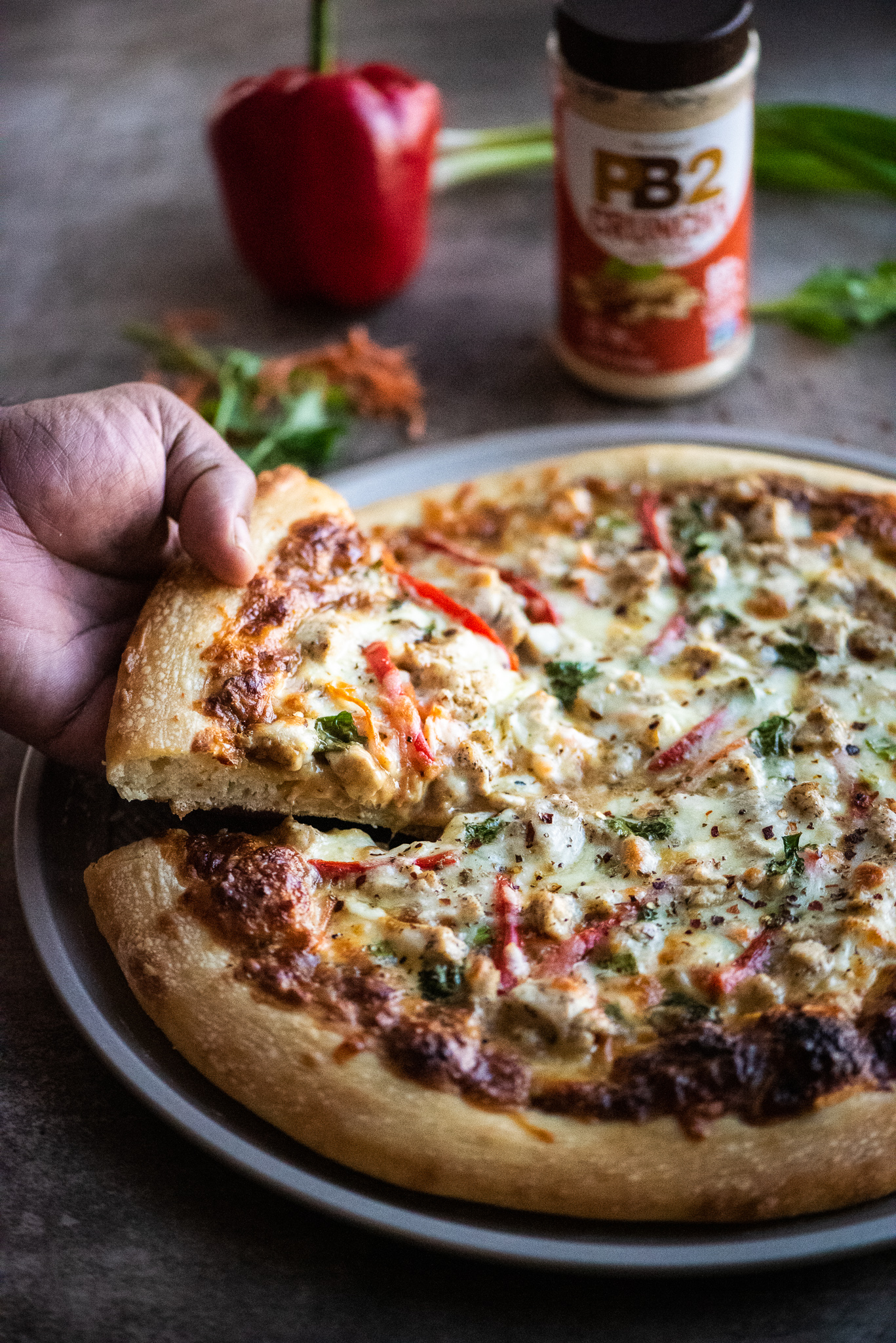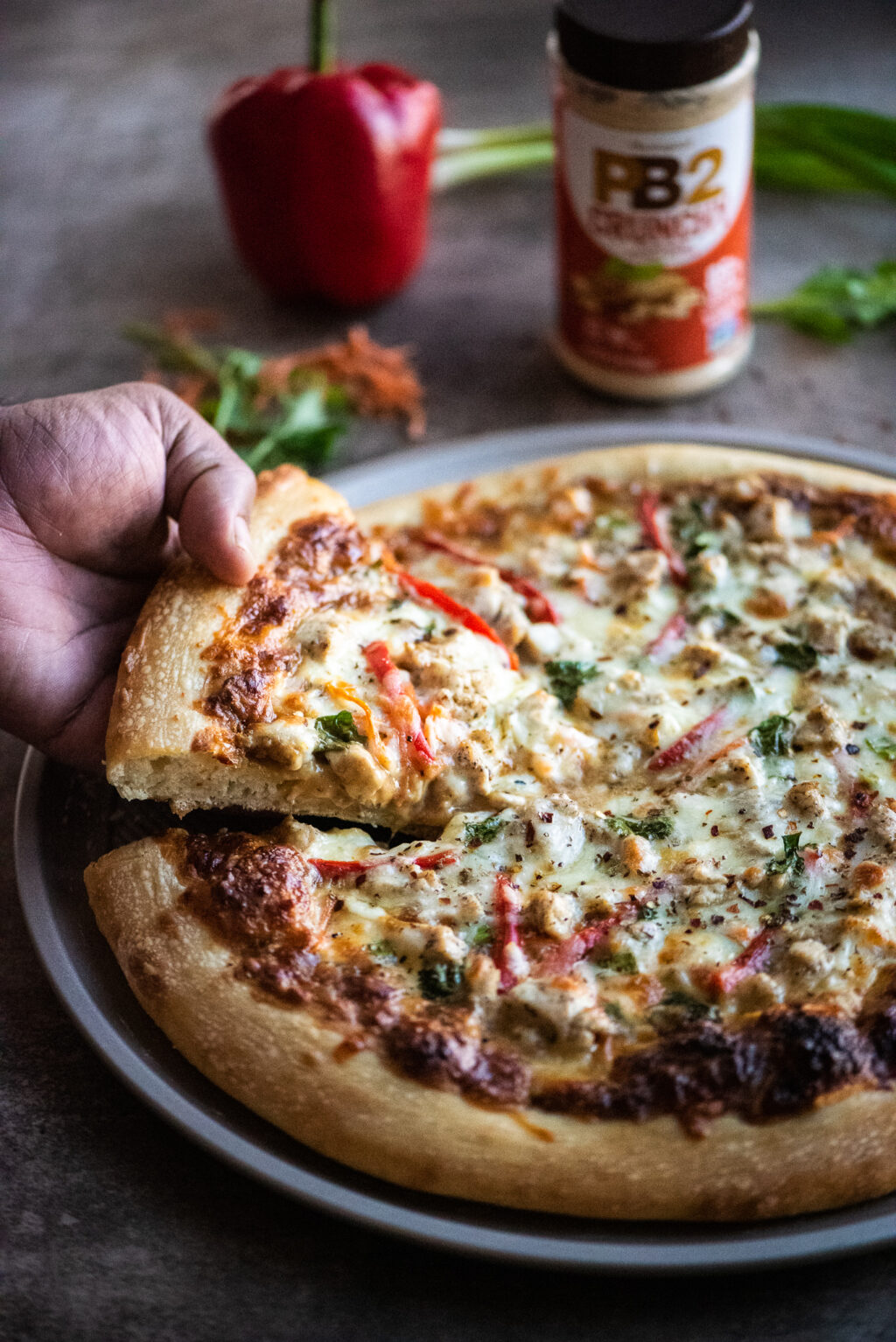 Peanut sauce on a pizza? Yep.
I agree this is not expected, but those nutty flavors do not disappoint. As a matter of fact, it doesn't even overpower the dish as one may think. Made with a crunchy peanut powder by PB2, it serves as the foundation for the pizza and gives it a little texture, which is always welcome.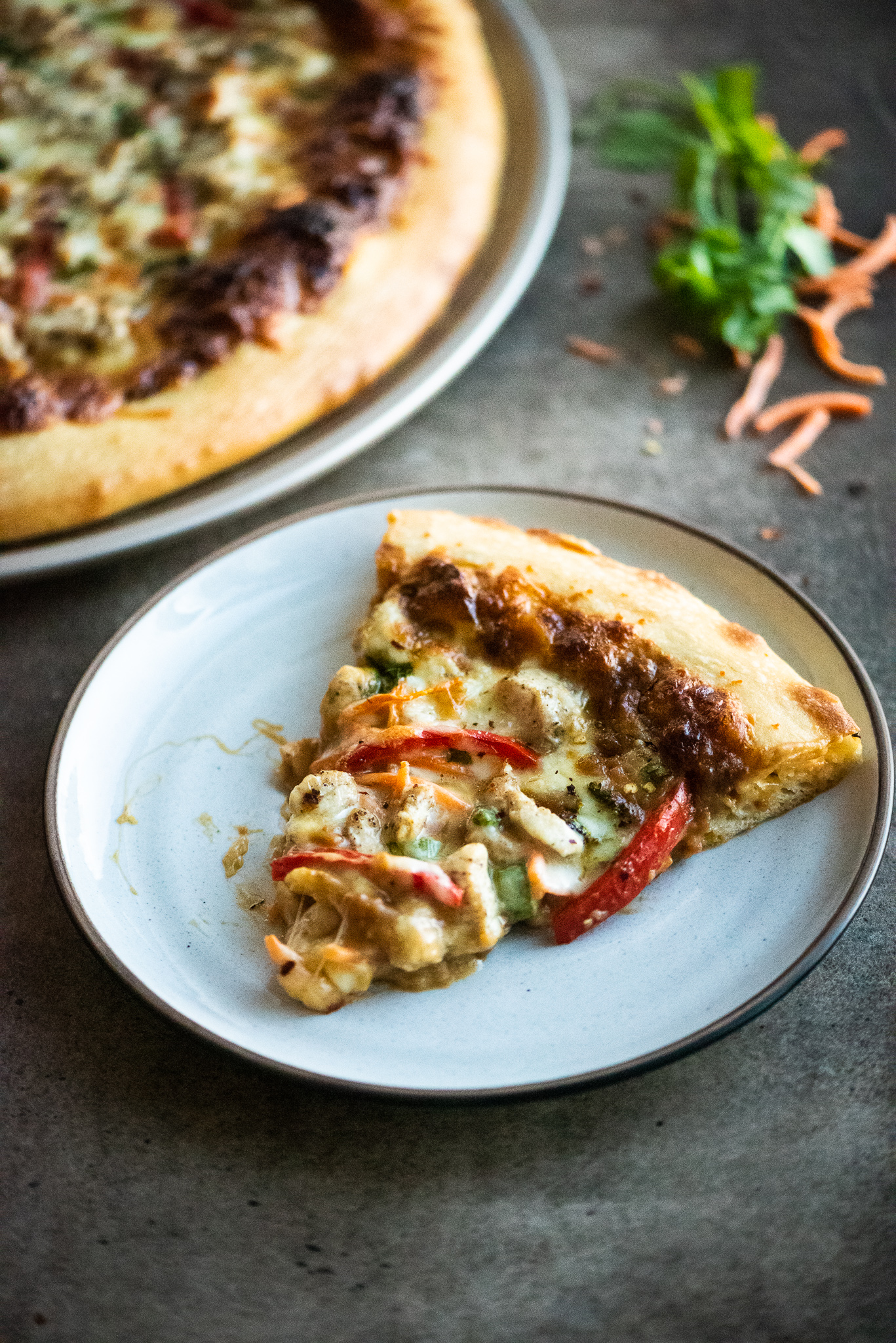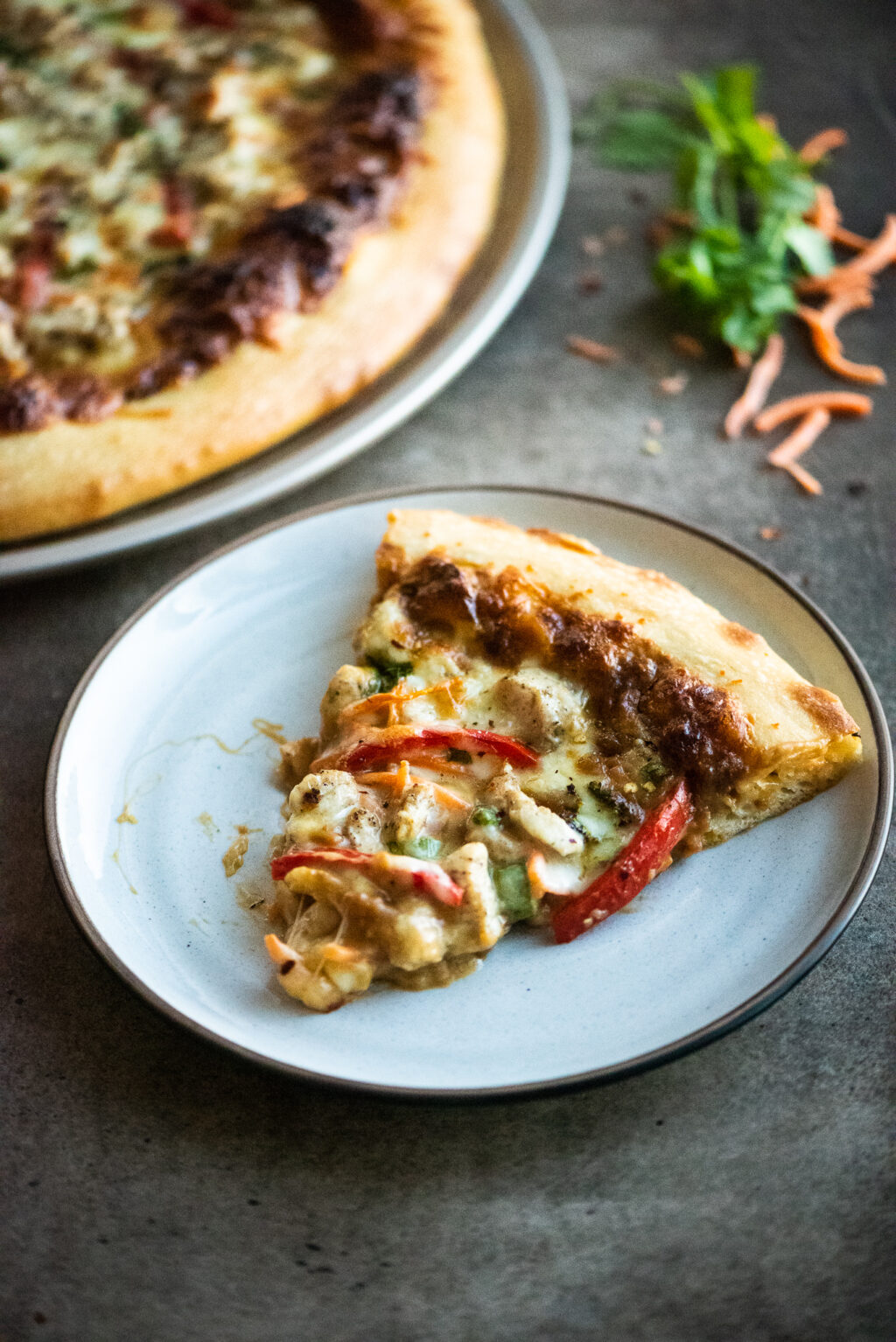 Ingredients you'll need to make this pizza:
Fresh is best, which holds true when it comes to pizza dough. Roll the dough into any shape you like, and you are on your way to an epic pizza night. I went with a circular shape for this pizza, and it fits perfectly on a round pizza pan. If you don't have fresh pizza dough, a pre-made pizza crust will work just fine.
The PB2 Crunchy Powder is the foundation of the pizza sauce. Combined with light coconut milk, minced garlic, raw honey, apple cider vinegar, soy sauce, ground ginger, vegan oyster sauce, and garlic powder, this sauce will win you over. Simply add all of the pizza sauce ingredients into a small saucepan on low heat and stir until it is thick and creamy.
The pizza is topped with grilled chicken seasoned with ground coriander, ground cumin, black pepper, and sea salt. The seasonings will give your chicken a "Thai" flavor profile.
In addition to the grilled chicken, the pizza is layered with shredded carrots, shredded mozzarella cheese, sliced red bell peppers, chopped green onions, red pepper flakes, basil flakes, and fresh cilantro leaves.
Tips when making your pizza:
Cook your chicken for only a few minutes on the stove. It may seem undercooked, but it will continue to cook while baking in the oven.
You can decrease or increase the pizza's heat by adding less or more red pepper flakes.
And the same goes for any of the other toppings — if you want more cheese, go for it! Just sprinkle a little more on before placing the pizza in the oven.
PB2 also makes a non-crunchy version of their peanut powder, so if you want a smoother consistency for your peanut pizza sauce, you can use that as well.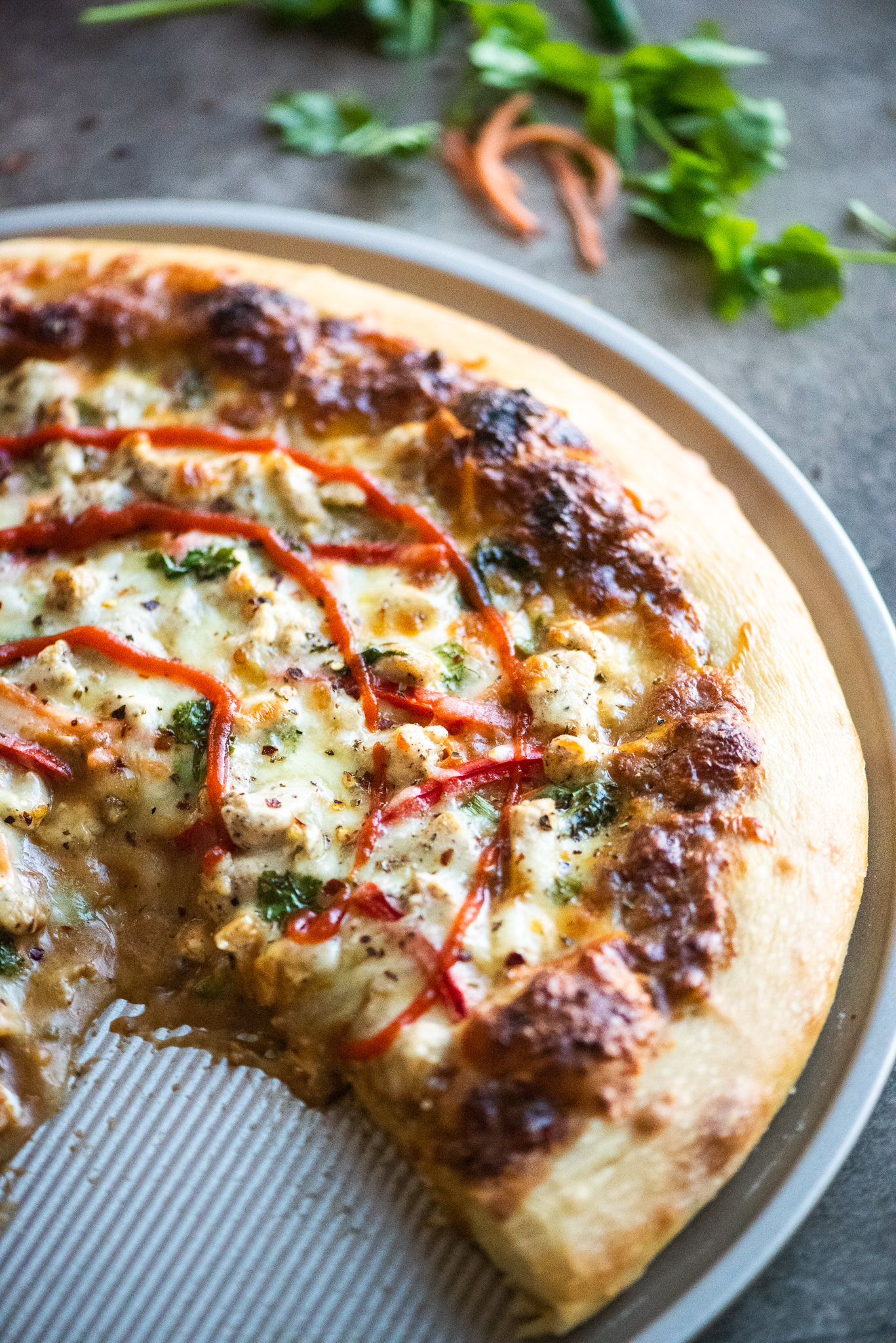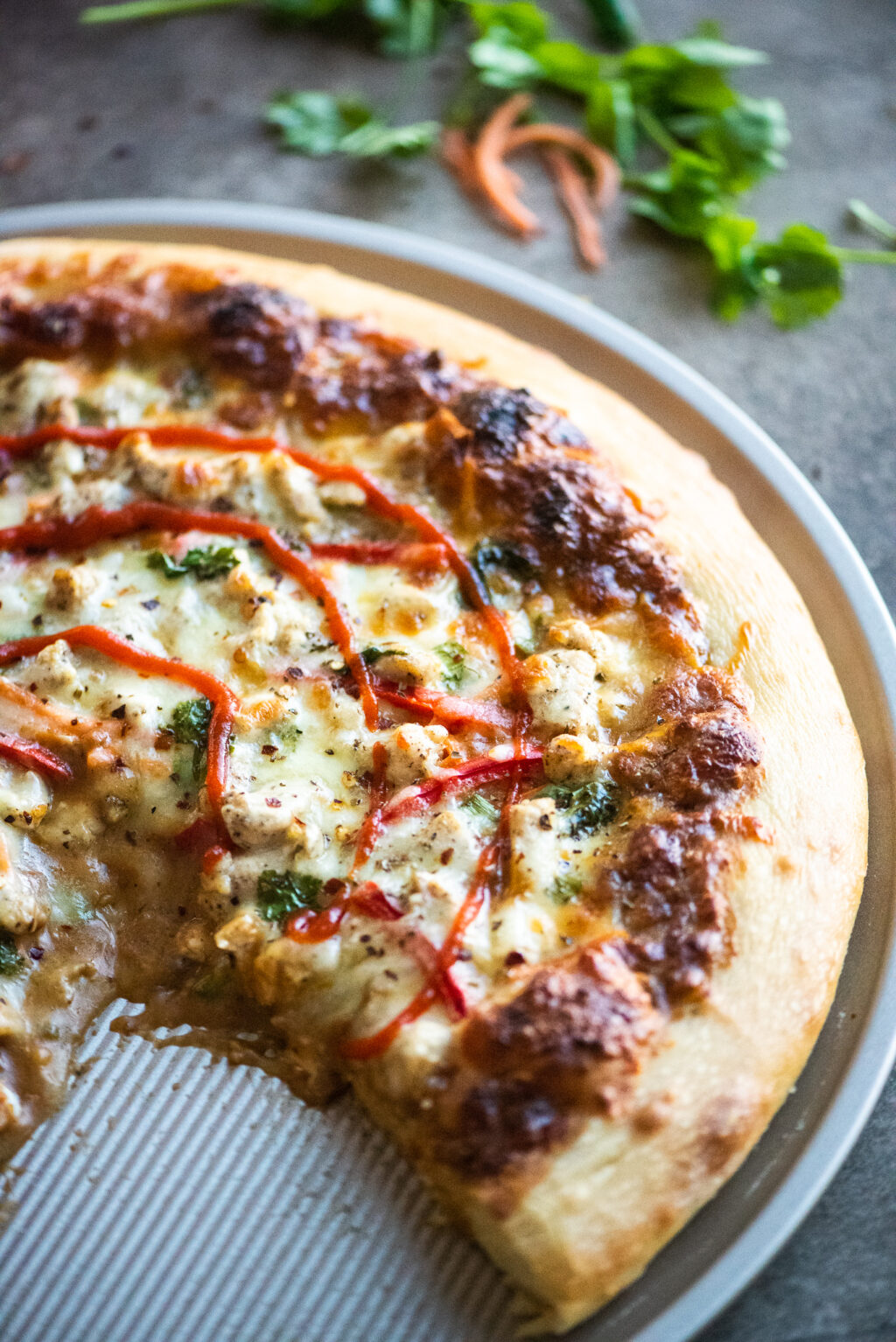 Creamy peanut butter pizza sauce and well-seasoned chicken breast will be a sweet treat with a little heat! Drizzle on a little sriracha for added spiciness.
If you want a change-up on your pizza nights, give this Thai-inspired Chicken Pizza recipe a spot on your menu, and you will truly enjoy it. And it's ready in no time!
Print

Thai-inspired Chicken Pizza
---
Author:

Eric Jones

Total Time:

40 minutes

Yield:

5
Description
1 cup PB2 Crunchy Powdered Peanut Butter
1/2 cup light coconut milk 
2 tbsp minced garlic
1/4 cup raw unfiltered honey
1 tsp apple cider vinegar 
2 tsp low-sodium soy sauce
1/4 tsp ground ginger
1 tbsp vegan oyster sauce 
1/2 tsp garlic powder 
1 tsp ground coriander 
1 tsp ground cumin
1 tsp black pepper
1/2 tsp sea salt 
1/4 cup all-purpose flour
1 lb fresh pizza dough
1 lb boneless chicken breast 
1/3 cup carrots, shredded 
2 cups mozzarella cheese, shredded
1/3 cup red bell pepper, thinly sliced
1/4 cup green onions, chopped
1/2 tsp red pepper flakes 
1/2 tsp basil flakes 
1/4 cup fresh cilantro leaves
---
For the PB2 Peanut Sauce: 
Add the coconut milk, minced garlic, honey, apple cider vinegar, soy sauce, ginger, vegan oyster sauce, and garlic powder in a small pot on low heat. Stir together until combined.
Slowly stir in PB2 Crunchy Powdered Peanut Butter and whisk

(paid link)

for 5 minutes. The sauce should be creamy. Set to the side.
For the Pizza:
Pre-heat oven to 425 degrees.
Chop the boneless chicken breast into small, cubed pieces then season evenly with coriander, cumin, black pepper, and sea salt.
Heat skillet to high heat and sear chicken for 1 minute. Remove from heat. Set to the side. The chicken will continue cooking in the oven at a later step.
Spread the flour over the kitchen counter. Place the fresh dough onto the floured surface and shape the dough into a circle using your hands. Finish shaping and flattening the dough with a pizza roller. Place dough on a round pizza pan.
Spread peanut sauce evenly over the pizza dough leaving an inch on the perimeter for the crust. Layer peanut sauce with half of the seared chicken, half of the carrots, and the mozzarella cheese. Finish by layering the remaining seared chicken and carrots, red bell pepper, green onions, red pepper flakes, basil flakes, and cilantro leaves.
Bake for

16

to

18

minutes.
---
Equipment
Prep Time:

15 minutes

Cook Time:

25 minutes

Category:

Pizza

Method:

Oven Baked

Cuisine:

Middle East
Nutrition
Calories:

752

Sugar:

17g

Sodium:

784mg

Fat:

38.8g

Carbohydrates:

63.6g

Fiber:

4.6g

Protein:

37.7g

Cholesterol:

76mg
Keywords: Thai-inspired Chicken Pizza, Thai pizza, chicken pizza