New York Strip Steak with Chimichurri Sauce
If you're a steak lover, this Strip Loin (New York Strip) Steak with Chimichurri Sauce will be the perfect choice for your steak night. Tender, juicy slices of strip loin with a drizzle of homemade chimichurri sauce is the stuff steak nights are made of.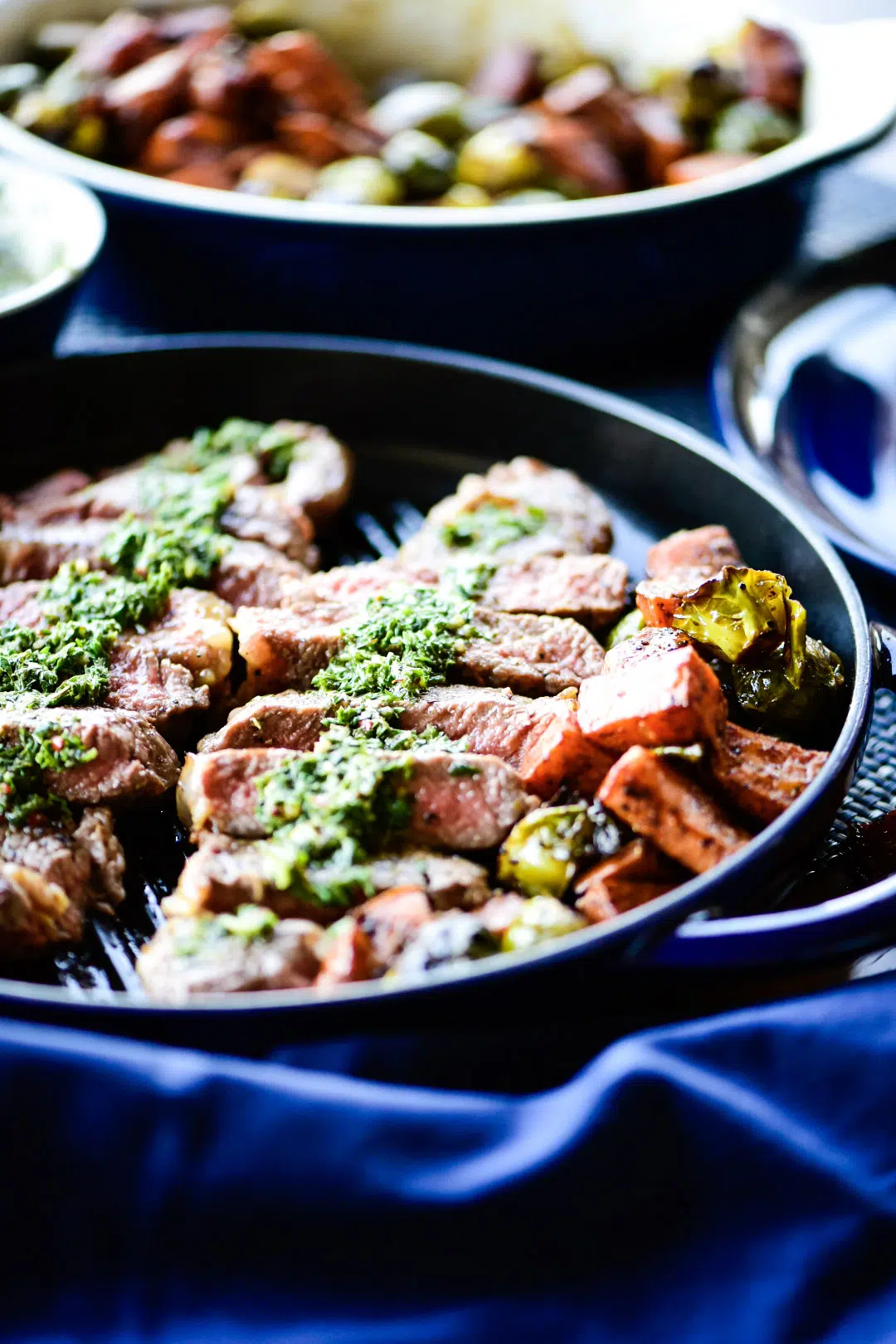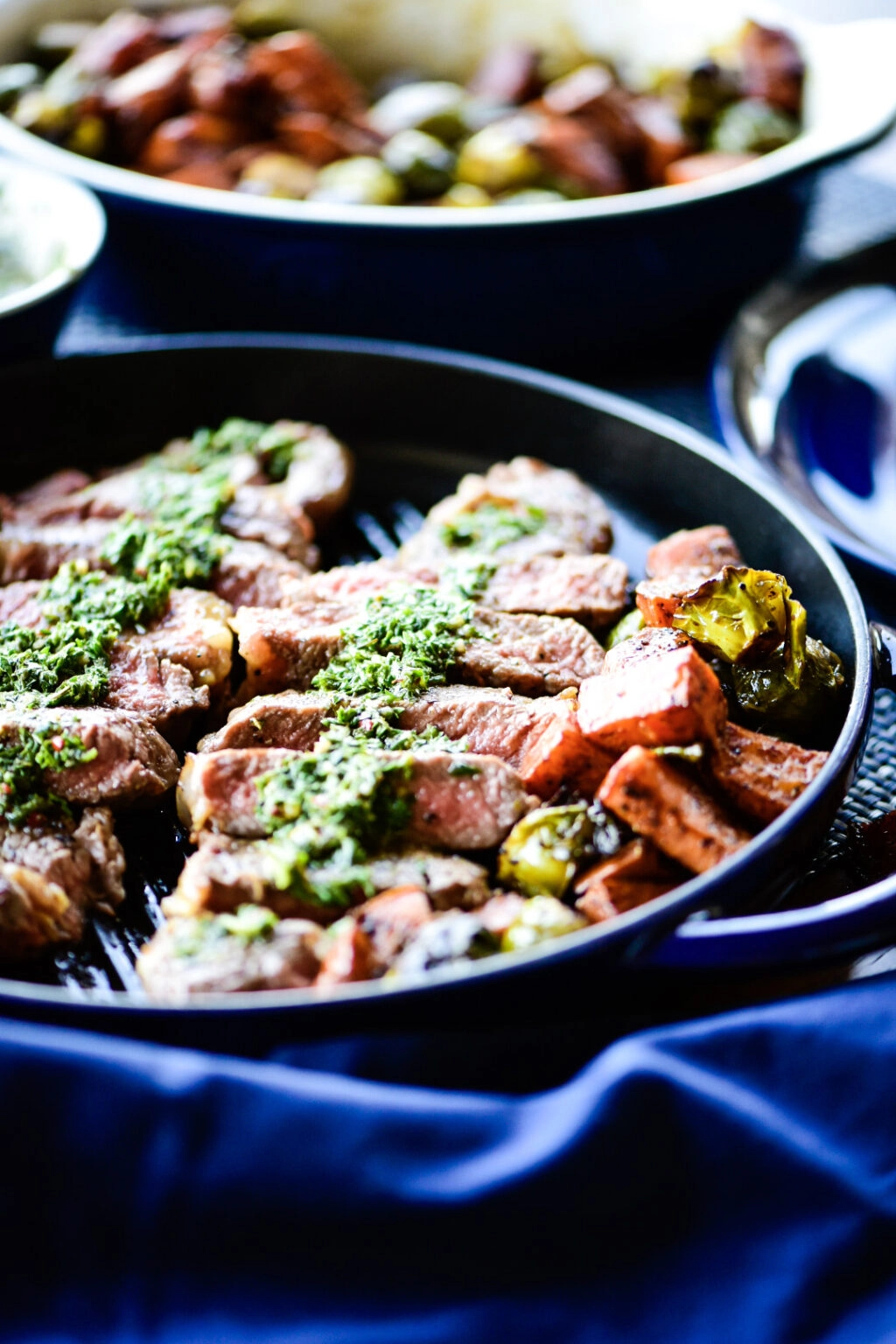 I have slowly become a steak lover, but I can honestly say I wasn't always on board. Real talk.
My experience eating steak growing up was not that good. First off, they were overcooked (no shade to those who enjoy their steaks well done, but you are missing out). It wasn't until I enjoyed a medium-rare steak that I found my happy place. I had no idea how great and juicy medium-rare steaks were because I didn't like to see ANY blood. No red. No pink. Nada.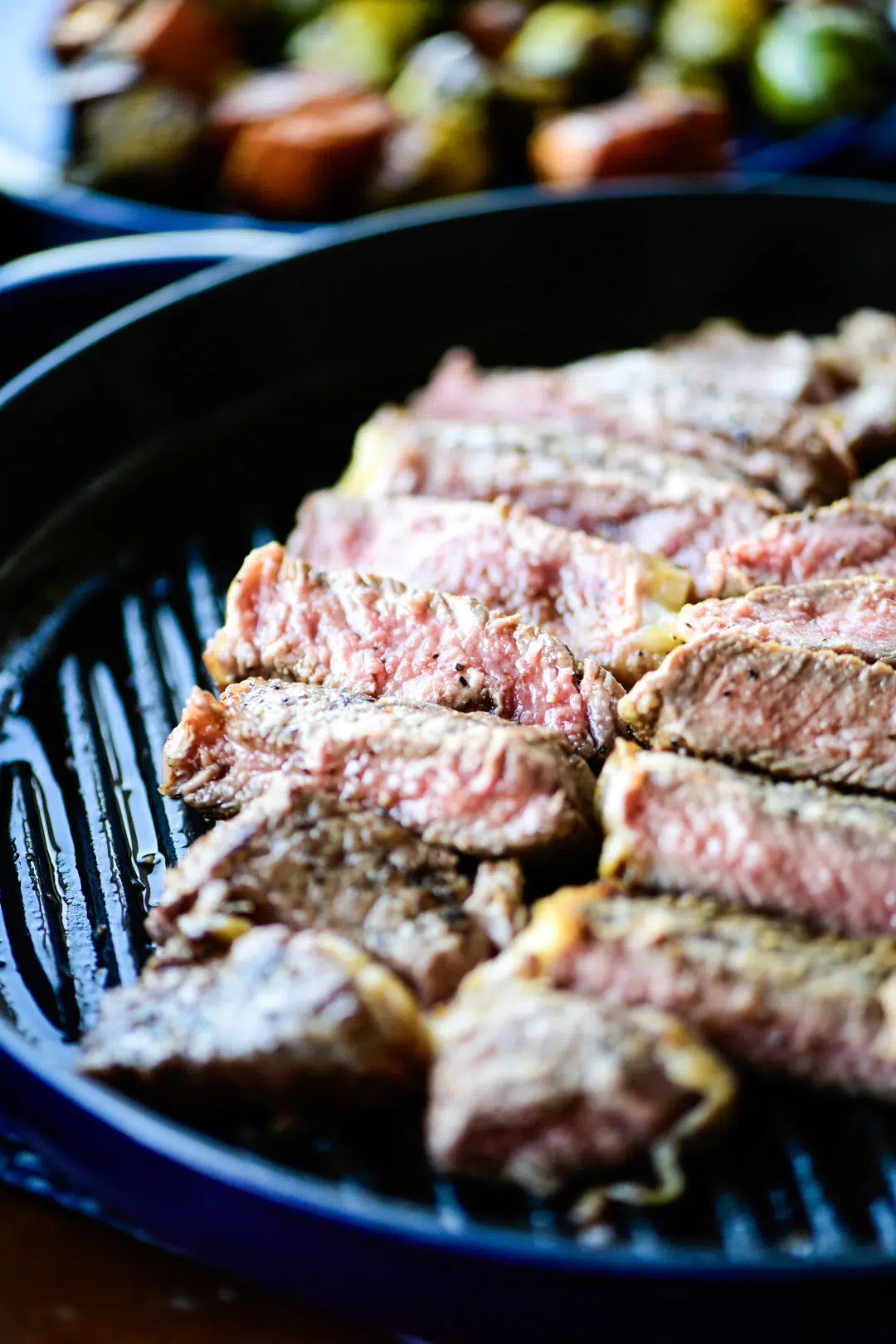 Second, those steaks I had growing up were overseasoned — there is such a thing — and sauced up with some condiment that took away from those beefy flavors. A juicy steak that melts in your mouth can be second to none; if that's your cup of tea.
Being in Texas has allowed to me have many true steak experiences and I now completely understand why so many people rave about a good steak.
What are the most flavorful steaks to buy?
There is a lot to learn about steaks — including the preparation and the various cuts. Each steak cut comes from a certain part of the cow and depending on where the cut is "cut" from it will alter the flavor, tenderness, marbling, etc.
If I were to order a steak at a steakhouse, in no particular order, my choices would include the strip loin (also known as the New York strip steak), the rib eye, and the filet/filet mignon.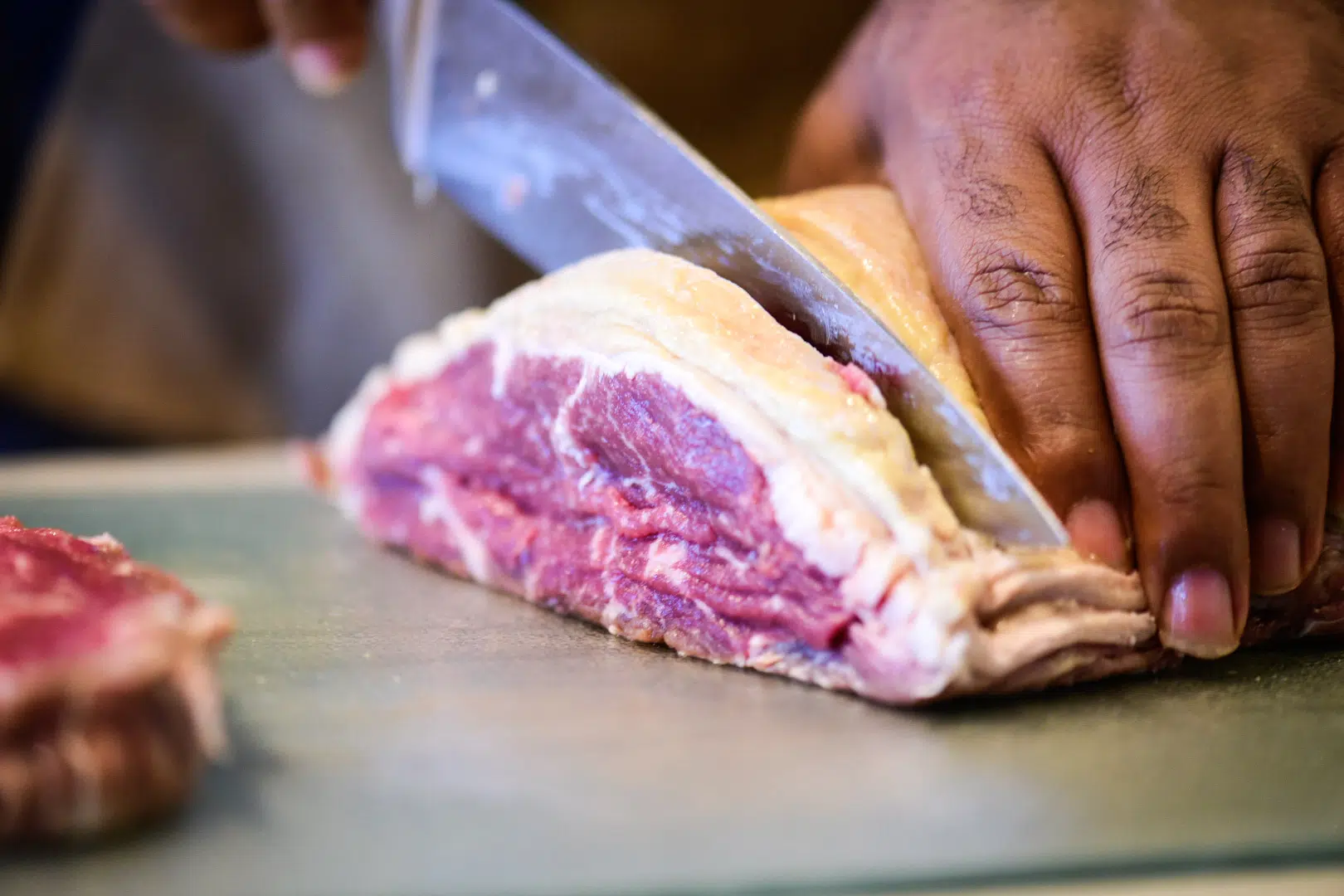 The rib eye is a crowd-pleaser. It's one of the most flavorful cuts and has a lot of very rich marbling which equates to its juiciness and amazing buttery taste. One of the most tender cuts, although not as flavorful as the rib eye, is the filet. However, if you can get the filet bone-in, it is the best of both worlds.
For this recipe, I'm using the strip loin/New York Strip steak. This is a classic choice at any good steakhouse and has all the things you love about steaks. It has the desired marbling, its tender, and full-flavored.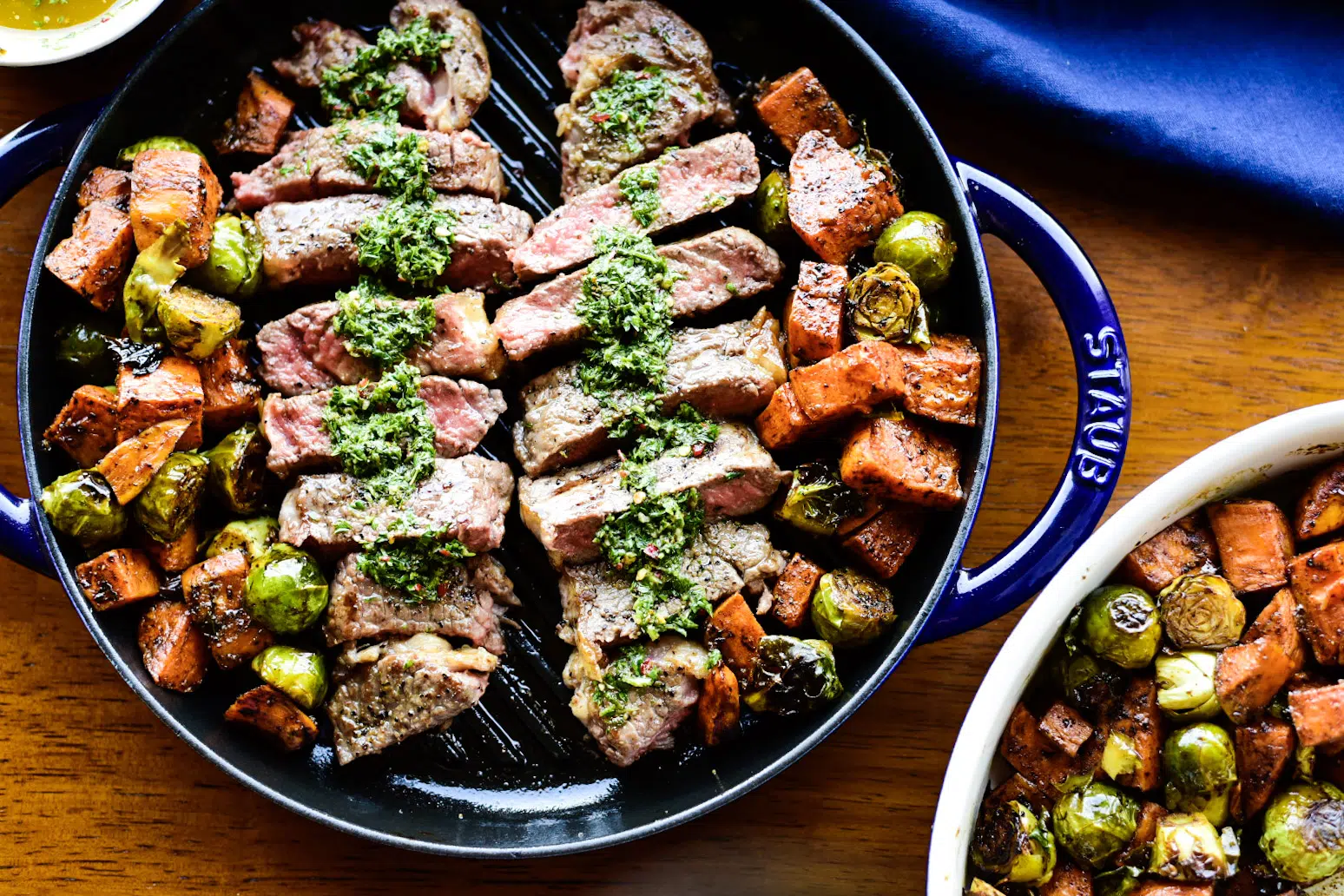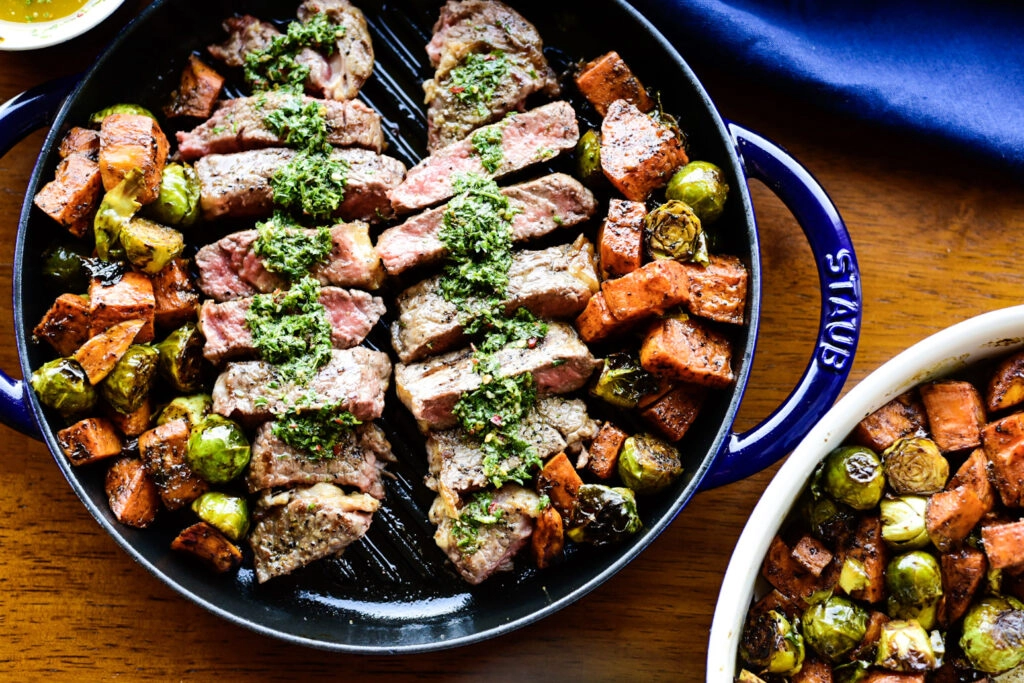 What toppings should I use on my steak?
At the risk of sounding as if I know all there is to know about steaks, I am a firm believer in keeping it simple. Seasoned with salt, pepper, garlic, and a dollop of butter is my preference most of the time. Other times and if I have some handy, I'll add a compound butter like a truffle-garlic butter.
And before you ask, nope, no A-1 steak sauce. 🙂
However, you don't want to miss out on this chimichurri. Especially if you are feeling a little fancy.
Originating in Argentina, chimichurri is a fresh, uncooked sauce that consists of fresh parsley, extra-virgin olive oil, red wine vinegar, red chilis or red pepper flakes, garlic, and a few other seasonings. Chimichurri sauce can be used with a lot of different dishes, but today I'm teaming this up with my steak.
How to Make a Strip Loin Steak with Chimichurri:
This recipe begins with the steak. If you buy your steak already cut into the desired thickness you will simply season both sides with salt, pepper, and a dash of garlic powder.
Heat your cast iron skillet (paid link) to high heat, then add 1 tbsp of butter. Pan fry your steak for 2 minutes on each side and remove from heat. Allow your steak to rest for 5 minutes before slicing. This will result in a medium-rare steak. Increase the time by 1 minute for medium.
Resting your steak allows the internal juices to settle back into the meat.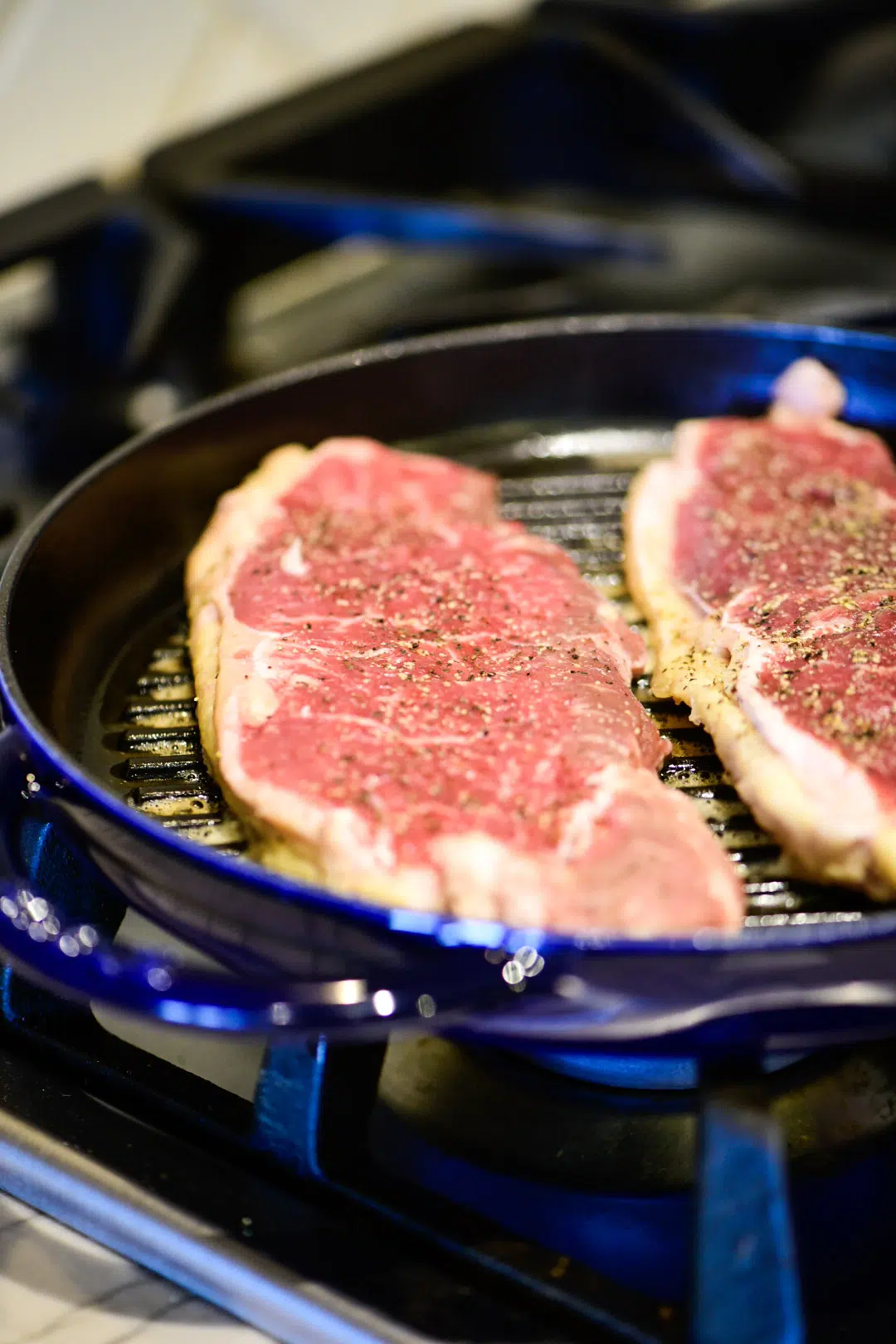 While your steak is resting, you can make your sauce. Chop the fresh parsley then add it to your food processor (paid link). Add all remaining ingredients and pulse until everything is combined.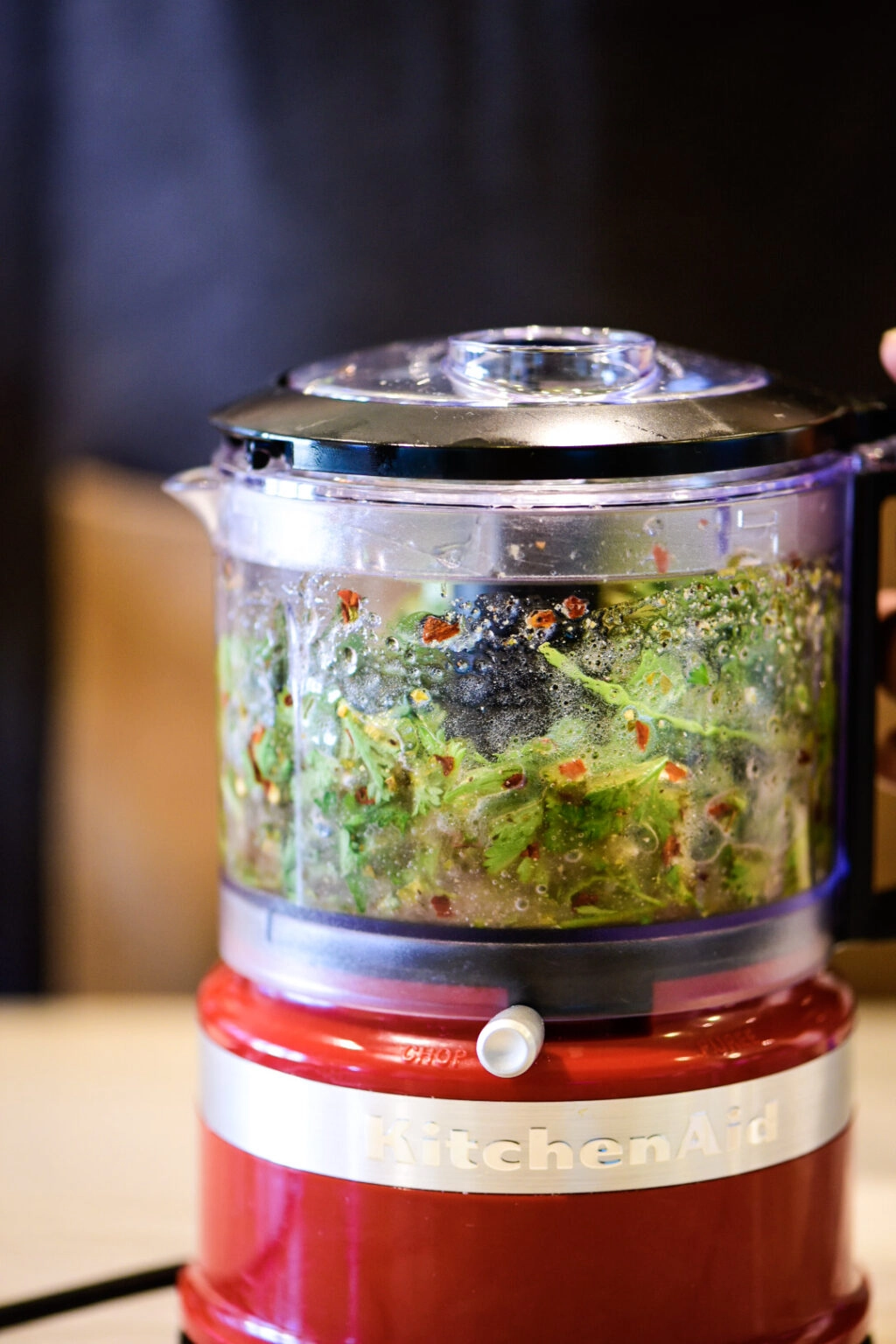 Now you can slice your steak and drizzle on a gracious topping of chimichurri. Serve immediately with desired sides.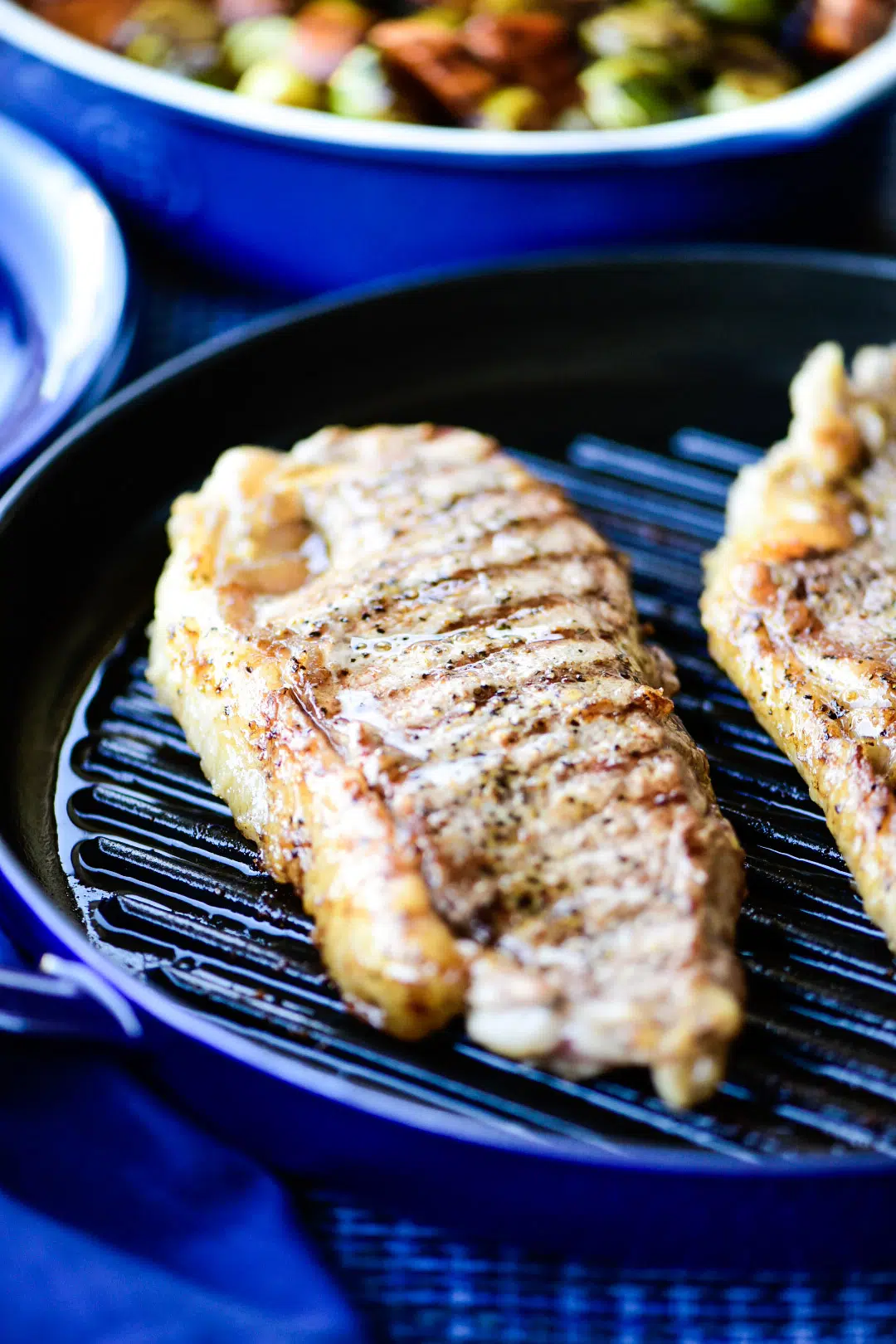 This dish is a great date night or steak night recipe and will definitely win over the hearts of fathers on any day of the week. This New York Strip Steak with Chimichurri Sauce recipe is an awesome alternative when you want to bring a restaurant type dinner idea to your dinner table.
And this steak is perfect with a side of my Roasted Sweet Potatoes & Brussels Sprouts with Honey-Balsamic Glaze. Enjoy!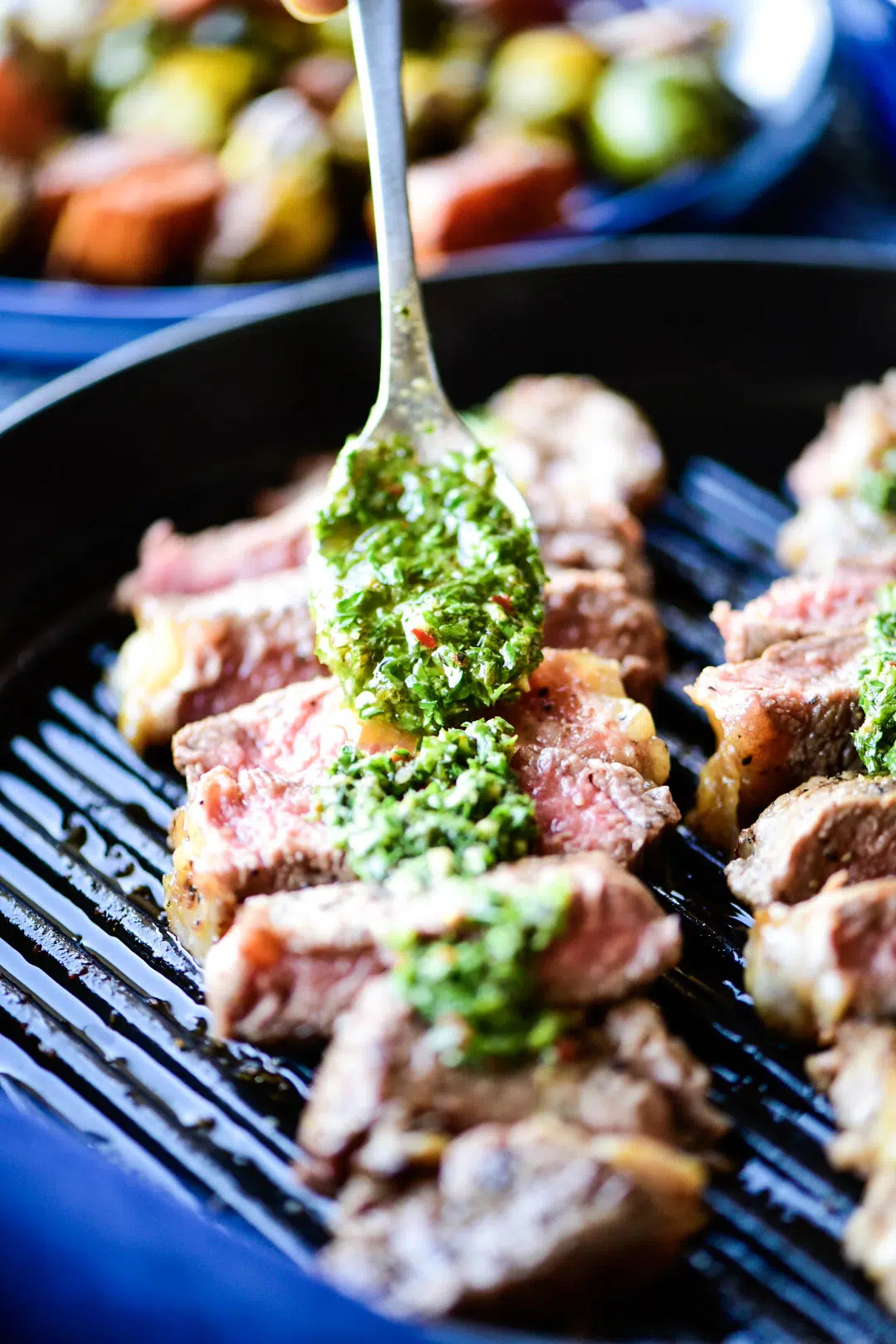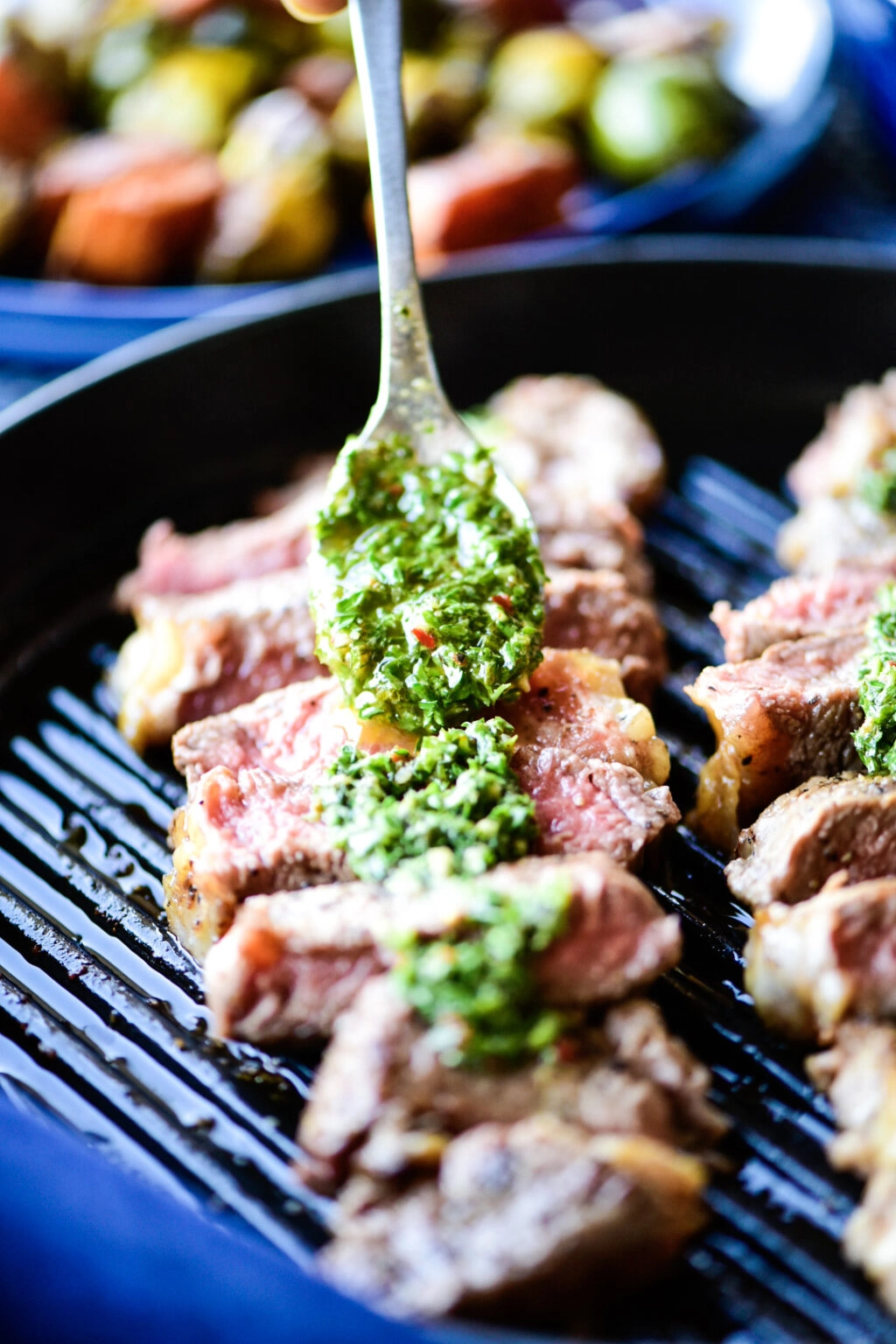 If you're looking for more steak recipes, you can also check out my Filet Mignon Dinner for Two!
Print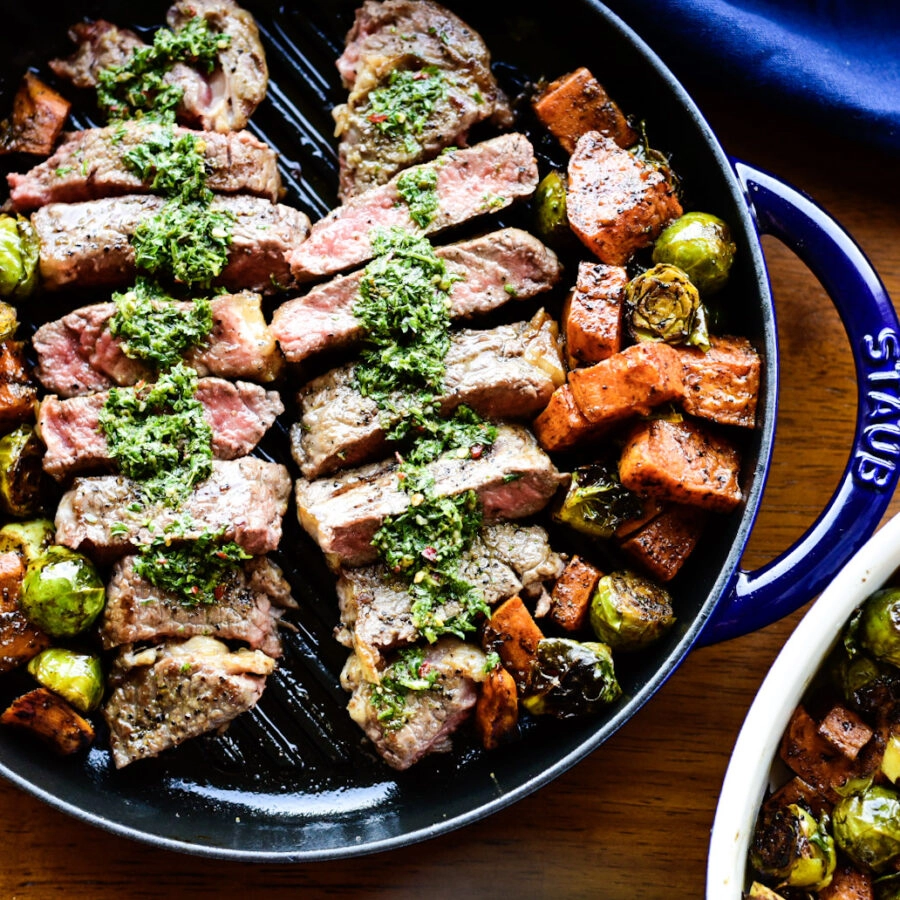 New York Strip Steak with Chimichurri Sauce
---
Author:

Eric Jones

Total Time:

14 minutes

Yield:

2

1

x
Description
If you're a steak lover, this Strip Loin (New York Strip) Steak with homemade chimichurri sauce will the perfect choice for your steak night or anytime.
---
For the strip loin:
(2) 8 oz. Strip Loin Steaks

1/2 tsp

. Himalayan Salt

1 tsp

. Black Pepper

1/4 tsp

. Garlic Powder

1 tbsp

. Butter
For the chimichurri sauce:
1/2 cup

Fresh Parsley 

1/2 cup

Extra-Virgin Olive Oil

2 tbsp

. Red Wine Vinegar

2 tsp

Minced Garlic

1 tsp

Oregano

1/2 tsp

Black Pepper

1/2 tsp

. Red Crushed Peppers

1/2 tsp

. Onion Powder

1/4 tsp

. Garlic Powder 

1/2 tsp

. Himalayan Salt
---
Instructions
For the chimichurri sauce, chop the fresh parsley and add to the food processor

(paid link)

along with all other sauce ingredients. Pulse ingredients until combined. 
Season your steak on both sides with salt, pepper and garlic powder. 
Heat cast iron grill to high heat. Add 1 tbsp butter to the pan. Grill steak for 2 minutes each side. Allow it to rest for 5 minutes.  
Once the steak has rested, slice the steak into the desired thickness and top off with chimichurri sauce. Serve immediately. 
Prep Time:

15 minutes

Cook Time:

4 minutes

Category:

Low Carb

Method:

Stove Top

Cuisine:

American/Spanish
Nutrition
Calories:

1142

Sugar:

0.6g

Sodium:

867mg

Fat:

77.7g

Carbohydrates:

4.3g

Fiber:

1.7g

Protein:

104.6g

Cholesterol:

319mg
Keywords: New York Strip Steak with Chimichurri Sauce, Steak with Chimichurri Sauce, Strip Loin with Chimichurri Sauce