Homemade Churros with Chocolate Sauce
These Easy Homemade Churros are perfect for any occasion! Who would have ever thought something so good could be so simple to make? If you want to make a simple and sweet dessert, churros are the way to go.
Here are a few more chocolate dessert recipes you may enjoy: Easy Peanut Butter Blossoms, Peanut Butter Skillet Brownies a la Mode, Bailey's Dark Chocolate Custard, and Salted Chocolate Bread Pudding.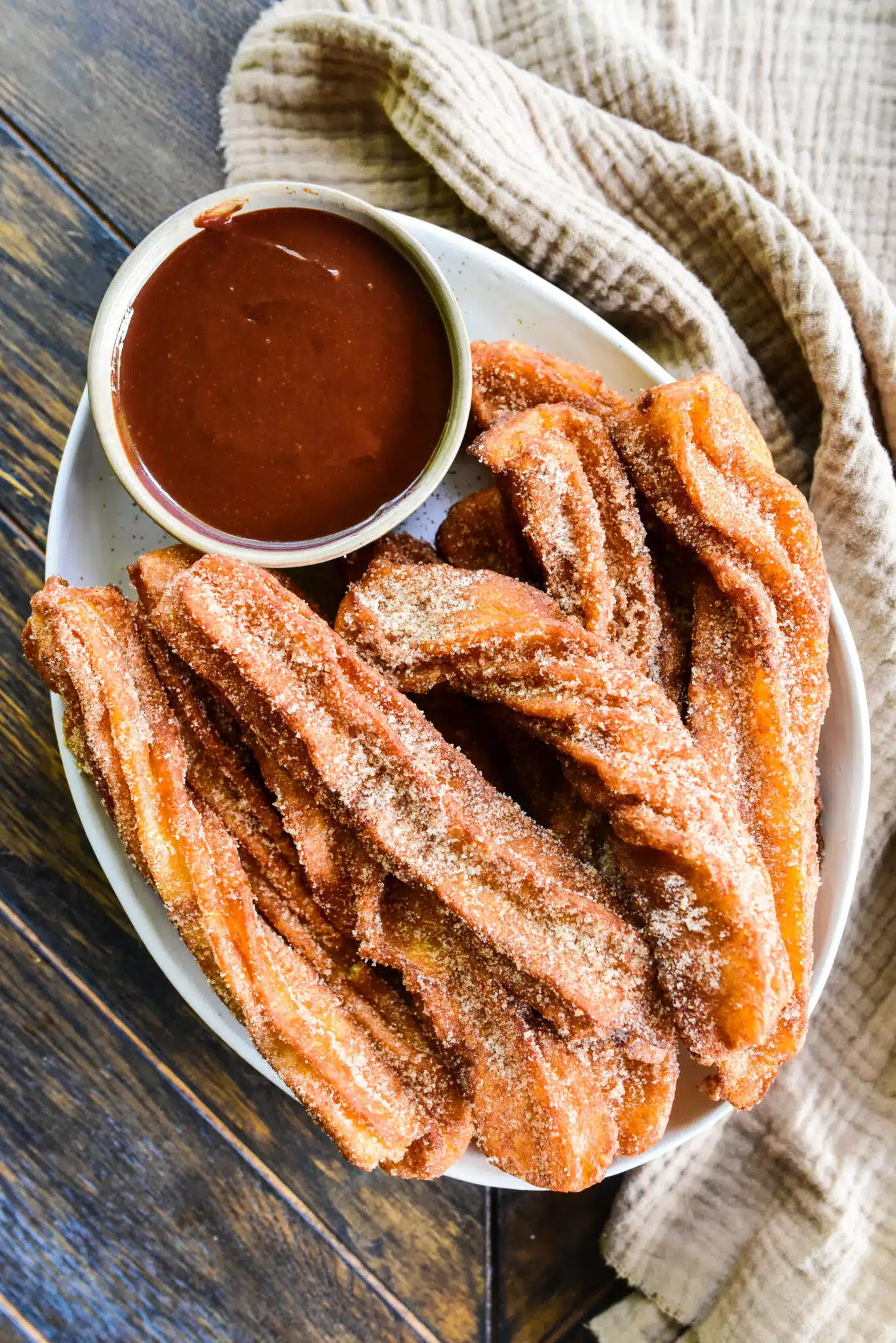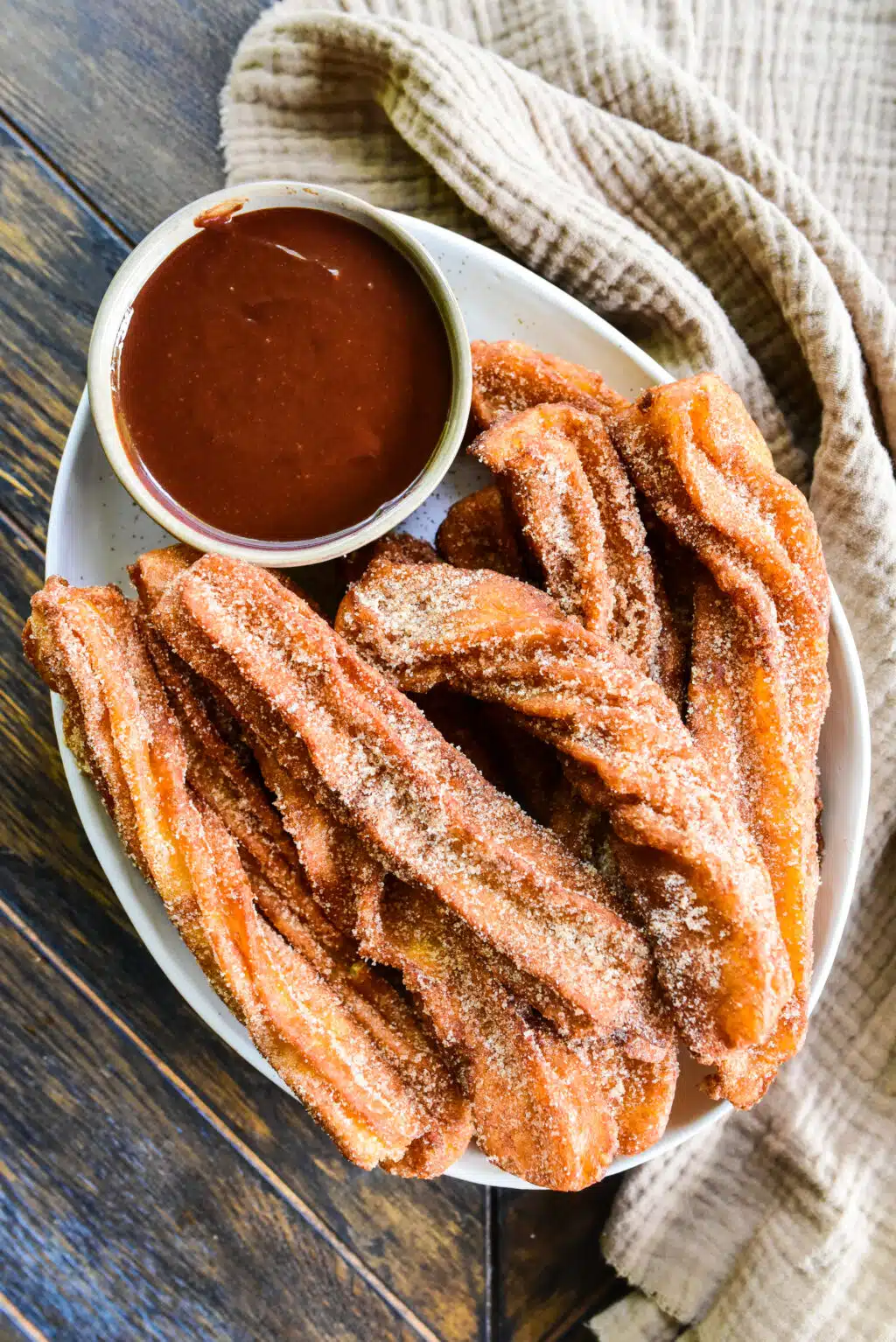 The delicate yet crispy choux pastry (a simple mixture of water, milk, butter, sugar, salt, flour, eggs, and vanilla) is deep-fried until golden brown and coated in a cinnamon-sugar mixture to seal the deal. But it only goes uphill from there when you pair them with a homemade chocolate dipping sauce. You'll want to grab this recipe ASAP!
Texture-wise, I compare churros to New Orleans-style beignets. Churros' texture is light, airy inside, and slightly crispy on the outside.
To make the process even easier, I use a churro maker (paid link) that forms the pastry dough into the traditional shape. You can also use a pastry bag with a large open star tip nozzle (Wilton 1M (paid link)). The ratio of light and airy to crispy will depend on many factors, but the most important is the size of your churro. If you only have larger or smaller nozzles, you need to adjust your cooking time and expectations. Larger churros will be more airy and less crispy, whereas smaller churros will be less airy and more crispy.
Regardless of the method, churros are easy, fun to eat, and something the family can enjoy making together.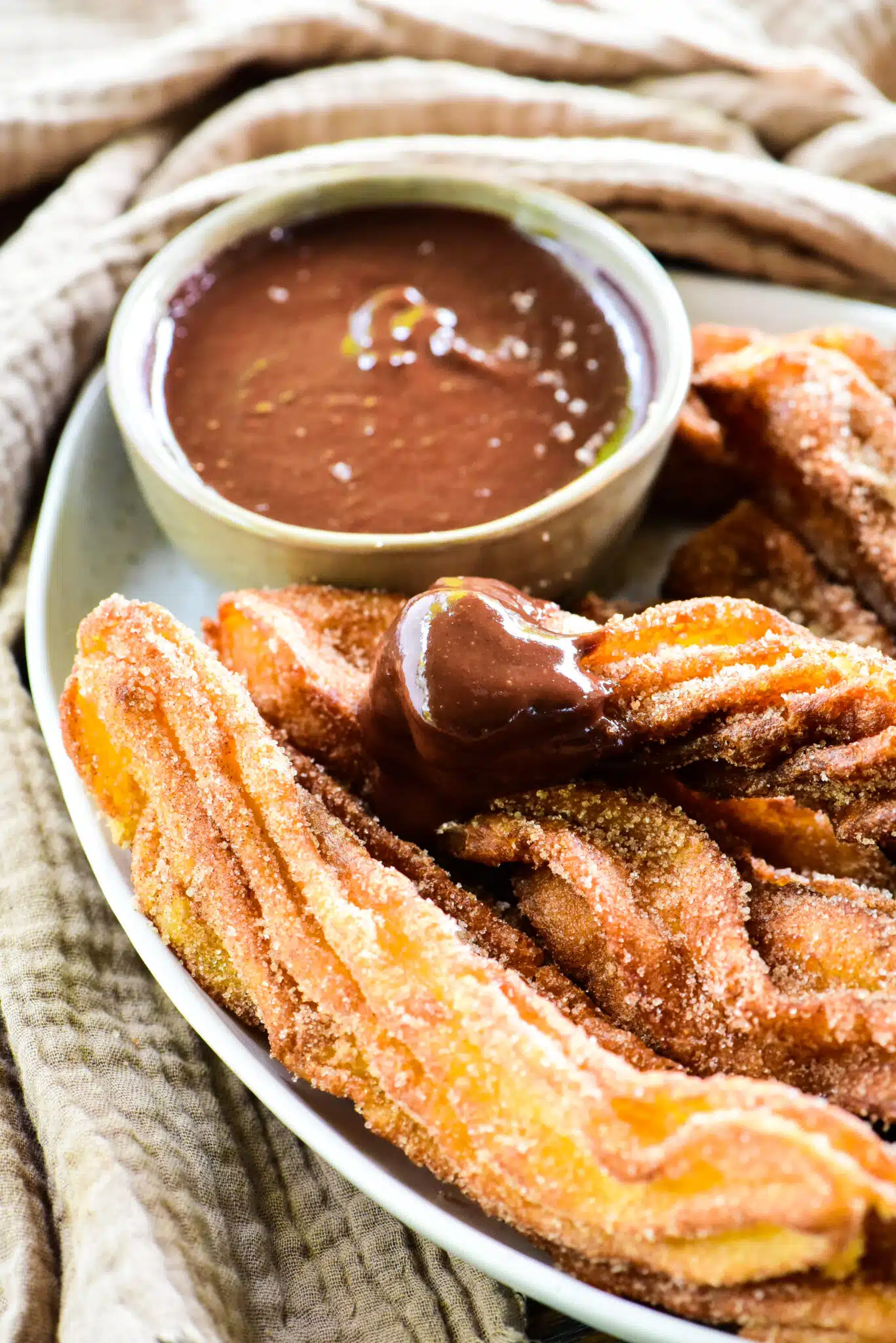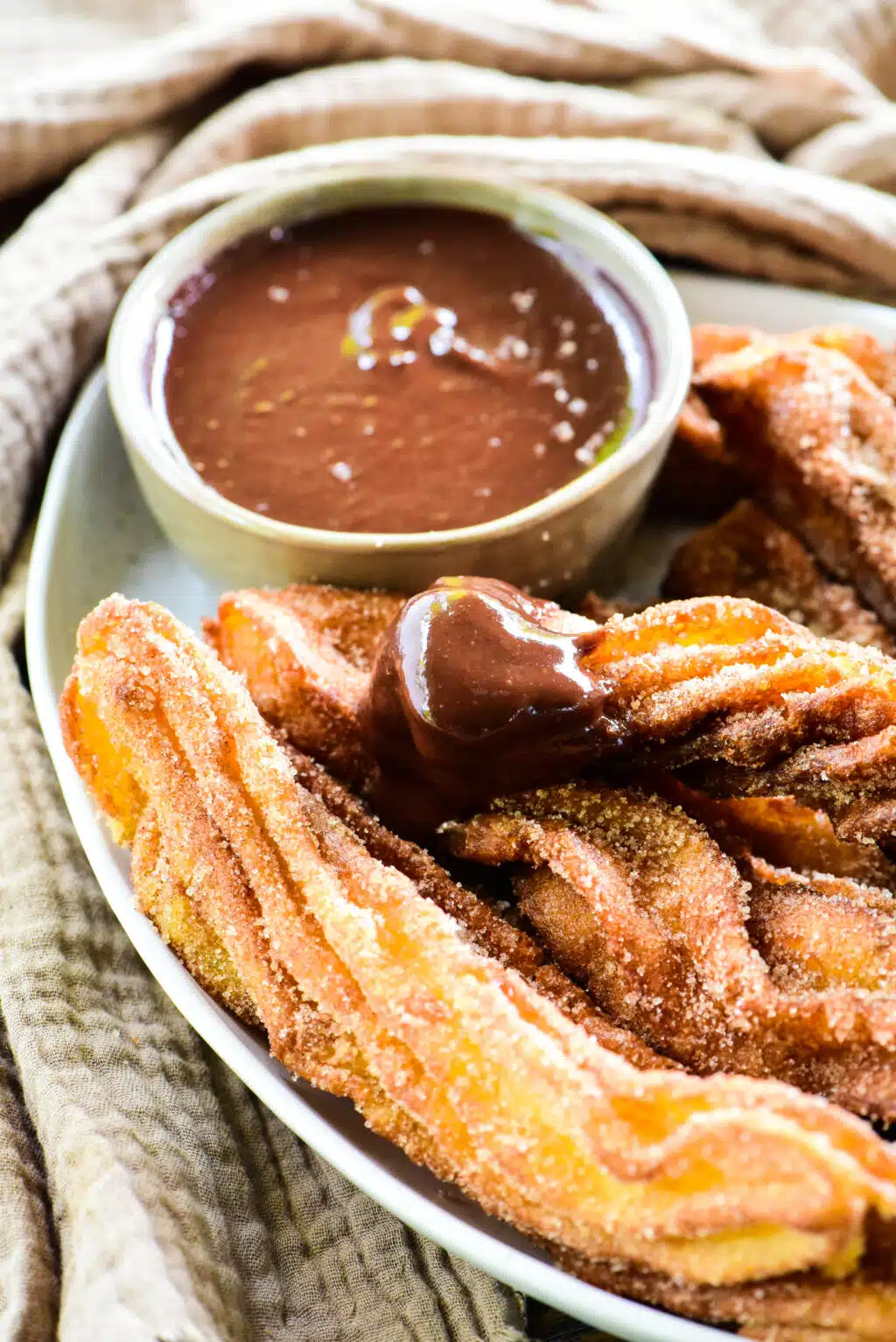 Ingredients you'll need to make churros:
The first thing you will need is water, milk, butter, sugar, and salt. The milk and water provide moisture for the churros and will help them puff up and expand while frying. The butter gives the churros that extra richness. Sugar adds a hint of sweetness and aids in their crispy exterior, and the salt enhances the flavor.
One of the essential ingredients is flour. It creates the structure for the churros.
While I use eggs in this recipe, you can also make this without eggs. Typically, Spanish-style churros are not made with eggs, whereas Mexican-style churros are. If you want a crispier churro, remove or reduce the number of eggs. If you want a puffier and fluffier churro, leave the eggs as-is.
The vanilla will also sweeten the churros and enhance the flavor.
Rolling the fried churros in sugar and cinnamon brings it all home.
For the chocolate sauce, you'll need chocolate chips and heavy cream.
How to make churros:
Start by heating a saucepan, then add your water, milk, butter, sugar, and salt.
Once it begins to boil, add the flour and stir continuously until it forms into a ball. Remove the dough from the heat and place it into a large bowl.
After allowing it to cool, add your egg (one at a time) and vanilla extract. Blend until the dough is smooth and glossy.
Add your dough into the churro maker

(paid link)

, then fry in pre-heated cooking oil set to at least 350 degrees.
Push out 6-inch pieces and fry for 2 to 3 minutes per side. Quickly drain on a paper towel.
Roll your slightly cooled churro into the cinnamon and sugar mixture, making sure it is coated well.
For the chocolate sauce, add warmed chocolate chips and heavy whipping cream into a bowl and whisk

(paid link)

until smooth.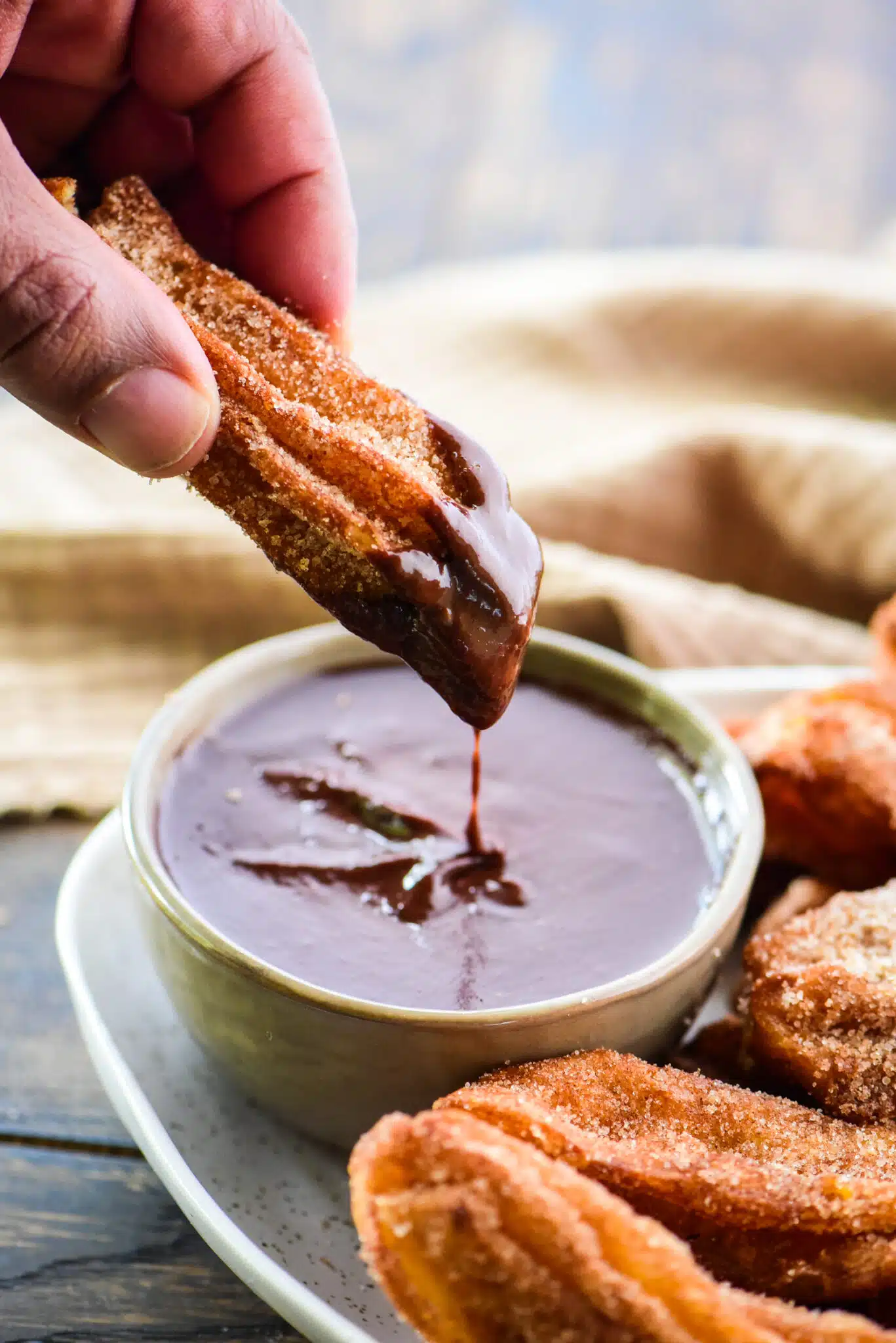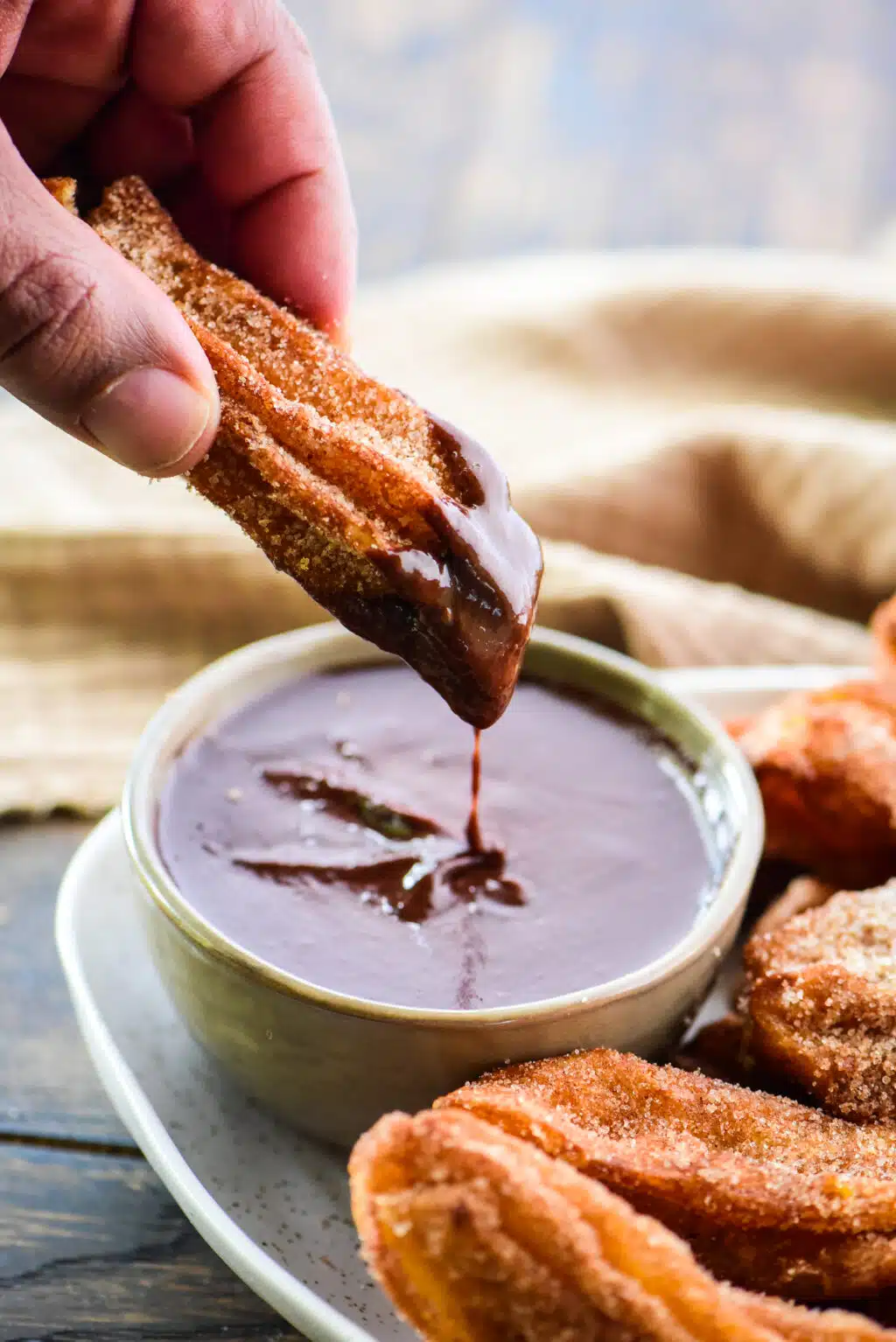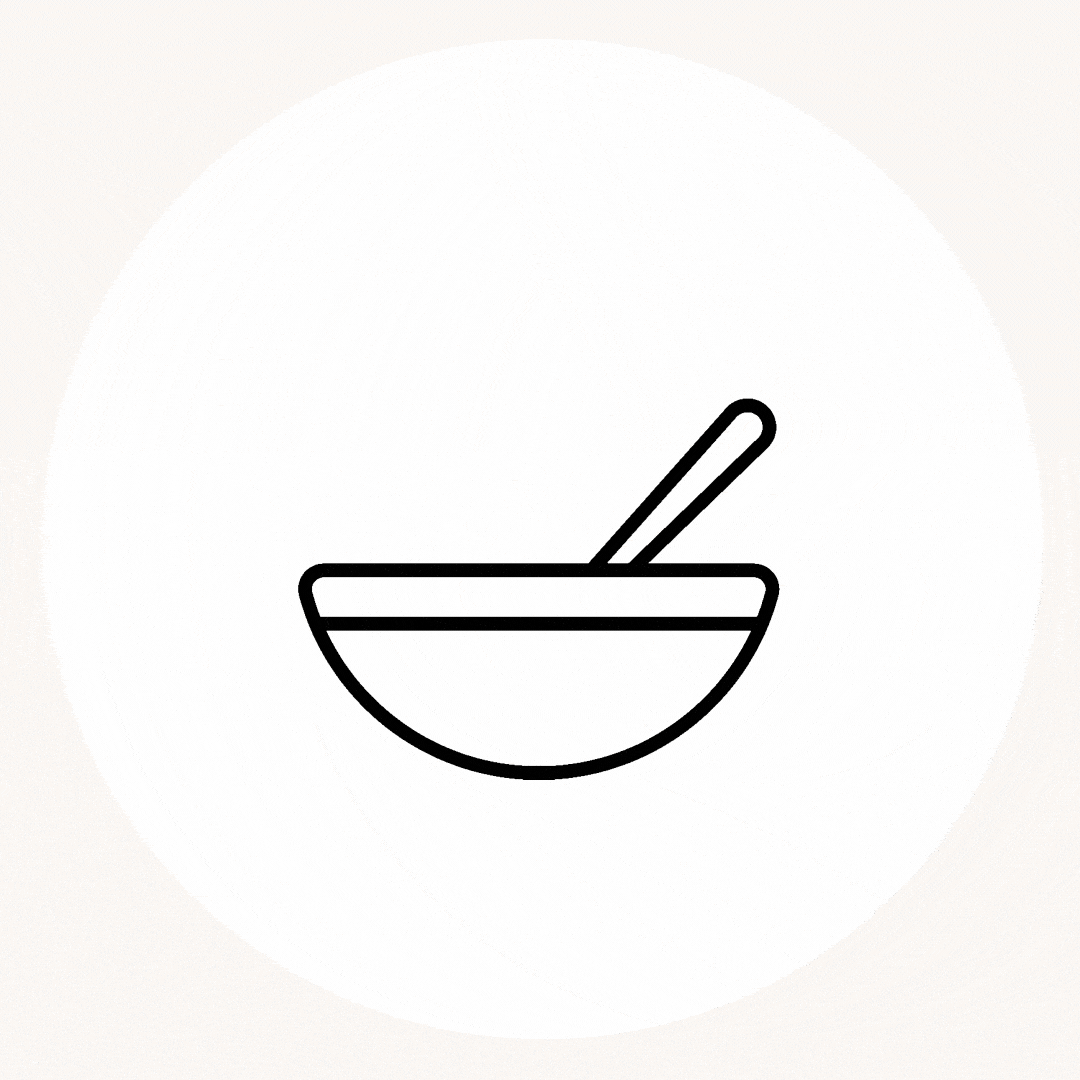 Tips & Tricks
It's important to keep your frying temperature steady. It will decrease when the dough is first added but increase as the oil heats back up. The goal is to maintain a temperature between 350°F and 370°F.
After your churros have fried, you'll want to coat your churros almost immediately to ensure the cinnamon sugar sticks.
Churros are best served immediately. They tend to lose their crispy exterior as they sit, so I would enjoy these as soon as possible.
Churros can be found in many different shapes and sizes. They can be straight, long, or spiraled. Don't fret if your churros curl while frying. They will still be great!
If your dough is undercooked but crispy on the outside, lower your temperature. If your churro is chewy, you may want to cook them longer. If your churro is too crispy, it may be overcooked. I would either fry them for less time or lower the temperature.
If you don't want to fry your churros immediately, the dough will be kept in the refrigerator for up to 3 days in a tightly covered container.
These Easy Homemade Churros (with homemade chocolate sauce) will become a family favorite overnight. Making this dessert is not only super easy but can be fun to make as well. Perfect to enjoy anytime or to bring in Cinco De Mayo with a bang!
Print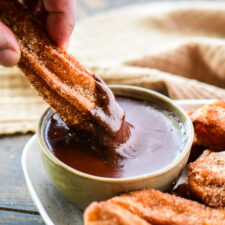 Easy Homemade Churros
---
Author:

Eric Jones

Total Time:

25 mins

Yield:

6

-8

1

x
Description
These Easy Homemade Churros with chocolate sauce are perfect for any occasion! If you want to make a simple and sweet dessert, then churros are the way to go.
---
1/2

cup

water

1/2

cup

whole milk

8 tbsp

unsalted butter

3/4

cup

plus

1

tbsp

sugar, divided

1/2 tsp

salt

1

cup

all-purpose flour

4

large eggs

1 tsp

vanilla extract

4 tsp

cinnamon, divided
Vegetable oil for frying

2/3

cup

semi-sweet chocolate chips

2/3

cup

heavy cream
---
Instructions
Add water, milk, butter, 1 tbsp sugar, and salt in a medium saucepan. Bring to a boil over medium heat, stirring frequently. Lower heat.
Using a wooden spoon, stir in flour. Once combined, increase the heat, and constantly stir for 2-3 minutes to release any excess moisture and partially cook the flour. The dough should form into a smooth ball, and a thin film will form on the bottom of the pan. Remove from heat and allow to cool for 5 minutes.
Transfer to a large bowl and use a hand mixer

(paid link)

to beat on medium speed for 2 minutes to cool the dough. Add vanilla. Add eggs one at a time. Beat until the dough is smooth and glossy.
In a large pot or deep skillet, heat oil to 370°F.
Scoop dough into a pastry bag with a large open star tip nozzle (Wilton 1M

(paid link)

) or a churro maker

(paid link)

. Pipe 6 to 10-inch long strips of dough into the hot oil, cutting the ends with scissors. Fry 4-6 churros at a time to avoid over-crowding your pot. Repeat with the remaining dough.
Fry on both sides for 1 ½ to 2 minutes or until golden brown. Transfer to a paper towel to drain for a few seconds.
Combine ¾ cup sugar and 2 tsp cinnamon together on a small baking sheet

(paid link)

. Roll churros in the cinnamon sugar.
For the chocolate dipping sauce, Heat the chocolate chip in a microwave-safe bowl in the microwave for 90 seconds. Stir in heavy cream and 2 tsp cinnamon. Stir thoroughly combined.
Prep Time:

15 mins

Cook Time:

10 mins

Category:

Dessert

Method:

Frying

Cuisine:

Mexican
Nutrition
Calories:

314

Sugar:

20.1g

Sodium:

276mg

Fat:

18.3g

Carbohydrates:

33.2g

Fiber:

1.1g

Protein:

5.7g

Cholesterol:

138mg
Keywords: Easy Homemade Churros, Homemade Churros, churro recipe, churros