Mexican food has slowly moved up to become one of my favorite cuisines of all time. When my wife and I go out to eat we always end up sharing enchiladas because we enjoy them that much. And since there are so many different types of enchiladas, the opportunities to enjoy them are endless.
You can use beef, go with a cheese only version which I have shared before, or go with a cheesy shredded chicken version like this recipe for Chicken Enchiladas Verdes. After a few ingredients and a few steps, dinner is ready and on the table.
For the tortillas, you have two choices — flour or corn. Traditionally for enchiladas, corn would be the better choice. Corn holds up better while flour tortillas tend to become soft/soggy once you add fillings, sauces, and cheeses to the dish.
This recipe takes a total of 5 minutes to put together. I opted for pre-shredded chicken and pre-prepared tomatillo sauce to speed things up a bit. Since the chicken is already cooked, the only preparation time needed is to soften the corn tortillas to prepare them to be stuffed with chicken. This is a crucial step as corn tortillas can tend to break or crack once rolled if they are not softened beforehand.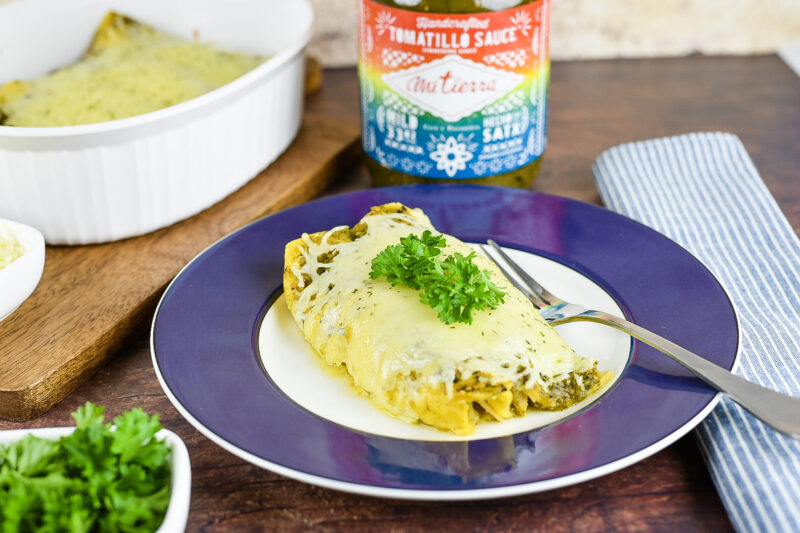 These enchiladas are topped off with Mi Tierra Enchiladas sauce and Monterey Jack cheese then bake in the oven for 15 minutes. If you want a quick dinner that's is also tasty give this Chicken Enchiladas Verdes a spot on your home menu.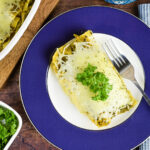 Ingredients
8 oz Chicken Shredded

2 cups Mi Tierra Enchiladas Sauce

1 and 1/2 cup Monterey Jack cheese

6 Corn Tortillas
Instructions
Begin by cooking each tortilla for 25 seconds in cooking oil at medium heat then set to the side.
To assemble enchiladas, place about 3 ounces of tomatillo sauce on the bottom of a casserole dish.
Fill each softened tortilla and roll about 1.5 ounces of chicken in each tortilla then place each rolled enchilada seam side down in the casserole dish. Repeat this step until all of the tortillas are rolled with chicken and placed in the casserole dish.

Once the enchiladas are in the casserole dish, cover enchiladas with remaining tomatillo sauce.

Top enchiladas with Monterrey Jack cheese and bake 15 minutes. Serve hot.