If you've had a long week and you're looking for a good strong drink to get your Friday night started, this Old Fashioned will transition your mind to a place of relaxation. The bourbon whiskey mixed with the sweetness of the simple syrup and orange bitters taste fantastic together.
The Old Fashioned cocktail has been around since the 1800's and as history tells us, it will be around for a long time to come.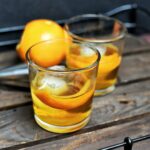 Ingredients
4 oz Bourbon Whiskey

4 Dashes West Indian Orange Bitters

3 tbsp Turbinado Cane Sugar

3 tbsp Water

1 Whole Orange

1 Large Ice Cube
Instructions
1. Begin by creating the simple syrup: Mix the turbinado cane sugar and water in a separate glass and stir until blended well.
2. Pour the bourbon whiskey into a round drinking glass.
3. Add orange bitter and 2 tbsp of simple syrup to the drinking glass and stir until blended well.
4. Add your large ice cube and cut a piece of orange rind from your orange add to the glass and serve.
Notes
Feel free to add an additional tbsp of simple syrup to suit you taste.