Crispy Fish Tacos with Grilled Corn Salsa
Who doesn't love tacos!? These Crispy Fish Tacos topped off with a homemade Grilled Corn Salsa are perfect for your next Taco Tuesday, picnic, or backyard gathering. They are easy to make and are some of the freshest tacos you'll ever have.
If you love tacos, you should also check out my Grilled Fish Tacos With Mango Salsa & Avocado Cream.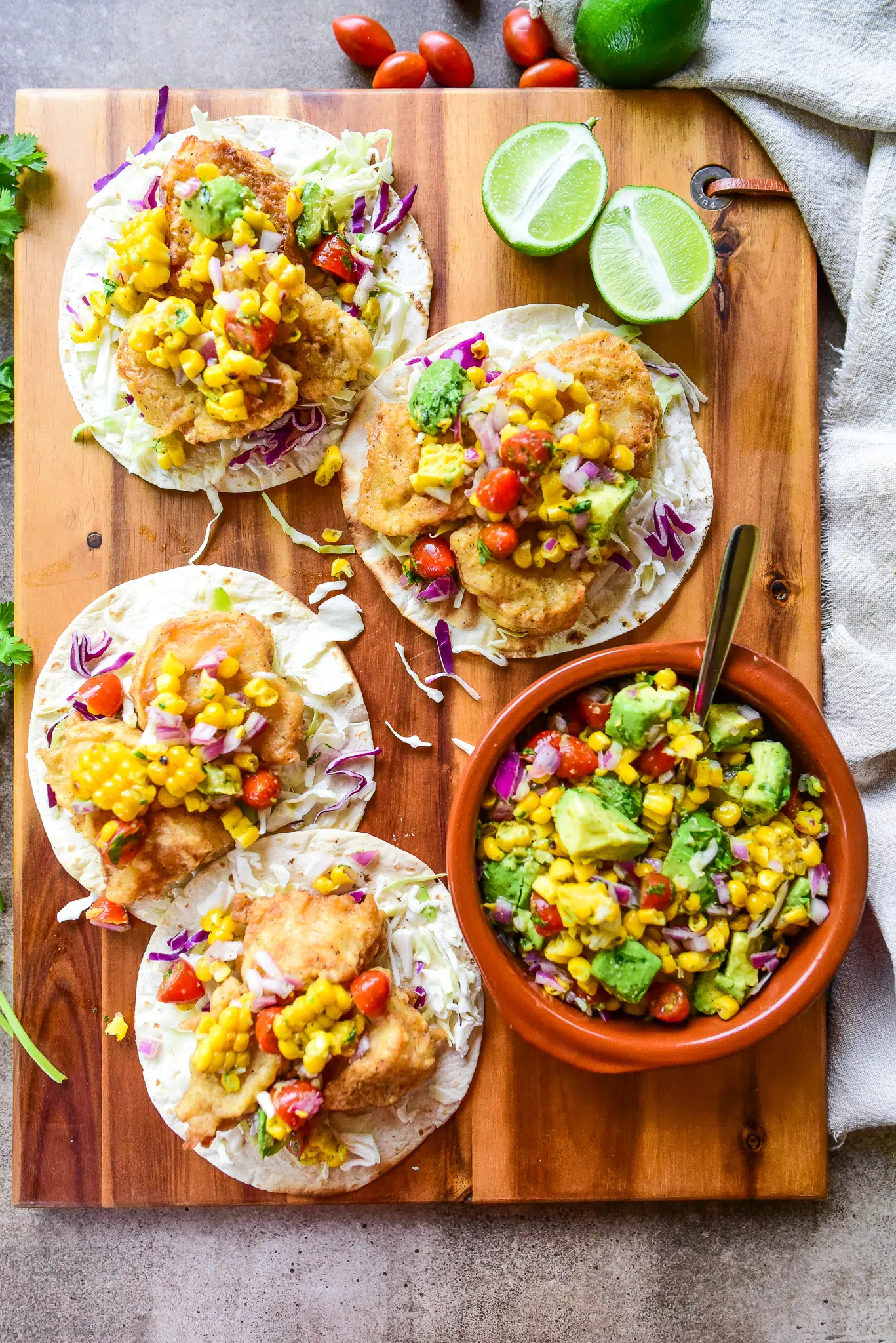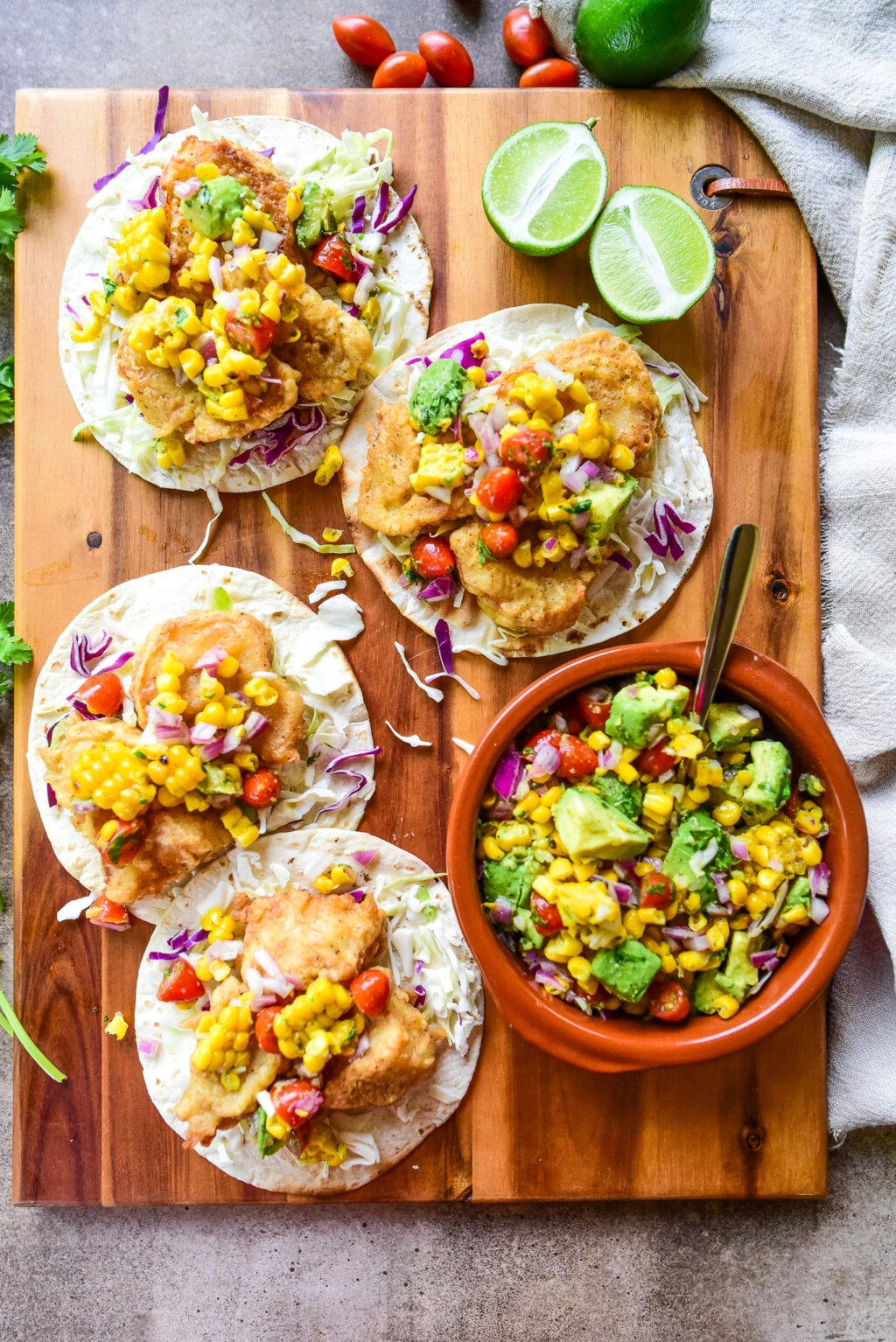 When you're looking for a quick and easy meal, look no further than this fish taco recipe — where the secret is in the crispy texture of the fish nuggets. One particular ingredient makes all the difference. But it doesn't end there…
Not only do you get a perfectly crispy texture from the fish, but the corn salsa made with grilled corn tossed in freshly squeezed lime juice is where the freshness comes in. The sweetness from the corn highlights the other flavors and its smokiness adds another dimension.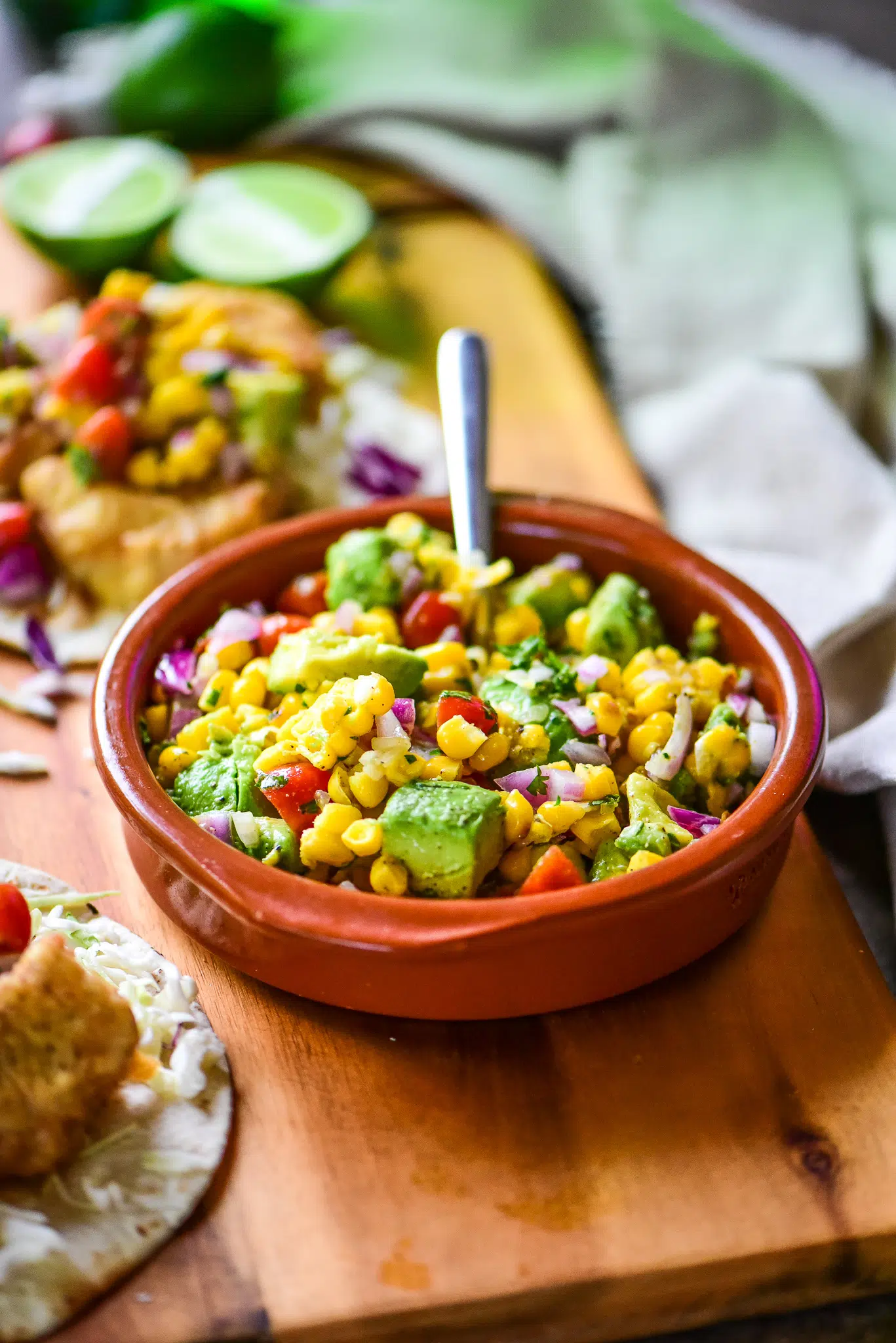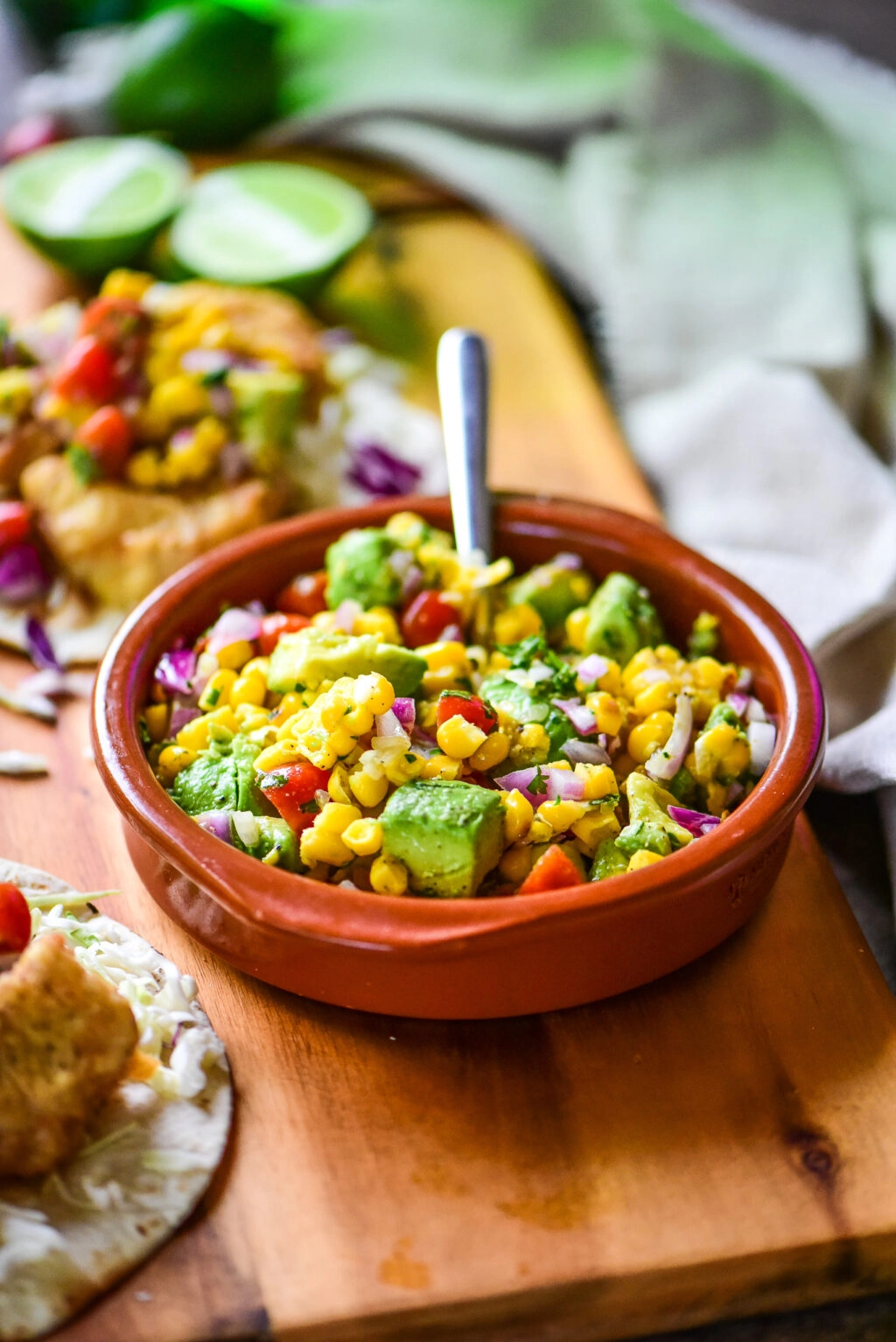 No matter the time of year, this taco recipe can be enjoyed anytime.
Ingredients you'll need to make this easy crispy taco recipe:
Cod loin filet is my go-to, and I use it a lot when wanting a buttery, tender fish that holds together well under high heat and when frying.
The tasty nuggets of fish are fried in an air-like batter. And what's my secret ingredient for the perfect texture? Sparkling water! When you add sparkling water to the batter, the bubbles create tiny air pockets that expand when frying resulting in light and airy fish nuggets.
A light dusting of flour follows. (If you are following a gluten-free lifestyle, you can substitute the all-purpose flour for arrowroot.)
Pink sea salt, black pepper, and garlic powder are the simple combination of seasonings for this fish that can unlock the fresh flavors of the tacos while allowing the fish to shine.
The char grilled corn salsa is made from scratch and it all starts with the corn. You'll place the corn directly on the grill for 5-10 minutes per side until it is charred as desired. Once your corn is grilled and shucked, you can add cilantro leaves, diced avocado, cherry tomatoes, and chopped red onion into a large bowl and squeeze in fresh lime juice before tossing everything together.
The soft and slightly grilled flour tortillas are a great choice, but corn tortillas work well too. I typically go with the low-carb flour tortilla to keep an eye out for the carbs. The smokey aroma from the grill is a nice touch.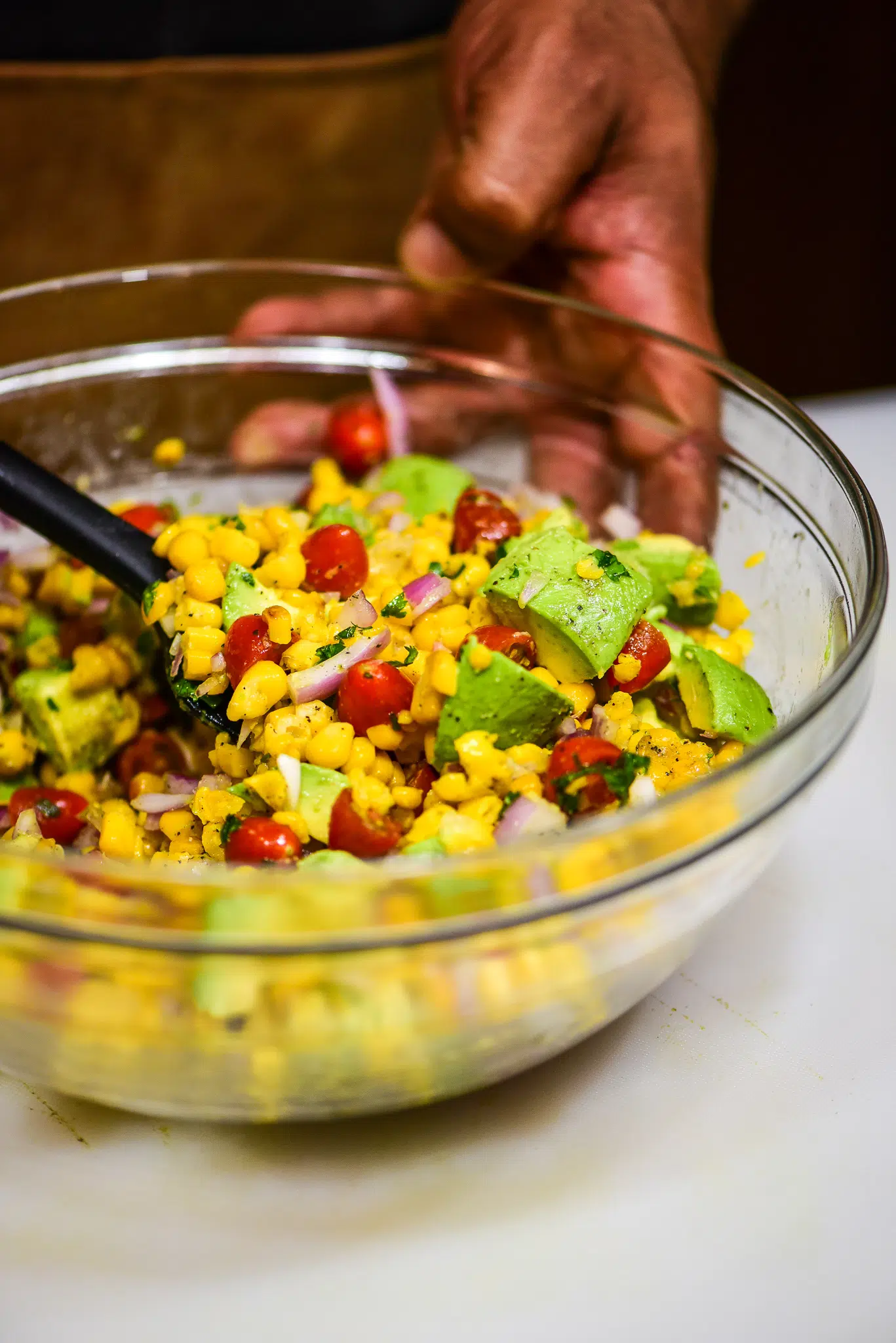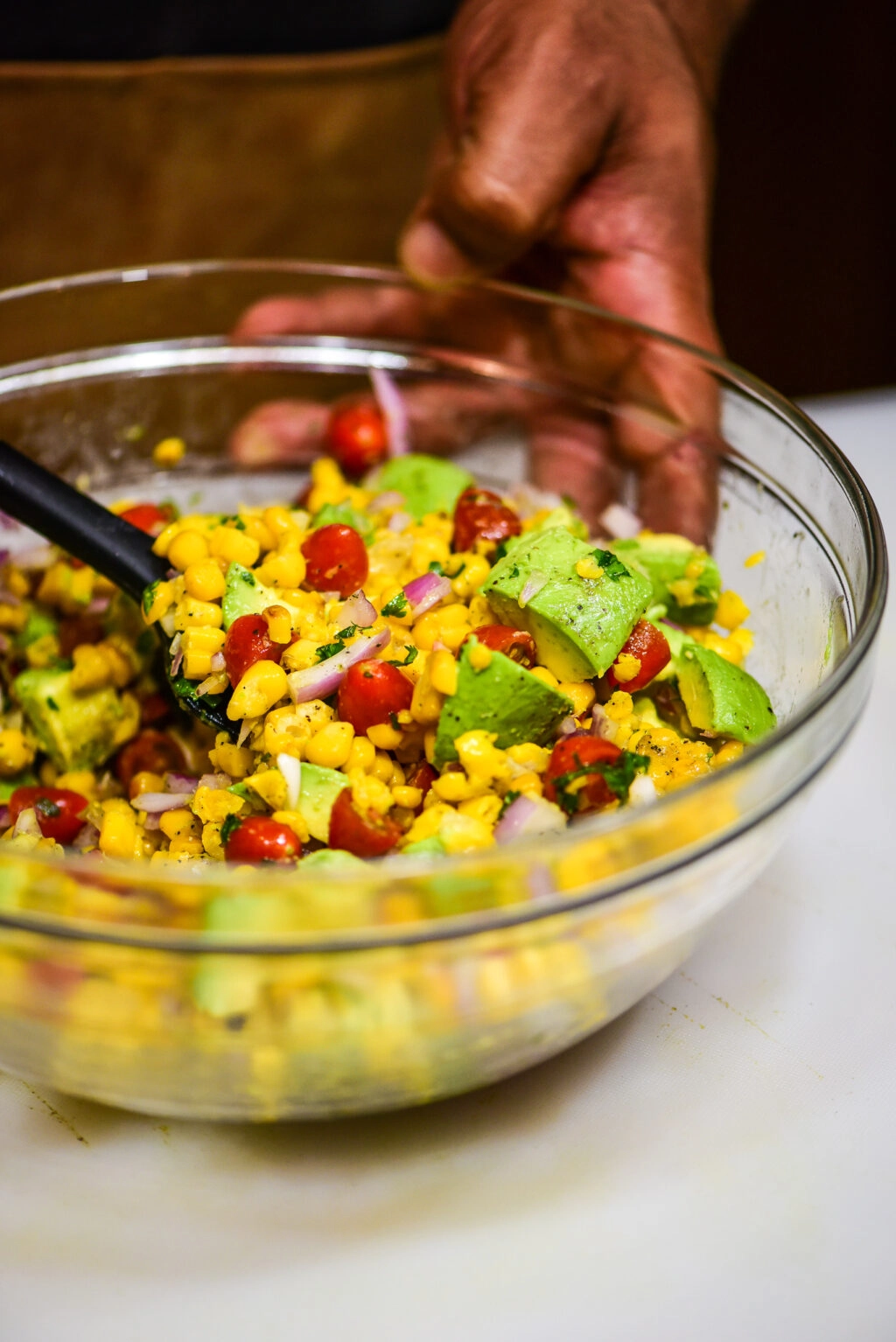 Tips when making Crispy Fish Tacos:
Once your fresh cod is seasoned and coated, ensure that your oil is hot and ready. It should only cook for a few minutes per side due to the size of the nugget and you don't want to fish sitting in the cold or warm oil as it will soak it up.
I use frozen corn that has been thawed for this recipe. If you are using fresh corn, you want to boil the corn before grilling to ensure the corn is thoroughly cooked. If you don't boil the corn first, the corn will take 20-30 minutes to grill and can become tough, dry out, or overcook.
If you don't have access to a grill, you can place the corn in the oven to roast them. Place the corn in the oven and roast from approximately 20 to 25 minutes at 425°F, turning halfway through.
You can place the tortilla directly on your hot grill but be careful not to burn them — they grill fast!
I've found that using a bundt plan makes shucking the corn easier. Once shucked, you can place the corn kernels in a large bowl before mixing them with the other ingredients.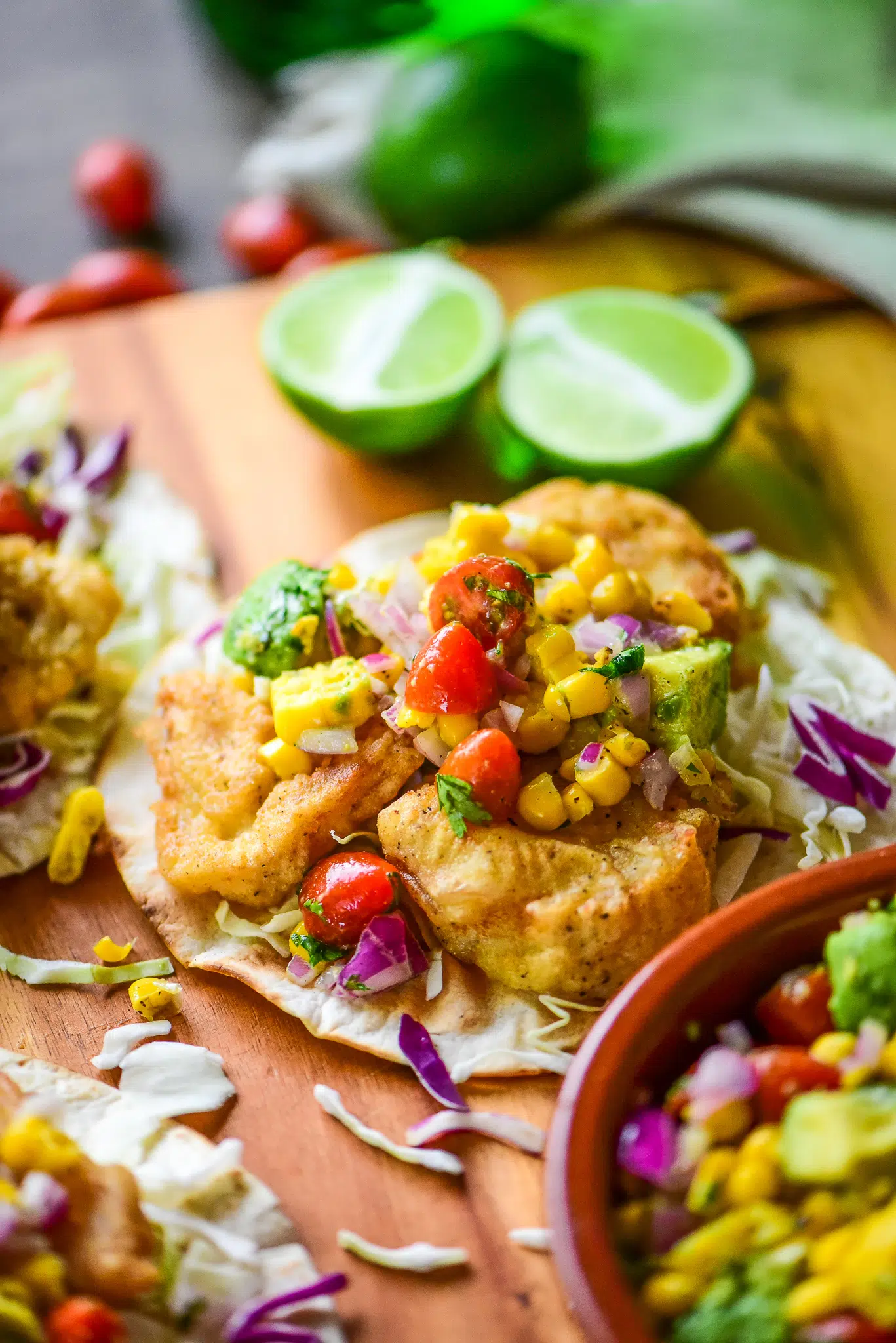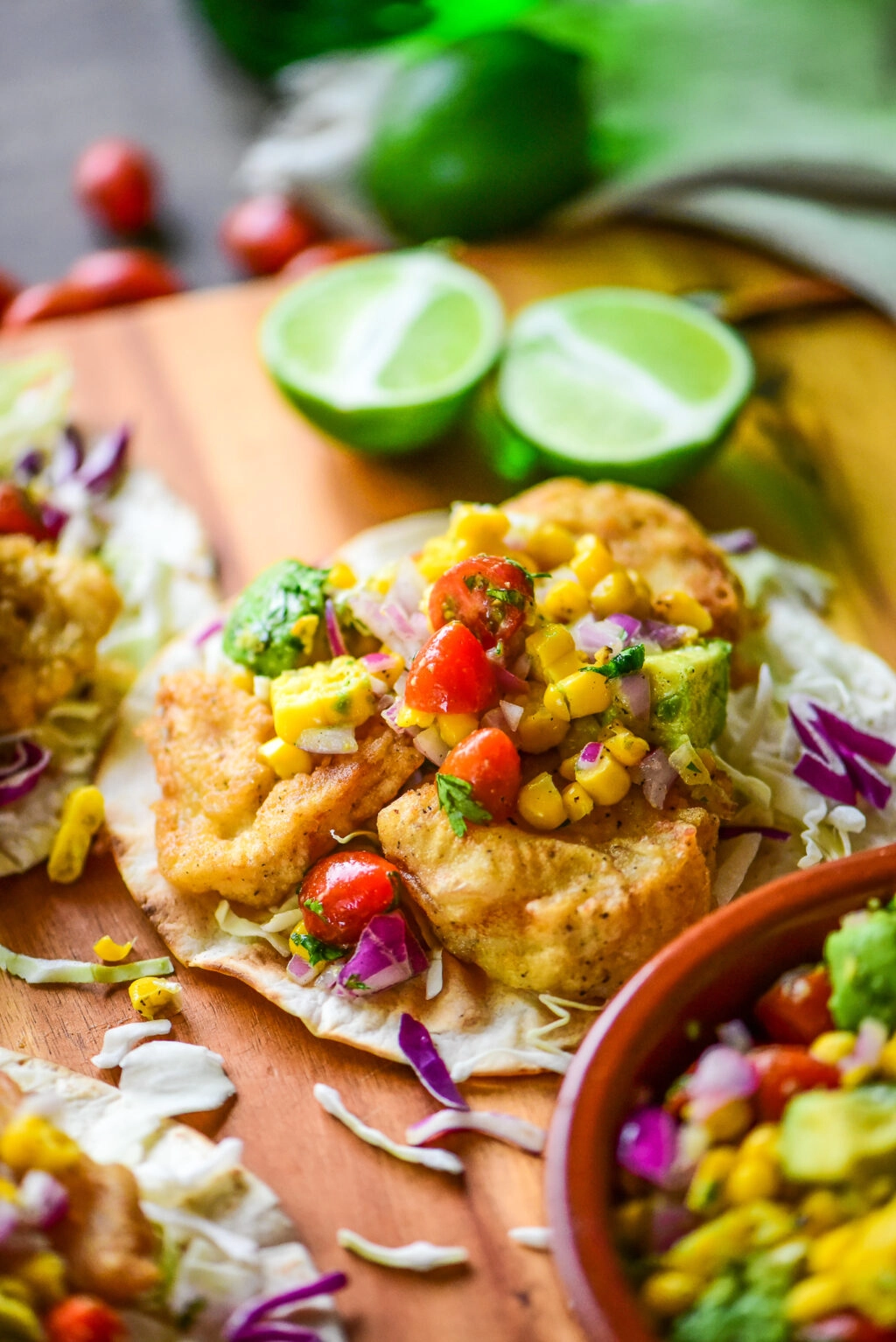 Crispy fish tacos are always a great idea — especially when you top them with freshly grilled corn salsa with avocado! This pairing is perfect for the season and comes together in no time.
Print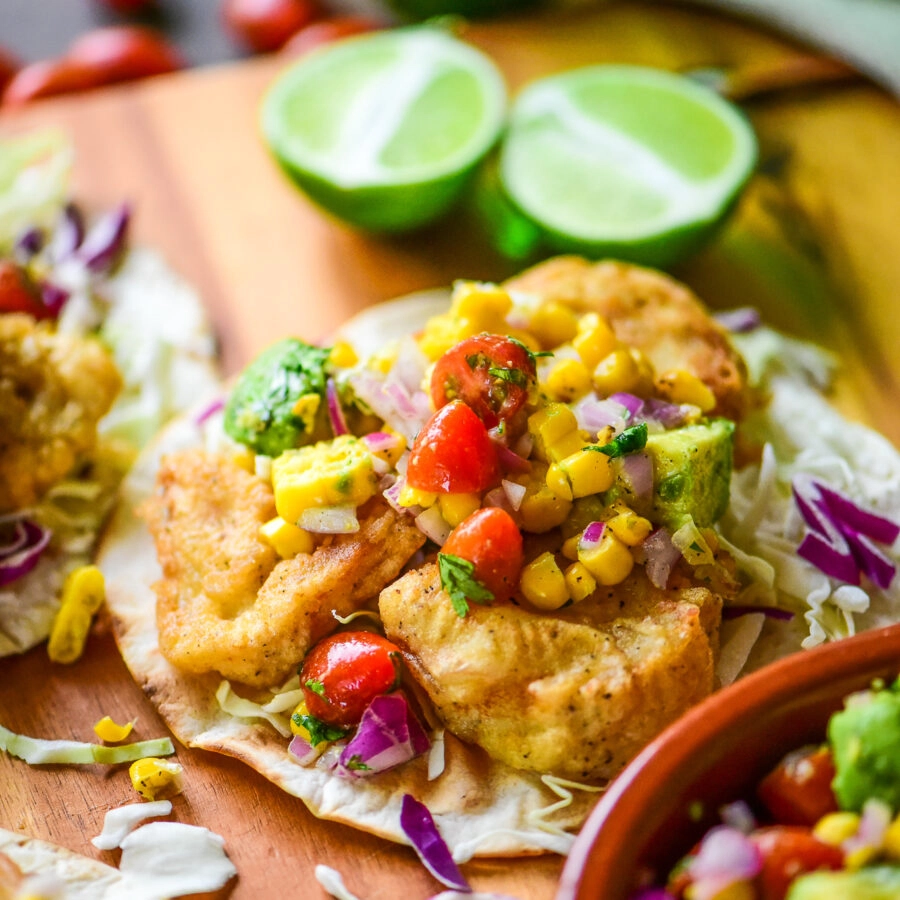 Crispy Fish Tacos with Grilled Corn Salsa
---
Author:

Eric Jones

Total Time:

35 minutes

Yield:

4

1

x
Description
These Crispy Fish Tacos topped off with a homemade Grilled Corn Salsa are perfect for your next Taco Tuesday, picnic, or backyard gathering. They are easy to make and some of the freshest tacos you'll ever make.
---
3/4

cup

sparkling water

4

soft flour tortillas, warmed or grilled

1

lb

cod fish fillet, cubed

1

cup

all-purpose flour

1/4

cup

cornstarch

1

large organic egg

2

small limes

1/2

cup

fresh cilantro leaves

1 tsp

garlic powder

1 tsp

pink sea salt

1 tsp

black pepper
sour cream, optional
shredded cabbage, optional
sriracha, optional
Grilled Corn Salsa:
1

cup

corn kernels

2

medium avocados, diced

4

oz

cherry tomatoes, halved

1/2

cup

red onion, chopped
---
Instructions
Grill corn on the cob for 3 to 5 minutes per side or until slightly charred.
Remove corn kernels from the cob and place in a large bowl along with red onion, tomatoes, 1/2 tsp salt, 1/2 tsp black pepper, cilantro leaves, and avocado. Squeeze lime juice over ingredients and mix.
Cut fish filets into large chunks and season evenly with 1/2 tsp salt, 1/2 tsp black pepper, and 1/2 tsp garlic powder.
Whisk

(paid link)

flour, cornstarch, egg, and 1/2 tsp garlic powder in a large bowl. Slowly pour in Mountain Valley Sparkling Water. Lightly stir until combined.
Heat skillet at medium-high heat and add an inch of cooking oil. Dip fish in the batter and fry for 3 minutes per side.
Serve with soft tortilla shells and shredded cabbage. Top with corn salsa. 
Prep Time:

15 minutes

Cook Time:

20 minutes

Category:

Comfort Food

Method:

Grill/Oven

Cuisine:

Spanish
Nutrition
Calories:

449

Sugar:

3.4g

Sodium:

623mg

Fat:

17.5g

Carbohydrates:

50g

Fiber:

7.7g

Protein:

25.2g

Cholesterol:

73mg
Keywords: Crispy Fish Tacos, Grilled Corn Salsa, seafood tacos, fish tacos, corn salsa, corn relish