I can openly admit that I suffer from a case of the sweet tooth and these Luscious Lemon Bars do not help to keep this condition under control – at all.
This is a simple recipe but the flavors are awesome! Mixing lemon juice, lemon zest and sugar line up together in sweet harmony. If you love sweets and you love the taste of lemons, these Luscious Lemon Bars are a must have. Enjoy!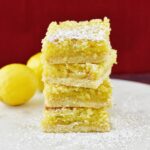 Ingredients
For the Crust:

1/2 cup Butter, softened

1 and 1/4 cup All Purpose Flour

1/4 cup Sugar

1/4 cup Powder Sugar

For the Lemon Topping:

4 Large Organic Brown Eggs

2 Medium Lemons for Juice and Zest

1/4 cup All Purpose Flour

1 tbsp Baking Powder

1 and 1/2 cup Sugar

1 tsp. Vanilla Extract
Instructions
1. Begin by adding all purpose flour, sugar, powder sugar and soft butter into a large bowl.
2. Stir the ingredients until it begins to crumble.
3. Coat 8-inch square baking dish with non-stick spray (or you can use butter).
4. Add the crumbled ingredients to the baking dish and mash down until it becomes flat.
5. Pre-heat oven to 350 degrees. Bake the crust for 25 minutes then set to side once its complete.
6. While the crust is baking, use a grater and zest the lemons until you have 1 tbsp of lemon zest.
7. Once you have the zest, slice the lemon in half and remove 1/3 cup of juice from the lemons with a squeezer.
8. Add lemon zest, lemon juice, vanilla extract and 4 eggs into a large bowl and blend until mixed well.
9. Once mixed, add all purpose flour and baking powder to the bowl and blend with hand blender until it is smooth and begins to rise.
10. Pour lemon mixture evenly over the crust and bake in the oven for 30 minutes.
11. Once done, allow to cool and top off with powder sugar, then serve.