Quick & Easy Chicken & Sausage Jambalaya
Jambalaya is a staple dish in Louisiana cuisine. It doesn't get any better than preparing (and sharing) a great recipe you've enjoyed for most of your life. Made with a hearty ratio of tender chicken breast and juicy chicken sausage, my easy Chicken & Sausage Jambalaya is filled with Creole and Cajun flavors and even packs a little heat.
This post has been written in partnership with Success Rice. All opinions are mine alone.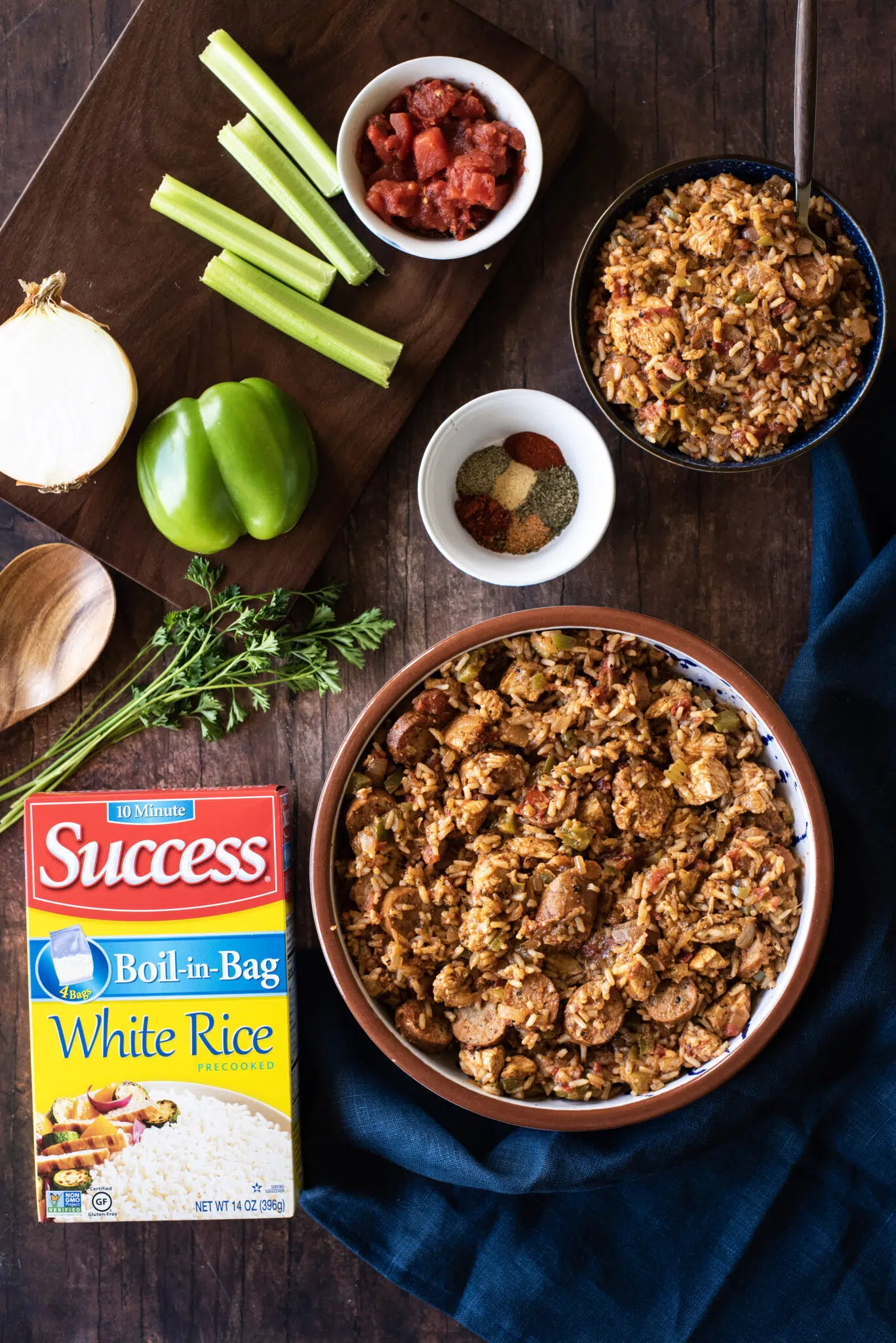 Growing up in Louisiana, food with huge flavor was par for the course, and jambalaya is at the top of my list of all-time favorites. This one-pot recipe is simple to make, and Success Rice makes the process even easier — with perfect, fluffy rice every single time.
I can remember attending family cookouts and how the person in charge of the jambalaya was the captain of the ship. Making jambalaya is serious business! It would always be made in a giant cast iron skillet (paid link) over a fire outside. The aroma of the "holy trinity" (onions, celery, and bell peppers), along with those Cajun spices, had everyone anticipating what was to come.
What is the difference between Cajun and Creole jambalaya?
Jambalaya is a mixture of West African, French, and Spanish food cultures. It dates back to the 18th century in New Orleans and southern Louisiana, where this melting pot of cultures collided.
A traditional Creole chicken & sausage jambalaya will use tomatoes as an ingredient. Cajun chicken & sausage jambalaya, on the other hand, leaves it out. The difference lies in the flavor profile. I am combining both Creole and Cajun flavors by using tomatoes and blending that with Cajun seasonings for this recipe.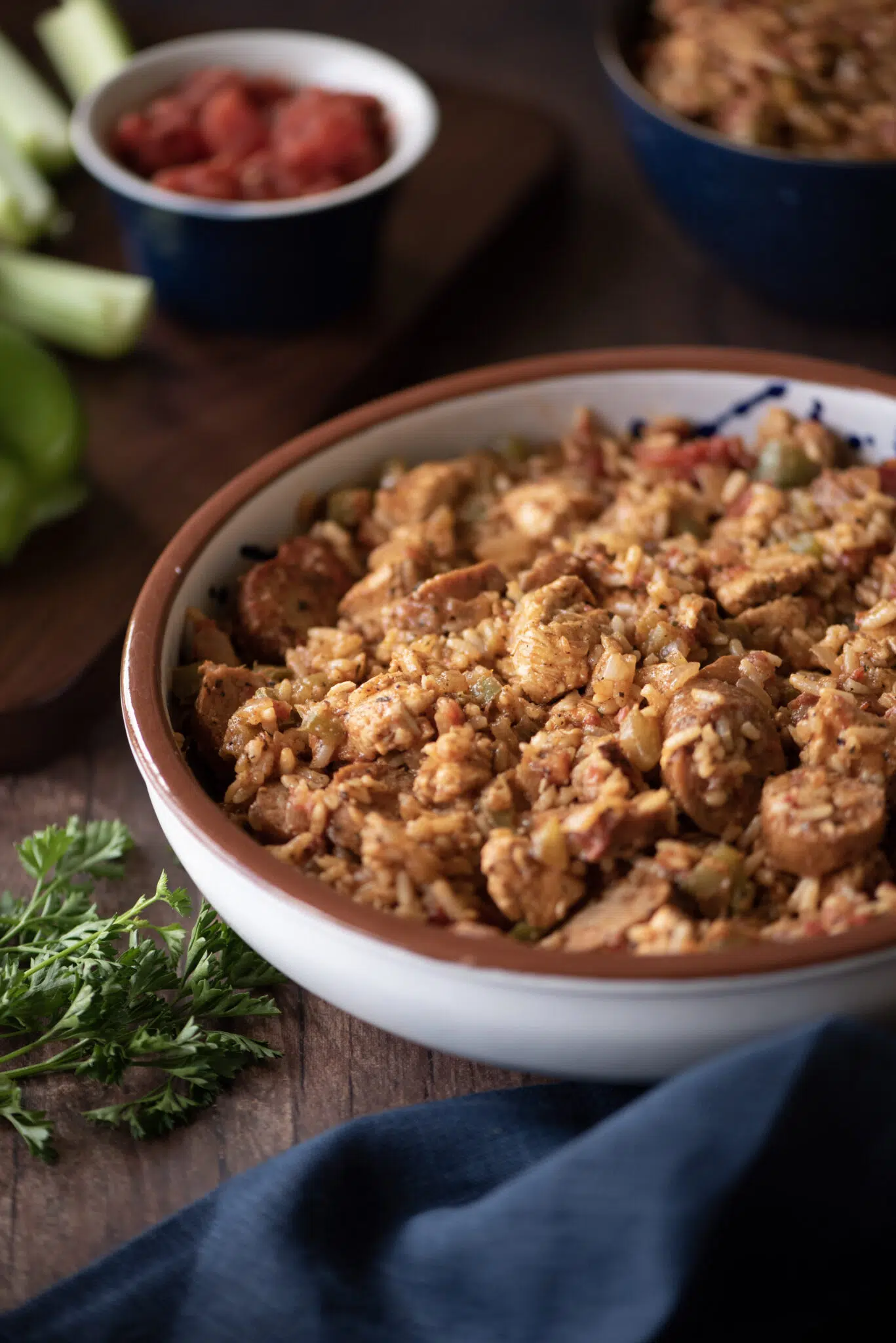 Can you use pre-cooked rice?
Absolutely, and that was my choice for this recipe. Traditionally, jambalaya is prepared using uncooked rice that is cooked along with the other ingredients. However, I find using precooked rice results in the same flavorful dish.
The rice will not be mushy, nor will it clump together. It takes on the flavors in the dish very well. Success Rice is an easy boil-in-bag option and only takes 10 minutes to prepare.
And because this rice is not sticky and fluffs perfectly right out of the bag, you don't need to rinse the rice before adding it to your pot. (This would normally be an extra step to remove the starches on the surface of cooked rice that may cause the rice to clump.)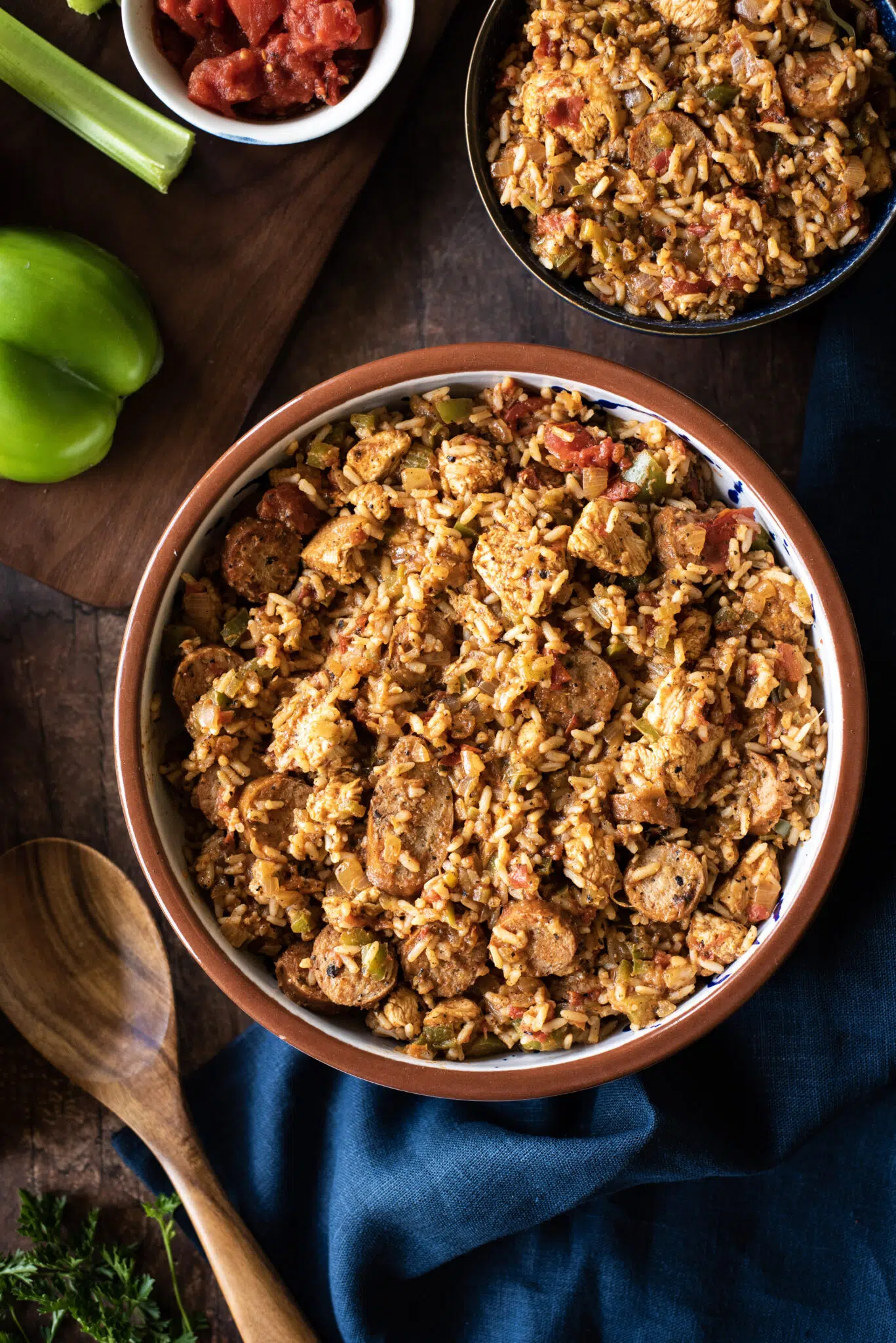 What you'll need to make this jambalaya:
Success® Rice Boil-In-Bag White Rice is ideal — no sticky rice and no mess.
The "holy trinity" of yellow onions, celery, and green bell pepper is a must.
For my proteins, I used boneless chicken breast (seasoned with smoked paprika and thyme) and chicken sausage. Feel free to add in or switch out with any protein of your choosing. It is also great with fish, like cod.
At the base of my jambalaya is the fire-roasted tomatoes. Because jambalaya does not contain a lot of liquid, I find this provided the perfect amount of moisture.
To bring the heat, I used black pepper and cayenne pepper. You can add more or less depending on your spice preferences.
And a nice helping of fresh garlic, garlic powder, basil, and let's not forgot the Cajun seasonings that bring everything together.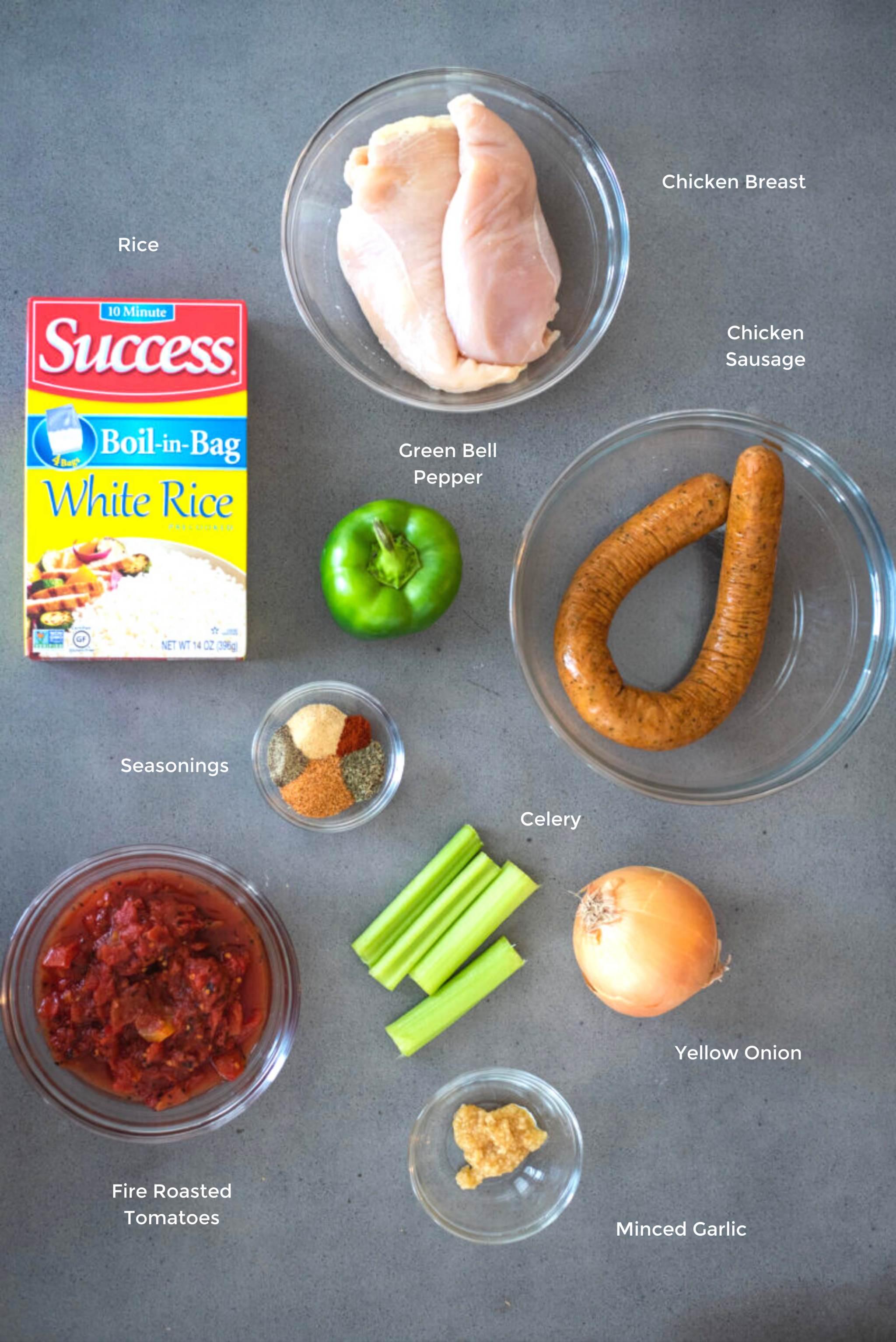 How to make Creole jambalaya:
This recipe begins with the rice because it is basically the host of the party. And jambalaya is not jambalaya without rice. Cook your Success Rice as instructed, drain, remove the rice from the bag, and set it to the side.
Cut your chicken breast into small cubes and season with ground thyme and smoked paprika. Add a small amount of olive oil to a cast iron skillet

(paid link)

and saute the chicken for 3 minutes on medium-high. Remove from the pan and set it to the side. Since you'll be cooking the chicken a little longer with the other ingredients, it is important not to overcook the chicken in this step.
Chop your sausage into slices and slightly brown them in the same pan. Remove the sausage from the heat and set it to the side as well.
While the skillet is still hot, add your butter and minced garlic to those tasty chicken and chicken sausage drippings you left behind.
You can't have jambalaya without the holy trinity, so dice the onion, celery, and green bell pepper and add them to the skillet. Cook until they become soft and translucent.
Drain the excess liquid from the can of fire-roasted tomatoes and add to the skillet.
Add the cooked chicken sausage and chicken breast back to the skillet and top with remaining seasonings.
Once the ingredients are blended well, add the cooked rice to the skillet. Lower the heat while continuing to stir all the ingredients together.
Allow to cook covered on low heat for an additional 10 minutes, then serve.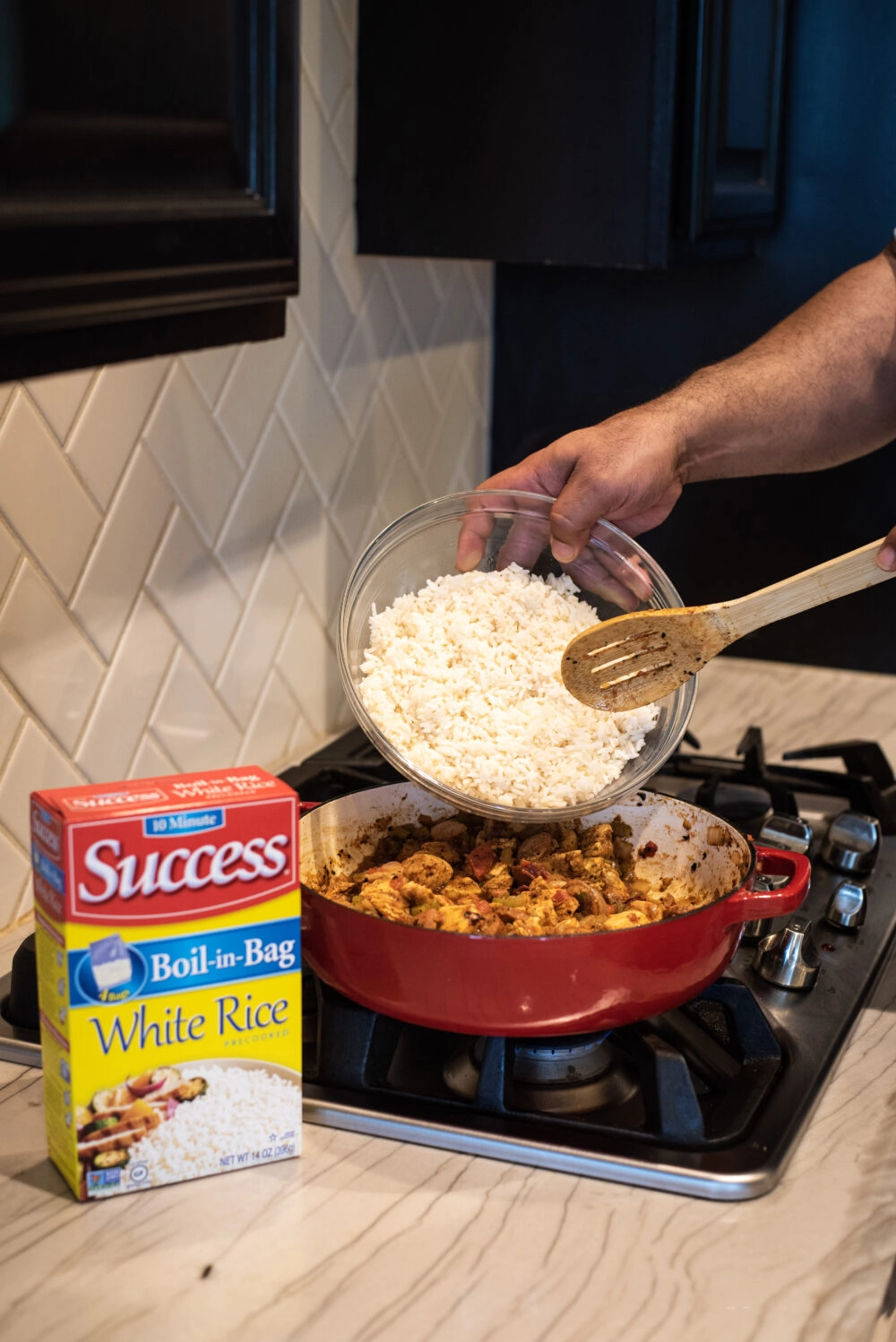 Can I refrigerate or freeze jambalaya?
You can keep your jambalaya in the fridge in an airtight container for 3-4 days, and it can keep in the freezer for up to 3 months. Make sure to allow the jambalaya to thaw before reheating it if it has been in the freezer.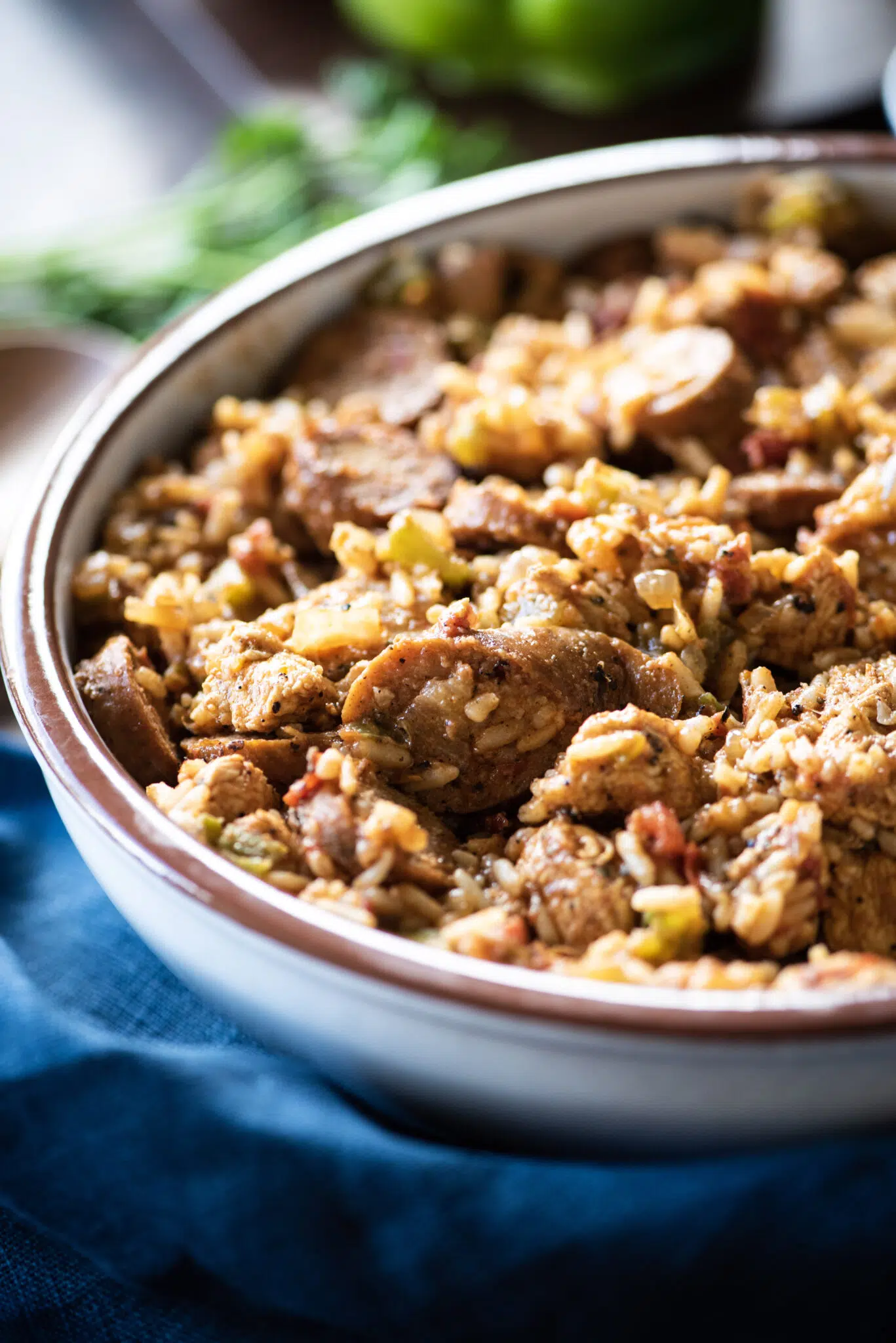 Jambalaya is an easy recipe that is packed with flavor! When you want to experience an awesome Louisiana dish, give this recipe a spot on your dinner table — and don't forget the Success Rice. 🙂
This recipe requires a little love and it shows when you take your first bite.
Print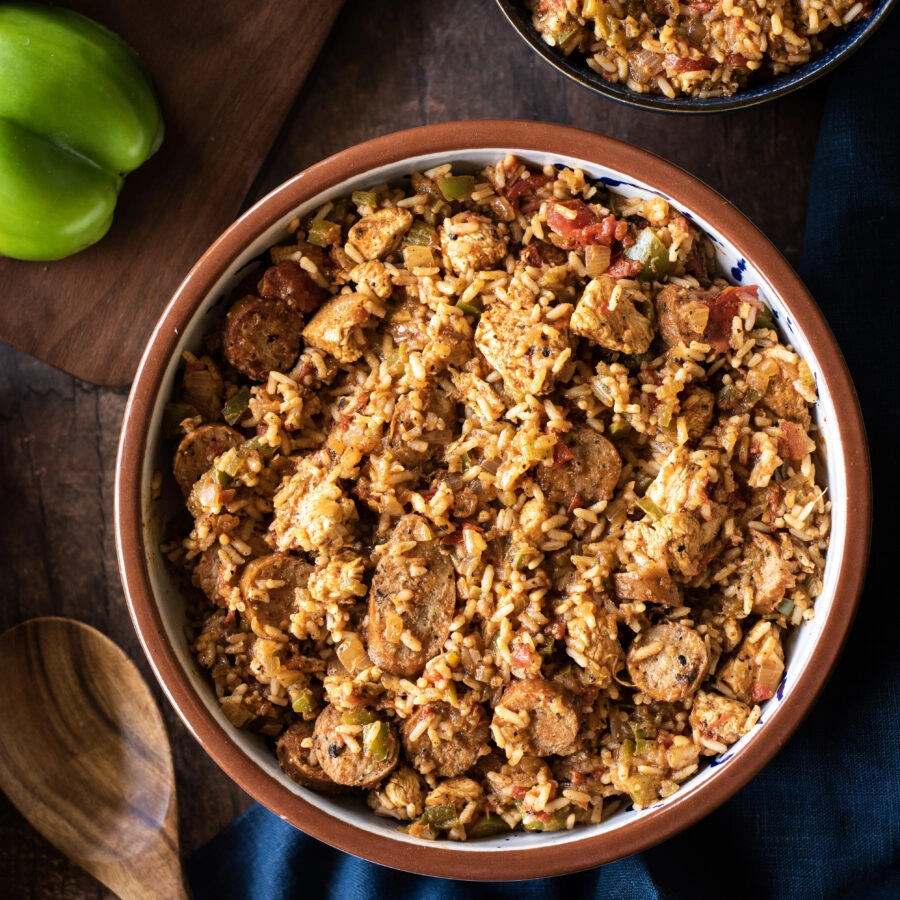 Creole Chicken and Chicken Sausage Jambalaya
---
Author:

Eric Jones

Total Time:

35 minutes

Yield:

4

1

x
Description
Made with tender chicken breast & juicy chicken sausage, my Creole Chicken & Sausage Jambalaya is filled with Cajun flavors and packs a little heat.
---
13 oz

. Chicken Sausage

1

lb. Boneless Chicken Breast

15 oz

. Fire Roasted Diced Tomatoes

1

Whole Green Bell Pepper

1

Whole Yellow Onion

1/2 cup

Chopped Celery

2 tbsp

. Butter

1 tbsp

. Minced Garlic
Seasonings for the Chicken Breast:
1 tsp

. Paprika

1/2 tsp

. Ground Thyme
Seasonings for the Jambalaya:
2 tbsp

. Creole Seasoning

1 tsp

. Black Pepper

1 tsp

. Basil Flakes

1 tsp

. Garlic Powder

1/4 tsp

. Red Cayenne Pepper
---
Instructions
Cook Success Rice Boil-In-Bag White Rice according to instructions. Set to the side.
Cut chicken breast into small cubes and season with chicken breast seasonings. Saute chicken breast on high heat for 3 minutes or until pink is removed. Remove from heat.
Slice chicken sausage. Cook on high heat until browned. Remove from heat and set to the side.
To the same skillet, add butter and minced garlic. Chop your onions, celery, and green bell pepper into small diced pieces. Cook on medium heat until vegetables become soft and onions are translucent.
Drain the excess liquid from the fire-roasted tomatoes add to the skillet with vegetables.
Add chicken and chicken sausage back to skillet. Add rice. Top with jambalaya seasonings and mix well. 
Cook covered for 10 minutes on low heat. Serve immediately.
Prep Time:

10 minutes

Cook Time:

25 minutes

Category:

Comfort Food

Method:

Stove Top

Cuisine:

Southern
Nutrition
Calories:

592

Sugar:

4.3g

Sodium:

1801mg

Fat:

27.3g

Carbohydrates:

45g

Fiber:

2.3g

Protein:

38.4g

Cholesterol:

129mg
Keywords: Creole Chicken and Chicken Sausage Jambalaya, Creole Jambalaya, Jambalaya, Chicken Jambalaya