These Braised Short Ribs with Cheese Grits will take you to food euphoria from the very first bite! Tender, fall-off-the-bone beef short ribs glazed in a rich red wine sauce and served on top of cheesy stone ground yellow grits --- dinner has now been served!
These are made in the Instant Pot for dinner in about an hour! However, I've also included instructions below for the good ole low and slow method in the oven.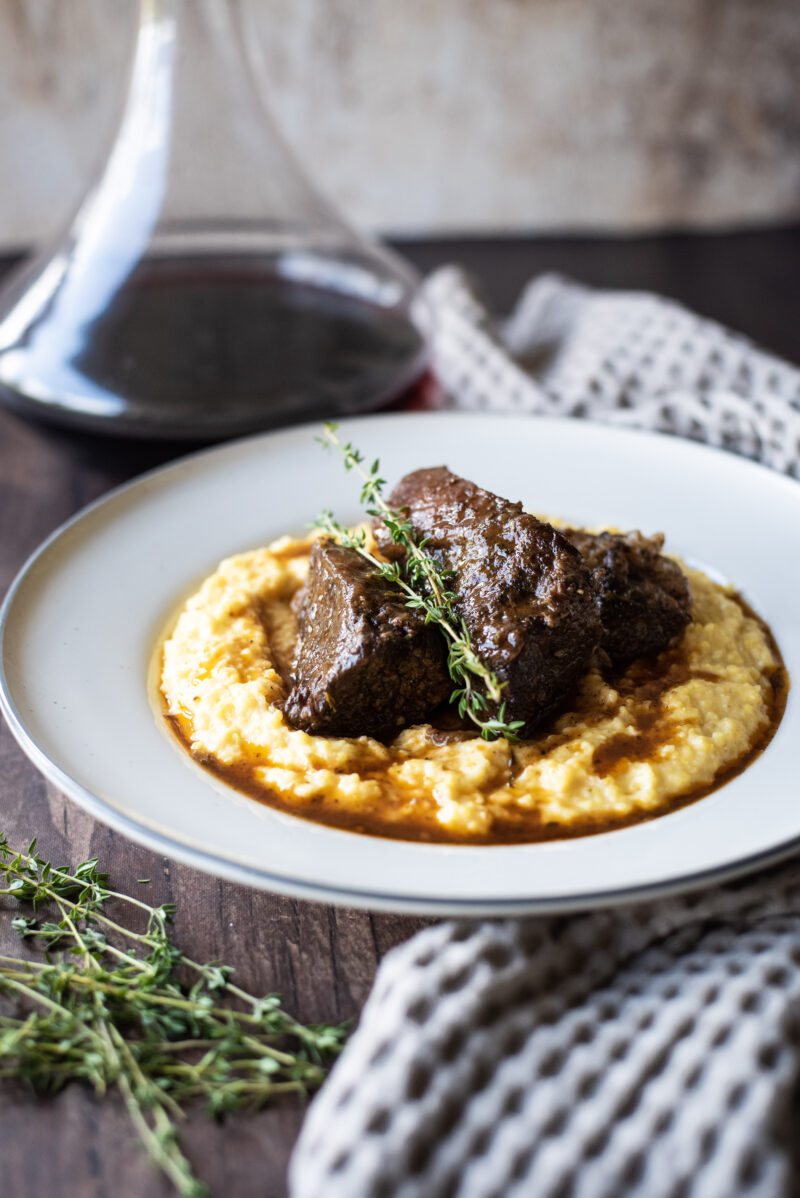 This recipe will definitely bring a restaurant-quality experience right to your dinner table. Not only are the short ribs amazingly tender, but the robust flavors from the sauce and the Southern-prepared cheese grits are an extra bonus.
Ever since I enjoyed bone-in short ribs for the very first time, I wanted to create my own version. It's comfort food at it's best.
What does it mean to braise beef short ribs?
"Braise" simply means the dish was cooked with two cooking techniques. The ribs are first seared at a high temperature (for this recipe in the Instant Pot). Second, the ribs are covered and allowed to cook submerged in a delicious beef broth and red wine mixture. The end result is flavorful and tender meat.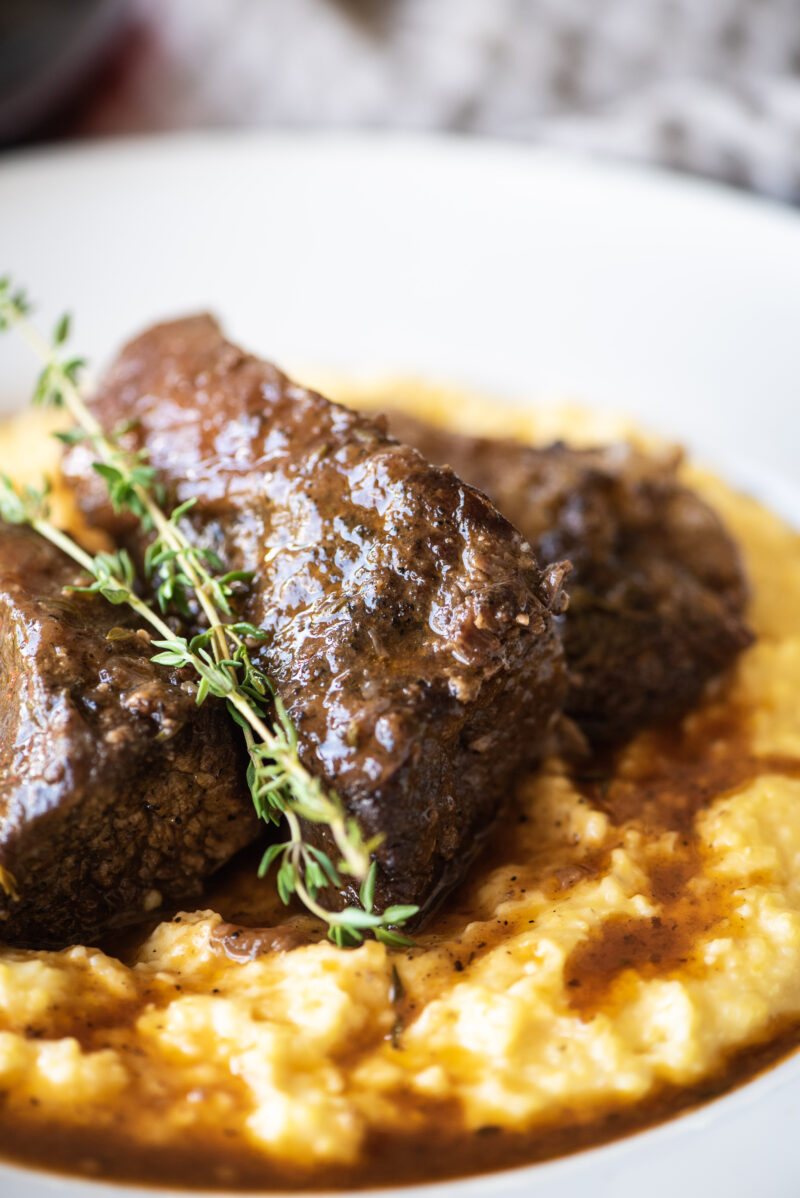 Ingredients you'll need:
English-cut style (cut between the ribs) Beef Short Ribs are the foundation of this recipe. These typically come pre-chopped from your local butcher and should come with the bone-in.
You'll season your short ribs simply with Himalayan Salt and Black Pepper.
After seasoning and searing your short ribs, they'll cook in a tasty blend of Beef Stock, Malbec Red Wine, Tomato Paste, Fresh Garlic, Chopped Onions, Fresh Thyme Leaves, Butter, Brown Sugar, Oregano, Black Pepper, Garlic Powder, Onion Powder, Ground Thyme, and Himalayan Salt.
I'm a firm believer in cooking with the same quality of red wine as you would drink. I chose to go with a Malbec for the red wine because it's full-bodied with fruity flavors and a slightly smoky finish. It's perfect for this dish.
For the cheesy grits, I used PALMETTO FARMS Stone Ground Yellow Grits. The stone ground grits are combined with Whipping Cream, Himalayan Salt, Butter, and Shredded Cheddar Cheese.
How to make braised short ribs and grits:
Note: I used the Instant Pot to pressure cook this meal but you can also bake your dish in the oven if you don't own an Instant Pot and get the same results. The total cooking time on the Instant Pot is 60 minutes and around 3 hours in the oven.
This recipe begins with the short rib prep. You'll simply season the short ribs then sear at high heat for 2 minutes on both sides. This provides a nice caramelized exterior before the pressure cooking begins.
Using the Instant Pot, set the setting to saute high and wait until the "Hot" notification comes on. Place the short ribs in two at a time. If you have a large pot you can add more, but you want to make sure to not overcrowd your pot for this step.
Once the short ribs are removed you will add your butter and minced garlic and stir until the butter is melted.
Change the Instant Pot setting to Pressure Cook High for 45 minutes. Now add in your beef stock, Malbec red wine, brown sugar, tomato paste, and fresh thyme leaves. Stir these ingredients to combine and allow to come to a light boil.
The combination of beef stock and red wine help provide those deep bold flavors while the seasoning combination brings in that herbal profile making this dish simple but special.
Place the seared short ribs back into the pot submerging them into the liquid and top with the remaining seasonings (oregano, black pepper, garlic powder, onion powder, ground thyme, and Himalayan salt).
Close the lid and cook for 45 minutes on Pressure Cook then allow the pot to slow release for an additional 15 minutes.
While the short ribs are cooking, you can focus on your cheesy grits.
Add your water and whipping cream into a pot and bring to a boil. Add your stone ground grits, lower the heat to simmer, and cook per instructions. Once complete, fold in your cheddar cheese and butter. Set this to the side until the short ribs are done.
Once the short ribs are ready, combine cornstarch and water into a small bowl. Add this to the Instant Pot. This will help the sauce thicken a bit. When you remove the short ribs from the Instant Pot your meat should already be falling off the bone!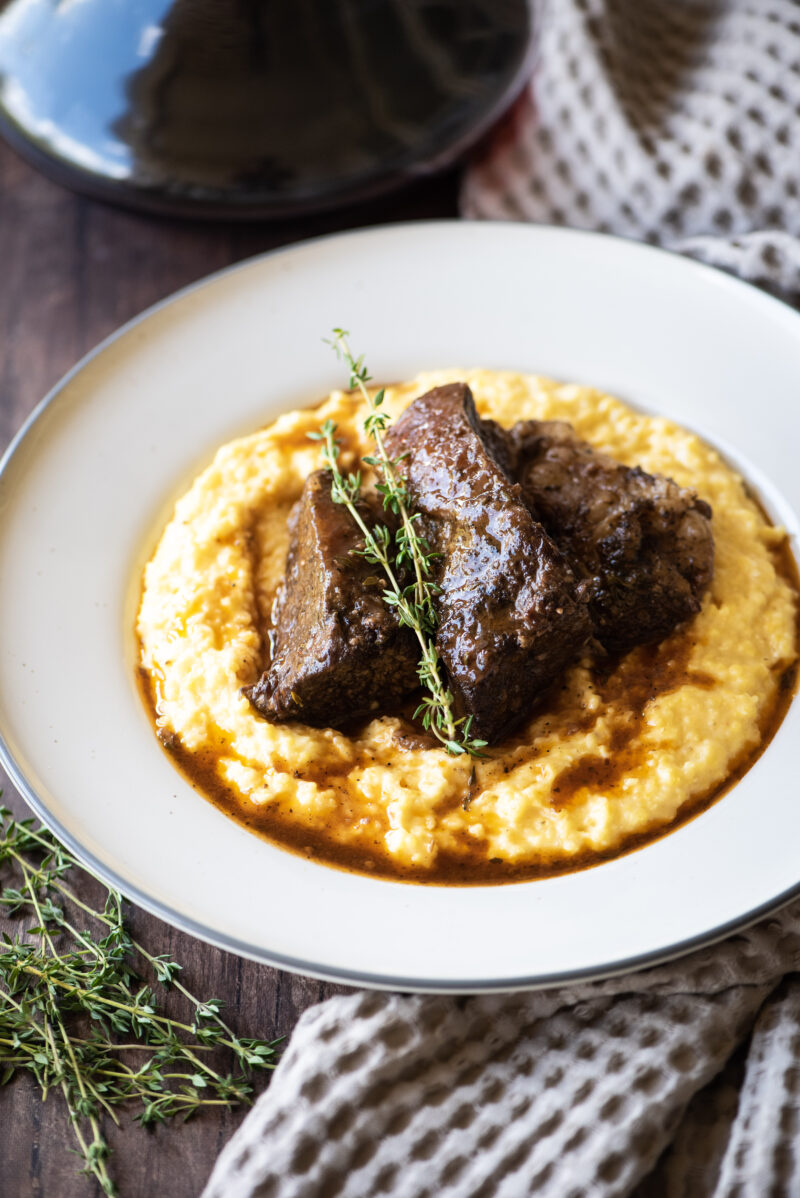 Serve tender red wine braised short ribs immediately over a nice helping of cheese grits. And don't forget to pour on some additional sauce for good measure.
What if I don't have an Instant Pot?
No Instant Pot, no problem! You can make these the way I grew up making them --- in a dutch oven. If you don't have a dutch oven, you can use any deep oven-safe pan.
You will follow the instructions just as you did for the Instant Pot preparation by seasoning and searing the short ribs. For 2-3 pounds of short ribs, bake for 1 hour at 300 degrees, then an additional 2 hours at 275 degrees. Once it's done baking, remove and allow the pan to sit for 20-30 minutes to continue its journey to greatness. 🙂
What can I serve with braised short ribs?
If you're not a fan of stone ground grits or polenta, this dish goes great with creamy mashed potatoes. Other starchy sides that pair well include steamed rice and buttery noodles (the same kind you serve with a stroganoff). To skip the starch go with roasted or steamed veggies.
Can these be made ahead of time or stored?
Absolutely! I think they are even better the next day if you have any left! They will keep in an airtight container for around 3 days.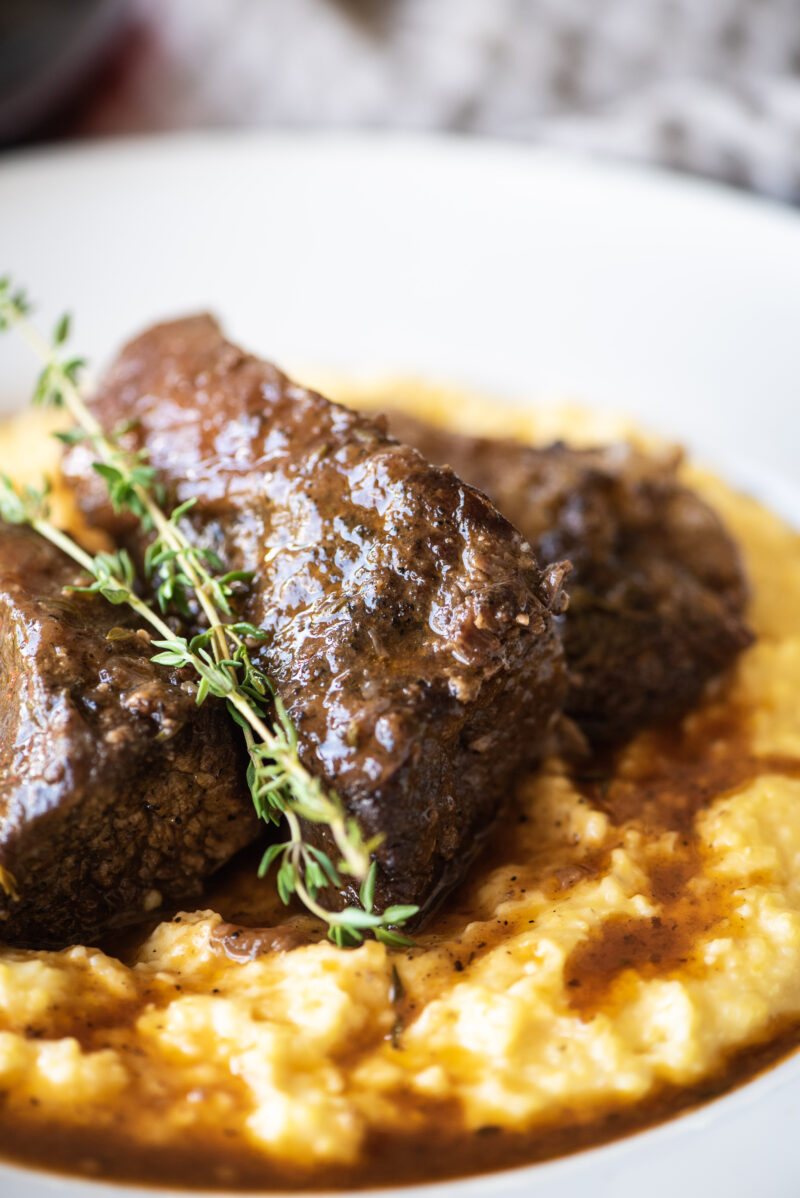 This recipe will make a great impression so be prepared for tons of compliments! When you want to bring the restaurant to your home give this Braised Short Ribs with Cheese Grits a spot on the dinner table and I can promise you will not be disappointed. Enjoy!
Here are a few more beef dinner ideas you might enjoy:
Print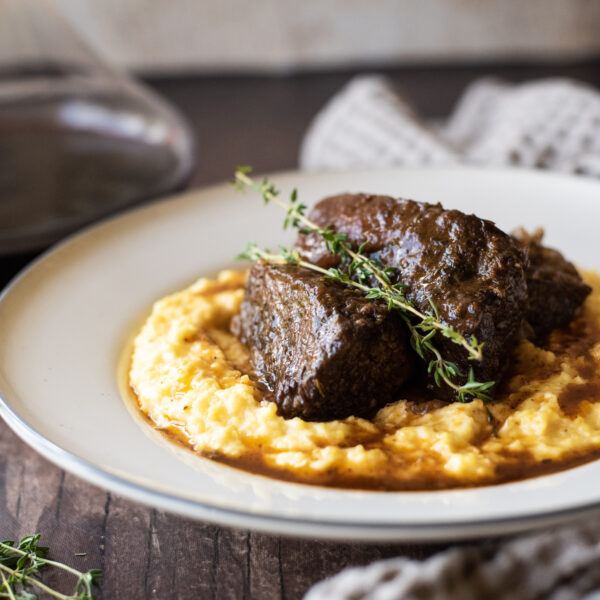 Braised Short Ribs with Cheese Grits
---
Author:

Prep Time:

5 minutes

Cook Time:

60 minutes

Total Time:

1 hour 5 minutes

Yield:

4

1

x

Diet:

Gluten Free
---
Scale
Ingredients
For the braised short ribs:
2.5

lb Bone-In Short Rib

2 cup

Beef Stock

1 cup

Red Wine

2 tbsp

Tomato Paste

2 tbsp

Brown Sugar

6

Garlic Gloves, minced

1 tbsp

Fresh Thyme Leaves

1

medium Onion, diced

3 tbsp

Butter

1 tsp

Oregano

1 tsp

Black Pepper

½ tsp

Garlic Powder

½ tsp

Onion Powder

¼ tsp

Ground Thyme

¼ tsp

Himalayan Salt
Short rib seasonings:
1 tsp

Himalayan Salt

2 tsp

Black Pepper
For the Cheese Grits:
1 cup

Stone Yellow Grits

3 cup

Water

1 cup

Whipping Cream

1 tsp

Himalayan Salt

3 tbsp

Butter

1 cup

Shredded Cheddar Cheese
---
Instructions
Set: Turn the Instant Pot to saute high.
Sear: Season the short ribs with Himalayan salt and black pepper. Add 2 tbsp of cooking oil to the hot Instant Pot and sear the short ribs for 2 minutes each side. Remove from heat.
Sauce: Change the Instant Pot setting to Pressure Cook High for 45 minutes. Add butter and minced garlic and stir until butter melts. Pour in Malbec red wine, beef stock, brown sugar, fresh thyme leaves, diced onions, and tomato paste. Stir for a few minutes until it comes to a light boil.
Cook: Place short ribs into the pot and top with remaining seasonings. Close the lid and cook for 45 minutes at Pressure Cook High then slow release for 15 minutes.
Grits: While short ribs are cooking, add water and whipping cream into a pot and bring to a boil. Add stone ground grits and stir before lowering the heat to simmer. Cook covered for 20 to 25 minutes or as instructed. Once complete, fold in butter and cheddar cheese. Stir until smooth.
Finish: When the steam is released from the Instant Pot remove the lid. Add 1 tbsp of water and cornstarch to a small bowl. Add this combination to the short ribs and sauce. Stir.
Assemble: Add cheesy grits to a bowl and top off with short ribs and red wine sauce.
Equipment
Notes
If you do not have an Instant Pot, you can bake your short ribs in the oven for 3 hours. See the note above in the post for the details.
You can substitute the fresh garlic cloves for 3 tsp. pre-minced garlic.
Choose any red wine you enjoying drinking. However, I typically use a Cabernet Sauvignon, Merlot, or Malbec.
Category:

Dinner

Method:

Instant Pot

Cuisine:

American
Nutrition
Calories:

1932

Sugar:

6.8g

Sodium:

1151mg

Fat:

145.5g

Carbohydrates:

14.7g

Fiber:

2g

Protein:

140.6g

Cholesterol:

657mg
Keywords: Braised Short Ribs with Grits, Braised Short Ribs with Cheese Grits, Braised Short Ribs