I'm from an area of Louisiana where the dessert options are always on-point! And I thought when I moved from Louisiana to Texas I would miss out on some of the dishes I grew up enjoying…until I went to a local steakhouse that served a fantastic Bananas Foster Cake on the menu.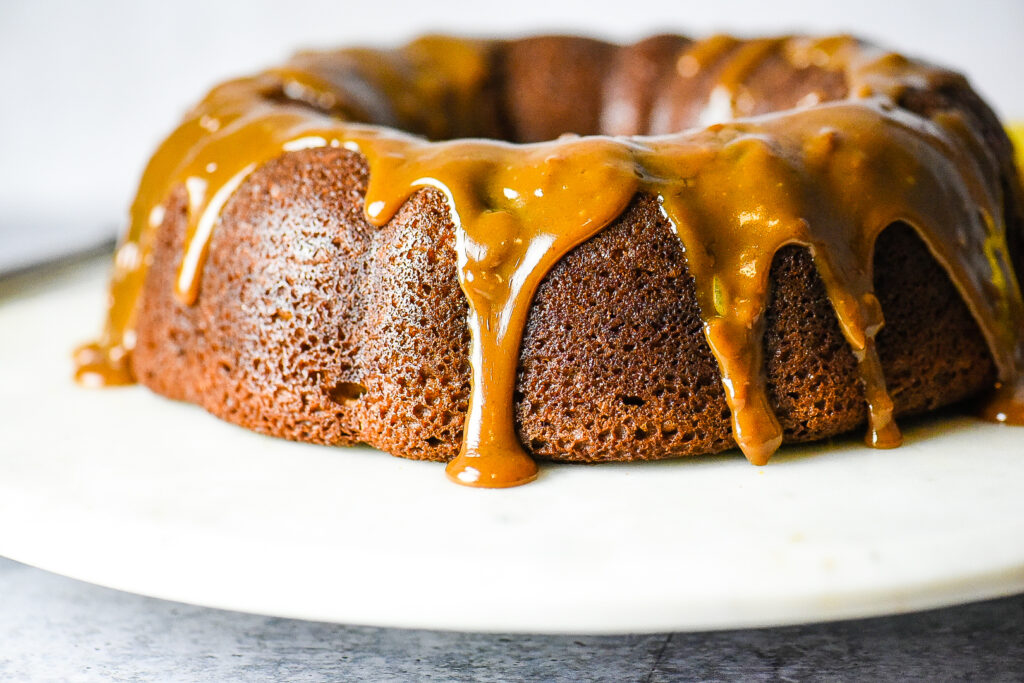 I had to come up with my own take on this great dessert and the idea of a Bananas Foster Bundt Cake came to mind. Bananas Foster is a traditional New Orleans dessert created in the early 1950's by chef Paul Blange. Since New Orleans was a major port for bananas shipped from Central and South America, he had the timely challenge of creating a dessert using bananas.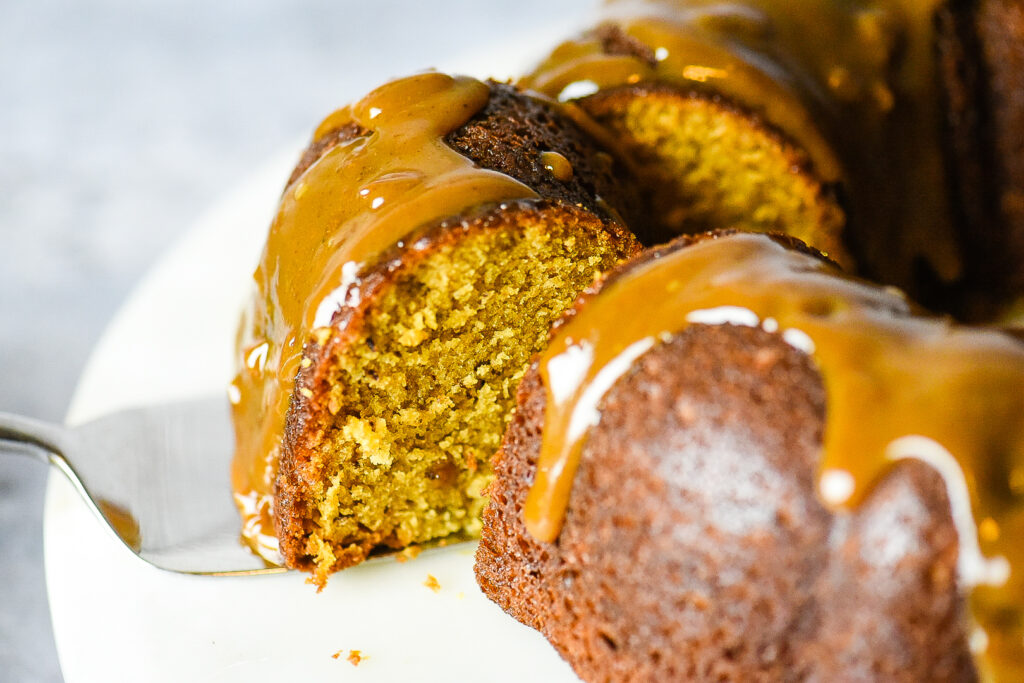 Traditionally, Bananas Foster is served in a shallow bowl of vanilla ice cream topped with flambéd bananas and a decadent sauce made from butter, brown sugar, cinnamon, rum, and banana liqueur. To transform those flavors into a cake, I opted for the bundt style. I really love bundt cakes so I figured why not combine the two ideas into one.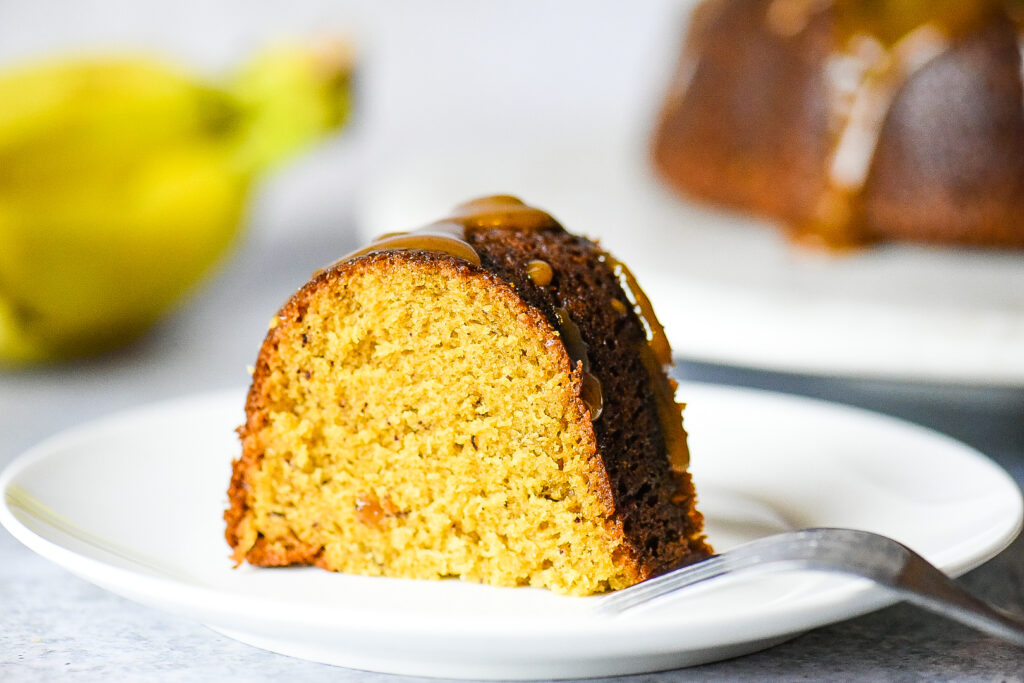 The cake doesn't have an overbearing banana taste but you definitely know it's there. The sauce is pretty simple to make but takes some patience while getting the sugar and butter mixture to caramelize before adding the other items to prep for the drizzle. Once the banana-flavored cake is complete, it is topped with a heavy-handed pour of rum sauce. Sounds — and tastes — divine.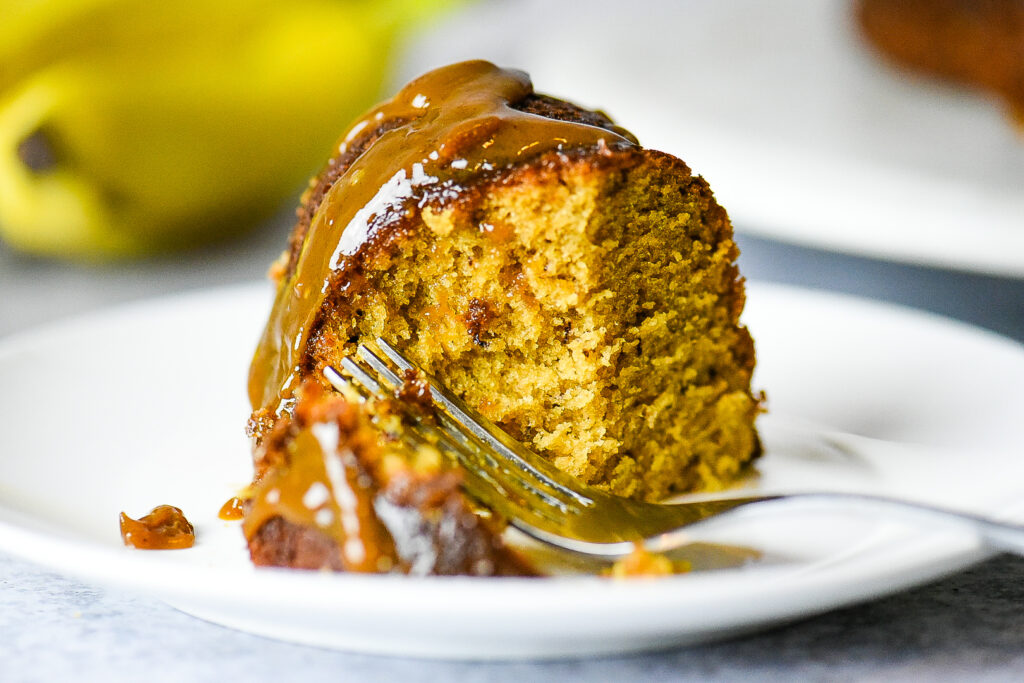 When you want to treat your favorite people with a great dessert, try this Bananas Foster Bundt Cake and everyone will be impressed!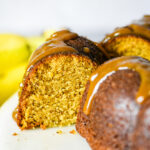 Ingredients
2 Large Rip Bananas

2 cup All Purpose Flour

1 cup Sugar

1 cup Brown Sugar

1 Stick Butter (Softened)

1 tsp Baking Powder

1 tsp Baking Soda

1 tbsp Vanilla Extract

1 tsp Lemon Extract

1/4 cup Mascarpone Fresca

4 Large Organic Eggs

3/4 cup Organic Milk

For the Sauce:

1 Stick Butter

1/2 cup Brown Sugar

2 tbsp Sugar

1/2 tsp Ground Cinnamon

1/4 tsp Nutmeg

1/2 tsp Vanilla Extract

3 tbsp Dark Rum

1/4 cup Evaporated Milk
Instructions
Pre-heat oven to 350 degrees.
Begin adding flour, brown sugar, baking powder and baking soda into a large bowl and slightly mix together.
In a separate large bowl, add bananas and mash until they smooth out. Add Mascarpone Fresca, softened butter, vanilla extract, lemon extract and sugar to the same bowl.
Separate the eggs. Add one egg yolk at a time to the banana mixture. Once all 4 egg yolks are added, slowly blend. Leave the egg whites in a separate bowl for use later.
Add the milk to the banana mixture and blend until smooth.
In the bowl with the leftover egg whites, whip (using blender) until they begin the foam and rise. Set to the side.
Add the banana mixture slowly into the dry/flour bowl blending on low speed until smooth.
Pour the egg whites into the cake mix and slowly fold in until blended.
Spray bundt cake pan with non-stick spray. Pour cake mix evenly into the pan. Even out the mixture by shaking the bundt pan from side to side.
Bake cake for 45 minutes. Set to the side when done. Allow to cool for 20 minutes.
While the cake is cooling, add butter, brown sugar, and sugar to a cooking pan. Cook on medium heat constantly stirring until the mixture begins to combine and becomes thick.
Slightly lower heat then add cinnamon and nutmeg and continue to stir after it thickens. Add vanilla extract and rum to pan and stir. Once all ingredients are blended well, add the evaporated milk. Stir until desired consistency then remove from heat.
Flip the cake onto the flat surface or serving sheet then add sauce evenly over the top of the cake.
Serve immediately — and with a side of vanilla ice if you so choose.