Quick & Easy Avocado Hummus
If you love hummus, you'll certainly enjoy Avocado Hummus! Creamy avocado paired with extra virgin olive oil, chickpeas (garbanzo beans), tahini, garlic, and a few other seasonings has become a go-to snack in my home.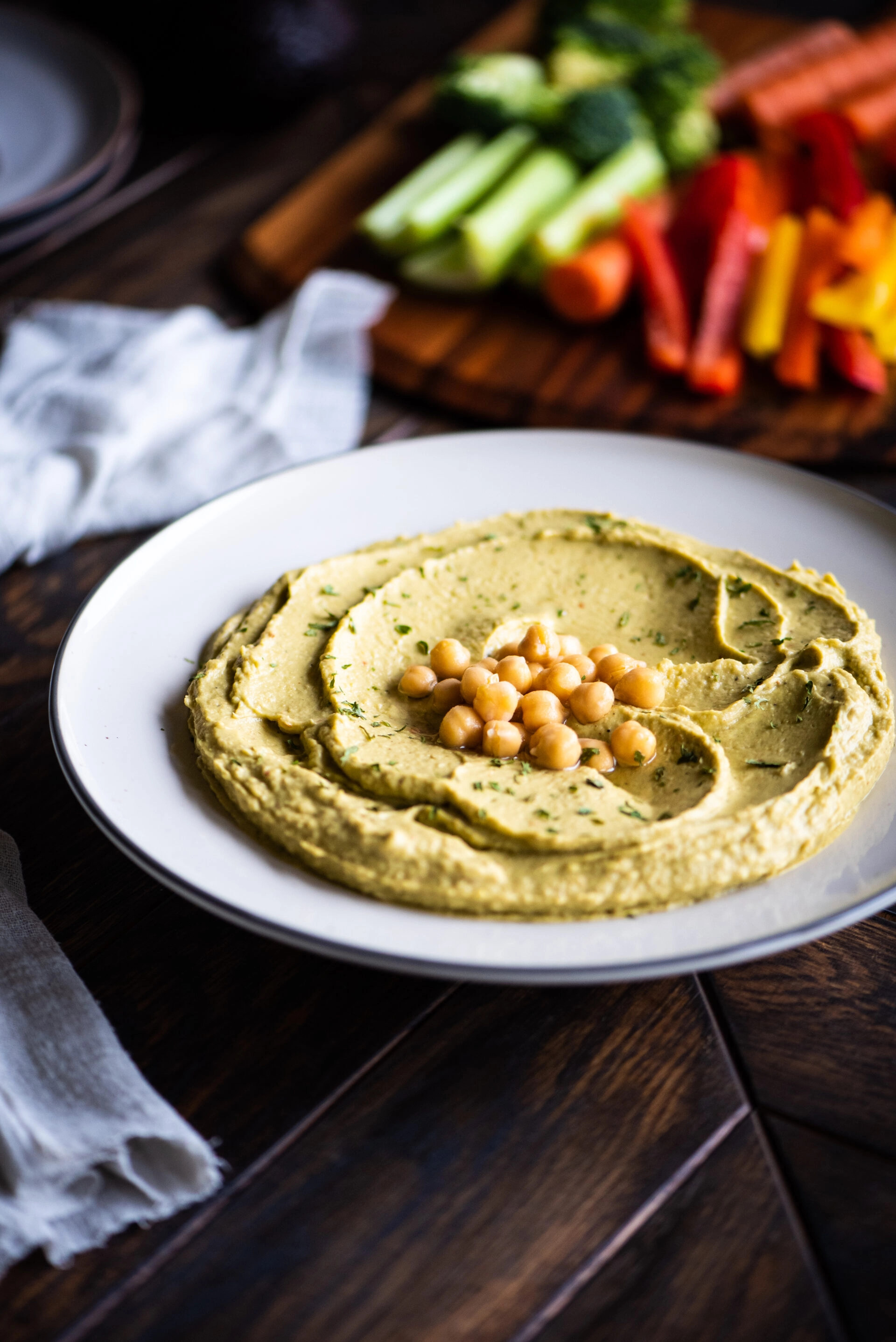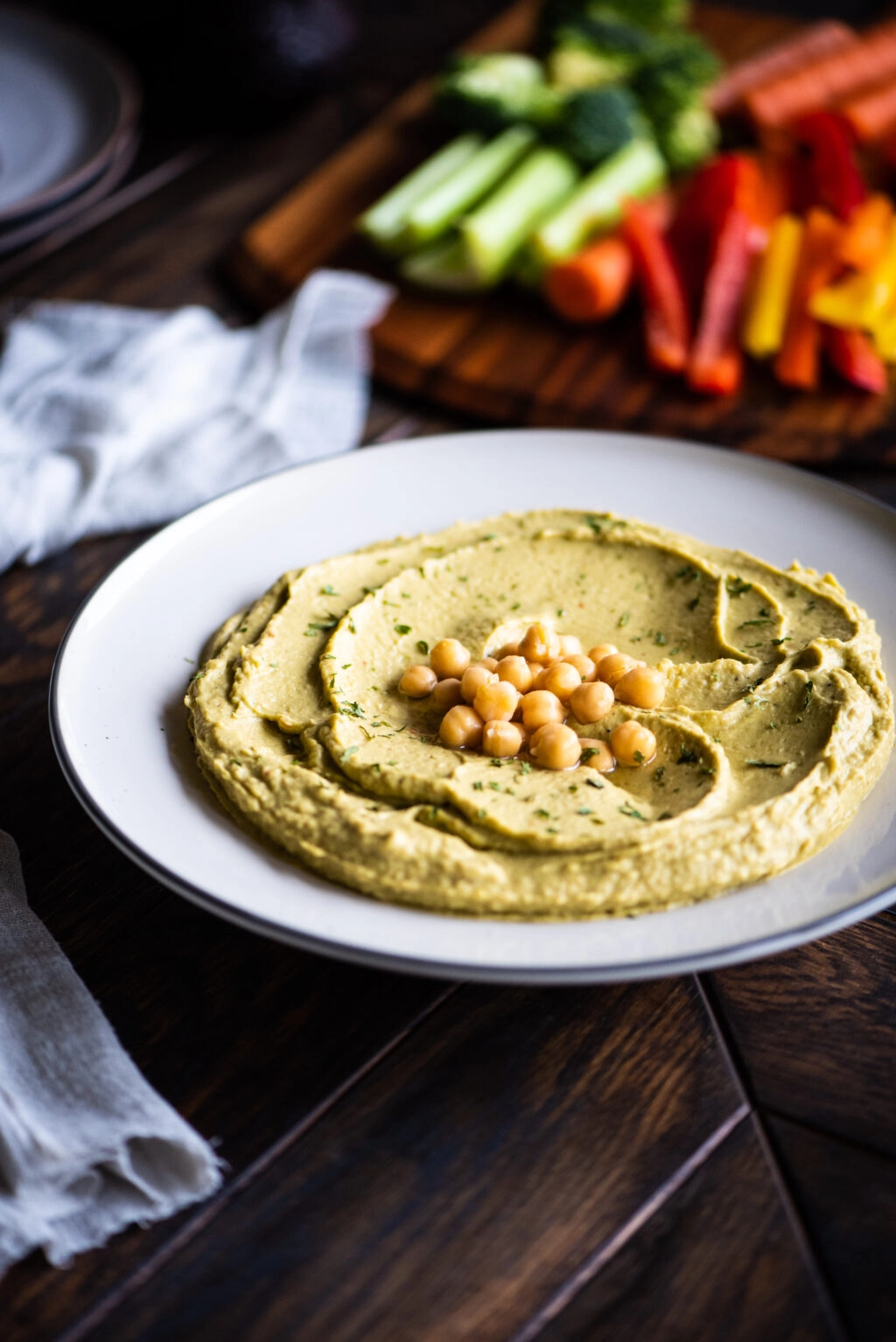 I love snacking on hummus any day of the week and this recipe is just what the doctor ordered. There's nothing better than indulging in some tasty and creamy hummus paired with pita chips and/or raw veggies. This avocado hummus will hit your taste buds with a slight nutty profile and a combination of sweetness and spice.
Now let's dig into this delicious recipe and I'll show you how to make avocado hummus! Did I mention how creamy it was?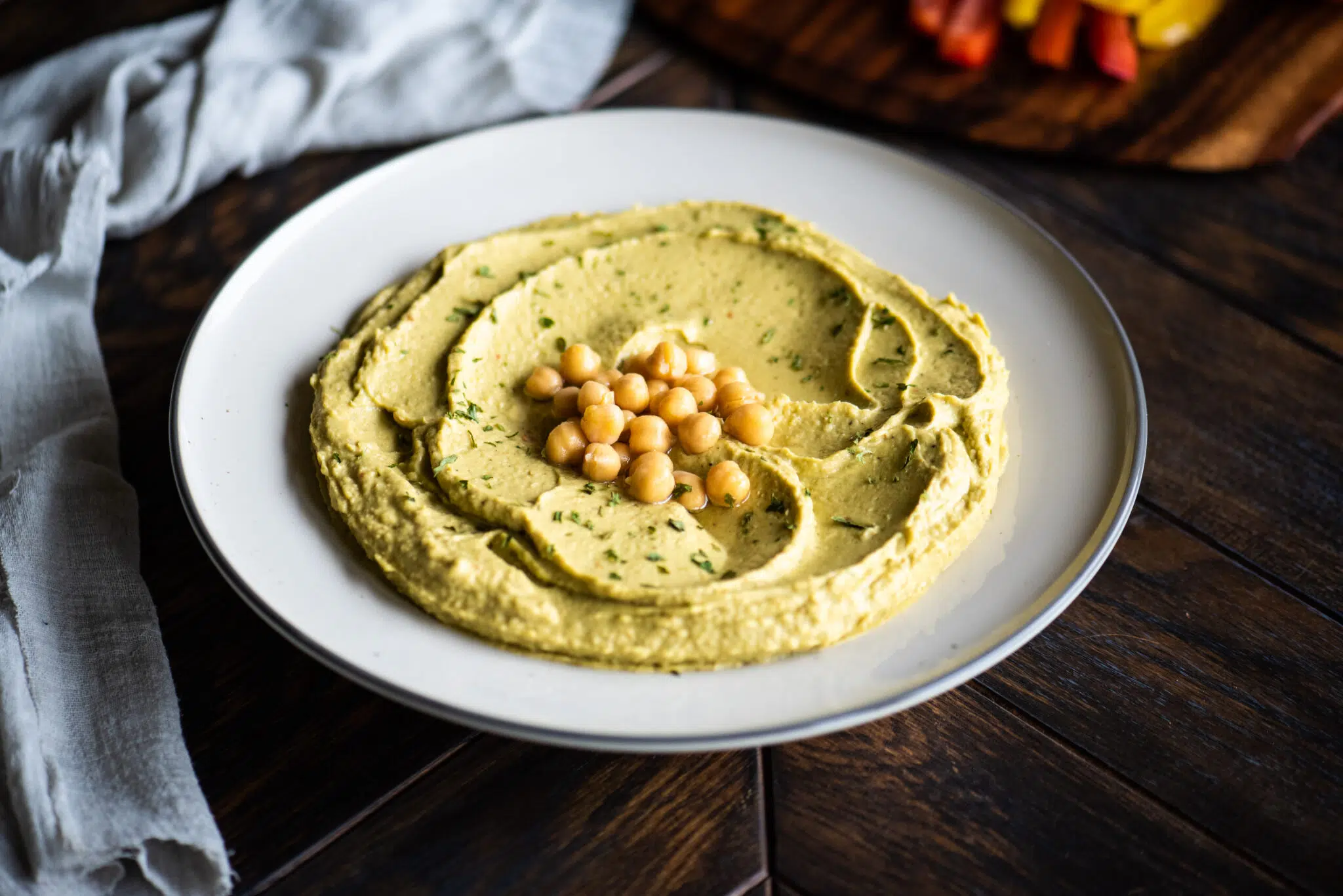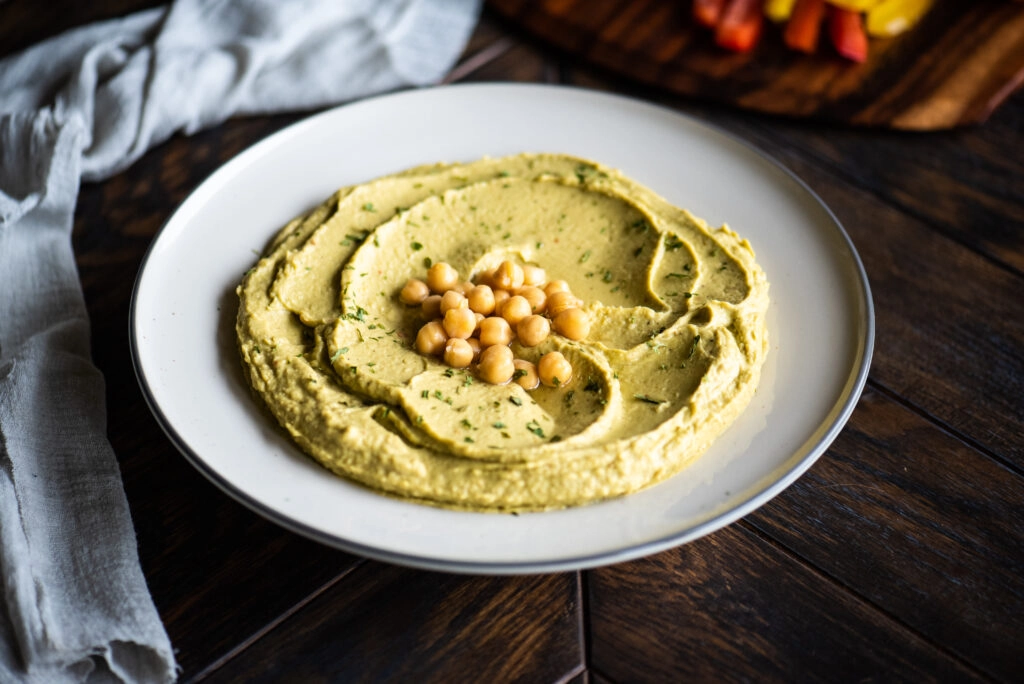 What you'll need to make Avocado Hummus:
Extra virgin olive oil is used in your hummus as well as a finishing drizzle on top.
You'll want plenty of avocados as well. This is another ingredient that you'll use in both the recipe and as a topping. The avocado makes this hummus creamy and if you love avocado, the flavor is present in every bite.
What is a great recipe without garlic? You can use fresh garlic; however, minced garlic or pureed garlic will work just fine.
Tahini is a nut butter and although it looks like soft peanut butter, it doesn't taste like it. Made from sesame seeds, tahini gives this recipe its earthy, nutty flavor.
For your seasonings, you'll need Himalayan salt, black pepper paprika, cumin, nutmeg, and red pepper flakes.
And the lemon juice adds a bit of brightness to the hummus.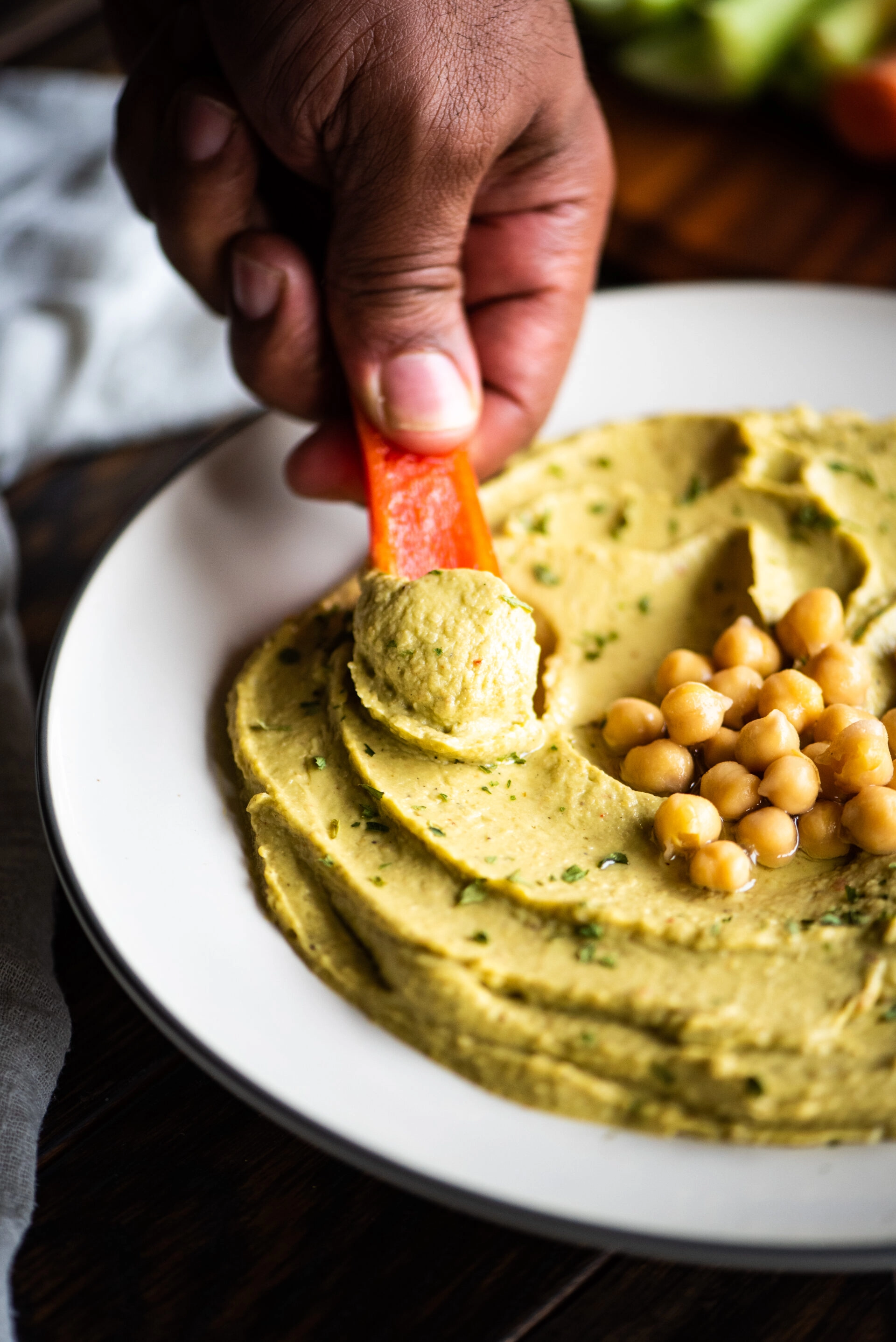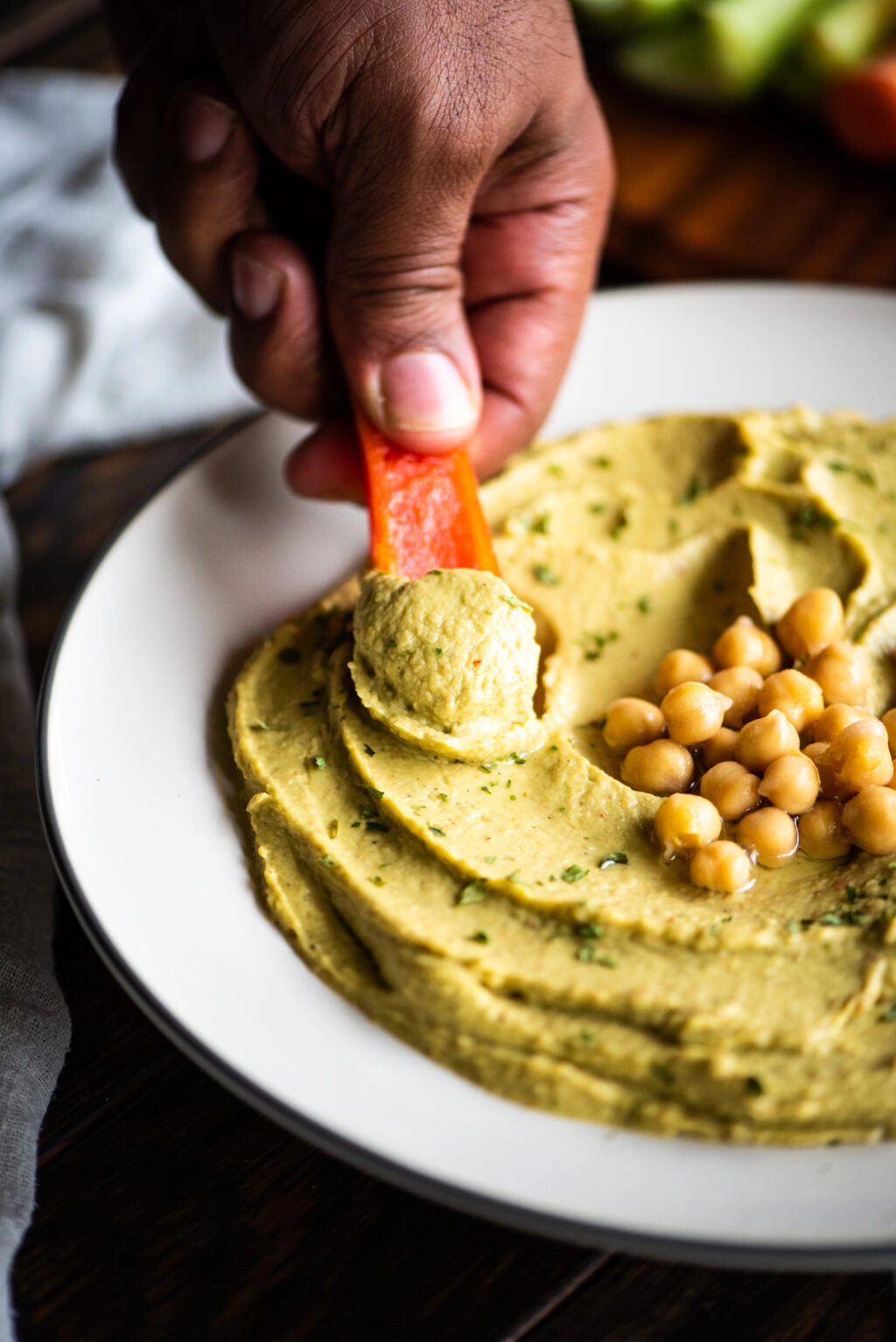 Now for the quick and easy steps:
You will begin this recipe by draining the water from your chickpeas (garbanzo beans) and adding them to your food processor. Pulse the beans until they break down.
Remove the skin from the avocado by slicing it in half, then remove the seed. Cut your avocado halves into chunks and add them to the food processor as well.
Pour the tahini into the food processor. Add the lemon juice, minced garlic, and remaining seasonings.
Slowly pour in your extra virgin olive oil and blend all ingredients until the hummus reaches that desired creamy texture. Along with the avocado, olive oil definitely enhances the flavor and creaminess of this recipe.
Pour your hummus into a large bowl and it's ready to serve.
This recipe is great for dipping. Some of my favorites are pita chips, broccoli, carrots, peppers, and celery.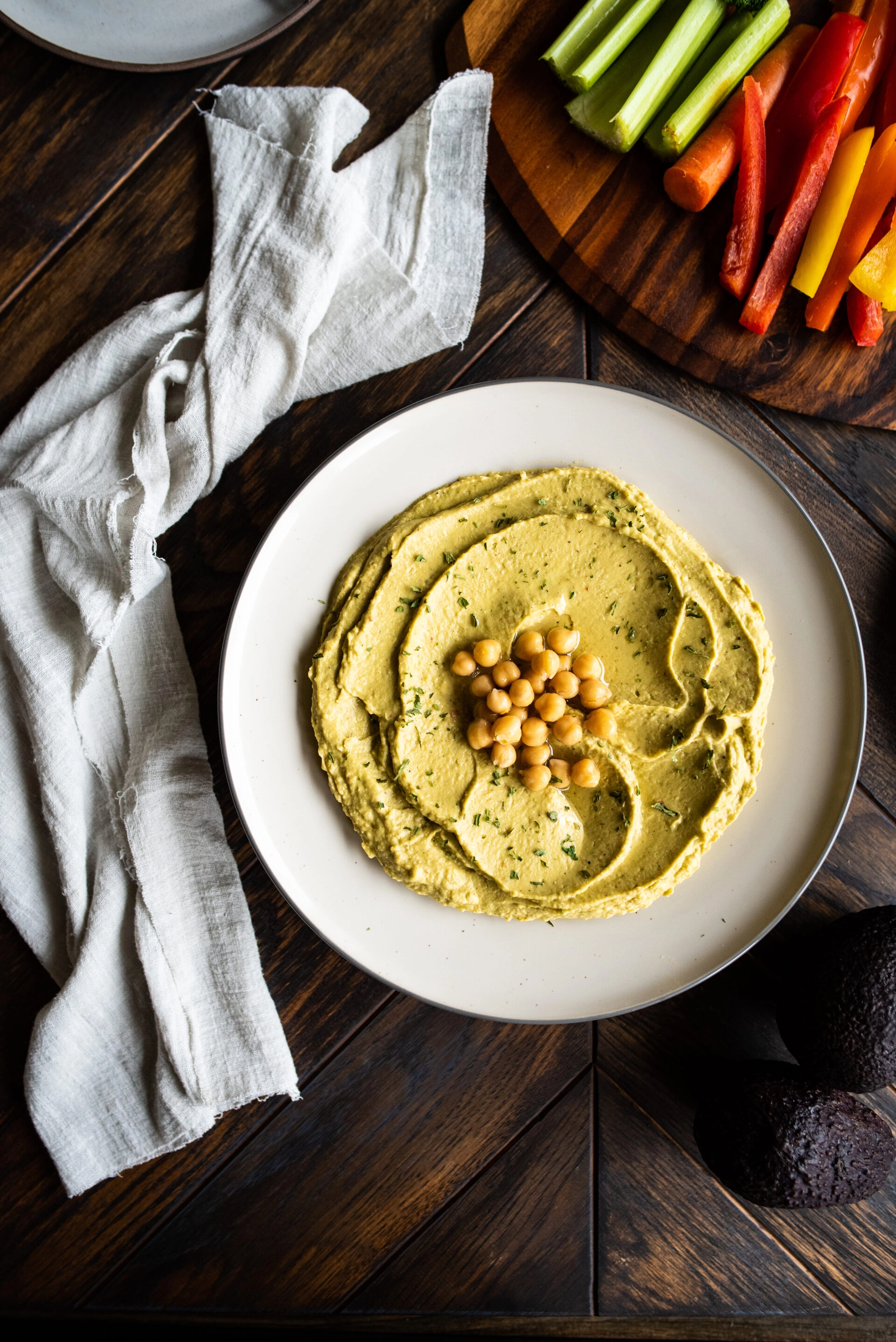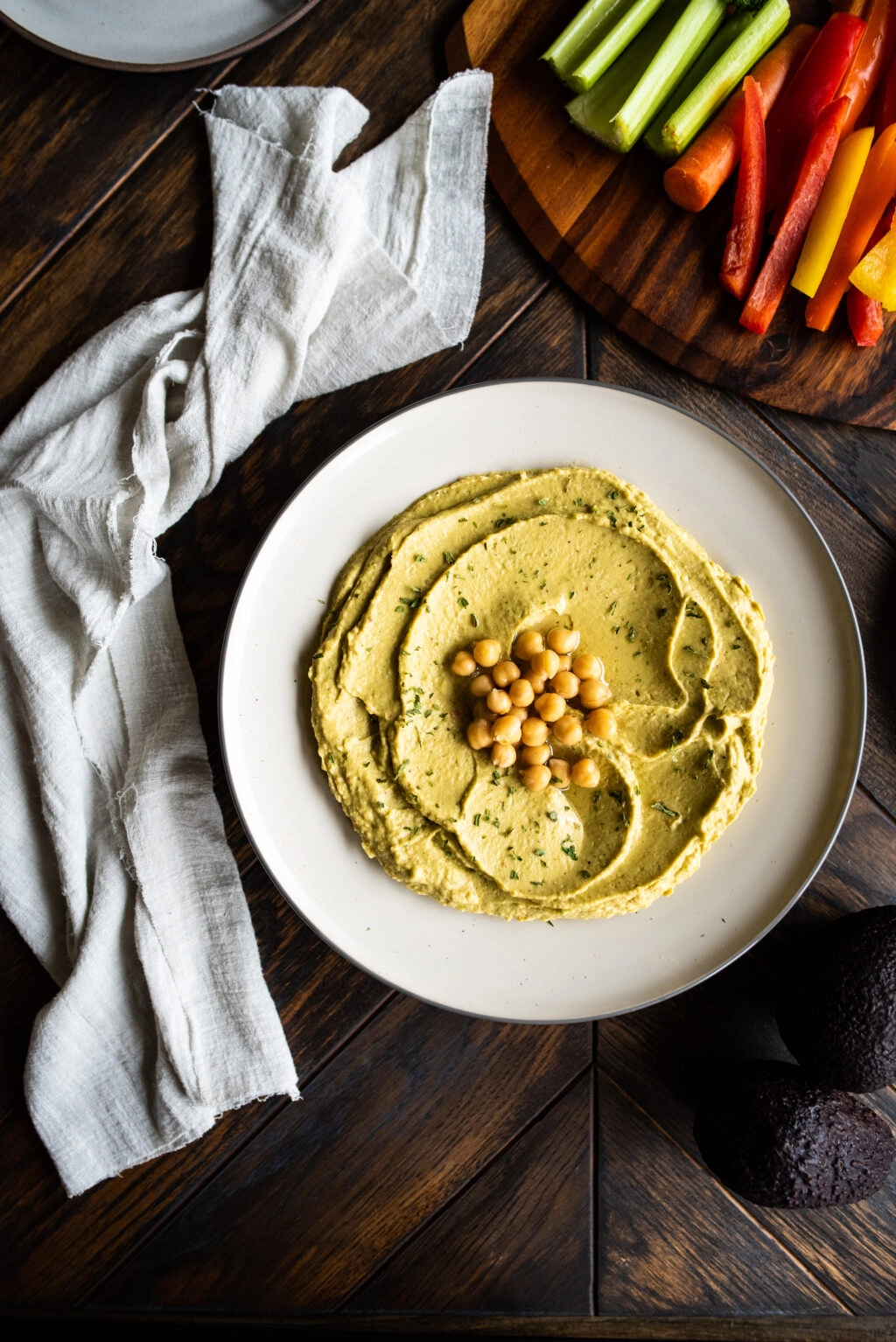 Other considerations when making your avocado hummus:
This snack is great paired with raw vegetable or pita chips, but you coulda also serve up an avocado hummus toast! If you love avocado toast, this option will give you a new take altogether.
Want to spice it up a bit? I use a few red pepper flakes so you can throw in a little more or add a few slices of jalapeno into the mix. There's nothing like spicy avocado hummus!
For this recipe, I went with a 1:1 ratio of 1 cup chickpeas to 1 avocado. After a few tests, the ratio came out the best as neither ingredient overpowered the other. However, feel free to adjust this ratio by going with more chickpeas or more avocado to make it perfect for you.
Don't have olive oil on hand? No worries. I have made this with other oil, like corn oil, and the result didn't stray too far away from the traditional preparation.
You can enjoy this snack immediately with pita chips or raw vegetables like carrots, cucumber, cherry tomatoes, celery, red peppers, or broccoli.
Print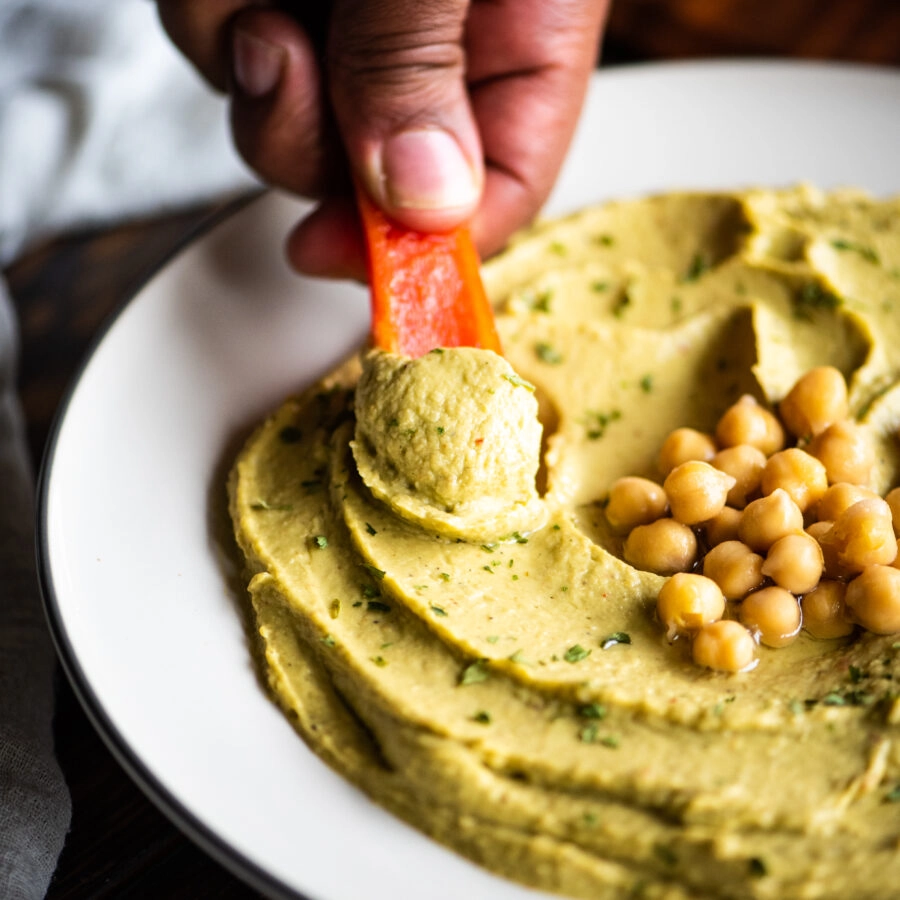 Quick & Easy Avocado Hummus
---
Author:

Eric Jones

Total Time:

10 minutes

Yield:

4

1

x
Description
If you love hummus, you'll certainly enjoy avocado hummus! Creamy avocado with chickpeas, tahini, & garlic, makes for the perfect snack!
---
1/4 cup

Extra Virgin Olive Oil

3 cups

Garbanzo Beans

3

medium Avocados

3 tbsp

. Tahini

2 tbsp

. Lemon Juice

2 tbsp

. Garlic

1/2 tsp

. Ground Cumin

1/4 tsp

. Nutmeg

1/2 tsp

. Paprika

1/2 tsp

. Black Pepper

1 tsp

. Himalayan Salt

1/4 tsp

. Red Pepper Flakes
---
Instructions
Drain your garbanzo beans and add them to the food processor.
Remove the skin and seed from the avocado, cut them into chunks, and add to the food processor. Add the tahini, lemon juice, garlic, ground cumin, nutmeg, paprika, black pepper, salt, and red pepper flakes as well.
Slowly pour your olive oil into the processor and begin to blend the ingredients. Continue blending until the texture becomes creamy.
Pour blended ingredients into a large bowl and serve with pita chips and/or vegetables.
Notes
If you don't have olive oil on hand, you can also use corn oil. 
Prep Time:

10 minutes

Cook Time:

0 minutes

Category:

Comfort Food

Method:

Stir

Cuisine:

Middle East
Nutrition
Calories:

565

Sugar:

11.1g

Sodium:

37mg

Fat:

25.8g

Carbohydrates:

66.6g

Fiber:

20.6g

Protein:

11.1g

Cholesterol:

0mg
Keywords: Avocado Hummus, Hummus