If you love guacamole these stuffed avocados can be a perfect alternative. Not only do avocados have health benefits, but when you stuff that bad boy with cheese you will start craving them quite often. You can choose to wrap this stuffed avocado with ground turkey or ground chicken but whatever your preference it will still taste great.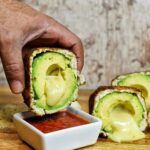 Ingredients
2 Medium Avocados

2 oz. Monterery Jack Cheese Block

1/2 cup All Purpose Flour

1/2 cup Breadcrumbs

1/2 cup Panko Japanese Style Breadcrumbs

1 Large Brown Organic Egg

1 tbsp. Italian Seasoning

1/2 lb. Ground Lean Turkey or Ground Lean Chicken
Instructions
1. Slice the avocados the long way, carefully remove the skin and remove the seed.
2. Cut your monterey jack cheese block to match the size of the seeds removed.
3. Pre-heat cooking pan to medium heat and add olive oil (or oil of preference).
4. Spread the flour over a plate, add the egg and mix in a bowl, then add the breadcrumbs and panko crumbs together in a separate bowl.
5. Place the cut cheese inside of the avocado and make sure the avocado can close (when placing the other half of the avocado on top)
6. In a separate bowl, add your ground meat, season, then mix well with hands.
7. Take a hand full of ground meat and completely wrap the avocado.
8. Roll the covered avocado in the flour, dip into the mixed egg, and roll in the breadcrumb mixture.
9. Cook the covered avocado on each of the sides including the top and bottom section for 2 to 3 minutes.
10. Allow to cool then serve with a side of marinara sauce (optional).